Arizona Pioneer & Cemetery Research Project
Internet Publication
Version 122409
Bigbug a.k.a. Big Bug a.k.a. Red Rock, Arizona
By Janice Cottrell
<![if !vml]>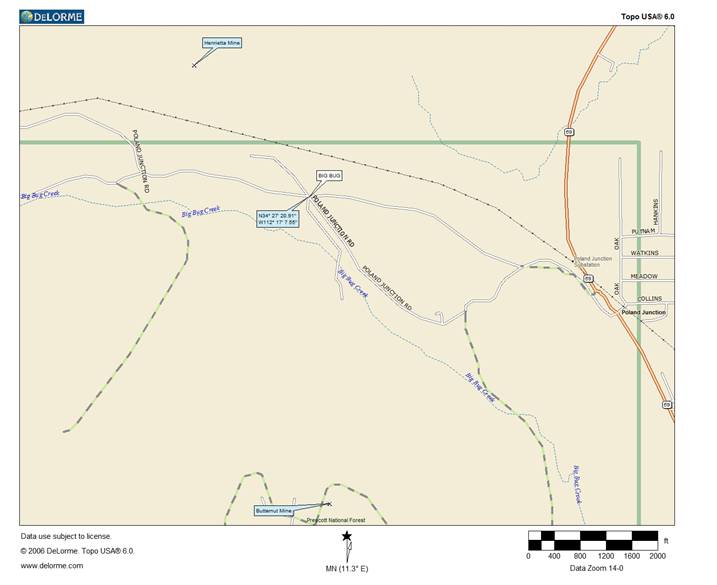 <![endif]>
Map by Neal Du Shane
It was Christmas Eve but all was not well in 1896. At the Big Bug Saloon, the keeper, James Hughes shot a Mexican and was put in jail according to the Journal Miner. Hughes fired five shots at him and only two hit the mark. One went into his wrist and the other into the abdomen, which was the fatal shot.
The dead man's name was Candelaria and he was not related to the man formerly killed by Hughes. It seems Candelaria owed Hughes some money for which he was demanding repayment. Candelaria said he would pay him and started for the door. Before Candelaria could get away, Hughes shot him.
Argyle Mine
Bruce Profitt was a miner at Big Bug and was shot from ambush and killed in the middle of the afternoon. Profitt was employed at the Argyle Mine and started to work about two o'clock. This was the last anyone saw of him alive.
<![if !vml]>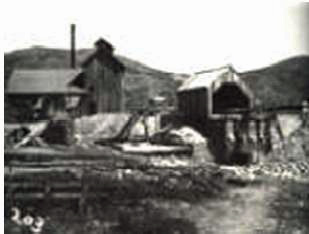 <![endif]>
Big Bug Mill
Photo courtesy Janet Cottrell
The murderer evidently lay in wait for him at the roadside and shot him with a rifle of small caliber, the ball entering the right side, ranging upward, and causing his death instantly.
His fellow miners found his body soon afterward. He was described as being a quiet, law-abiding citizen and it no known to have any enemies.
Sheriff Munds was immediately notified and is now working to place the deed at the door of the one that is guilty of the crime. He had a wife and two children living in Redlands, California. Profitt was about thirty years old.
It didn't take long before Deputy Sheriffs Lon Young and Jack Nelson came in from Big Bug having Thomas Powias on the afternoon of the 23 rd of September 1901. He was charged in the assassination of Bruce Profitt.
It seems Profitt was going from his cabin to his work. He was found about eighty feet from his dinner pail in a dying condition. He had dropped his pail and ran this distance before falling, after being shot. He was shot while walking in the road from behind a rock fence not over ten feet away. The bullet was a small caliber, probably a 32.
Tracks leading to and from the place of ambush indicates that Powias is the man who did the shooting. Further circumstantial evidence is that Powias and Profitt had had some trouble.
It seems Powias had been corresponding with Profitt's wife in California. He had been sending her money, at last count about one hundred and forty dollars. It was sent on the supposition that she was separated from her husband. Somehow Powias found out that his wife was sending his letters and some of his money to her husband, Bruce Proffitt.
Powias approached Profitt and demanded his money back. It was determined that both Profitt and his wife had told Powias they were separated and that Profitt had told Powias that he could have his wife.
Post Office was established as Bigbug, on March 31, 1879; changed to Red Rock, November 28, 1879; changed to Big Bug, March 29, 1881; changed back to Bigbug, August 22, 1895; finally closed March 31, 1910.
First Post Office was at the residence of Theodore Boggs for a short time and the residence was just a bit east of the town proper. Miss Dawson, was the assistant postmistress, distributing mail on horseback throughout the mining camp and surrounding areas. In 1895 with postmistress Martha E. Whittaker/Martha E. Davidson to serve the population of one hundred residents.
Theodore Boggs was a pioneer in the short history of Big Bug with an interesting background. His father was the former governor of Missouri and had driven the Mormons out of the state in 1846. Theodore traveled with the ill-fated Donner party when he was 10 years old. In 1862 he came to Arizona from California. He settled in Yavapai County on Big Bug Creek where he continued to prospect and mine.
At its peak, Big Bug hosed about one hundred people living in and around the vicinity of the camp. Soon the small community of Big Bug was established, the town was lively and thriving.
<![if !vml]>
<![endif]>
Big Bug
Photo Courtesy Janet Cottrell
N1/2, Sec. 5, T.12N., R.1E puts it at N34 26 57.80, W112 16 40.20. At least we are within one half mile X one half mile of its location. It has also been researched and found it was 1.8 miles from Poland Junction. Big Bug had a post office from 1879 to 1910.
In Ghosts of the Adobe Walls, by Nell Murbarger – "Big Bug is a lively camp". Arizona Journal-Miner had reported on January 5, 1898. "The town is new and growing, new structures going up right along . . . The country is full of prospectors, and developed mines make a fine showing. New Years Eve was properly observed with a big dance in the schoolhouse. Kingsley and Oliver celebrated the occasion by opening their new saloon, which is one of the finest places in town."
Other Big Bug saloons, according to the same story in the Journal-Miner, were operated by Mead and McMahon, and Johnson and Trenberth; general stores were owned by R.F. Burney, Garrett and Avery and Mrs. Trenberth "assisted by her daughter, Miss Fannie." Dan Reams and a Mr. Vasser, were the town barbers.
Huge tailing piles of gravel and cobbles, extended back for several rods on either side of the stream bed, testified to the prodigious amount of labor expended here by men in his long years of searching for the yellow dust.
The business community of this pioneer town of Big Bug comprised of;
Post Office,
Schoolhouse,
Saloon - owned by Mead and McMahon
Saloon - owned by Johnson and Trenberth
General Store - owned by R.F. Burney,
General Store - owned by Garrett and Avery and Mrs. Trenberth.
Barber – Dan Reams and Mr. Vasser
Boarding House – Owned by Hitchcock
Stage Station – owned by Joe Mayer
The Big Bug Smelter, between 1880 - 1890 produced over a million dollars worth of placer gold and silver.
The area started with a gold placer in the Northeast slope of the Bradshaw Mountain range in the 1860sThe camp took its name from the Big Bug Creek and was home to about 100 people. The camp opened under the name of Red Rock and changed to Big Bug in 1881 because of the large bugs that appeared in the spring. Big Bug Deposit was a copper deposit near Mayer, 2,000 feet due north of Copper Mountain and about fifteen miles northeast of Prescott.  Started in 1918 and located on Big Bug Creek. Workings owned by Frank Thorton included a 235-foot deep shaft.
It was Theodore Boggs who settled on Big Bug Creek and fought off Indians along with three companions. They dug a small opening into the side of the mountain and that is where they slept. One morning they were attacked by Indians and dug portholes in the walls from which they killed two of the warriors. The Indians grabbed the bodies of their dead and cremated in full sight of the miners and then departed. On June 6, 1864 of that same year, they waylaid and killed W.P. Jones in the Big Bug District and shockingly mutilated his body.
Messrs. Poland and Roberts owned the Bell Mine established in 1881. The workings include a 260 foot deep shaft plus 200 feet of tunnels. The post office came to town in 1895 with postmistress Martha E. Whittaker/Martha E. Davidson to serve the population of one hundred residents.
The town went 'ghost' in the early part of the 1900s and the boarders at the Hitchcock Boarding House moved on. Joe Mayer moved to the Big Creek area where he bought the stage station and at one time or another owned or had part interest in the Butternut, Henrietta, Stoddard, French Lilly and the Iron Queen Mines. He was the founder of the town of Mayer. It is located on the Santa Fe, Prescott and Phoenix railway, 30 miles southeast of Prescott. The present town has some mining activity at the present time with the remains of the old town scattered without.
French Lily Mine (French Lilly Mine; Cedar Talisman Mine),

A former underground Au-Pb-Zn-Ag-Cu-As mine located about 2 miles SW of Turkey Creek Station. Reopened in 1923 and owned by Grove Brothers of Mayer. It produced 1902-1959. Claims extend into the E½SE¼SE¼ of sec. Mineralization is a peculiar flat vein, probably in granite, with a tabular ore body. It is about 2 feet wide and dips 30ºN. It is a filled quartz vein with comb structure. Ore control was faulting and shearing. Concentration was oxidation at near surface. Workings include a 190 foot long incline with 250 feet of drifts on the 2nd.level.  Ore assayed at 50% Zn & 1.5 oz. Au/T Map Reference: 34°15'40"N, 12°13'58"W
Boggs Mine (Boggs Patented 908 claim)

A former underground Cu-Zn-Au-Ag-Pb mine located near Mayer. Reopened in 1943 and ultimately closed in 1945. Owned by George A. Tredwell Co. (circa 1905 - 1909); Liberty Hills Mines Co., lessees, L.E. Hesla & Fred Gibbs, owners (1943 - 1945); Commercial Mining Co.; Phelps Dodge Corp. Mineralization is a thin, tabular deposit ranging from 10 inches to several feet wide. Schist of sedimentary origin and appears as siliceous, brownish hornfels weathering to light colored sericitic schist. Some of the schist is chloritic and amphibolitic. The strike is N.20ºE. and the dip is steeped to the East. The mine is developed to the 500 foot level. Map Reference: 34°26'54"N, 112°15'20"W
John Kelly
By Karen Mazzeo
<![if !vml]>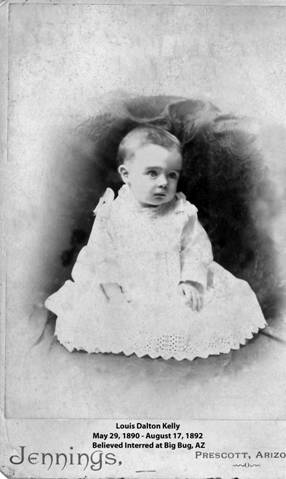 <![endif]>
Photo Courtesy Karen Mazzeo
John Kelly born in Dublin, Ireland around the year of 1860, immigrated to America in 1879. It is unknown as to what he did the first few years in America, however, in 1882 he boarded a ship back to Ireland to marry Anna McCleary of Castlereagh, Northern Ireland. On his way however, he detoured to Africa where he had signed on for a three to four month long safari trip.
In 1889, Anna immigrated and met John in Jerome, Arizona and on May 29, 1890, their first child Louis Dalton Kelly was born. It is unknown as to whether he worked at the United Verde Mining Company. He was a member of the Federated Miner's Union as well as Workman's Lodge, so possibly he did.
In 1891, the Kelly's were living in Big Bug, Arizona, where their second child John Thomas Kelly was born. In August 1892, Louis contracted pneumonia and died. In 1893, in Ireland, their third child Elizabeth Louisa Kelly was born. By 1895 the family was living in Congress where daughter Anna Nora was born September 26, 1895 and died from pneumonia May 29, 1896. Gertrude Alice Kelly was also born in Congress on February 19, 1897.
By 1899, the Kelly's were living in Tombstone Arizona. Their last child Anna Nora Kelly (named after their baby that died and was buried at Congress in 1892), was born on December 26, 1899.
Sometime in 1900, John moved the family to Gleeson. Before the establishment of its post office sometime in 1900, rumor is it was called Kelly's Camp. There, John owned property as well as the Katherine A. Mining Claim.
Research documentation obtained in Yavapai County, determined John Kelly a paper hanger along with other occupations including prospecting. There are numerous mines that had patented claims by John as well as partnerships that were bought and sold. It was also told that he would be gone for months at a time which once again confirms, "its not the gold, as much as finding the gold" according to Robert W. Service.
John's investments and business dealings included the mining claims of, The American Flag, Silverton, Invincible, Germania and Yankee Girl to which it appears he lost a lot of money due to a legal dispute.
On July 21, 1902, John was run over by the Sunset Freight Line heading east bound. The train picked him up and took him to the Blaisdell Station, AZ where the westbound train took him back to Yuma. He was buried in the Yuma Cemetery that same day by the Ancient Order of United Workman (AOUW). It is not certain as to what happened that fateful day. In later years, his son John Kelly Jr., said his father was going to California to buy a ranch and that he had a lot of money on him. The family believed he was robbed, however, the 1902 Yuma Sentinel obituary stated a different story.
His wife Anna, now a widow with four small children, remained in Gleeson until moving the family to Los Angeles in 1904. In Four years later, she sold the Katherine A. Mining Claim to John Gleeson.
If our research is accurate there should be up to ten graves in and about Big Bug. Graves believed to be in the vicinity of Big Bug or at the yet to be determined cemetery as of this writing were:
<![if !supportLists]>1. <![endif]>Bruce Profitt
<![if !supportLists]>2. <![endif]>Louis Dalton Kelly
<![if !supportLists]>3. <![endif]>Candelaria
In that era it was common to bury the dead in the backyard of residents or where they died. Formal cemeteries as we know them today were not that common and may have only existed in larger communities with churches.
Arizona Pioneer & Cemetery Research Project
Internet Publication
Version 122409
WebMaster: Neal Du Shane
Copyright © 2009 Neal Du Shane
All rights reserved. Information contained within this website may be used
for personal family history purposes, but not for financial profit or gain.
All contents of this website are willed to the Arizona Pioneer & Cemetery Research Project (APCRP).