Arizona Pioneer & Cemetery Research Project
Internet Presentation
Version 051211
QUARTZSITE CEMETERY
a.k.a. HI JOLLY CEMETERY
Quartzsite, Arizona; La Paz County
By Kathy Block, APCRP Historian
Surrounding the Hi Jolly Monument in Quartzsite is a very interesting Pioneer cemetery. The Monument is described by Lou Ann Preston on APCRP as Hi Jolly Cemetery, which is also known as Quartzsite Cemetery. It is well worth a visit.
<![if !vml]>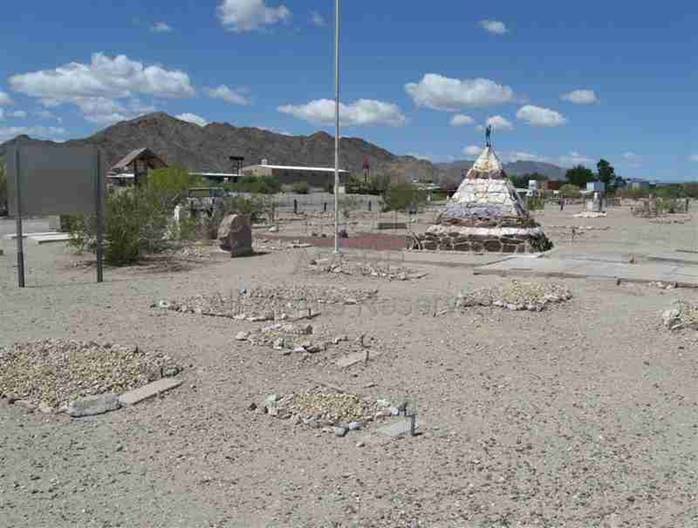 <![endif]>
You enter the pioneer section past a colorful rock painted with the name "Quartzsite" 
The Hi Jolly Monument can be seen in the background
The cemetery is very easy to locate. Coming into Quartzsite on Business 10 (Main Street) from I-10, look for a brown marker directing you to turn north to the Hi Jolly Monument, which can be seen at the end of a street that goes directly there from Main Street. The Old Pioneer Section surrounds the Monument, and there's a convenient parking area in front of the entrance. Street address: 465 N. Plymouth Ave. Open daylight hours. GPS: N33 39.51, W114 14.08
The town "comes to life" every winter with various swap meet/flea markets and shops in the events first begun as rock hound venues. This emphasis is natural, considering the area's mining history.  Old machines and many displays about this history can be seen at the excellent Quartzsite Museum.
The Quartzsite Cemetery is divided into two sections. The graves enclosed by a wire fence in an area around the Hi Jolly Monument are also known as the Hi Jolly Pioneer Cemetery.  The newer section is called Quartzsite Cemetery, and covers many acres.  At last count, on Find-A-Grave, there are at least 532 burials. The list does not seem to distinguish between the 124 burials listed in a pamphlet about the High Jolly Pioneer Cemetery (available at the entrance, has a very good map and walking tour of the Pioneer Section), and burials in the "Town Cemetery". I highly recommend picking up a copy before walking around in the Pioneer Cemetery section.  There are many interesting comments about those interred there.  At least 8 burials are unknown, and 2 are named, but unknown locations, possibilities for an area for future research.
A web site called Ewanida Rail Records, lists burials, and designates them either "Pioneer Section, Hi Jolly Area," or "Pioneer Section", or "New Sec." The author, Maggie Rail, noted that the Hi Jolly monument causes many to call the Pioneer Section the "Hi Jolly Cemetery", when it is actually the Quartzsite Cemetery. (Familiar scenario of several names for the same cemetery!) The older part is very old with sometimes illegible headstones. The writer guessed that it began in the late 1800s when all that were there were miners, but she wasn't able to establish any date for certain. (The oldest burial listed in the pamphlet seems to be #67 Joe M. Sias, 1883.) There are some 12 or more graves where the headstones are very old and illegible, and there are many unknowns. (Which could be even earlier burials.)  She completed transcribing the cemetery in 2007, taking all from the sexton files. The records were "difficult to decipher", since many had no dates and didn't tell if the lot owners are actually buried there.  Researchers have worked for years to try to create a good record of this neglected burial site.  At present, the cemetery is well-maintained.
Ed and I became interested in seeing this cemetery after Neal forwarded an e-mail from a lady who had seen my write-up on Four Graves at Quartzsite. She had requested copies of the Erdman tombstone photos used in the article, and noted that graves for Buck Conner and his son had been moved to the Quartzsite Cemetery in 2008 from an original location by The Little Church by the Road (since destroyed).
I found and sent her the DC for Buck Conner.  (He died from Coronary Thrombosis, born Nov.22, 1880, Illinois, married to Hazel, occupation given as Actor in moving pictures.) Then, after we visited the cemetery, I forwarded some photos of the graves.  Here's what their graves now look like:
<![if !vml]>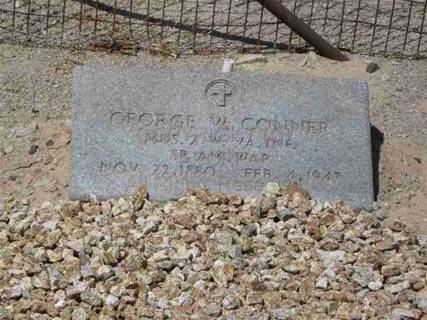 <![endif]> 
George W. "Buck" Conner – 1947-Veteran. (Numbers refer to location on a walking tour map.) "As one of Quartzsite's more colorful pioneers, Buck was an actor, writer, pilot, minister, and above all a veteran. He built an airstrip in Quartzsite for WWII pilots to land safely. He also built the first church in town – The Little Church Beside the Road...." (He was also a star in Buffalo Bill Cody's Wild West Shows and had a retreat in Quartzsite in 1910.)
                    George W. Conner grave
<![if !vml]>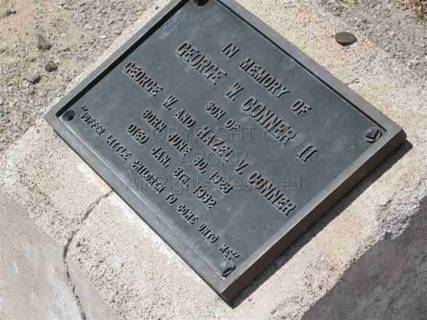 <![endif]>
George W. Conner II – 1932. The young son of George Sr., he as 4 yrs old when he died of Froehlich Syndrome/bronchitis and pneumonia. The Little Chapel Beside the Road was built and dedicated to him. He was also exhumed and interred into the Pioneer Section of Hi Jolly Cemetery along with his father – Buck Conner - 5/30/2008.
Plaque on grave of his son, George W. Conner II
<![if !vml]>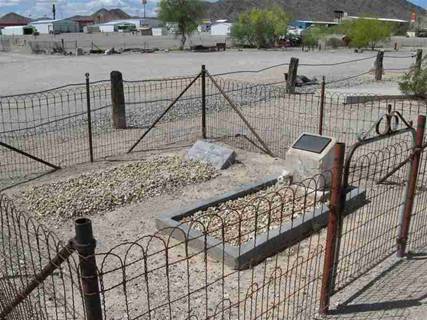 <![endif]>
Fence around the Conner graves
<![if !vml]>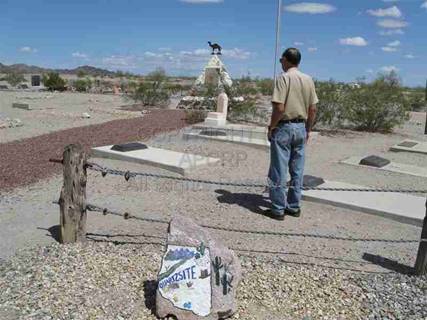 <![endif]> 
(Left) Ed Block stands near the entrance to Hi Jolly Pioneer Cemetery.
<![if !vml]>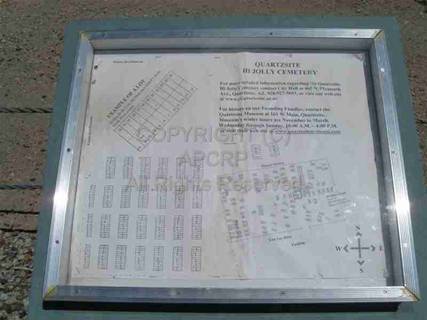 <![endif]>At a kiosk nearby is a map of the pioneer cemetery and the free pamphlets. I recommend using one as a guide to your explorations.
Map of Pioneer Cemetery on display.
<![if !vml]>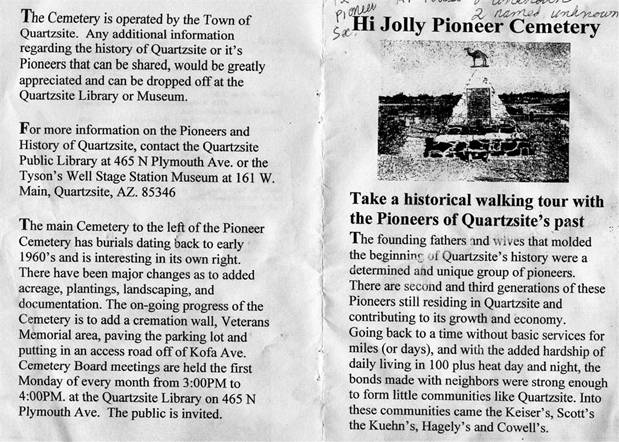 <![endif]>
<![if !vml]>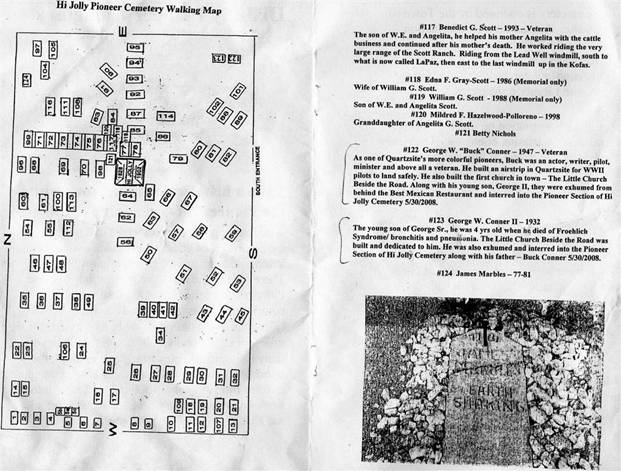 <![endif]>
Sample pages from pamphlet available at the cemetery entrance kiosk
| | |
| --- | --- |
| <![if !vml]><![endif]> | <![if !vml]><![endif]> |
There are signs of the wear from nature here. For example, note the cement cracks as the ground shifted. Also, rodents burrow into dirt and rocks on top of some of the burials.
<![if !vml]>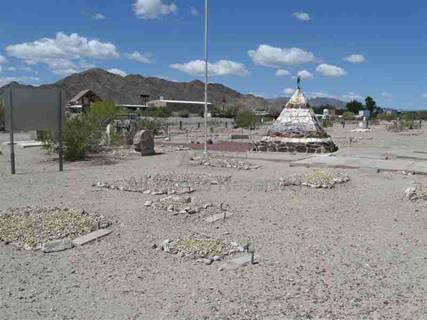 <![endif]>
The old burials are arrayed in irregular rows around the Hi Jolly monument. The walking tour map refers to the numbers given to each burial.
            Old burials around Hi Jolly Monument
<![if !vml]>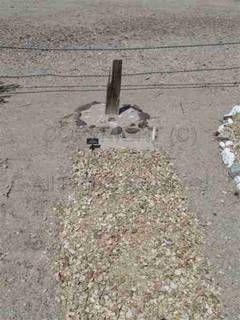 <![endif]>
Some of the oldest and unknown burials are simply marked with piled stones and gravel and faded wooden headboards. Many have metal tags with name/date if known.
Very old burial.
<![if !vml]>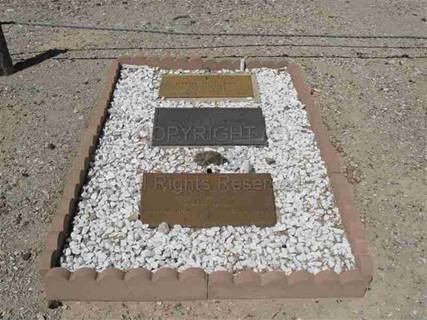 <![endif]>
One grave featured 3 burials in one site, possibly stacked on top of each other, as Neal has mentioned at other cemeteries.
                      Three burials in one grave
The people buried in the Hi Jolly Pioneer Cemetery were, according to the pamphlet: "The founding fathers and wives that molded the beginning of Quartzsite's history were a determined and unique group of pioneers. There are second and third generations of these Pioneers still residing in Quartzsite and contributing to its growth and economy. Going back to a time without basic services for miles (or days), and with the added hardship of daily living in 100 plus heat day and night,, the bonds made with neighbors were strong enough to form little communities like Quartzsite. Into these communities came the Keiser's, Scott's, the Kuehn's, Hagely's and Cowell's."
___________________________________________________________________________________
Here is a sampling of interesting comments about some of those buried in the Pioneer section: The pamphlet does not say who wrote or printed it, I suspect it was the Quartzsite Museum or Quartzsite Public Library.
John B. Nash – 1943. Prospector-miner. Died of exhaustion from heat and thirst.
Enos B. Ring. Single. Placer miner at Kuehn's Plomosa Mine.  He lived in a large tunnel in the mountains. He was a kind hearted man, refusing to kill even the smallest of insects......
Pauline R. Brown – 1948. Part Indian nationality. Her folks ran the Crossroads Cafe. Her husband killed her.
 Frank Weber – 1938. Single. Original homesteader of the Date Ranch. He raised goats and produce, was a baker, miner and rancher.  As a child lived on a canal boat in Germany. Later traveled with a circus as a trapeze artist. In later years was Constable of Quartzite. Was in poor health when he died of a self-inflicted shotgun wound to head.
.John P. Stockmer – 1948. Single. Farmer. Placer miner, bee man (hauled bees to the Kofa Mountains by white burros.) When working on his well, the rope slipped while Paul Snider was hoisting him up and he fell to his death.
 Benjamin F. Drennen – 1931. Single. Prospector. Died of "suicide" by placing Winchester rifle to forehead and pulling trigger with his big toe.
 Mary Isabel Pease – 1941. Wife of Solomon. She made the trip to Quartzsite from Congress Junction by burro team – it took five days in 1902. She had the original idea to have a pyramidal monument made to Hi Jolly.
 Angela (Angelita) G. Scott – 1966. Wife of Wm. E. Scott. She had 12 children – two died in infancy. She was known as the town healer. She mined, ran the family cattle business and kept the grocery and bar business going after Wm. Died. When she was 81 years old she would spend weekends on her mine, picking, shoveling and hauling rock in boxes. Her son Jesse would pick her up and bring her home where she would grind the rock and pan for gold on her back porch.
 Joseph F. Cone – 1971-Veteran. Known as the "man who wore skirts in summer". He was a philosopher, woodworker, and a wise and loyal friend, a deckhand on sailing ships and had long gray hair tied back with ribbon. Known as "Nature Boy", he was a local landmark. He made his home from a depression in the side of the mountain, digging into the mountain side for its rooms and walls. His second home was built above ground with the sides in intricate rock work.
(Note: His cabins, occupied until Joseph Cone died at age 75, still stand. The smaller cabin's door and window openings were decorated with stones of white quartz and he lived in this one. The larger cabin was his workshop, with dirt floor and walls that are rough on the inside.  He turned ironwood on a lathe to make bowls and lamp stands. Some of his work is at the Quartzsite Museum. To go to this site, drive west from Quartzsite on the frontage road that parallels I-10 on the south, 1.5 miles beyond Love's Truck Stop. Turn left on the asphalt road (which leads to Rainbow Acres) for 1.1 miles until you see a dirt road taking off to your left. At this point the cabins are visible a short distance away.)
__________________________________________________________________________________
The Town of Quartzsite maintains both sections of Quartzsite Cemetery a.k.a. Hi Jolly Cemetery. Their web site advertises "The cemetery sits at the west end of Town and has a wonderful desert vista in every direction. There are mountains and foothills to be seen from every viewpoint. The Town is committed to beautifying the cemetery and preserving this historic site."
Two cemetery policies are interesting:
"No monument or memorial tablet constructed of materials other than either bronze or stone shall be used without the written consent of the Town."
"The Town, at the expense of the grantee shall repair or remove any monuments or other memorial which is improper or offensive, or which has become dangerous or dilapidated and may remove any tree, flower and plant or other object or embellishment."
<![if !vml]><![endif]>

Decaying derelict gravestone

<![if !vml]><![endif]>

Grave decoration
In 2011 the Town offered cement headstones at $90 each. It appeared some people have put these on graves in both sections of the cemetery.  A price list on the Quartzsite Town website gives basic burial costs:
   One plot gravesite - $250.00
   Opening and closing cost - $250.00
   Opening and closing for cremation - $75.00
   Special assessments for weekend and holiday opening and closing.
   A provision will be made for burials of indigents, as is customary, free of cost.
<![if !vml]>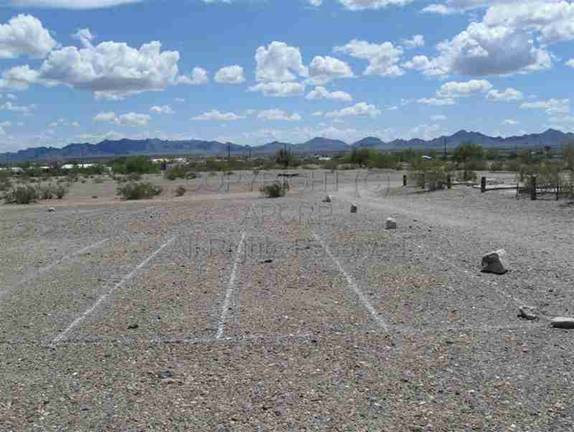 <![endif]>
Plots laid out ready for new burials in the new section of the cemetery
Possibly some of the "snowbirds" who flock to Quartzsite in the winter will be interested in burial in this unique cemetery!
Photographs courtesy Ed and Kathy Block.
Arizona Pioneer & Cemetery Research Project
Internet Presentation
Version 051211
WebMaster: Neal Du Shane
Copyright ©2003-2010 Neal Du Shane
All rights reserved. Information contained within this website may be used
for personal family history purposes, but not for financial profit or gain.
All contents of this website are willed to the Arizona Pioneer & Cemetery Research Project (APCRP).