Arizona Pioneer & Cemetery Research Project
Internet Presentation
Version 020209
<![if !vml]>

<![endif]>
By: Ed & Kathy Block
APCRP Historians
Colorado Mine is located in the Castle Dome Mountains NE of Yuma. It is reached by a rugged 4x4 trail that ends at Big Eye Mine. The track begins off a road that goes to nearby Castle Dome Museum (well worth the visit!)
Take good gravel road to east at Mile Post #55 off Arizona Hwy. 95 from Yuma to Quartzsite. There is a sign for Castle Dome Museum at the turnoff and for Castle Dome, Kofa National Wildlife Refuge, which surrounds the mine.
Travel eight miles to junction with Big Eye Mine Road (marked with sign), then take right fork. Big Eye Mine is at end of this road, a slow drive of 14.5 miles, has well preserved miner's cabin, tunnel, etc, reached by short hike up a steep hill, worth visiting.
You would need a 4 X 4 or good high clearance vehicle to reach Big Eye. When we visited area in the fall of 2008, the road was badly washed out in places.
Colorado Mine is 2.7 miles from the junction off the road to Castle Dome Museum, on Big Eye Mine Road. There is not much known about this mine. Like most of the mines at the southern end of the Castle Dome Mountains, silver and gold were mined.
<![if !vml]>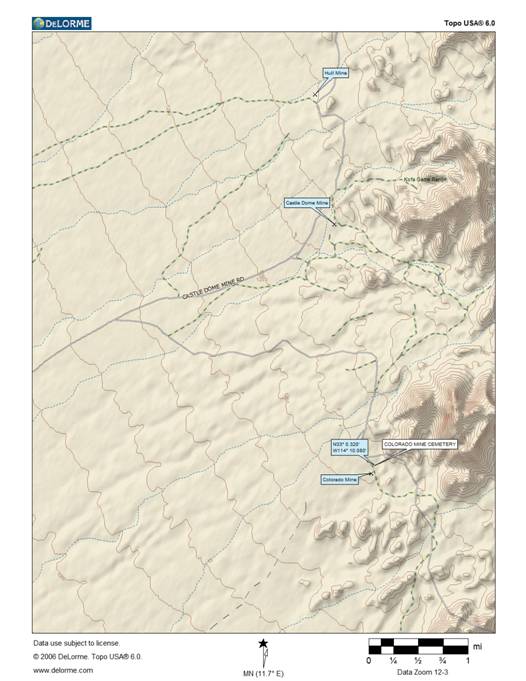 <![endif]>
Map by: Neal Du Shane
The district as a whole was very productive between 1863 and 1959. The mines yielded about 9,500 to 10,000 ounces of placer and lode gold. We were told by biologists counting big horn sheep in the area, who we met on the road near Colorado Mine in the fall of, 2008, that the mine is still privately owned, but we saw no signs at the site, where we'd camped for the night.
At the Colorado Mine there are wooden-lined shafts and adits, mainly on the left (north) side of the road. Across from the ruins and the road, to the right (south) there is a row of four graves marked with simple wooden crosses. (See photo below).
<![if !vml]>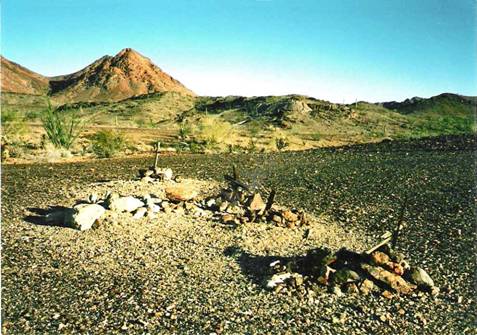 <![endif]>
Colorado Mine Cemetery
Photo Courtesy: Ed and Kathy Block
We recently wrote to Stephanie Armstrong, one of the owner/operators of the Castle Dome Museum, asking about these graves. Here's her reply: "The four graves at the Colorado Mine - a family died - we don't know why or who, but it's said to be parents and two children. It's hard to say how old the graves are since mining went on for so long out here. We would guess about the turn of the century." (Thank you, Stephanie, for this information!)
<![if !vml]>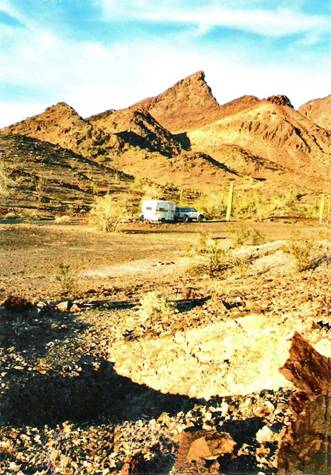 <![endif]>
Photo Courtesy: Ed & Kathy Block
One can only speculate that these people possibly lived and mined at the Colorado Mine. To the left (north) of the graves and down into a little valley near a small wash below the mine ruins, we found very old stone foundations and walls and ruins of a stone corral. Could this have possibly been their home?
Time seems to have erased all records!
Arizona Pioneer & Cemetery Research Project
Internet Presentation
Version 020209
WebMaster: Neal Du Shane
Copyright © 2009 Neal Du Shane
All rights reserved. Information contained within this website may be used
for personal family history purposes, but not for financial profit of any kind.
All contents of this website are willed to the Arizona Pioneer & Cemetery Research Project (APCRP).