Arizona Pioneer & Cemetery Research Project
Internet Presentation
121510
EAGLE CREEK GRAVES
In Greenlee County, Arizona
By Kathy Block
APCRP Historian
Greenlee County is a very remote area of Arizona. It is located in southeastern Arizona adjoining the border with New Mexico. It's county seat and biggest population area is the mining town of Clifton. The main source of income is the copper mines at nearby Morenci. (See "Tales from the Crypt" on APCRP site for further description of this area.)
<![if !vml]>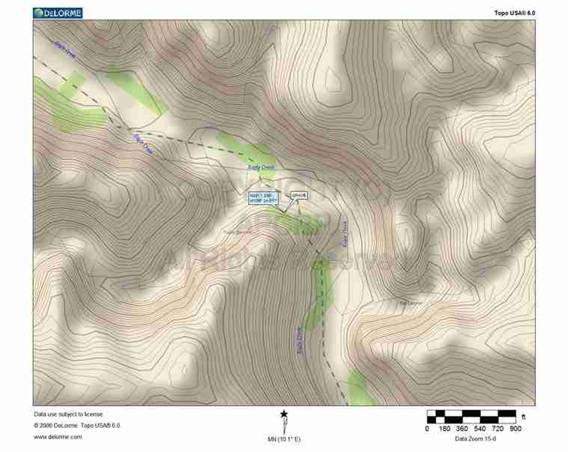 <![endif]>
Map Courtesy: Neal Du Shane
Eagle Creek is an intermittent stream that originates in a hot spring at the base of the White Mountain range 50 miles NW of Clifton and flows into the Gila River some 20 miles SW of Clifton.  Eagle Creek supports 4.8 fishable miles, mostly for bass.  Gold and silver were mined from the area, especially from East Eagle Creek in the mountains.  Ranches along Eagle Creek and also the Blue River and San Francisco River added to the economy since the 1870s. One of the three largest cattle companies to operate in Arizona was the Double Circle with ranch headquarters on Eagle Creek.
Tom Gilleland, president of Mine Gates, Inc. located in Tucson, Arizona, installs protective bat gates on caves and on old mines. During a recent project to install a bat gate on an old mine along Eagle Creek, he discovered a lone grave with an unreadable marker, and sent photos of this grave to me. This grave is somewhat of a mystery!
<![if !vml]>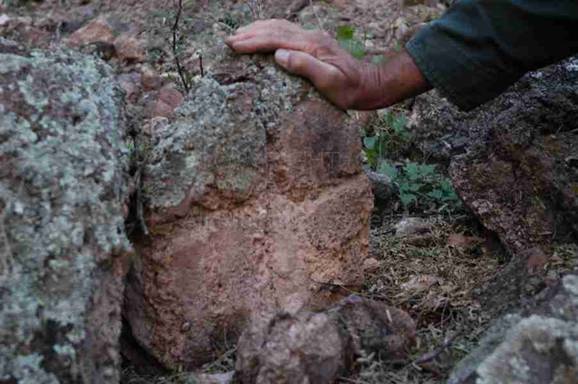 <![endif]>
Photo of marker on grave on Eagle Creek
Photo Courtesy Tom Gilleland
Research on various Web sites yielded a possible name for this burial. There is a grave listed as "Eagle Creek near Peg-Leg Wilsons Cabin" on Find- A -Grave, for Olie Hagen.  Olie was one of the earliest settlers on Eagle Creek. He was, according to his DC, born in Norway. He may or may not have ever been a naturalized American citizen, but married Willie Swafford. She died of a bad fall in 1906. Her mother lived at Olie's home, and he never remarried.  On the DC his occupation is given as "rancher". He was quite famous for the packsaddles and spurs that he made. He was born August 16, 1858 and died of "senility" on June 30, 1939 and buried at "Eagle Creek" on July 1, 1939 thru Mc Millen Funeral Home in Clifton. 
<![if !vml]>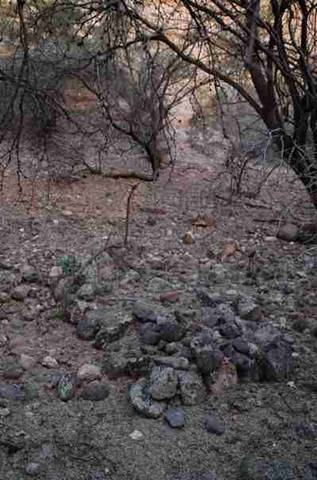 <![endif]>
Photo of overall area of this gravesite
Photo Courtesy Tom Gilleland
Peg-Leg Wilsons Cabin was the site of a famous incident in relation to the shootings at the OK Corral in Tombstone. Ike Clanton, brother of Billy Clanton whose boasting and threats had led to Billy's death by the Earp's and Doc Holiday, was sought later for cattle rustling. A "mail order" detective named Jonas V. Brighton shot Ike in the back and killed him at Wilson's Ranch, as he tried to flee, on June 1, 1887. Ike's grave is listed in Find-A-Grave as being an "Isolated Grave" on Eagle Creek.  In late June, 1996, 109 years later, Terry "Ike" Clanton, one of Ike's distant cousins, from Whittier, California, found the remote location with the assistance of "grave expert" James A. Browning, a former Citadel professor. Browning, author of a book that details grave sites of more than 1,000 famous or notorious individuals in the West, claimed he'd found Ike's grave.  He and Terry Clanton searched the area near Eagle Creek and "quickly discovered a shallow grave under a large tree that they believed contains the remains of Ike Clanton."  Kevin Mulkins, a Tombstone historical buff from Tucson, is skeptical, though. So is Gary Mc Lelland of Glendale, who is an Old West history enthusiast and photographer. He wrote, "It seems to me, there's not enough proof....I would say I wouldn't bet any money on it right now." Terry Clanton's efforts to rebury Ike Clanton's remains next to those of Ike's father, Newman Haynes "Old Man" Clanton, and brother Billy Clanton, in Tombstone's Boot Hill Cemetery have been rebuffed by the City Council there to date. 
An account of the fatal shooting, retold by a reporter who corresponded with Browning, the detective, stated that:
     ".....while they were at breakfast, Ike Clanton came riding up to the door. Mr. Brighton got up from the table, walked to the door, and was familiarly saluted by him. Just at this time, Mr. Miller stepped to the door.....and when Ike saw him he wheeled his horse and attempted to get under cover of the thick cover which grows close to Wilson's home, at the same time pulling his Winchester from its scabbard. Both Brighton and Miller ordered him to halt but instead of doing so, when about twenty yards distant where the trail took a turn to the left, he threw his rifle over his left arm attempting to fire; at this instance Detective Brighton fired.....Ike reeled in his saddle and fell on the right side of his horse, his rifle falling on the left.....When Brighton and Miller walked up to where Ike lay they found he was dead. Mr. Wilson, at whose ranch the shooting occurred, notified the nearest neighbors and four men came over and identified the deceased and assisted in giving him as decent a burial as circumstances would admit."
Another grave listed with Ike Clanton's is Della Issacks Reynolds. She was born April 14, 1893 and drowned January 16, 1916 in the Blue River. She, her husband, and two girls and a little boy lived along the Blue River, which is near Eagle Creek.  A flood arose as she and her family were at a crossing a tributary of the San Francisco River, at the Y-Y Ranch. Her husband George unhitched the wagon and rode a horse across with the two little girls.  Della's horse reared in fright and threw her and her son into the freezing waters. Her husband George tried to rescue her, but the two frightened little girls followed him into the water. By the time he rescued them, his wife and baby were swept down the river. Her body was found lodged in a drift, the baby was not found until spring, hanging in a tree in a drift.  Della was buried at Eagle Creek, and possibly the baby was buried there, too. There's a headstone for Della, but the baby isn't mentioned.
Della Reynold's grave is marked by an elaborate tombstone and iron fence, so Tom's discovery probably isn't that grave.  The Find-A-Grave listing implies it is near Ike Clanton's, along Eagle Creek.
A look at a map of Eagle Creek in this area shows "graves" upstream and downstream from the location, plus the single grave found by Tom Gilleland.  Tom wrote about this grave's location:
     "There is no trail, and the road is bad. The grave is on the right side of the canyon going downstream, and is about 100 feet from the right cliff wall. It is just past a canyon coming in from the right, in a nice shaded spot. The road is impassable much of the year, especially when the creek is running, or if the beavers have dammed up a section. We crossed some very deep water to even get to the site. From Morenci you take Lower Eagle Creek Road to the pump station, then you go left downstream for 1-2 hours to a spot where you have to hike. The road is passable only because we improved it to bring in our gate materials. After the next big rain it will be difficult for a 4WD high-clearance vehicle to get to the site." (Written December 2010.)
Whose grave DID Tom find? A grave 71 years old would surely have the weathered stone shown in the photos. The DC for Olie Hagen stated burial at Eagle Creek. Is there any importance to the listing as "near Peg-Leg Wilson's Cabin" which is probably the one where Ike Clanton died? It is still a mystery as to who is buried in the grave on Eagle Creek!
Arizona Pioneer & Cemetery Research Project
Internet Presentation
121510
WebMaster: Neal Du Shane
Copyright © 2010 Neal Du Shane
All rights reserved. Information contained within this website may be used
for personal family history purposes, but not for financial profit or gain.
All contents of this website are willed to the Arizona Pioneer & Cemetery Research Project (APCRP).