Arizona Pioneer & Cemetery Research Project
Internet Presentation
Version 122310
Grave Found Near Evening Star Mine
By Allan Hall
APCRP Certified Coordinator
On December 9th, 2010, I was reconnoitering several trails on the southwestern flank of the Big Horn Mountains when I came across a lone adult male grave.
<![if !vml]>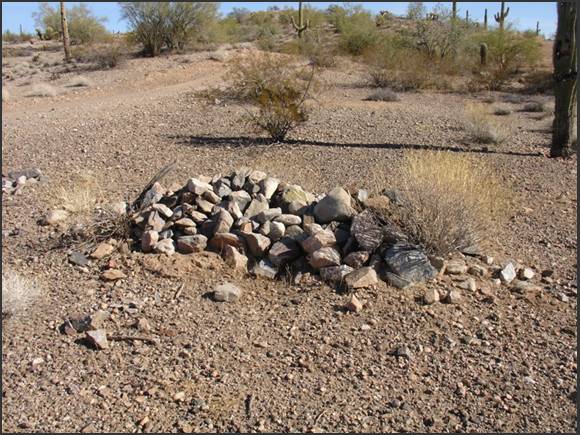 <![endif]>
Photo 1, View from west side of grave.
The site is located at N 33o 41' 49.74" by W 113o 12' 59.22".  This places the grave approximately 0.23 miles south of the Evening Star Mine and 0.55 miles north of the Gold Cord Mine.
The grave lies on the edge of an unnamed copper prospect (immediately southwest) and the area contains a modest debris field containing old cans that date to the early 1900s.
<![if !vml]>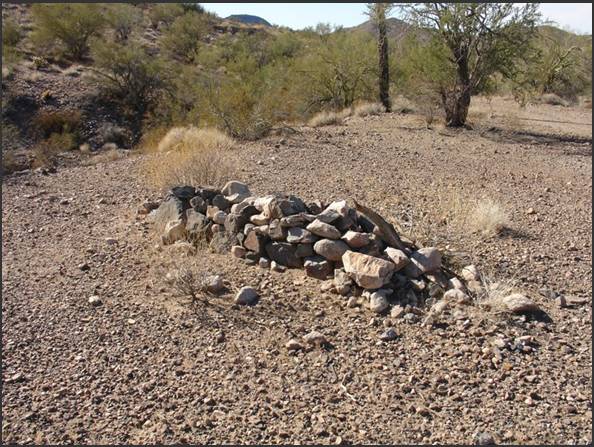 <![endif]>
Photo 2, View of grave looking southwest.
The miner/prospector must have maintained a camp on the flat in the vicinity of this grave, since the wash in the background of Photo 2 served as a trash dump.
Notice that the grave contains a wood marker.  This is a mesquite branch, and may have served as the upright portion of a cross at one time.  As the photos show, the rock mounding remains intact, and there is very little scattering.  It is interesting to note there is still a raised earthen mound, about two or three inches high, beneath the rocks.
There are no shafts or adits on the prospect – only a few shallow open trenches that exposed several bright streaks of secondary copper.  Since there are no significant mine workings on the site, it is possible this miner died from natural causes rather than from an accident.
<![if !vml]>
<![endif]>
Map location of grave and nearby mines
If anyone has researched this site in the past, please let us know.  Hopefully, the photos and map will "ring a bell" with someone.  I would like to establish a name, date and other historical information, if possible.
Arizona Pioneer & Cemetery Research Project
Internet Presentation
Version 122310
WebMaster Neal Du Shane
Copyright © 2010 Neal Du Shane
All rights reserved. Information contained within this website may be used
for personal family history purposes, but not for financial profit or gain.
All contents of this website are willed to the Arizona Pioneer & Cemetery Research Project (APCRP).