Arizona Pioneer & Cemetery Research Project
Internet Presentation
Version 020508
<![if !vml]>

<![endif]>
CEMETERY
<![if !vml]>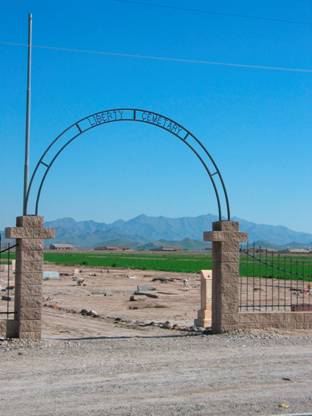 <![endif]>
Liberty Cemetery Main Entrance
Photo by: Neal Du Shane 02/03/08
Historic Liberty, Arizona was a vital and productive ranching community. In 2008 the Liberty School is still functioning. Evidence of other business structures is still evident as you pass through Liberty on the north side of highway 85. Liberty resides approximately 5 miles east of Buckeye.
Research is being completed on the burials at the Liberty Cemetery.
Initial research identifies some 364 graves and normally additional unmarked graves are present.
By: APCRP Booster - Ralph Goodall 02/04/08
I have relatives buried in Liberty Cemetery--my great aunt, Mabel Knight; her husband, Elmer; and their baby, Harold.  Mabel is a sister to my grandmother on my mother's side.  She and her husband came to Liberty in 1906 from Missouri to farm.  My grandmother and her husband arrived in Liberty in 1912 to also farm.  And another of my grandmother's sisters, Beulah Kaufman, and her husband arrived in Liberty in 1919.  Beulah was a teacher at Liberty Elementary School and her husband was a farmer.  My mother was the last of five children to be born at their home in Liberty (1928).  My mother and Beulah Kaufman's son, Wilbur, are the only remaining survivors of my original family clan from Liberty. 
I have some additional info on the family.  Also, my cousin, Wilbur Kaufman, has written a book about Liberty, entitled, "Liberty, Arizona Remembering Our Past", which I have a copy of.  According to Wilbur's book (published in 2001) by Heritage Publishers Inc. in Phoenix, a lady named Verlyne Meck in Liberty has the cemetery records.  She and a gentleman named Steven Bales, supposedly run the Liberty Cemetery Association, responsible for maintenance and upkeep.  I am not sure if they are still responsible.  Also, I am sure they have very little funds.
<![if !vml]>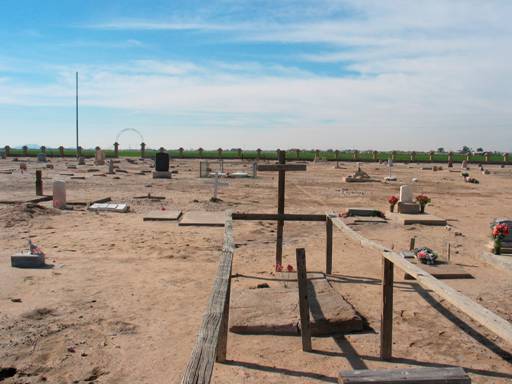 <![endif]>
Liberty Cemetery looking west from east side of cemetery.
Photo by: Neal Du Shane 02/03/08
<![if !vml]>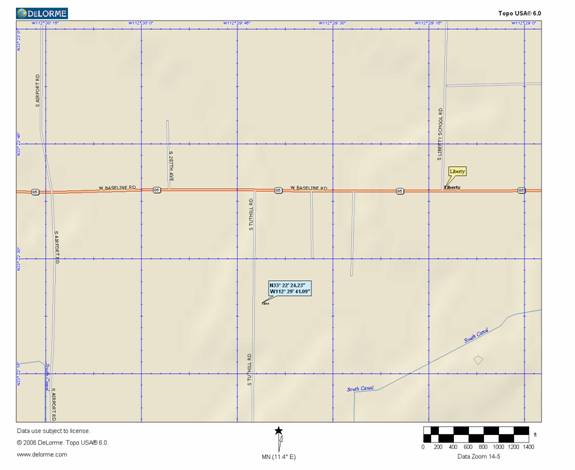 <![endif]>
Arizona Pioneer & Cemetery Research Project
Internet Presentation
Version 020508
WebMaster: Neal Du Shane
Copyright ©2003-2008 Neal Du Shane
All rights reserved. Information contained within this website may be used
for personal family history purposes, but not for financial profit of any kind.
All contents of this website are willed to the Arizona Pioneer & Cemetery Research Project (APCRP).