Arizona Pioneer & Cemetery Research Project
Internet Presentation
Revised Version 010416
<![if !vml]>

<![endif]>
<![if !vml]>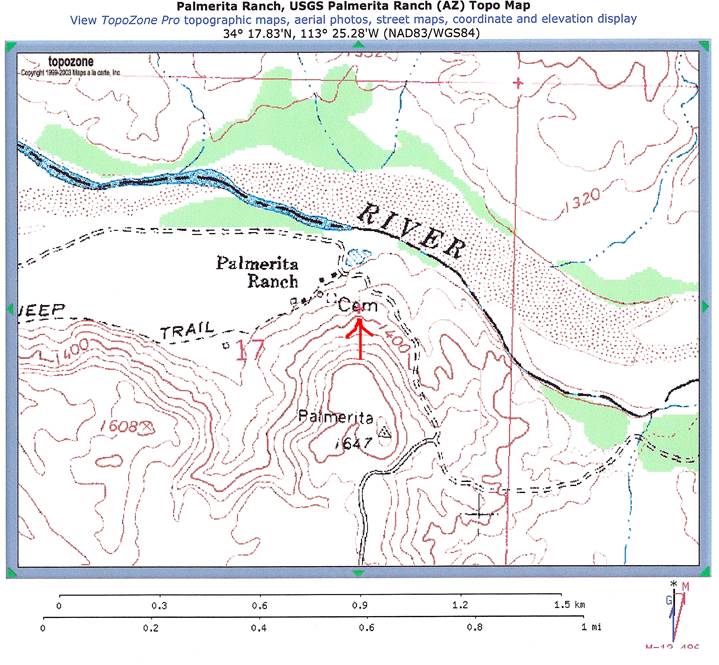 <![endif]>
In the winter/spring of 2007 good friend Diane Bain told me her husband Bill and two friends, Bill Snider and Ralph Goodall, rode ATVís in the Alamo Lake area of Arizona. Diane asked if APCRP knew anything about an abandoned Pioneer Cemetery about 4 miles up Santa Maria River from Lake Alamo.
<![if !vml]>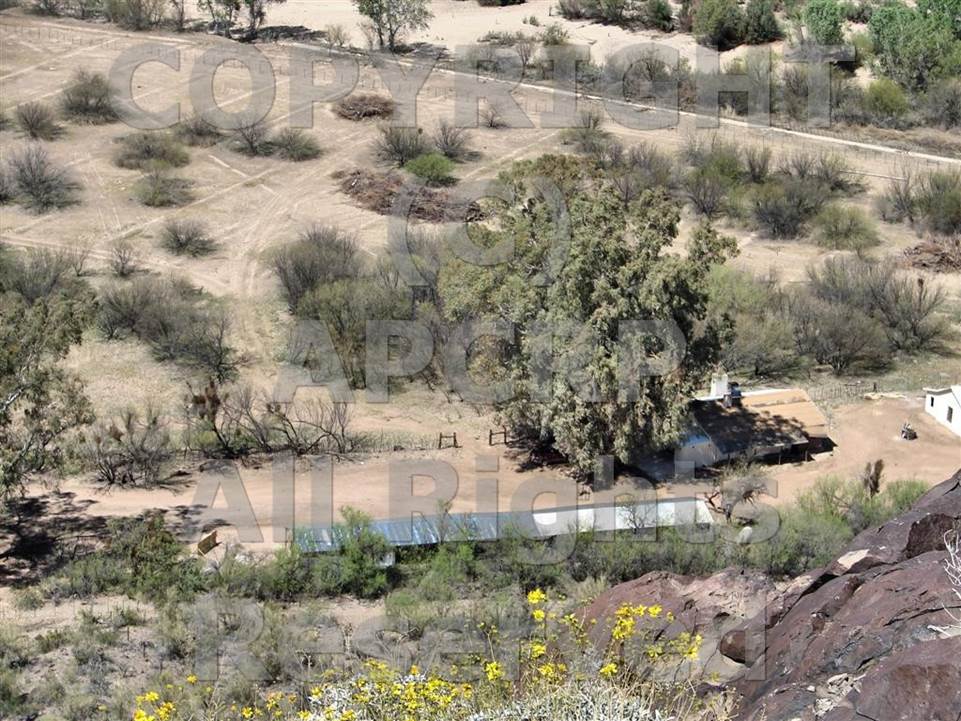 <![endif]>
Palmerita Ranch, (C) Copyright 2007, Neal Du Shane, All Rights Reserved
<![if !vml]>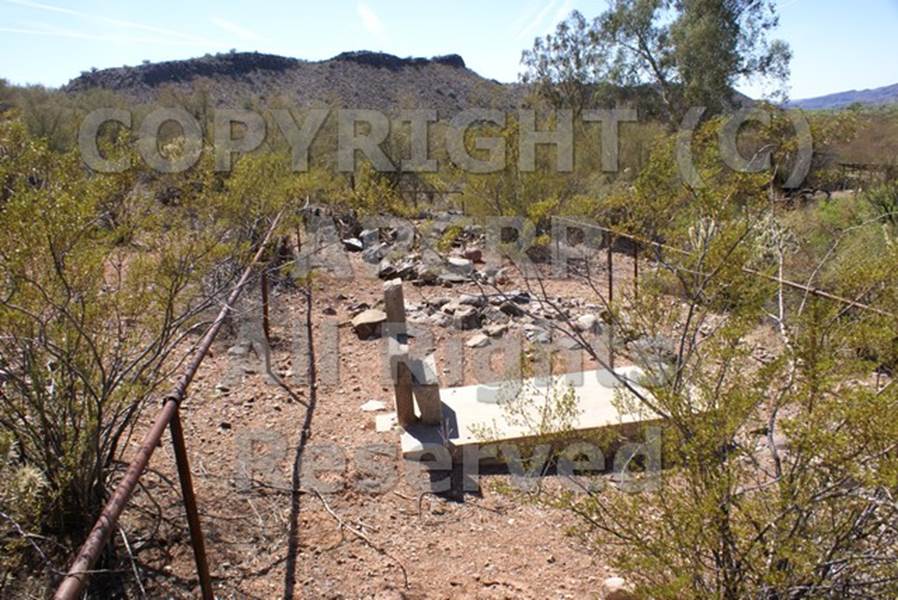 <![endif]>
Palmerita Ranch Cemetery, (C) Copyright 2007, Neal Du Shane, All Rights Reserved.
Having never been in this area previously, I asked Diane if she would connect me with the three guys and ask them to show me the site. We connected and the guys took me to the Cemetery and it is posted on the APCRP website and is known as ďCAMPAS CEMERTERĒ.
11/4/07 Ralph Goodall submitted:
We recently learned from Carl, the former longtime owner of the Wayside Inn on old Alamo Rd that the concrete pads were indeed mainly for trailers (as you thought), and was the site of a ranch called Three Rivers Ranch. Carl was familiar with this ranch and the others around there, such as Palmerita Ranch and Date Creek Ranch. He told us he had lived there all his life (and I am not sure how old he is, but probably at least in his mid-70's), and had cleared land and worked these ranches and farms all his younger life.

Carl sold Wayside Inn this past spring and does not reside there anymore, but apparently he still comes back to visit regularly. The new owners who purchased in the spring had a major setback a few weeks ago--the entire Wayside Inn building burned to the ground. They are planning to rebuild, and are actively looking for another pre-fab building. There are still many full and part-time RV residents living at this park.
While researching this cemetery we got to talking about the concrete pads slightly west of the cemetery. When I got home and started researching the old Topographical maps of this area I found two additional cemeteries. One is right at the Alamo Lake Campgrounds to which Bill Bain, Bill Snider and Ralph have researched and havenít found any evidence using GPS readings.
<![if !vml]>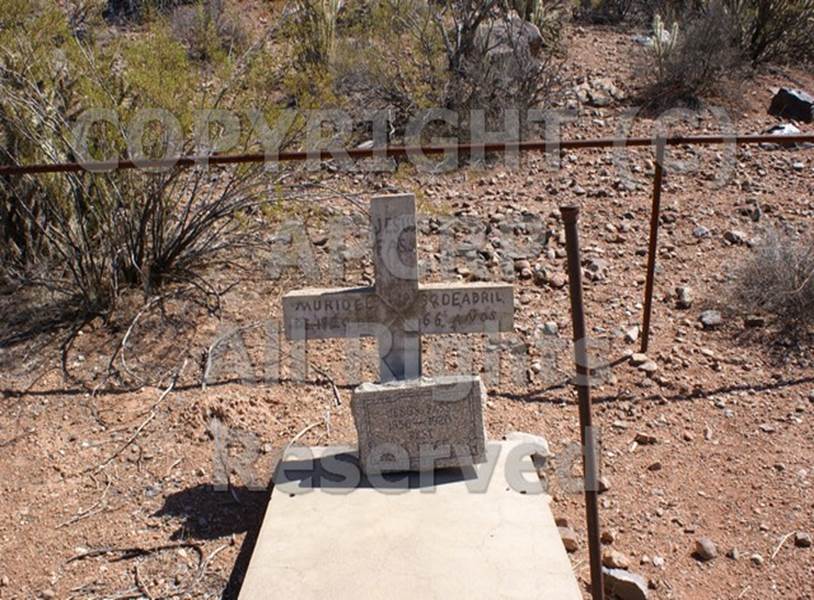 <![endif]>
Jesus Fass Palmerita Ranch Cemetery. (C) Copyright 2007, Neal Du Shane, All Rights Reserved.
11/16/07 Ralph Goodall submitted:
While we were up at Alamo lake last month, we made an attempt to locate the cemetery that you showed me from an old topographical quad map, indicating the probable location of the cemetery associated with the old town of Alamo (now under the lake somewhere). We pretty much zeroed in on the GPS coordinates and could recognize we were in about the right place based on the topographical contours, but could not find anything. Bill did try researching around the area on another day after I left, but said he could not find any indications of additional graves. I know the lake has risen up over this area several times in past years during major flood inflows from the river, which has surely made any cemetery indications very difficult to find.
I immediately contacted the guys as they were camping at Alamo Lake for a couple of weeks and were looking for things to do.
<![if !vml]>
<![endif]>
Palmerita Ranch Cemetery. (C) Copyright 2007, Neal Du Shane, All Rights Reserved.
<![if !vml]>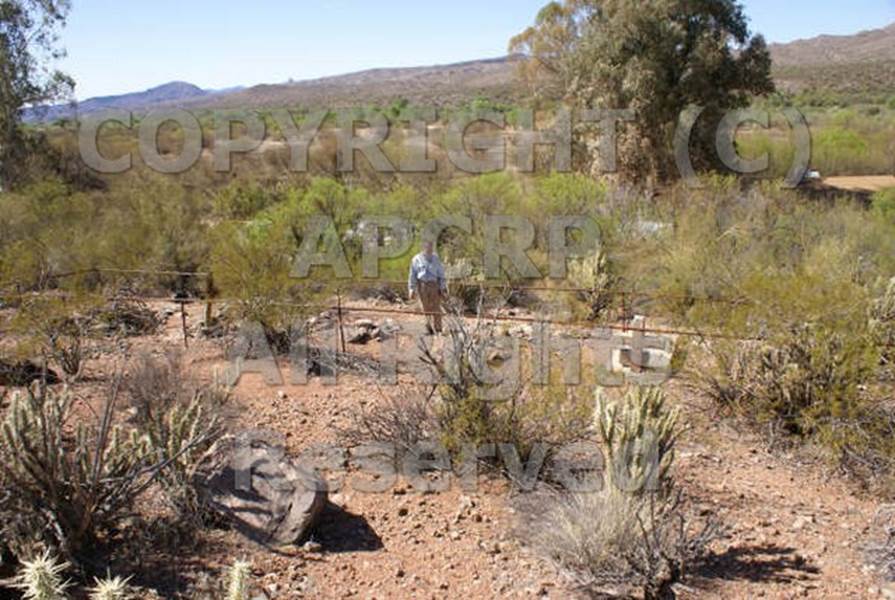 <![endif]>
Bill Bain researching Palmerita Ranch Cemetery. (C) Copyright 2007, Neal Du Shane, All Rights Reserved.
The one cemetery that caught my eye was the site at the old Palmerita Ranch homestead. The guys said they would check it out before they left Alamo Lake as they knew exactly where the homestead was but werenít sure of the cemetery location.
Within a week Bill Bain called and indicated they had in fact located the cemetery. To which they took pictures and researched the cemetery for graves.
Betty Hastings Recalls
If you are looking for information about whether this is the Palmerita Ranch cemetery, one of Rusty's (Hastings) friends, Carl Miller, owns--his family owned--Palmerita and also Grapevine Ranch.
Palmerita was purchased by environmentalists and they just let everything go back to ruin. It was once a beautiful ranch. I spent a lot of my childhood out there hunting rocks before the wilderness area was put into the Santa Maria Mountains. I used to sit on the bank overlooking the river and the ranch and see the beautiful alfalfa fields they had there and look at the ranch buildings.
There were seven wells on the place and big waterers spraying the fields. It was incredible and I always wanted the place. Of course, when it came up for sale in the 1980's. It was only going for about $300,000.00 at that time, too.
<![if !vml]>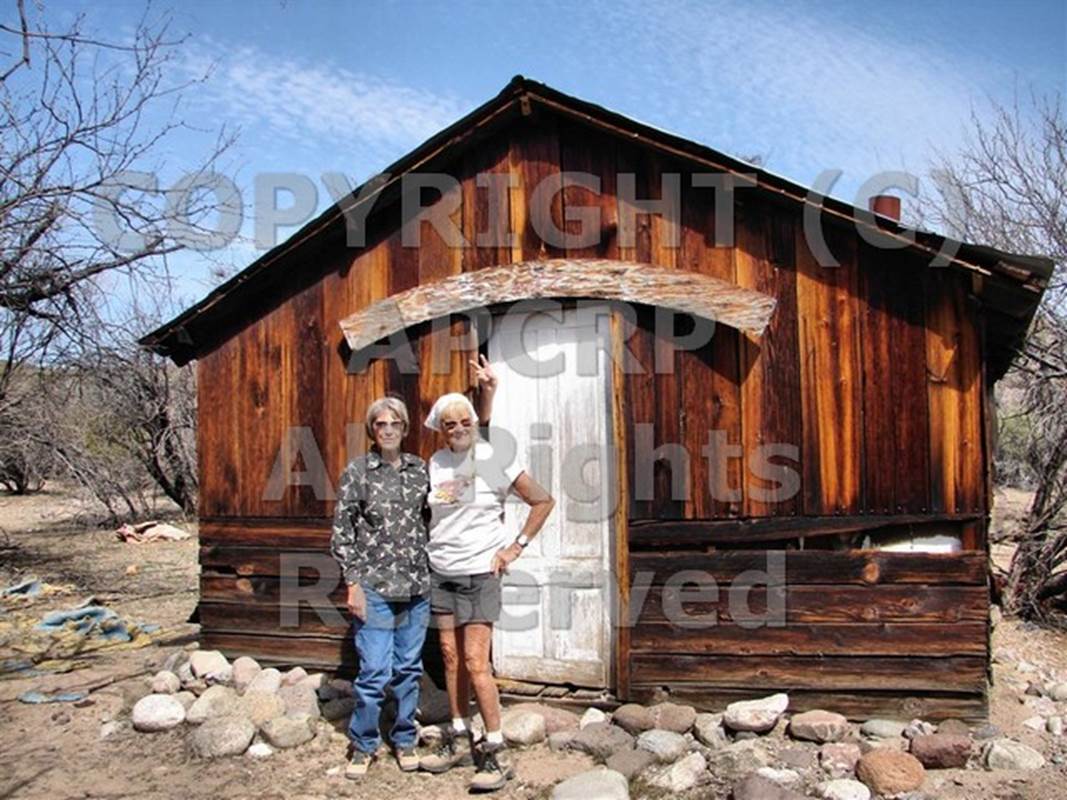 <![endif]>
(L) Bonnie Helten, (R) Shelley Rasmussen restraining one mysterious truant student, trying to escape the School House March 9, 2012 (C) Copyright 2012 Neal Du Shane, All Rights Reserved.
There were a lot of people living up and down the river there - - the Orozcos and Madrils and Millers and so forth. You can still see their places if you go along through the underbrush. There was even a school house (Photo above) and when I was about 15 years old in 1957 or so, the walls were still standing and also several desks and blackboard and the keyboard of an old piano on the floor. When I was out there, a man named Chet Fuller owned it. I don't know if he is still living, or if he is still around Wickenburg. Carl Miller is, however, and his family is from out there--generations of them.
11/23/08 Betty & Rusty Hastings,
<![if !vml]>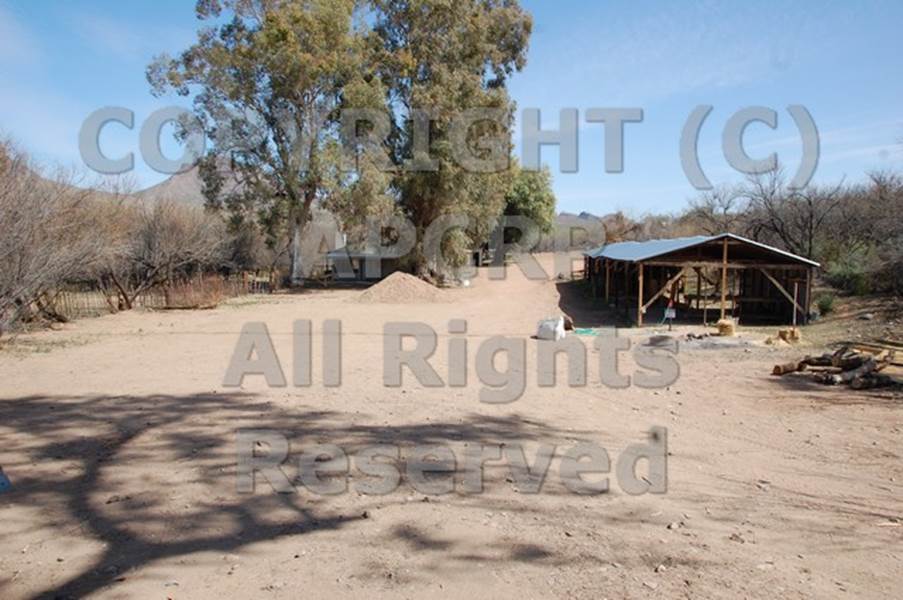 <![endif]>
Palmerita Ranch. (C) Copyright 2007 Neal Du Shane, All Rights Reserved.
Over the past few years preservation and restoration has been sporadic. As of 2016, restoration has ceased at the property and is in disrepair once again. You can still access the ranch on the somewhat maintained road with stipulation that the conditions change on the road with each storm.
On my last visit to the Palmerita Ranch I was asked to see if I could identify any graves outside the presently enclosed cemetery. I did find two graves approximately 500í to the east of the cemetery. Both were believed to be male and it is also believed they were ranch hands who passed from natural causes. More research is forthcoming to verify this information.
| | |
| --- | --- |
| <![if !vml]><![endif]> | <![if !vml]><![endif]> |
Photographs above, Palmerita Ranch Cemetery. © Copyright 2007, Neal Du Shane, All Rights Reserved
All pictures were taken by Bill Bain, Bill Snider, submitted and approval to use by Ralph Goodall.
EDITORíS NOTE: Palmerita Ranch Cemetery has been deemed a Native American burial site which by law, restricts it from any photography or videography. Members of the Fass family have graciously granted APCRP exclusive permission to display these photographs. The photographs on this website may not be copied or reproduced by any means nor used in any manner.
†
By: Neal Du Shane 01/04/16
Arizona Pioneer & Cemetery Research Project
Internet Presentation
Revised Version 010416
WebMaster: Neal Du Shane
Copyright ©2003-2016 Neal Du Shane
All rights reserved. Information contained within this website may be used
for personal family history purposes, but not for financial profit of any kind.
All contents of this website are willed to the Arizona Pioneer & Cemetery Research Project (APCRP).