Fort Sumner, NM 6/6/10
Lincoln, NM 6/7/10
Research By Neal & Joyce Du Shane
Billy The Kid – Old Fort Sumner, NM June 6, 2010
1. Billy is buried in the grave in the Old Fort Sumner Cemetery, 7 miles south of Fort Sumner, NM.
2. Billy was not a friend of Pat Garrett although they knew each other.
3. Pat Garrett did shoot and kill Billy that night.
4. Billy's grave has his head to the west and feet to the east. (Facing east)
5. Billy's grave is the farthest North of the three graves within the caged enclosure.
6. Small grave marker is actually at Billy's feet.
7. Large headstone with all three names on it is at their heads.
8. Billy did not know his girl friend was pregnant (if she actually was).
9. He did enjoy the excitement/joke of taking Army Horses when soldiers were in saloons.
Within Caged enclosure at the Old Fort Sumner Cemetery
1. Billy is buried in the right grave (far North).
2. Charles Bowdie is in the center grave.
3. Tom O'Filliard is in the left grave (South) Both men were members of Billy's gang.
                                                                          Grave marker of Billy The Kid                                      Peter Maxwell marker
| | |
| --- | --- |
| <![if !vml]><![endif]> | <![if !vml]><![endif]> |
| <![if !vml]><![endif]> | <![if !vml]><![endif]> |
Billy The Kid, Tom O'Filliard and Charlie Bowdie graves are inside caged area.
Brushy Bill Roberts (research by Neal Du Shane)
While it is reported that Brushy Bill Roberts who claimed to be Billy The Kid, is buried in either Hico, TX or Hamilton, TX with granite headstones. Drew Gomber noted Historian for this area, indicated Brushy Bill was also reported to be buried in the Old Fort Sumner Cemetery. I was drawn to one particular unmarked grave several times from several different locations within the cemetery, when researching Brushy Bill Roberts.
1. Arguably, it is believed Brush Bill Roberts is buried in this cemetery.
2. GPS N34 34.203, W104 11.605 (+-14')
3. Third grave in from south wall, approximately in the middle from the E/W ends.
           A. First Grave, Charles W. Foor
           B. Second Grave, Salena Baudian Foor
           C. Third grave in a northly line is Brush Bill Roberts (only a small dark red sandstone rock identifies the grave plus a small depression)
4. In 2010, if you locate the Chinese Elm Tree on the S. side of the S. wall directly North are the graves.
5. Pace 21' North, from South wall, to the center of Brush Bill's grave (aligned with the Chinese Elm)
6. Grave is between Foor family and Abru Family Graves.
7. Brush Bill died on 12/27/1950 and don't know if this is the original grave or reinterred here at a later date? As of this printing Brushy Bill passed away 60 years ago.
| | |
| --- | --- |
| <![if !vml]><![endif]> | <![if !vml]><![endif]> |
Left photo; I was drawn to this grave site, approximately at the edge where the shade of the Chinese Elm is, left of the decayed marker.
Right photo; Brush Bills grave is almost in line with the Chinese Elm, 21' north of the south adobe wall of the cemetery.
In total there is some 40 headstones visible, would estimate there are another 30 or 40 unmarked graves in the Old Fort Sumner Cemetery.
LINCOLN, NM - June 7, 2010
1. Alexander A. McSween is buried behind the McSween Store (marked with brass plaque and wood cross)
2. John H. Tunstall is also buried behind the McSween Store to the left of McSween. (side by side, also marked with a brass plaque and wood cross)
3. Confirmed both graves are as represented by the markers.
4. Both indicated Billy the Kid was not fond of Pat Garrett and visa versa.
| | |
| --- | --- |
| <![if !vml]><![endif]> | <![if !vml]><![endif]> |
                                                                                   Alex A. McSween                                               John H Tunstall
5. Walk east between the Post Office and Home to the south end of the McSween Store.
5. One additional grave of a male was found approximately 200' N of these graves. Closer to the expansion store to the north of the old store. No indication who this person was/is.
6. In addition a family of five graves were found on the lot next to McSeen and Tunstall (South). Three male children varying ages, one adult male and one adult female. Local legend has it they were a family that died from bad water.
7. Locals indicated Laurence Murphy of Murphy-Dolan (competitors) was buried in Santa Fe, NM
8. Walked the Lincoln Cemetery with lots of interesting graves.
<![if !vml]>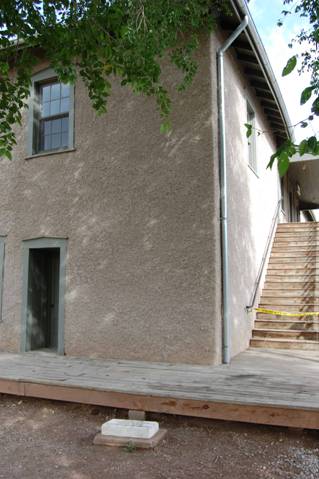 <![endif]>
The second floor window above the doorway is the "Hello Bob" window.
Bobs memorial marker is in white on the ground where he died.
9. Walked the old Court House and interesting to stand at the "Hello Bob" window and look down where Billy shot Bob Hollinger from the second story. Actually the window is in the second floor Court Room, the largest room in the two story structure.
<![if !vml]>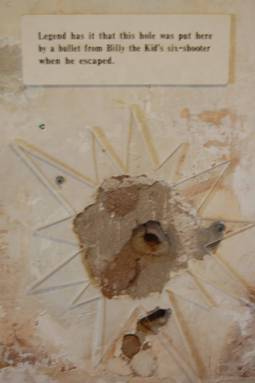 <![endif]>
10. There is a bullet hole in the wall at the end of the interior stairs that they report was put there by Billy. My observation is he must have used a .45 by the size of the hole in the adobe. (BIG hole)
<![if !vml]>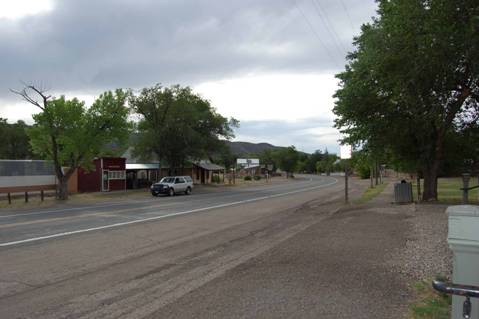 <![endif]>
Lincoln, NM looking South from old Court House 6/7/2010.
Very interesting town to walk the streets and in one's mind's eye, envision the happenings of that era. If you are a history buff Lincoln, NM is well worth the effort with well marked historical signs at pertinent sites. Surprising the amount of vehicle traffic through town that wasn't tourist related.
Observation:
We have seen and been in some "long lonesome, in the middle of nowhere" locations in our travels over the years. What struck Joyce and I, was the absolute bleakness of the 100 miles between Lincoln and Fort Sumner. A windmill here and there but little else in Billy's time, nothing but rolling hills. You could see a rider and horse for 10 miles with no problem in this area.
All photographs by: Neal & Joyce Du Shane
WebMaster: Neal Du Shane