HOME | BOOSTER | CEMETERIES | EDUCATION | GHOST TOWNS | HEADSTONE
MINOTTO | PICTURES | ROADS | JACK SWILLING | TEN DAY TRAMPS
Arizona Pioneer & Cemetery Research Project
Internet Presentation
Version 012209
<![if !vml]>

<![endif]>
By: Bonnie Helten – Pat Ryland - Neal Du Shane
<![if !vml]>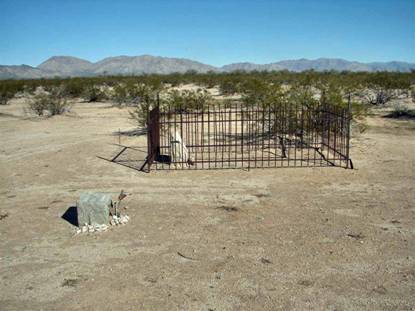 <![endif]>
Photo by: Bonnie Helten
DeForest Hall, founded Salome, later referred to as "Dick Wick Hall" traveled to Arizona from Iowa in 1898 at an age of 21 settling in the Wickenburg area. A few years later, striking gold a few miles west of Wickenburg with a friend a new settlement arose around their Glory Mine. Salome was the name of the wife of Dick's friend and business partner. Dick being an entrepreneur opened a gas station in an attempt to bring attention to Salome as well as attracting attention with the Salome's cartoon frog as a mascot.
The original town of Salome was positioned approximately one half mile north of its current location. When the Rail Road came through the area it missed the original town so the business community moved close to the Rail Road which at that time was a major factor in the economy of Salome.
Local Salome historians seem to have little information relating to this cemetery. They thought there may be up to twenty graves here. It is possible this was the original Salome Pioneer Cemetery when the community was farther north from the current tracks. Research continues.
When the Arizona Pioneer & Cemetery Research Project (APCRP) sent out information about the two graves in the Salome area, being the "Desert Rat' that I am, I was immediately interested in trying to locate the graves.
I asked Mary Ann to accompany me and we headed out. We turned north on the first paved road that we came to as we entered Salome from the east. I don't think there was a road sign but after coming to a stop sign there was a street sign that said Hall. After going about a mile or so we turned down a dirt road and stopped to check the G.P.S..
It showed that we were too far north. Mary Ann completed research and we proceeded south. I guess you could say we were using high tech and low tech to find the graves in this Pioneer Cemetery in Salome. We headed back south on Hall and found that we had passed the road. It is just after you cross the RR heading north and start to make a curve. There is a "curve road sign" and you turn east just before it. The road is just a two track and trash has been dumped along the way.
Mary Ann was watching the G.P.S. and said we were getting close and just at the time I noticed a wrought iron fence and we had arrived. It is probably about a 1/4 mile from the main road. There are lots of nails around the graves so it is best not to park too close.
| | |
| --- | --- |
| <![if !vml]><![endif]> | <![if !vml]><![endif]> |
Photos Courtesy: Bonnie Helten
Courtesy: Pat Ryland: Both of these will be hard to find info on as there aren't many clues on the death certificates.
Mary Ware Love Bedford; born May 21, 1842 & died July 10, 1915; cause & time of death unknown (there's a good story there somewhere); born Missouri; usual residence Texas; informant is E.W. Bedford.
Mary Ware/Wear Love was the daughter of Alexander Preston and Margaret
(Ware/Wear) Love. She was born May 9, 1842 in Tiff City, McDonald Co., MO and married Edward West Bedford on Jan 15, 1877 in Ellis, Texas. She was Edward's 2nd wife and they had no children. Edward & Mary moved to San Diego Co., CA, sometime before 1900. Edward died in San Diego, CA, on Feb 23, 1912.
None of the online info states a death date or place for Mary and it's not mentioned that they resided in AZ even though we know they were here at least in 1910.
F.W.'s says--Francis Warren Jacobs; died Aug 28, 1922 age about 50 yrs; occupation - lawyer; found dead in bed at Salome Hotel; probably cause of death was heart disease.
By: Bonnie Helten: We took photos and then dowsed for more graves. We stopped dowsing after finding at least fifty. The two marked graves are surrounded by numerous unmarked ones and they seemed to be in orderly rows.
Since this seemed to have been a major cemetery, we decided to see if we could find out any information from someone in town. A lady at the Chamber of Commerce wasn't aware of the graves but suggested we check with a business across the street. I'm not sure of the name but it was in a building with a real estate office. The lady we spoke with knew about the two graves and had taken some photos a couple of years ago. She thought it was probably a family plot and had no idea there were more graves there.
| | |
| --- | --- |
| | <![if !vml]><![endif]> |
| <![if !vml]><![endif]> | <![if !vml]><![endif]> |
| <![if !vml]><![endif]> | <![if !vml]><![endif]> |
| <![if !vml]><![endif]> | <![if !vml]><![endif]> |
Photo's Courtesy: Bonnie Helten
As with so many APCRP research projects involving Historic Pioneer Cemeteries, due to the passing of time and generations, even the current living resident historians may not be aware of the circumstances or history of the cemetery. Most recall the cemetery being there but have no knowledge as to the background for the existence, how it got started and when it quit having interments.
Local historians were told at the time of this cemeteries existence Salome was in Yuma County, in later years La Paz acquired Salome and in theory all the records were given to La Paz County from Yuma County. Were there ever records in Yuma County or were they lost APCRP has been unable to acquire information from either county in relationship to most of the abandoned Pioneer Cemeteries in either county.
<![if !vml]>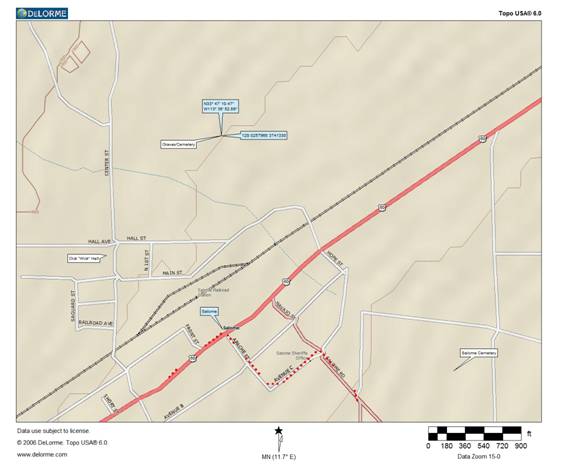 <![endif]>
Arizona Pioneer & Cemetery Research Project
Internet Presentation
Version 012209
WebMaster: Neal Du Shane
Copyright © 2009 Neal Du Shane
All rights reserved. Information contained within this website may be used
for personal family history purposes, but not for financial profit.
All contents of this website are willed to the Arizona Pioneer & Cemetery Research Project (APCRP).
HOME | BOOSTER | CEMETERIES | EDUCATION | GHOST TOWNS | HEADSTONE
MINOTTO | PICTURES | ROADS | JACK SWILLING | TEN DAY TRAMPS