HOME | BOOSTER | CEMETERIES | EDUCATION | GHOST TOWNS | HEADSTONE
MINOTTO | PICTURES | ROADS | JACK SWILLING | TEN DAY TRAMPS
Arizona Pioneer & Cemetery Research Project
Internet Presentation
Version 081110
<![if !vml]>

<![endif]>
Site coordinates: N34 28.39, W113 37.81
Cemetery coordinates: N34 27.83', W113 37.48
By Kathy Block
Historian, Author
All Photographs by: Ed and Kathy Block
The very interesting ghost town of Signal and its little cemetery, which is well apart from the ruins of the mill, are fairly well preserved, due to bad access roads, isolation, and possible lack of publicity. A brief write-up is given in Arizona's Best Ghost Towns by Philip Varney, 3rd Printing, 1986, a longer write-up appears in Backcountry Adventures: Arizona by Peter Massey and Jeanne Wilson, 2002 Edition, and there is a brief description on the Ghost Towns web site. There are two main ways to drive to Signal. One is from Alamo Lake road that goes east 36 miles on mostly dirt/gravel road (occasionally rough after rain storms) from I-40 at Yucca, past a strange saucer-shaped house on stilts.
The other is from US 93 on Signal Road, which goes west 17.9 miles from a point 7 miles south of Wikieup. This route is a very scenic dirt road, thru the Poachie Range, but the traveler faces the occasionally impassible, flooded Big Sandy River crossing!
<![if !vml]>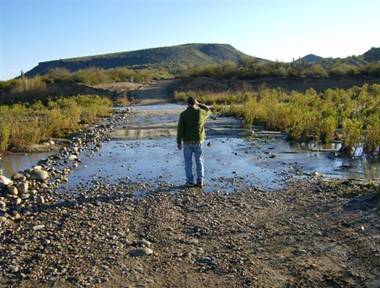 <![endif]>
Ed Block surveys flooded Big Sandy River Crossing
"Which way did they go?"
The turnoff to the ruins of the mill is marked by a handmade sign, posted by a corral across the turnoff that directs travelers to Signal with the name and an arrow.
<![if !vml]>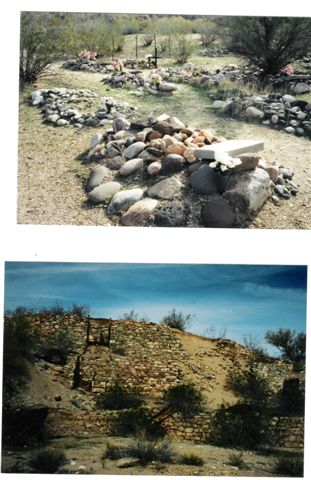 <![endif]>
Once one arrives at Signal, you see impressive ruins of a silver milling operation and scattered rusting machinery. The road to the ruins off the Signal Road can require 4x4, as you are driving thru soft sand of a wash!
<![if !vml]>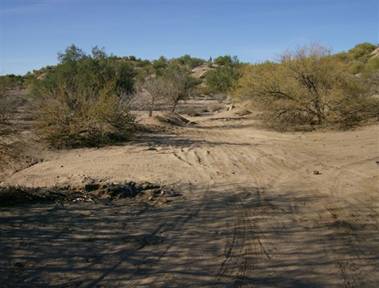 <![endif]>
The cemetery is reached via a jeep trail that goes to the right off this main wash to the mill site to another wash. Drive or walk down this wash almost to the Big Sandy River and hike to your right up a hill to the cemetery or continue across the wash and uphill on a rocky track to ruins of a stone building with the cemetery nearby.
<![if !vml]>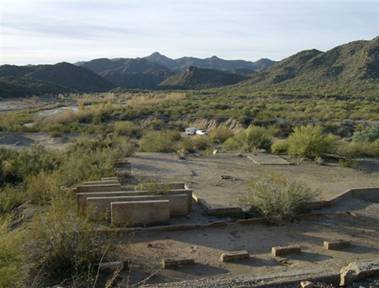 <![endif]>
Signal developed along the banks of the Big Sandy River about three years after the McCracken silver mine was discovered in 1874. (The mine site, a few miles to the NW, is interesting to visit, also. It has a large stone building where one can picnic inside and enjoy a great view, but there are dangerous unfenced mine shafts and adits, and the mine is intermittently worked and posted.) 
<![if !vml]>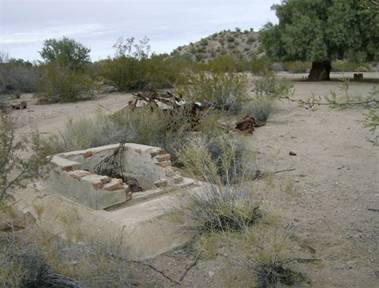 <![endif]>
An historical account of the McCracken mine, written in 1878, describes the mine as having a 50 stamp mill on the grounds, extensive tunnels with shafts down 50 to 75 feet, and producing $100,000 per month! The writer expressed surprise that "when coming down the Colorado on one of the Colorado River Navigation Co's boats, to find 14 bars of silver bullion, representing in the aggregate a value of about $20,000. This was from the McCracken mine in Mojave County."
Signal itself sprang into existence in 1877 and quickly was established as the milling town for the silver extracted from the mines. It had a post office until 1932, serving isolated ranches in the area. The town's peak population was about 800 people and 200 buildings until the late 1880s, when the ore played out.  About 300 people stayed on, and there is an occupied home with buildings possibly buildings made of recycled lumber from Signal, just to the west on a hill near road to the ruins.
<![if !vml]>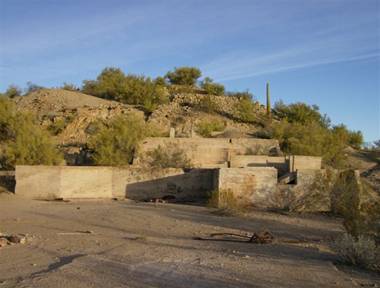 <![endif]>
Signal had the usual stores and businesses - 5 stores, 3 restaurants, 13 saloons, plus the unusual business of a brewery! In fact, one can still find bits of colored glass and crockery possibly from this brewery. There used to be a saloon nearby, but it has now vanished. (Possibly the homestead used its lumber?) The BLM has posted part of the site, but there are many junked cars and other debris scattered around the area.
| | |
| --- | --- |
| <![if !vml]><![endif]> | <![if !vml]><![endif]> |
There is a large concrete foundation for a water tank on a hill above the mill, made in 1939, and a man named Rebel Webb carefully signed his name in the settling cement.
<![if !vml]>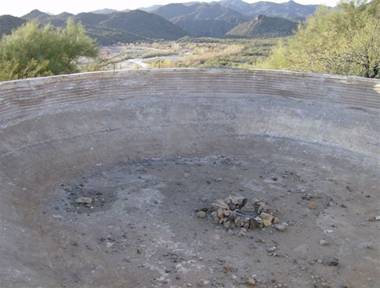 <![endif]>
An unusual fact about living in Signal was its isolation. As reported in Arizona Place Names, a visitor in 1878 wrote: "Freight from San Francisco was originally brought by steamer around the California peninsula up into the mouth of the Rio Colorado, but at this time it came by rail to the west side of the river at Yuma, and thence by barge up the river to Aubrey Landing, where it was loaded on wagons and hauled by long mule teams 35 miles upgrade to Signal. The merchants considered it necessary to send orders 6 months before the expected time of delivery."
The mill operated around the clock while the boom lasted. The town's respectability was maintained by a strict local justice of the peace named Moses Levy, whose legendary sentences apparently quelled even the most rambunctious miners (with 13 saloons and a brewery......no wonder!)
The cemetery itself is slightly difficult to find, but worth the effort.  There are about 20 graves with the earliest marker 1888 and the last 1998, saying, " Lorene Madril, 1998" with "Lorene" also written on a nearby rock with white paint.
| | |
| --- | --- |
| <![if !vml]><![endif]> | <![if !vml]><![endif]> |
Many of the burials seemed to be one Hispanic family. There are several unidentified graves marked with piles of rock, plus more recent graves in the cemetery (possibly former miners or workers at Signal? Or nearby residents?) There are unconfirmed stories of a second graveyard at Signal, which was supposed to be a Chinese cemetery that existed further down the wash of the Big Sandy River, but no trace remains, so these stories can't be verified. Possibly this cemetery was washed out in one of the periodic floods of the river?
<![if !vml]>
<![endif]>
Courtesy: Mohave Museum of History and Arts, Kingman, AZ
The main cemetery sits on a ridge overlooking the river. (See photos). One time I had walked to the cemetery alone from our camp, about a mile one way from the mill ruins, and encountered two scruffy guys on ATVs with metal detectors, drinking beer. They left as I arrived, throwing beer cans on the graves. Possibly they were thinking that the impoverished miners were buried with treasure? If the pattern of burials of other miners, as at the cemeteries in the Wickenburg area, was followed, the miners were often buried with just a minimum of clothing - others needed their boots and possibly jeans, etc. And forget about coins or jewelry!!!!
This Cemetery was believed to be the Catholic Cemetery. Research has found there was a second cemetery described as the Anglo or Protestant Cemetery that we are researching to identify and locate. Some have stated it was washed away in a flood but we will reserve comment until APCRP has researched the area completely.
ADDENDUM 04/11/09: I recently came across additional information about Signal Cemetery. A book titled Ghost Towns and Historical Haunts in Arizona, Thelma Heatwole, Golden West Publishers, 1991, gave one answer to question of how many burials in Signal Cemetery. "Nearly 50 graves, (Genealogy Trails, below, lists 64 graves) most of them marked simply by a mound of stones, dot the cemetery. A good-sized cross is etched with colored marbles embedded in concrete to create the name, 'A. Leivas'. The date, '1810-1885 '. (Note: Other sources give death date as 1818.) (I believe, but not completely sure, that the marbles were gone when we visited the cemetery in 2007.) At the time the story was written, the rancher, Bill Roer, who owned the land and had leases in area for cattle rising, had threatened to bar the public from Signal. He said, "I wish that visitors would respect my property and that of other ranchers. If they don't, we will bar the public. That would penalize the good people for the three percent that destroy and vandalize." NOTE: To date this doesn't seem to have happened, but ATV trails crisscross the land, trash is dumped along the washes, and campfires are built in the ruins of the mill.
Most surnames list the known burials at Signal (mostly Hispanic) and noted: "Cemetery located on the rocky bank of the Big Sandy River. 64 Graves, 8 with Markers." Source: Mohave County History Museum. Some of the notations show hazards faced by the early inhabitants. Six-year-old Charles Hall died 6-10-1885 of a scorpion bite on neck. A miner, John L. McComas, age 54, died 2-23-1938 from a cave in at Patty Jane Mine. Miner, Alberto Valencia, age 35, died 6-28-1908, a suicide. Rosa and Wendedlada Valenzuela, no date, notes "mother and daughter in same grave." Did she die in childbirth? Two railroad brakeman, Michael McGuire, age 54, and J.S. McKenzie, age 25, both died 9-29-1906. Was there a railroad accident? One teacher and two infants are also buried at Signal. These notations give tantalizing clues to past history of Signal and the area.
The site of the Signal milling operation and the cemetery are a very worthwhile excursion for a Taphophile! Enjoy!
July 31, 1958
News from the Sandy: The early settlers who came in wagons overland included the families of the Boners, Cornwall's, Cofers, Carrows, Shipp, Kaysers, Despains, Hand, McClure, Jack and John Owens, the Briggs and other. These pioneers sold their extra produce—vegetables, milk, butter, eggs and hay—to the Signal merchants, two Jewish brothers named Moses and Gabe Levy, and their cousins, William and Henry Koshland. The post office was at Signal. The mail was carried from Fort Mohave on the Colorado River to Signal on Pack mules. Soon there were enough children on the Big Sandy to establish a school. Ad Cornwall was their first teacher. Later another school was established in Signal.
---
May 28, 1958
The Big Sandy by May Davis Young: Burro Creek joins the Sandy before the mountain formation closes in. Just below is the little town of Signal. Signal was mining camp started in the 1860's. Prior to 1872, James R. Boner moved from Kern County, California, to Mineral Park, Arizona. His family consisted of his wife, four boys, and one married daughter, a Mrs. Despain. The next year, the Boners had a baby boy born in Mineral Park. Soon after this Mrs. Boner burned to death. In 1873 Boner moved his motherless family by ox team to the Big Sandy. Mr. Boner's brother, John, and his daughter, Mrs. Despain, were already located on the big Sandy by this time. His oldest son Alfred Boner, and Tom Collins, an ox team driver, located the Gideon Cornell place in 1873. There was nothing but a spring on the place at the time. Later, a man named "Dirty Frenchy" killed Tom Collins over a poker game in Wickenburg. In 1874, two more of James Boner's sons, Stub and Jim, located the Neal place. Other members of the Boner family located and sold several ranches as settlers began to move in.
Arizona Pioneer & Cemetery Research Project
Internet Presentation
Version 081110
WebMaster: Neal Du Shane
Copyright ©2010 Neal Du Shane
All rights reserved. Information contained within this website may be used
for personal family history purposes, but not for financial profit of any kind.
All contents of this website are willed to the Arizona Pioneer & Cemetery Research Project (APCRP).
HOME | BOOSTER | CEMETERIES | EDUCATION | GHOST TOWNS | HEADSTONE
MINOTTO | PICTURES | ROADS | JACK SWILLING | TEN DAY TRAMPS