Arizona Pioneer & Cemetery Research Project
Internet Presentation
Version 022513
SUNNYSIDE, ARIZONA
PIONEER CEMETERY
Cochise County, Arizona
GPS Coordinate: N31 26 4.67, W110 24 12.57
BY: Kathy Block
APCRP Booster & Research Staff
Contents – Click hyperlink's below to go directly to subject.
Sunnyside, Arizona - Ghost Town. 8
Directions to Copper Glance Mine: 17
The author wishes to express a special "thank you" to. 17
<![if !vml]>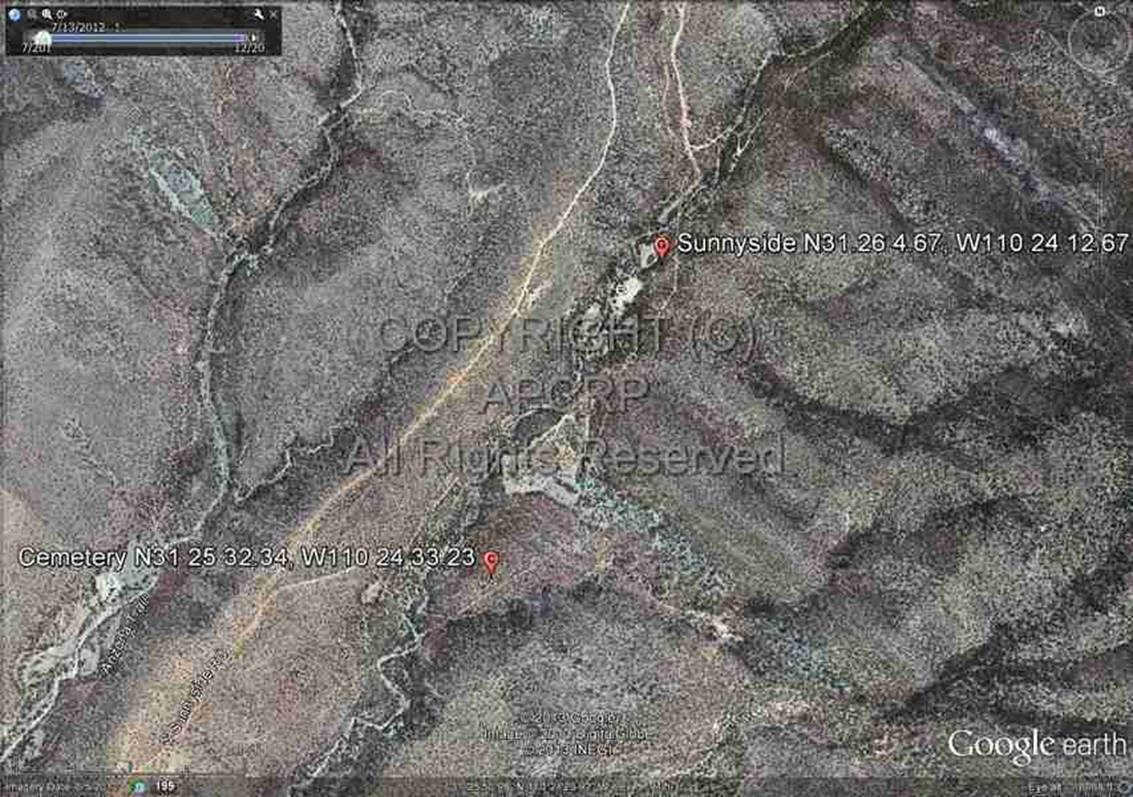 <![endif]>
Map of Sunnyside, Arizona area and the Sunnyside Pioneer Cemetery – By Neal Du Shane
Sunnyside Cemetery was a burial place for some residents of the unique town of Sunnyside.  The cemetery is located 1.2 miles to the south and 2 miles west of the Sunnyside Ghost Town.  There are at least 10 documented burials.  The earliest was Jacob Bisel in 1901 and the last was John Henry Merritt in 1945.  Nine graves have metal plaques placed on them by Carroon Mortuary in Nogales, Arizona. The mortuary is now known as Adair's Carron Mortuary. One review noted that "Pretty soon.... 'Carroon's!!!" was a common "death threat" in Nogales (probably in the area's early history?) Interestingly, a review of the 5 death certificates available showed only one burial, John Henry Merritt, mentioned an undertaker, "J.R. McInyre in Patagonia." Diana Gattrell was buried by "a family member", and the other 3 said "None" for undertaker!   The late owner of Carroon's mortuary, who died in 1981 was apparently a very caring man and may have provided, by request, plaques to help people identify graves as a courtesy, regardless of whether the mortuary was involved in their burial. At the time, Carroon's, in Nogales, Arizona, though a considerable distance from Sunnyside, was one of the few in existence in the area. (Information on Carroon's Mortuary provided by John W. Chapman of Adair Funeral Homes, Inc.)
<![if !vml]>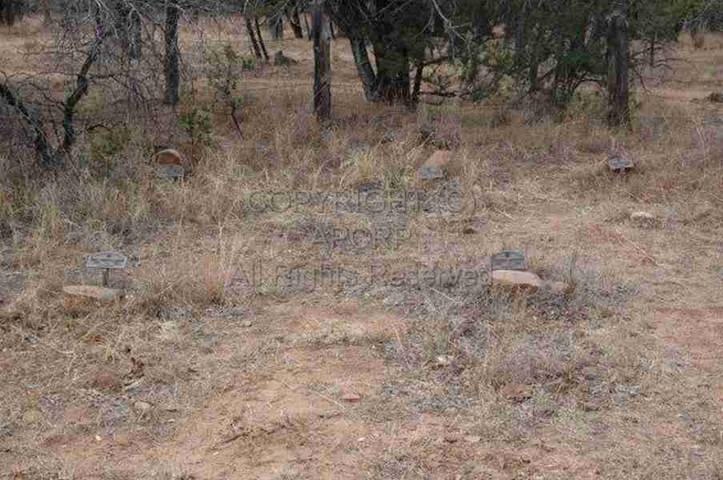 <![endif]>
Graves with metal plaques placed by Carron Mortuary.
Photo Courtesy Kevin Hart APCRP Certified Coordinator
A 2001 survey by Robert Sterling Jr. and Robert Sterling III for AzGen Web, and published on several web sites (with the note that "In keeping with our policy of providing free information on the internet, data may be used by non-commercial entities, as long as this message remains on all copied material.."),  had some useful information about the physical layout of Sunnyside Cemetery. (Their information has been paraphrased and condensed.) Briefly, one grave has an ornate iron cross with no name, on the left side of the third row, and another has a wooden marker wired to the top of a shovel or broom handle. The grave of John Merritt, the last burial, is a stone marker lying flat on the ground and the only marker with dates, 1862 to 1945. His gravestone with name and dates crudely carved on a now-cracked slab of smooth pinkish rock, was upright in a 1973 photo in Desert Magazine.  A recent photo taken in 2011 shows the original slab lying on the ground and a metal plaque at the head, placed by the Carroon Mortuary, Nogales, Arizona. The original "John Henry" had been partly scraped off and changed to "Jhon MERRI" for some unknown reason on this plaque.
<![if !vml]><![endif]>

1973 – Headstone of John Merritt

<![if !vml]><![endif]>

John Merritt Death Certificate.
The markers are from left to right, beginning in the back row of the cemetery. The markers in the back row are, from left to right, for John Reichart, Tom Duncan, Jacob Bisel, Vincent Langford, Albert Gattrell, and Diana Eley Gattrell. The second row from the back, left to right, is the wooden marker first, then Lucy Herrick Langford, Ida Moore, and John Merritt.
<![if !vml]>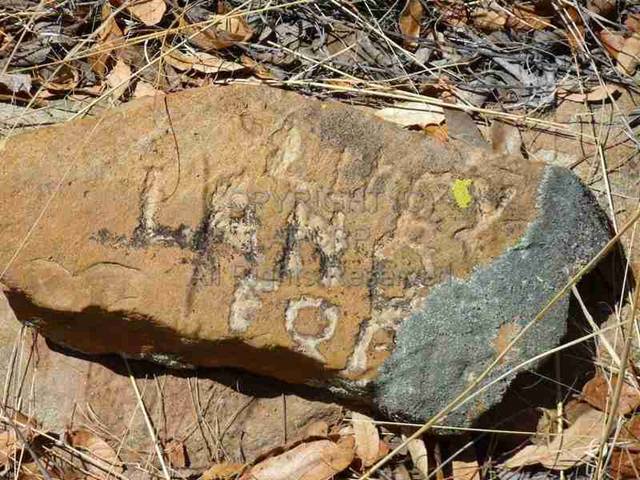 <![endif]>
Headstone of Lucy Langford. Photo courtesy John Badly Taylor
Marsha Taylor, a Family History Consultant, added this information about Idaho "Ida" Moore, also buried in Sunnyside Cemetery. Ida's cousin was Lucy Herrick Langford. Ida's mother, Martha Herrick Moore, was the sister of Lucy's father, Henry Clay Herrick. When Aunt Martha died, she left money for Lucy to take care of Ida, an invalid from epilepsy, who never married. The 1920 census lists Ida Moore as living in Lucy Langford's household.
Lucy taught school in Ft. Huachuca and Sunnyside and was post mistress at Sunnyside. Lucy stayed on in Sunnyside when her husband and sons moved on to better job opportunities in California. In the 1920 census she is listed as "Widowed."
An obituary for Lucy Langford, from the Tombstone Epitaph, August 21, 1921, gave this information about her life (condensed):
She was buried in the Sunnyside grave yard. Death was due to old age infirmities. She left 4 children: Gilbert, Kenneth, Cyrus and Nellie; her mother, Mrs. Clara Herrick, a brother and numerous other relatives....She came to Cochise County in 1879, and together with her husband, resided in the east side of the Huachuca's until his death some years ago when she continued to live at Sunnyside. She was one of the first residents of Tombstone in the early 1880s and was one of the first school teachers in the county, having taught in the first school at Tanner Canyon in the Huachuca's.
This obituary does not mention her son Vincent Langford, whose death date is unknown, suggesting he died sometime between 1910, when he appeared on the 1910 Census and Lucy's death in 1921. He is also buried in the Sunnyside Cemetery.
The grave of Anastacia Romulo McNabb, 1934, is the only burial not listed on rosters of burials on the Internet. She had a Death Certificate stating burial in Sunnyside Cemetery.)
<![if !vml]><![endif]>

Anastacio Romulo McNabb - Death Certificate

<![if !vml]><![endif]>

Infant's grave. Photo courtesy Kevin Hart APCRP – Certified Coordinator
The arrangement of the graves suggests that burying people sequentially from back to front allowed for the least disturbance of previous graves as new ones were added. See the accompanying roster of burials for biographical information about most of the people buried in the cemetery
One account about Sunnyside noted that the people of the town made a community effort to provide coffins for the deceased.  Men used the town sawmill to make juniper planks for a crude coffin that was then cloth -lined by the women.
 At some point the cemetery was somewhat cleaned up and a sagging wire fence erected around it.  The graves are outlined by small baseball-sized rocks. The entrance once had a sign, on a crosspiece attached to two tall posts. A recent photo shows a structure behind the two wood posts that appears to be made from some type of pipe, with a cross on top.  The bell under the cross rings when the wind blows.
<![if !vml]><![endif]>

Looking through entrance gate from cemetery.

Photo courtesy John Badly Taylor.

<![if !vml]><![endif]>

Bell in tower entrance chimes softly with wind.

Photo courtesy John Badly Taylor.
The Forest Service now owns the land, and the current condition of the cemetery is unknown. It will require a visit by an APCRP Booster for updated information! In 2011, a 4x4 site reported the last quarter-mile of the track to the cemetery had washed out and become impassible.
GPS: N31.264.67 W110.2412.67
<![if !vml]>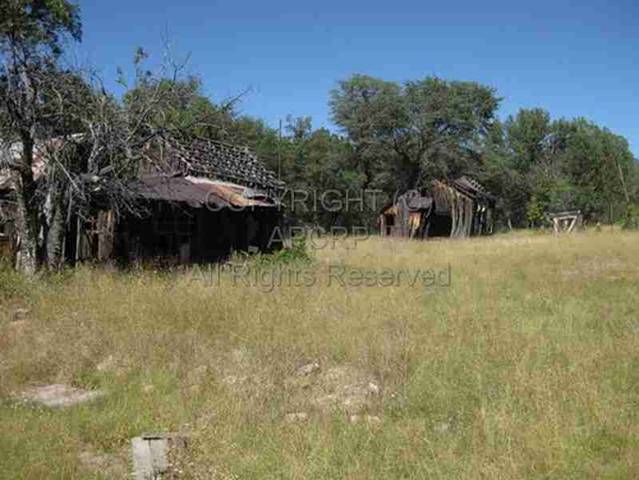 <![endif]>
Remains of a Pioneers home.
Photo courtesy Kevin Hart – APCRP Certified Coordinator
The town of Sunnyside, began in the late 1880s under the leadership of a minister named Samuel Donnelly. In Tombstone, Sam was known as a "two fisted preacher." There is disagreement in the historical records as to whether he was influenced to become a preacher by the Salvation Army or Methodists. He'd led a bawdy lifestyle as a miner and a chief engineer in the English merchant marine. However, his career as a preacher was stormy and he clashed with traditional Methodist teachings. In Los Angeles he was called to help out the Holiness Mission in Tombstone, where he met Ed Langford and "converted" him. Next, he eventually met Albert Gattrell (buried in the cemetery) who owned a mine in the Mule Mountains. Donnelly and Ed Langford (husband of Lucy, who buried in the cemetery) and Gattrell went to the mountains to work this claim, which was in partnership with a deaf surveyor named Ellis Sinclair.  A note about Gattrell: When he was a saloon keeper in the dying town of Charleston, he was known for his shooting ability, which served him well in the lawless town that had been the headquarters of the Clanton gang.
A story in the Bisbee Daily Review, August 2, 1904, details one aspect of the mines and Sam Donnelly, who had died in 1901. Sunnyside was often called the "Salvation Army Camp" after Donnelly's supposed conversion by a Salvation Army revival. Here's what the account said:
<![if !vml]>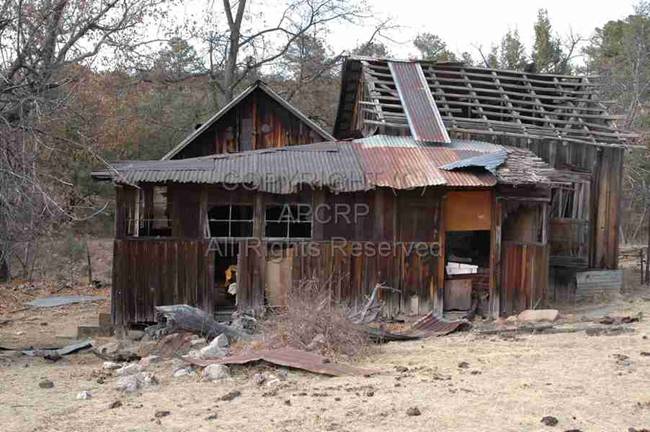 <![endif]>
Memories of Sunnyside's early life. Photo courtesy Kevin Hart APCRP Certified Coordinator
"The case of O'Hara vs. C.L. Cummings was tried (in Tombstone) and judgment rendered in favor of the defendant. This was a case to quit title to the property and grew out of the sale of Tombstone property to Cummings by one Sam Donnelly. It appears that at one time O'Hara was a member of the Salvation Army Camp in the Huachuca Mountains, but later severed his connection with that association and went to the Klondike. While there he wrote a letter to Sam Donnelly that if things went to the bad in the Salvation Army camp to sell the Tombstone property for him and turn the proceeds over to the Army camp. Acting on this letter, Donnelly sold the property in question to Cummings, and later O'Hara returned from the Klondike and entered suit for its possession with the above result. An appeal was taken by the defense."
 In October, 1887, another mine named the "Copper Glance Mine" was discovered. This mine, worked from 1913 to 1918, yielded some copper, gold, and silver from small fractures in andesite. It was located about 3 miles SE of Sunnyside.
 The Huachucas came to have a spiritual meaning for Donnelly and his town was founded to work the mines. He supposedly built a Ramada of brush near the mine in the Mule Mountains and eroded a deep ditch as he walked back and forth memorizing the Bible. Many converts came to the town to live.  Mary Lucille Hathaway, in later accounts, noted she was 3 years old in 1893 when her family moved to the camp, possibly after hearing Sam Donnelly preach at a Methodist Mission in San Francisco in 1885.   Sunnyside became known as a community of "Bible-gleaming Christians." After Samuel's death, the followers became known as "Donnellites", but their descendents apparently don't appreciate the label!
<![if !vml]>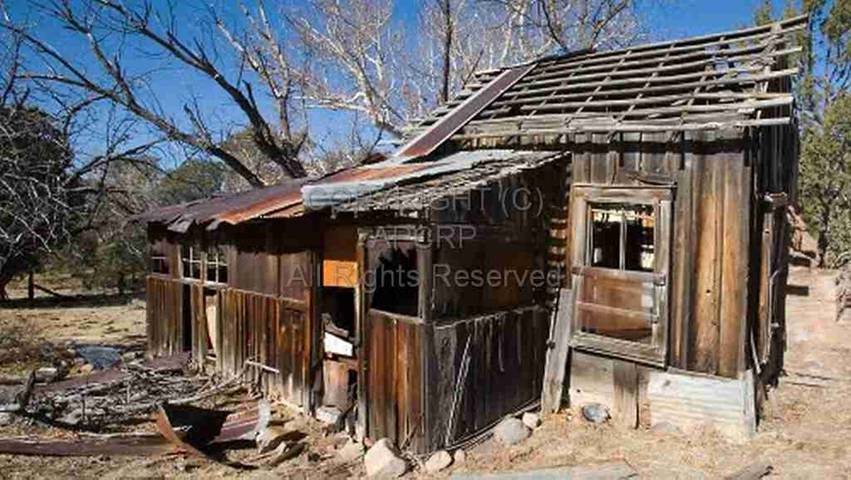 <![endif]>
Affluence once resided in Sunnyside. Photo courtesy Kevin Hart APCRP Certified Coordinator
The town was unique because it was founded on religious, communal principals. The 80 residents at its peak were required to work hard and show an interest in the scriptures or they were asked to leave!
An anecdote about Samuel Donnelly illustrates the work ethic required to live in Sunnyside.  Briefly, in November 1894, three destitute prospectors showed up at the camp looking for work, as Sam had a reputation of paying higher than average wages. There wasn't any work available, but Donnelly gave them a quarter of beef and other staples. One man, named Herndon refused to accept the charity and insisted they would work to pay for the goods. Donnelly allowed them to work for a few days, but sent two of them on their way, as their work wasn't acceptable. Herndon proved to be an industrious worker and was allowed to stay.
It was a socialist community. All money was pooled and each person worked for the betterment of the entire camp. There was a common kitchen, dining hall, laundry, milk room, barn, and one-room school house.  Unlike most early mining towns, there were no saloons, brothels, or crimes or murders. Every person worked in the mines, lumber mill, farms, or domestic chores like cooking and sewing. Draft horses were used for railroad grading, or working in the nearby mines. Hay was hauled to Ft. Huachuca.  Food was either grown or hauled by wagon from Fairbank or Tombstone to Garden Canyon, then burros or other animals or people carried the loads on a steep mountain trail 8 miles further to town. Residents often went to church in Lone Star camp 3 miles away, plus daily prayers at meals and in school.  A music teacher had a piano hauled by a horse team to her house on "Music Hill," and gave lessons and played for communal singing.
Samuel Donnelly and his followers would often give food to travelers and also donated $20 a month each to a few students at the University of Arizona in Tucson to help pay their bills. The students made $8.50 a month but had expenses of $13 a month. (A large amount of money then in the late 1890's, considering there was a economic depression in 1893.)
As early as 1887 this communal town and its leader were controversial. On February 27, 1887, the Bisbee Weekly Orb printed a defamatory article entitled, "A False Report. A Man Who Claims To Be A Divine Teacher Sent By God. He Rules By Hypnotism. His Following Consists of some Twenty or Thirty Persons. An Investigation Needed." (Sound familiar today?) It claimed people were held against their will as "deluded prisoners", and there were unfounded charges of child abuse. Libel suits were filed, and it was eventually determined that the people living in Sunnyside were actually, as remarked by various visitors, fairly happy. Due to the town's isolation, with the nearest wagon road 8 miles away, and the need to haul any supplies on foot or on animals, the communal lifestyle was the most practical, and seemed to work for quite a while.
<![if !vml]>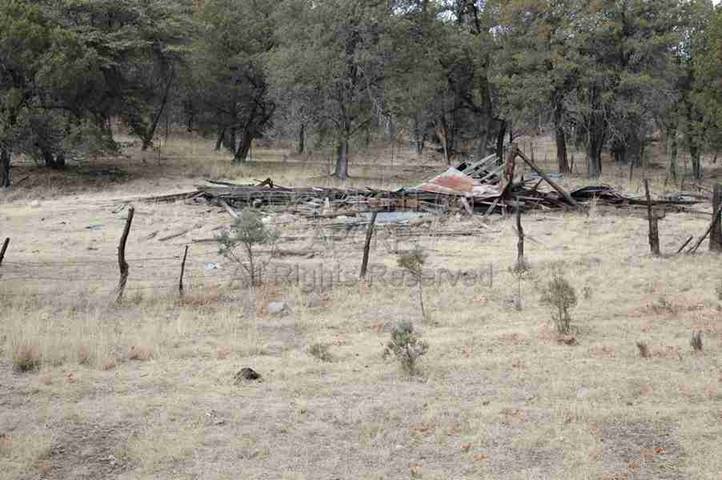 <![endif]>
Possible previous corral. Photo by Kevin Hart APCRP Certified Coordinator
The end of the town under Samuel Donnelly began when the Lone Star Mine, a silver, gold, and copper mine, filled with water in 1898. Miners had accidentally opened an underground spring.  Pumps were unable to clear the mine, which by this date had never really produced enough to take care of the camp. Then, Donnelly became ill from Bright's disease and died on April 14, 1901. He was born November 16, 1852 in Scotland. He married Alvine (or Alvina) Caroline Swartz in 1893. He was then 40 years old and she was 24 (born August 30, 1869, in Germany.)
 A note in the Tombstone Epitaph, Wed. May 3, 1893 stated: "Sam Donnelly and Mary Alvina Reichter nee Schwartz procured a marriage license on Saturday. Mr. Donnelly is the leader of the Salvation Army Mining Company in the Huachuca Mountains and was well-known several years ago in Tombstone as the leader of the Holiness band of this camp."
They had three children. Raymond Samuel Donnelly, was born in Fairbank, Arizona, on August 13, 1894. His birth certificate listed him as "male Donnelly, mother unknown" Samuel Donnelly signed as the M.D. (Was this a home birth that he assisted?) Raymond was drafted from L.A. in April 1914 for WWI as a Pvt.  His draft card said he was a machinist for a tool maker, married, had a wife and child. No death date found.  Laurence S. Donnelly was born Nov.5, 1896, and died Aug.21, 1984 in Ventura, California.  Alvin Melton Donnelly was born Sept. 2, 1901, about 5 months after his father's death, and died April 12, 1948 in Kern, California and is buried in Rose Hill Memorial Park in Whittier.
Samuel Donnelly and also Walter Langford (1889-1901), were buried in unmarked graves at Lone Star Mine, which is located 3 miles S.E. Of Sunnyside.
Alvina Caroline Swartz Donnelly, Sam Donnelly's widow, died at age 82 on September 21, 1951 and is buried in Forest Lawn Memorial Park, Glendale, California.
Sometime after Donnelly's death, the community was ordered to suspend it's sawmill operations after a special agent determined that the Huachuca country was exposed to forest fire. The machinery was sold.
Sunnyside, though, had a brief revival as a ranching community. New owners opened mines.  A post office served Sunnyside from July 16, 1914 to March 15, 1934. Finally, the mines ceased producing enough ore in the late 1930s to be profitable and miners moved elsewhere for work.
<![if !vml]>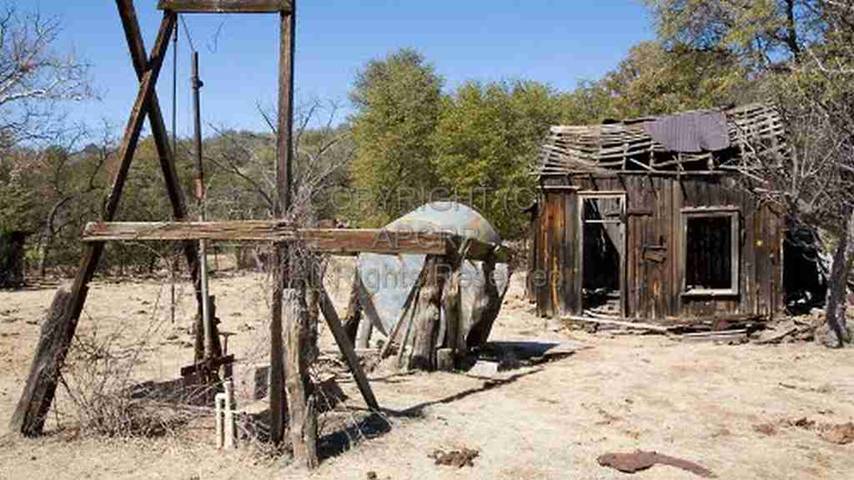 <![endif]>
Well and water tank. Photo courtesy Kevin Hart APCRP Certified Coordinator
An article in the Tucson Daily Citizen, December 24, 1970, "Couple Proves You CAN Go Back Home," provided courtesy of Marsha Taylor, was written when John McIntyre was alive. Many of the old buildings were still standing. The well, shown in the photo above, was relatively intact then. The caption under the photo read: "Old Windmill Grapples with a Breeze. Timbers hand hewn by pioneers a century ago supports this rusting windmill which creaks painfully but still pulls water from a well."
Other remaining buildings in 1970 included a one-room log schoolhouse that still had a slate leaning against a wall. It had about 30 students. Women had sewed canvas on rollers to keep out the cold from windows, and students carried wood in to burn in a pot-bellied stove. There were 6 houses, including Sam Donnelly's small home. One house had walls papered with old magazines and had a handmade wooden sink standing near the door. A pile of rocks marked where a community kitchen once stood. Photos taken in 2011 and 2012 show some of the houses still standing but in disrepair.
<![if !vml]>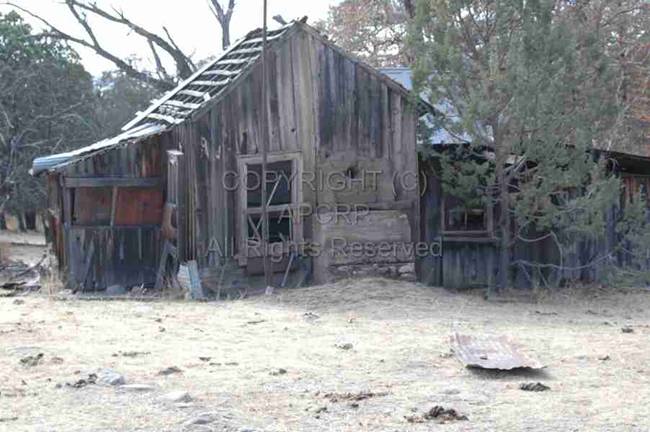 <![endif]>
Sunnyside residence. Photo courtesy John Badly Taylor
John McIntyre had moved away after the mines closed, staying on a few years as the last inhabitant. He and his wife had grown up in the commune. He had been brought there as a 3 year old in 1893. (Born Nov. 4, 1890.) In the 1960s he and his wife, the former Anita Langford, returned to Sunnyside, after John retired from mining in Bisbee. At first they lived in a hastily repaired dilapidated old house and vowed to never leave again. John McIntyre and his wife and nephew then lived in Sunnyside in a large, "Jim Walter" prefab house on a hill. He had all the modern conveniences, including a telephone. Mail was delivered twice a week about a mile away. They had chickens, a cow, and a vegetable garden. A 2011 photo shows this house abandoned and falling into ruin.  He acted as a caretaker/historian at the site, and if a visitor came by, he'd give a tour. He was described on a hiking site as being about 5'2", but wiry with a powerful grip when he shook hands with a visitor – even when he was in his 90s. McIntyre died, at age 94 on March 29, 1986, and is buried at Black Oak Cemetery in Camelo. 
According to reports from several people, you can now drive to the town site and visit it freely. Some of the buildings are still standing, but very weathered.
Some internet sites warn of the proximity of the area to known illegal smuggling routes and illegal immigrants and the Mexican border and advise visitors to travel and camp in groups.
TRAVEL CAUTION
Smuggling and Illegal
Immigration May Be
Encountered In This Area.
 In the future, possibly more APCRP members will visit the cemetery and ghost town of Sunnyside and be able to update this information.
Directions to the cemetery and Sunnyside: (Adapted from Backcountry Adventures, Arizona  by Peter Massy and Jeanne Wilson.)
Take AZ83 south from Sonoita to Parker Canyon Lake. Go south on FR48 to Sunnyside Road. Follow Sunnyside Road, posted as Sunnyside Canyon, FR228, approximately 4 miles east to the ghost town, crossing thru a creek just before the end of the road.
 The road to the cemetery goes south about a mile east from the beginning of FR228, a right fork where the main road goes on east to Sunnyside. After 1.6 miles is a T-intersection.  There will be signs for Sunnyside Canyon and Copper Glance Mine hiking trail (FR204) to the right and a left fork to Fort Gate #7. Continue straight at this point to the south, cross the creek, and drive or walk another .2 mile to the ghost town of Sunnyside!
Drive towards Sunnyside town site on FR 228, past the turnoff to Sunnyside Cemetery. Turn right at T junction on road marked "Sunnyside Canyon and Copper Glance Mine." FR 204. Go 1.8 miles. A road on the left goes .7 miles to the start of the Sunnyside Canyon hiking trail. It is 3.5 miles to hike to Copper Glance Mine.
SUNNYSIDE CEMETERY, Cochise County, Arizona
N31 25 32.24, W110 24 33.34
Many of the people buried in Sunnyside Cemetery were "Donnellites" who lived in the nearby town of Sunnyside, founded as a socialist commune by Sam Donnelly. They mostly farmed, and worked nearby silver mines. Carroon Mortuary, Nogales, Arizona placed metal markers on all the graves except Anastacia McNabb.
DC = Death Certificate
Marker = Marker at grave site
Marker BISEL, Jacob b.1860 PA d.1901 Married Maria Cornwall on Feb.16, 1901.Listed in 1890 Territorial Register of Voters as Age 30, Rancher, Ramsey Canyon. Maria listed as widow in 1910 census, English, age 51, roomer with no occupation, living in Tombstone.
Marker DUNCAN, Thomas b. April 1857 Nova Scotia d. Unknown. Immigrated to U.S. In 1876. In 1900 census was single and a station engineer. Skilled watch repairman. Brother David Duncan was murdered at Lone Mountain in 1890, afterward Thomas joined the Sunnyside Christian commune.
Marker GATTRELL, Albert T. b.1842 Ohio, d. Before 1925. Listed in Jan.1910 as election officer for local option election for W. Huachuca Precinct postmaster Charleston, also ex-saloon keeper, had bank that went bankrupt in Charleston. Joined Donnelly's  mining group in 1887.*Wife is buried in cemetery also and was listed as a widow on her DC when she died in 1925. She is listed as his wife in the 1920 census
Marker  DC GATTRELL, Diana Eley b.1865 Alabama d. June 9, 1925,  Widowed, Housewife COD: Lobar pneumonia. Shown as wife of Albert in 1920 census.
Marker. (iron cross). INFANT? No other information.
Marker. (Wood). ISIS? J. No other information.
Marker DC LANGFORD, Mrs. Lucy I. Herrick b.Sept.1868, Wisc. or Illinois, d.Aug.11, 1921. Widowed, Postmaster, COD: Valvular disease of heart, mitral insufficiency, chronic nephritis. Son Vincent Langford also buried in cemetery. Had 6 children in 1910 census, 5 living, incl. Son Vincent, age 16, and daughter Nellie, age 1 year. Husband Edward had worked as a blacksmith and machinist in Tombstone, recruited to move to Sunnyside. Aunt of Ida Moore also buried here. Broken stone marker says "Lucy Langford."
Marker LANGFORD, Vincent, b. 1894 Alabama, d. Unknown, Son of Lucy Langford, also buried in cemetery, listed as 16 years old in 1910 census. Jan.18, 1908 Bisbee Daily Review mentioned he underwent a serious operation, slowly recovering.
           DC McNABB, Anastacia Romulo, b. Nov.19, 1886 Philippines, d. March 1, 1934, Married Capt. Alister M. McNabb on Aug.23, 1906, Luzon, Philippines, Lv. in Ft. Huachuca, COD: Abortion, hemorrhage uterus, Septemia, curettement of uterus.
Marker DC MERRITT, John Henry, b. Feb.1862 Texas, d. April 15, 1945, Widowed, Two wives on DC, Mattie Arp and Amanda Bell, rancher, COD: No attending doctor but from statement of friends he died of gangrene of both lower extremities, previously treated in 1941 for a stroke. Last known burial in Sunnyside Cemetery. Has both stone marker and metal marker.
Marker DC MOORE, Ida, b. March 29, 1870 Idaho, d. May 1, 1926.? Note: Date of Burial was given on DC as Sept.30th, Single, COD: Nephritis, chronic interstitial myocarditis, chronic idiopathic epilepsy for most of her life, no occupation, invalided for years. She was one of 5 children.
MARKER Reichart, John D. b.1836 Germany, d.1909. Enlisted 8-26-1863 as Private Co.1, 5th Missouri State Militia Cavalry.
NOTE: APCRP's research has found there can be from 10% to 50% more unmarked graves in Pioneer Cemeteries. Until APCRP physically visits and researches this cemetery it is only speculation on the number of unmarked graves.
The author wishes to express a special "thank you" to:
Lifetime special friend, Ms. Mary Elizabeth Kerchal, for her professional help with genealogy research on the interments in Sunnyside Cemetery, and for very helpful comments on this article.
Kevin Hart, APCRP Coordinator, for sharing his excellent photos of Sunnyside.
Marsha Taylor for permission to use the several photos taken by her husband, John Badly Taylor, and for the newspaper article from the Tucson Daily Citizen, Dec.24, 1970 and information about Lucy Langford.
Mr. John W. Chapman, Adair Funeral Homes, Inc. in Nogales, Arizona, who provided useful insights about the Carroon family from whom the present establishment was purchased in the 1980s, and about the metal plaques marking graves in Sunnyside Cemetery.
Ed Block for careful proofreading and helpful comments on this article.
Neal Du Shane for editing and processing of maps and photos for this article.
Arizona Pioneer & Cemetery Research Project
Internet Presentation
Version 022513
WebMaster: Neal Du Shane
Copyright © 2013 Neal Du Shane
All rights reserved. Information contained within this website may be used
for personal family history purposes, but not for financial profit or gain.
All contents of this website are willed to the Arizona Pioneer & Cemetery Research Project (APCRP).