Arizona Pioneer & Cemetery Research Project
Internet Presentation
Version 061709
SYCAMORE CREEK
Yavapai County, Arizona
By: Cindy Enos and Bonnie Helten
Certified APCRP Coordinators
Thursday, June 11, 2009 found Bonnie Helten and I out for another excursion together. We swung into our saddles and rode our Appaloosa horses up the steep grade into a wooded area near the Sycamore Creek. The day was perfect for a long ride and hopefully lots of exploring.
| | |
| --- | --- |
| <![if !vml]><![endif]> | <![if !vml]><![endif]> |
Left: Bonnie and Mikey - Right: Cindy and Cody
<![if !vml]>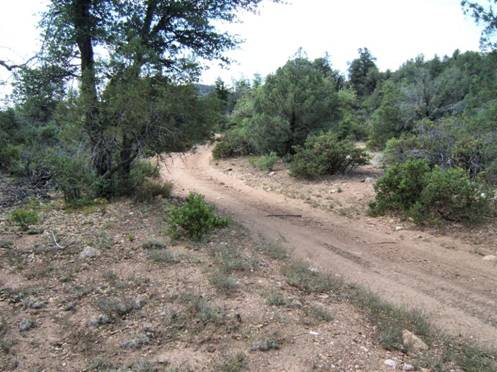 <![endif]>
It wasnít long before Bonnie spotted a pile of rocks off to our right. Although the rocks had been moved around to form a fire ring and ashes left in the center, it was quite clear to both of us that is was once a marked grave.
<![if !vml]>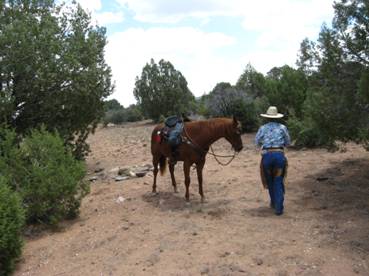 <![endif]>
Bonnie dismounted and began to search for more evidence of other graves. We estimated about 20 interred both male and female resting quietly in the woods. Close by were very vague remnants of an old homestead site tucked secretly away across a dried wash.
<![if !vml]>
<![endif]>
As we ventured on, we spotted from horseback two lonely graves, side by side; then just a short distance further we rode into a clearing, a place where several jeep roads came together. Large trees sparsely covered the area, but there was some nice evidence of graves marked by stone piles scattered about. We didnít spend much time here however, we needed to keep riding for fear that we would not make our loop in a reasonable amount of time.
Nudging our geldings on down a two track road we began to follow the power lines. After some time our road took us up a high mountain ridge, slightly south of the power lines.
<![if !vml]>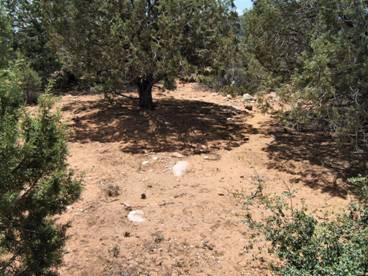 <![endif]>
We were both surprised to find a very large and forgotten cemetery. Here we both dismounted and spent some time researching the area. We discovered mostly men and only two women.
<![if !vml]>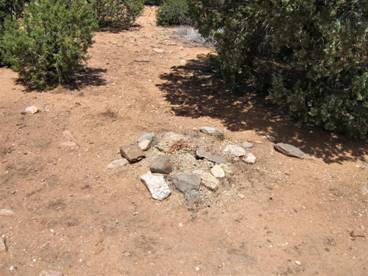 <![endif]>
It was quite large, so we remounted to be able to view the area better. Atop our horses we could see the outline of stones marking graves more easily. As we walked slowly scoping the area we estimated a hundred sites or more. We wondered to ourselves, why such a place as this ridge picked out and then forgotten.
We continued on, lost in the moment, till we passed by the large boulders marking the boundary of the cemetery. Then we knew it was time to head back and call it a day.
Research will continue in an effort to find the historical answers to our questions relating to these graves. If you have information or know the history of this area please contact n.j.dushane@comcast.net †at Arizona Pioneer & Cemetery Research Project (APCRP).
All Photos by: The Authors
Arizona Pioneer & Cemetery Research Project
Internet Presentation
Version 061709
WebMaster: Neal Du Shane
Copyright ©2003-2009 Neal Du Shane
All rights reserved. Information contained within this website may be used
for personal family history purposes, but not for financial profit or gain.
All contents of this website are willed to the Arizona Pioneer & Cemetery Research Project (APCRP).