Arizona Pioneer & Cemetery Research Project
Internet Presentation
Version 070208
<![if !vml]>

<![endif]>
by Pat Ryland
<![if !vml]>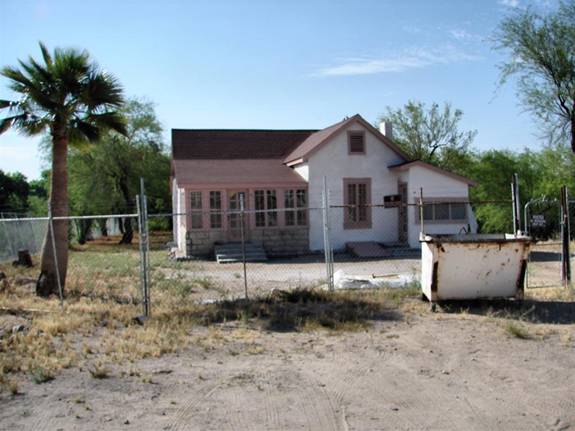 <![endif]>
Wickenburg - Boetto House 4/29/08
Photo courtesy: Bonnie Helten
On April 29, 2008, representing Arizona Pioneer & Cemetery Research Project (APCRP), Bonnie Helten and I went to the old Boetto House on Washington Street in Wickenburg to dowse what is believed to be Wickenburg's Second Oldest Cemetery, dubbed the Boetto House Cemetery until documentation of its actual name can be researched. We first saw the historical article mentioned in the April 23, 2008 issue of the Wickenburg Sun announcing an open house at the Boetto House, which is currently in the process of being restored.
While attending the open house we had a long talk with Cindy Thrasher, the person who is guiding the restoration. She mentioned that where the rock wall is there is an old cemetery and not the entrance to a house that was no longer there as it appears. Cindy shared what she knew about the cemetery.
<![if !vml]>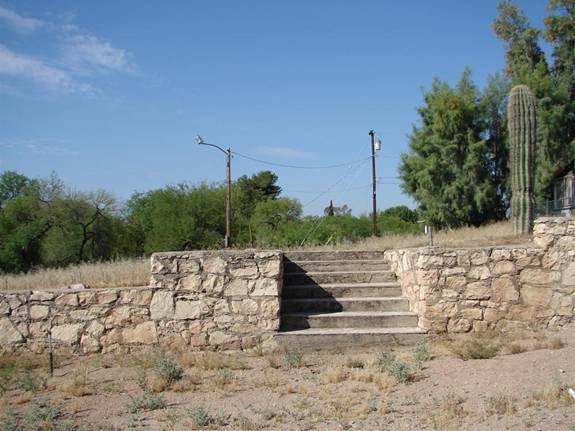 <![endif]>
Entrance to the Historic Pioneer Cemetery 4/29/08
Photo Courtesy: Bonnie Helten
The cemetery was first used circa 1875 and seven graves were still being cared for there in 1900 by Henry Wickenburg's caretaker, Helene Holland. Cindy said she was thinking of asking the "dowsing group" if they would like to dowse and see if any graves might still be there. Documentation says the bodies had been removed. Bonnie & I offered to be the ones to come dowse and she agreed.
The cemetery has an old rock wall on the east side, about four feet high, with steps that go up the center. At the top of the steps we each took a side to dowse. As one walks west about 50 to 70 feet there is a new iron fence.
<![if !vml]>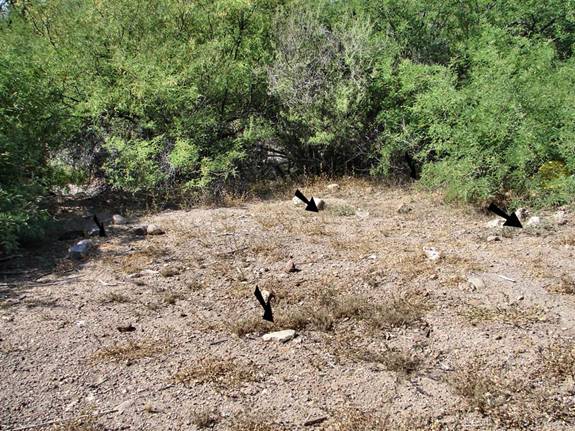 <![endif]>
Arrow's mark 4 of 22 graves found at this Pioneer Cemetery
Photo Courtesy: Bonnie Helten
We found 22 graves all together. Using the steps in the center of the wall as our starting point, we found six graves on the right/north side area, six more on the left/south side area, three more graves near the iron fence and seven more graves on the other side/west of the iron fence. Just beyond the seven graves the land goes downhill into a city park.
<![if !vml]>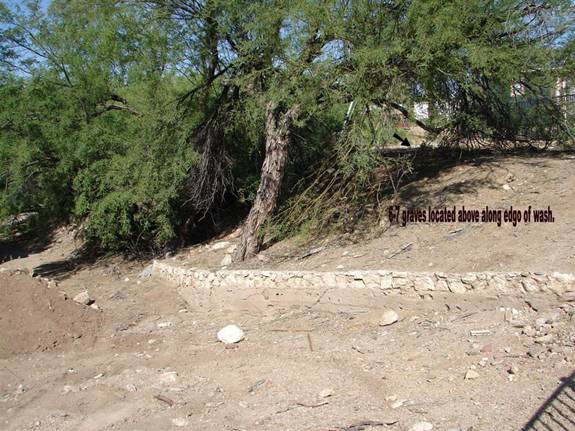 <![endif]>
Seven graves located above edge of wash
Photo Courtesy: Bonnie Helten
With our initial survey complete we found that we had no further instructions as to whether we should mark the graves in any way or not. Not knowing what Cindy had in mind we decided to leave and that I would go ask her how, or if, she wanted us to proceed. She said that she would like to have us return to the cemetery sometime soon so she could meet us there to see how we work and try the dowsing rods herself.
<![if !vml]>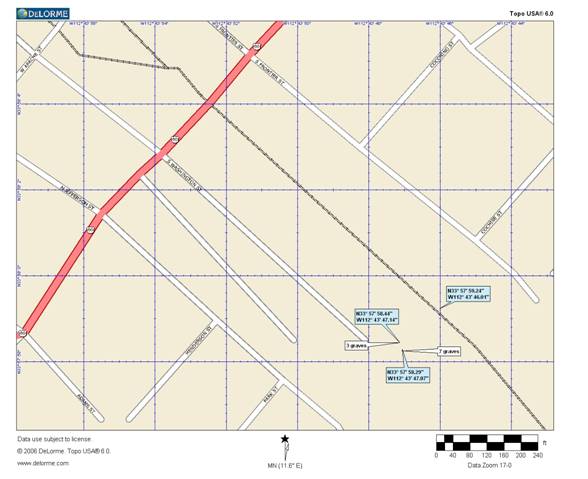 <![endif]>
Location of the Boetto House Cemetery with 22 graves
Our research discovered there are currently five documented cemeteries in Wickenburg. Two active cemeteries, three are inactive and classified as Pioneer Cemeteries in that they haven't had an interment in over 50 years. In addition to these five cemeteries there are graves at the Wickenburg Massacre site that are believed to be the passengers killed that fate full day. All but one is buried there and he was one of two survivors that escaped. Plus another 8 to 10 graves in a row approximately 40 feet east of the Massacre graves. As was the custom in the frontier, deceased loved ones may have been interred in backyards of family homes, ranches and farms.
An additional 80 graves identified!
July 1, 2008
By Pat Ryland
A group of interested historians gathered at the Boetto House Cemetery on Tuesday July 1, 2008 at 8:30am. Representing Arizona Pioneer and Cemetery Research Project (APRCRP) were Allan Hall, Bonnie Helten and Pat Ryland.
<![if !vml]>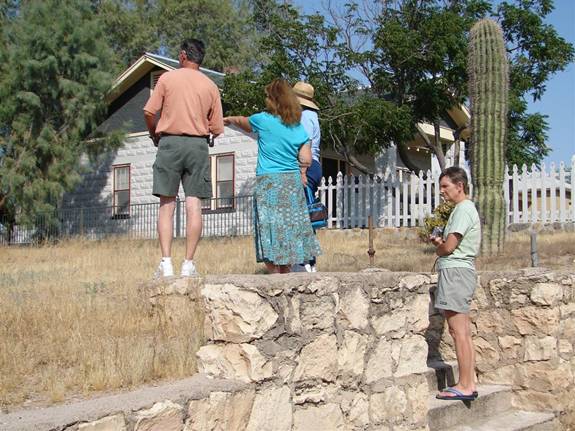 <![endif]>
L-R Allan Hall, Cindy Thrasher, Pat Ryland, Linda Woley standing at the entrance to the Historic Pioneer Boetto House Cemetery, July 1, 2008.
Representing the Wickenburg Historical Preservation Society (WHPS) were Cindy Thrasher and Linda Woley.
Allan explained the dowsing process to Cindy and Linda, proceeding to give Cindy the rods and we proceeded up the steps to the cemetery. Linda was taking photos of all the activities.
<![if !vml]>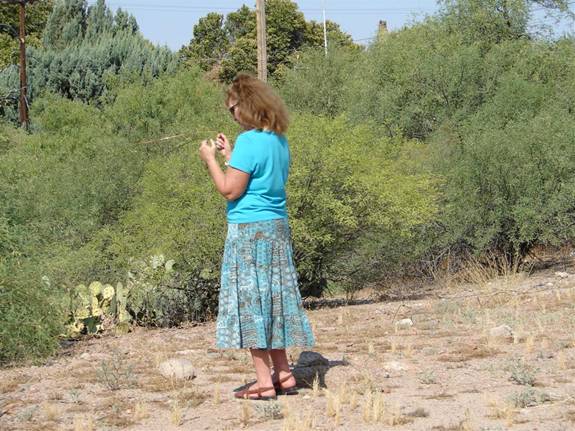 <![endif]>
Cindy Thrasher dowsing at the Pioneer Boetto House Cemetery.
Cindy and Linda watched as we showed them how the rods signify male and female then how the outlines of each grave are determined. Cindy walked over the entire cemetery with her rods and identifying many unmarked graves.
<![if !vml]>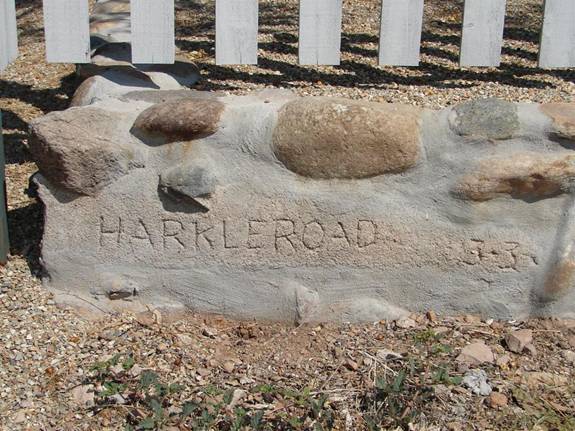 <![endif]>
Cindy pointed out where the remains of one of the headstones had been set into a modern rock and cement wall along the north side of the cemetery. The inscription is "Hackleroad 3-3". Allan determined that a male Hackleroad is buried at that spot. We were happy to have at least one name. Bonnie and I didn't notice this when we were there previously.
After we completed the dowsing portion of our research, we talked to Cindy and Linda about what they want to do next. They would like to proceed with marking the graves with the galvanized nails but would like us to wait until after their next open house on November 1st, 2008.
We said that would be great as more people would be able to come help us. We have revised our grave count from 20 to approximately 100 unmarked graves. There appears to be at least four long rows of graves. And that's only inside the fence because that's the part that the WHPS owns.
Arizona Pioneer & Cemetery Research Project
Internet Presentation
Version 070208
WebMaster: Neal Du Shane
Copyright ©2003-2008 Neal Du Shane
All rights reserved. Information contained within this website may be used
for personal family history purposes, but not for financial profit of any kind.
All contents of this website are willed to the Arizona Pioneer & Cemetery Research Project (APCRP).