HOME | BOOSTER | CEMETERIES | EDUCATION | GHOST TOWNS | HEADSTONE 
MINOTTO |PICTURES | ROADS | JACK SWILLING | TEN DAY TRAMPS
Arizona Pioneer & Cemetery Research Project
Presentation
<![if !vml]>

<![endif]>
BRADSHAW CITY, ARIZONA
Section 27, Twp. 10N, Range 1E.
Bradshaw City to Prescott on the Senator "Highway"
May 15th and 16th, 2004
In 1863, William Bradshaw founded Bradshaw City, about two miles north of present day Crown King on what would become the Senator Highway. Located on the south side of the road, the stone foundations of the town serve as a reminder of just how recently this has all come to pass. Walking through the ruins, sitting inside those foundations, seeing the creek and visiting the cemetery on the lip of one of the most spectacular views in the area of the mountains and rugged terrain to the south solidified the depth of the drive toward riches and sense of adventure these pioneer prospectors felt.
<![if !vml]>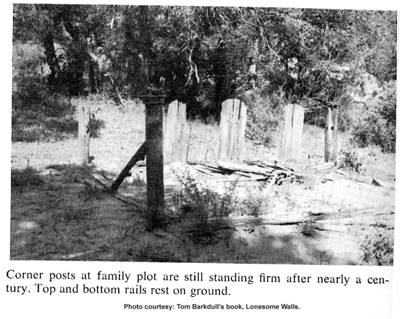 <![endif]>We camped across the road from the Forest Service sign: "Bradshaw City, founded in 1863 by William Bradshaw. Population: 5,000, pitched my tent in a clearing, built our fire and marveled at their accomplishments over a bowl of roast and potatoes. This was constructed by the tough, rugged, determined people who were driven to seek a better life through hardship, perseverance and determination in the middle of the Civil War and shortly thereafter.
Saturday afternoon, we walked the ruins as the sunlight filtered through the Ponderosa pines in an almost Disneyesque atmosphere. The huge pink blooming jojobas and lime green lichen covered granite boulders strewn the hillsides. As we waded the creeklets, we imagined what it must have been like for them a hundred and fifty years ago. No roads. No supply chain. Nothing but dreams and promises. These pioneers were truly Americans, regardless of their nationality. Those desires for a better life have propelled us or our families to migrate into strange lands and seek a better way. Sometimes we won. Sometimes we lost. But the dreams and determination fueled us along the deer trails and hacked out paths created by these adventurers.
It's nestled among Ponderosa pines at an elevation of about 6300 feet.  Afternoon sunlight streamed through the boroughs as I walked along the creeklets toward the old cemetery located on a southern slope.  The Scottsdale 4x4 Boy Scout Troop fenced the graveyard long ago.  Iris shoots were popping up with the spring warmth, announcing the graves, one by one.  Three or four nameless headstones remain but one was identifiable as an infant or small child because of its size. (Possible Campbell Child?)
<![if !vml]>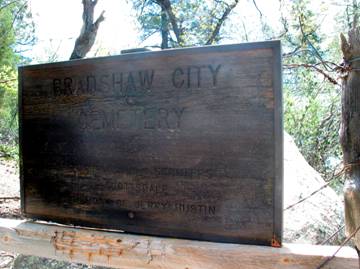 <![endif]> A few yards beyond the graveyard was a spectacular view of the mountains to the south.  Their ridges seemed endless.  With a view like this, it's hard to believe a city with over 3 million people is just over the horizon.  It's remote, so quiet you can hear the frogs and listen to the wind brushing the pine needles.
Sunday morning at sunrise after hot coffee and rolls, we walked north in the creek bed using the waterfall stepping stones like a sidewalk. Fresh tracks from the local wildlife caught our attention.   Mountain lion tracks, made within a few hours of our visit, followed a set of deer tracks for several hundred yards in an unhurried fashion. Bird and small game tracks peppered the sand near a watering hole. I knew the cat was there but never saw-or heard- anything out of the ordinary as I scanned the ridge top.  Cats attack when they're hungry, sick or old, for the most part…or startled.  I learned long ago not to walk softly in the forest. We stopped by a few of the holes left by the miners where they had tested, probed and panned the area, finally beginning the climb back to camp.    
The plan was to drive the Senator Highway up to Prescott as the pioneers and miners had.  Ignore the term "highway" here: this is 4 wheel country. Old abandoned copper, silver and gold mines dot the hillsides along the way.  I wasn't expecting it to be as rugged a drive as it turned into.  It took three hours to cover the first ten miles!  Only 20 to go! The whole trip took about six hours from beginning to end with a couple of stops along the way to pick up quartz and interesting rocks. To give you an idea of just how rugged this country is, take a look at the photo. It's not mine, but one taken by another adventurous soul.
At about the half way point, the Palace Station appeared.  This old stage stop is now occupied by forest staff and off limits to the public, unfortunately.  It was half way between Prescott and the Peck Mine.  Once a toll road out of Prescott, people came first by stagecoach then buckboard to reach the mines.  How they survived that, I'll never understand.  I put the Jeep into 4 wheel drive more than once along that road and figured those people must have had kidney problems and backaches galore for their efforts, and the smart business man who had replacement wheels for the wagons must have made a fortune.
I must say, the views along the way were really spectacular.  Long rows of pine topped mountain ridges; steep canyons and uncluttered views were everywhere. Quiet and remote. As we finally approached Prescott, both of us were smiling at the term "highway". More importantly, we had deepened our appreciation and understanding of the true grit these early pioneers and prospectors had. It was well worth the effort.
Bradshaw City Cemetery Information:
6/11/05 Ray Singer of Crown King, AZ wrote:
Excerpts from a history of the local area written for the students of the CK School, by Helen Harrington Sweet, in 1930:
<![if !vml]>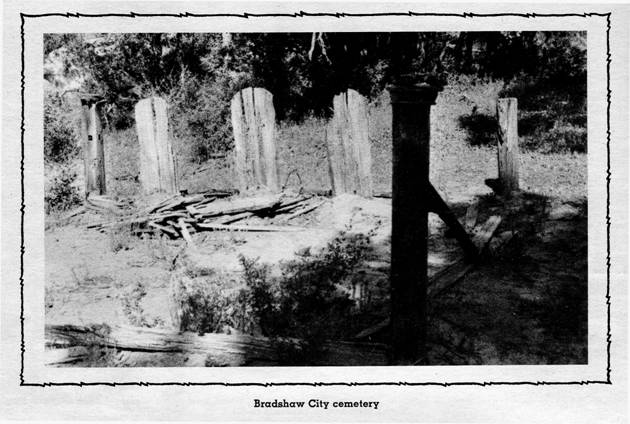 <![endif]>
BRADSHAW CITY CEMETERY

 

Tiger Mining District, Yavapai County, Arizona

3/4 Mile S of Senator Hwy @ Bradshaw City on road to the Tiger Mine

705' West of the Oro Belle Road

(Located in SW 1/4 , Section 22 , TWP. 10 N, RNG. 75 W)

 Latitude N 34 11' 30.05", Longitude W 112 21' 22.56"

Names Listed:

5

Revised 6/12/2005

Source

SURNAME

FIRST NAME

MIDDLE NAME

BIRTH DATE

DEATH DATE

COMMENTS

2

Campbell

Child

Mrs. Jackson remembers that a child of the Campbell family, on the day it learned to walk, walked into an open well at Bradshaw City and drowned. Buried at Bradshaw City Cemetery

1

McAuliffe

Jack

 

 

Aug, 1879

Died in Tiger Mine Disaster

1

McDonald

Jack

 

 

Aug, 1879

Died in Tiger Mine Disaster

2

McPherson

Mr.

 

 

Supt at the Tiger Mine, died of lockjaw following an accident. Is buried at the Bradshaw City Cemetery

1

Sullivan

Jack

 

 

Aug, 1879

Died in Tiger Mine Disaster

 

 

 

 

5

NOTE: After visiting this cemetery on 5/3/05, it is believed there may be up to 35 burials in total. There are 6 or 7 headstones, none have legible markings. More research will need to be completed. Neal Du Shane

SOURCE:

1. Bruce M. Wilson's Book "Crown King and the Southern Bradshaws.

2. Students of Crown King School, by Helen Harrington Sweet, in 1930

Contributor:

Ray Singer, Neal Du Shane, Bruce M. Wilson's book

Transcribed:

Neal Du Shane 5/3/05

Revised:

Neal Du Shane 5/26/05

Neal Du Shane 6/12/05

There maybe more records available on this cemetery - research continues.

In keeping with our policy of providing free information on the Internet,

material may be freely used by non-commercial entities, as long as this

message remains on all copied material, AND permission is obtained from

the contributor of the file.

These electronic pages may NOT be reproduced in any format for profit

or presentation by other organizations. Persons or organizations

desiring to use this material for non-commercial purposes, MUST obtain

the written consent of the contributor, OR the legal representative of

the submitter, and contact the listed archivist with proof of consent.

This file was contributed for free use

Contributor/Archives by:   Neal Du Shane
"Mr. MacPherson, Supt. at the Tiger, died of lockjaw following an accident and is buried at Bradshaw City cemetery."
"Mrs. Jackson remembers that a child of the Campbell family, on the day it learned to walk, walked into an open well at Bradshaw City and drowned.  It, also, was buried at Bradshaw City.
<![if !vml]>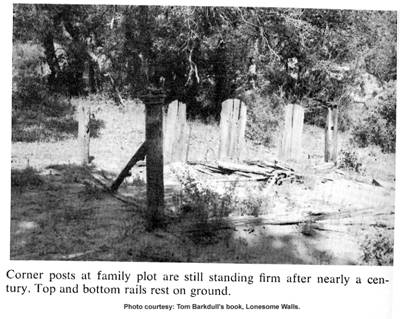 <![endif]>
BRADSHAW CITY
COUNTY: Yavapai
LOCATION: 35 mi. south of Prescott
P.O. est. as Bradshaw, July 1, 1874; discontinued Dec. 15, 1884.
When gold was discovered in the Bradshaw Mountains in the early 1860's, many eager prospectors, miners, and other fortune seekers began focusing their attention on the gold and silver wealth of the inner mountain region. To provide for the needs of these people, Bradshaw City was founded on the pine-covered northwest slope of Mount Wesson. At first there was only a cluster on tents, but abundant timber in the district quickly furnished material for more permanent structures. Stores, shops, saloons, restaurants, and eventually two hotels became part of the town. Travelers to Bradshaw City could reach their destination through the courtesy of Simpson, the ore packer who ran a weekly saddle train from Prescott. The distance covered was about thirty miles, and according to Simpson it took two and a half days to reach the mining camp. An alternate route to the town involved arriving at Minnehaha Flat by wagon road from Walnut Grove and then climbing a steep five-mile tail.
By the summer of 1871, speculation ran high in flourishing Bradshaw City. In a year or so, the community anticipated then to twenty thousand occupants. As the case with most boom towns this number never realized. At one time, there may have been five thousand people.
Nearby the Tiger Mine which was one of the earliest in the Bradshaw Mountains was the mainstay of the town. Production during the 1860's and 1870's approximated $50.000 worth of gold and $700,000 worth of silver. By the end of 1871 miners were already drifting elsewhere, although work still continued at the Tiger. Sometime during the 1880's Bradshaw City faded into obscurity. Only scars left by the camp can be found today.
Transcribed by: Neal Du Shane 10/17/05
Photographs by: Neal Du Shane 10/17/05
From: Ghost Towns of Arizona by James E. and Barbara H. Sherman
WebMaster: Neal Du Shane
081507
Copyright ©2003-2007 Neal Du Shane
All rights reserved. Information contained within this website may be used
for personal family history purposes, but not for financial profit of any kind.
All contents of this website are willed to the Arizona Pioneer & Cemetery Research Project (APCRP).
HOME | BOOSTER | CEMETERIES | EDUCATION | GHOST TOWNS | HEADSTONE 
MINOTTO |PICTURES | ROADS | JACK SWILLING | TEN DAY TRAMPS