HOME | BOOSTER | CEMETERIES | EDUCATION | GHOST TOWNS | HEADSTONE 
MINOTTO |PICTURES | ROADS | JACK SWILLING | TEN DAY TRAMPS
Arizona Pioneer & Cemetery Research Project
Presentation
Version 070607
<![if !vml]>

<![endif]>
<![if !vml]>

<![endif]>
<![if !vml]>
<![endif]>
Derelict remains of the Burfind Hotel – looking toward Cemetery. Photograph by: Neal Du Shane
Internet Volume One
Version 070607
Copyright © 2007 by Neal Du Shane
No part of this book or Website page may be reproduced, stored in a retrieval system or transmitted in any form or by any means, electronic, mechanical, photocopying, recording or otherwise, without permission of the publisher.
Published by: Neal Du Shane, Fort Collins, CO 80525
First Internet Edition
Published in the United States of America
Cover: This is as Gillett appeared in 2006. Photo was taken from the remains of the Burfind Hotel looking toward the southeast. The remains of 50 internments in the Gillett Cemetery are in front of the Hotel. Photo courtesy: Neal Du Shane
Table of Contents
Directions to Gillett and Tip Top.. 2
Blacksmith aka Stage Coach Robber. 8
Henry Cordes Describes Gillett 16
Gillett's Ill Gotten Treasure. 18
Information compiled by: Neal Du Shane
North on I-17. Exit at Table Mesa Rd. Take a left over the freeway. Turn right (north) on frontage Rd. Set trip meter to 0.00 when the road turns to dirt.
1.1 miles stay right
1.8 miles stay right
3.9 miles Agua Fria River, continue across.
4.0 miles Take a right turn.
4.1 miles take right into Gillett.
4.3 miles Gillett N 34* 01' 07.5" W 112* 09' 49.3"
Take the same road out you came in on and turn right.
When you get back to the road you turned off of reset your trip meter to 0.00. 0.9 miles up the road there is a wash on the right where you can put your vehicle to a test of extreme 4 wheeling.
0.9 miles wash to right
2.6 miles take a left at the corral N 34* 02' 05.1" W 112* 11' 36.6"
4.2 miles rest area great views to the east
5.3 miles Cross Cottonwood Creek. N 34* 01' 39.6" W 112*13'37.4"
7.6 miles collapsed building on the right
7.7 Brewery on the left N 34* 03' 3.2" W 112* 14' 49.7"
Gillett! - Arizona Ghost Towns
by Mark Quigley, feature for The Arizona Sportsman's Journal TV (www.azho.com)
<![if !vml]>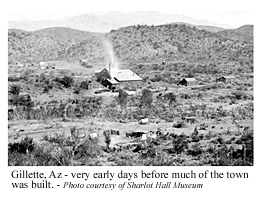 <![endif]>I love to hunt for old ghost towns, mines and mining camps. I have done this in and around the Lake Pleasant area since I was a kid. My dad is quite the ghost town hunter and would drag our family around to many interesting places. As a pilot, he would fly the area he wanted to explore than we would be off in his old jeep looking for these haunts. Later, when I got a drivers license I was off on my own doing the same thing. I think I have found every ghost town and mining camp in the southern Bradshaw Mountains. I have also spent countless hours at museums and libraries searching old records for the history of these now lonely places.
For many years I worked at Lake Pleasant as an officer and searcher out many of its historical places. I love to photograph old places and I thought I would start a form on exploring the western history around the Lake Pleasant area. I have a large gallery and my photographic prints are on display at the Lake Pleasant Desert Outdoor Center. If you ever want to look at some of these old places, this might help in deciding where to visit first.
Of course this is the wrong time of year to be out looking at old mines and haunted towns but cool weather is not far off. Well here is a first attempt to get you interested in the great Arizona outdoors and its unique western history.
<![if !vml]>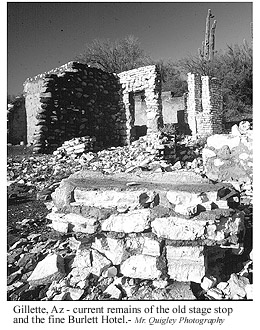 <![endif]>Just over a mile from Lake Pleasant Park lays the ghost town of Gillett. This is one ghost town that has always amazed me. It always pops up in old newspaper accounts and seems to have been a busy and lively town. Wyatt Earp and many other well known Arizonans passed this way. What I find amazing is how a town so well known to Arizona history can die with so little remaining.
Gillett earned a reputation as a lawless Western town. By March 1878, three men had already been killed in saloon gunfights. Through the years, the ladies of Gillett tried to turn it into a civilized town by holding town socials and inviting traveling preachers, but without much success. Gillett served as a well-used stage stop. It also had a large and busy gold/silver mill that ran a profitable operation. The area's miners, cowboys and stage drivers spent a lot of time in the town's several saloons.
Several times the town's blacksmith managed to hold up the Wells Fargo stagecoach in Squaw Creek Canyon a few miles north of Gillett. By the time the stage arrived in town, the blacksmith would be back in his shop busily occupied with his blacksmithing trade. The blacksmith was eventually caught.
On June 12, 1878, two killings and a lynching took place in Gillett within a few hours. A man named Setwright became involved in an argument in one of Gillett's saloons and broke a bottle over the head of another man. Deputy Sheriff C. Burnett stepped inside the saloon and arrested Setwright for his drunken behavior. Later that day, Mr. Weir, a respected town citizen, asked the deputy to release Setwright into his custody. The deputy agreed, and the two rode out of town together. A short time later, the mule Mr. Weir had been riding wandered back into Gillett. An immediate investigation produced Weir's body, shot through the head, a short distance out of town. Deputy Burnett and several other men saddled their horses and took off in search of Setwright. He was captured about a mile and a half from Gillett and taken back to town. Gillett had no jail, so Setwright was placed inside the house of Col. Taylor and E. P. Rains until he could be taken to Prescott for trial.
<![if !vml]>

<![endif]>
<![if !vml]>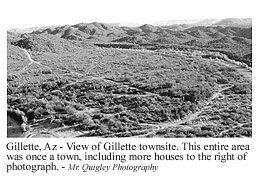 <![endif]>By now, word had spread of the recent murder and an angry mob of citizens began gathering outside the home where Setwright was being held. As time passed, the crowd became more and more angry and bent on dealing out their own punishment. Sheriff Burnett tried to calm the mob by telling them that Setwright would be taken to Prescott where law and justice would decide his fate. His protests failed and demands and threats from the excited crowd increased. They threatened to burn down or blow up the house unless Setwright was delivered to them. Col. Taylor, the homeowner, stepped outside with his double-barreled shotgun in an attempt stop the crowd. Someone in the crowd aimed a gun, a shot rang out and Col. Taylor slumped to the ground, dead. Realizing that it was impossible to defend his prisoner from the bloodthirsty mob, Deputy Burnett and Raines released him. The now terrified and sober Setwright was dragged from the house, and minutes later his body was swinging from the branch of a cottonwood tree on the banks of the Agua Fria River.
Gillett's lawless reputation grew through the years. The town was also known as the stage robber's capital of Arizona. More than nine stagecoach robberies occurred a few miles north of Gillett.
<![if !vml]>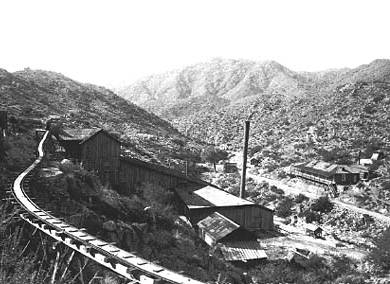 <![endif]>The Gillett silver mill served the town of Tip Top. Silver from the Tip Top mines was hauled nine miles over steep mountain roads to the mill. Once melted, it was shipped to San Francisco, again by wagon. Gillett was named after Dan B. Gillett, the Tip Top mine's superintendent. The town's lots sold for $100 each, with corner lots costing $350. Six streets, Main, California, North, Pine, Mill and Market, and five blocks comprised the town. There were shady streets with modest houses, several stores, a blacksmith, other businesses, four saloons, a post office and the fine Burfind Hotel. The town lacked a badly needed jail and church. Jack Swilling, the leader of the party that first settled the Phoenix area, lived here. One business was opened by Charles T. Hayden, father of Arizona's Senator Carl Hayden.
James Barney, a Phoenix historian, was quoted in a newspaper, "I strayed down to Gillett the other day and found the Tip Top Mill running all right, the place was full of people, and teams and pack trains running in and out. The place is well represented in all kinds of businesses necessary to supply the wants of the public except in the matter of saloons, there being only four in full blast. . . ."
<![if !vml]>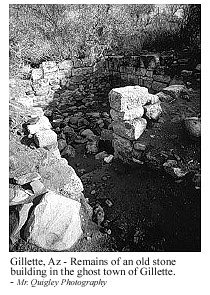 <![endif]>Gillett quickly declined after the Tip Top Mining Company moved its mill to the town of Tip Top in 1886. The town remained as a stopping place for stagecoaches until around 1912. Because stagecoaches had to cross the Agua Fria River to reach Gillett, other stops and forms of travel were preferred. Ultimately, the town dried up completely and blew away from the Arizona landscape. For a time the old hotel was used as a dude ranch. Today, all that remains is the old stage stop, hotel and a couple of other scattered stone buildings. The graveyard, where Setwright is probably buried, is located just east of the old hotel. Late 1800s trash can be found scattered across the entire town site. If you stand quietly for a moment, you might hear the wind whisper, "Whoa," and imagine a stagecoach pulling up in a cloud of dust, as a busy town moves about its business around you.
To reach Gillett, follow Interstate 17 north from Phoenix toward Flagstaff and exit at Table Mesa Road. Follow Table Mesa Road about four miles to the New River Gravel Company signs. The road descends steeply to the Agua Fria River. Just before entering the gravel company property, turn right on another road. This road crosses the Agua Fria River and goes up the opposite bank. Here sits old Gillett. The old hotel (stage stop) is located about .25 miles east of the flat, near the bottom of the Agua Fria River.
Gillett can be found on the banks of the Agua Fria River. It was founded in 1878, and was a town of six streets. The Burfind Hotel was the largest structure in Gillett and now lies in ruin. Gillett was founded by the superintendent of the Tip Top Mine. About 9 miles away, the town was started to process the ore from Tip Top. In 1884 the mill was moved to Tip Top. Gillett was still a stop on the stagecoach route until the railroad made the stagecoach unnecessary.
-------------------------------------------------------------------------------------------------------
Gillett, AZ Business Community in 1878

by Neal Du Shane Version: 070607

Business Name

Business Type

Owner/s

Assayer

Assayer

C.C. Bean

Bank

Bank

Clark & Crooks  Blacksmith

Blacksmith

Messrs. Clark & Crooks

Seymour's Blacksmith

Blacksmith

Henry Seymour - known to rob Stage Coaches in area

Burnett's Boarding House

Boarding House

James C. Burnett - Deputy Sheriff

Tip Top Co Boarding House

Boarding House

Mrs. J.E. Brown

Gillett Brewery

Brewery

Mr. Peter Arnold

Anders & Rowe Merc.

General Store

Mr. Anders & Mr. Rowe

C.P. Head's Merc.

General Store

C.P. Head

C.T. Hayden's Merc.

General Store

T. Hayden - J.J. Hill Mgr.

Ganz & Co. Mercantile

General Store

Mssrs. Ganz

Burfind Hotel

Hotel

Mr. Burfind

Feed, Seed, Livery Stable

Livery Stable

Tom Cusack & Mr. Mann

Anders & Rowe Lumber

Lumber Yard

Mr. Anders & Mr. Rowe

Edward's Meat Market

Meat Market

Mr. Edward, Eliza wife

Tip Top Mill

Ore Processing

For Tip Top Silver Mine - 9 mi W. 10 Stamps, 136 men worked in Mine and Mill - Came from CA through Maricopa Wells - 94 1/3% recovery.

Post Office

Post Office

Mr. Moss

Cattle & Horses

Ranch

Jack Swilling & L.A. Stephens

Dairy

Ranch

L.G. Taylor - former Distiller

Gillett Real Estate

Real Estate

Jack Swilling - Lots selling from $100 to $250 depending on location

Bostick's Saloon

Saloon

Johnny Bostick

Ganz & Co. Saloon

Saloon

Messr Ganz

Keading and Wright Saloon

Saloon

Mr. Keading & Mr Wright

Moss's Saloon

Saloon 

Mr. Moss

Anders & Shingles

Saloon - Gambling

Mr. Anders, Mr. Shingles

Billy Moore's Saloon

Saloon - Gambling

Bill Moore

Cate's Saloon

Saloon - Gambling

C.F. Cate – Judge

Smith & Levy's Saloon

Saloon - Gambling

Frank Smith & L. Levy

Tip Top Saloon

Saloon - Gambling

Brooks & Collins

Sheriff - Deputy

Sheriff

James C. Burnett - Deputy Sheriff

P&C Stage

Stage Coach Line

Patterson and Caldwell

Wells Fargo

Stage Coach Line

Wells Fargo

Truck Farm

Vegetables

Jack Swilling & L.A. Stephens

Andres & Rowe Warehouse

Warehouse

Mr. Andres & Mr. Rowe

34

Restaurants

Clothing

Laundry

By Feb 1880 the mill had closed and only one store remained open. June 1880 census revealed only two men out of one hundred persons still living there. The stage coach continued to operate until the turn of the century.

Research and documentation by: Neal Du Shane, all rights reserved ©
Gillett, Arizona, a milling town for the nearby Tip Top Mine began in 1876 and like so many towns of the Wild West was filled with lawlessness and violence.
<![if !vml]>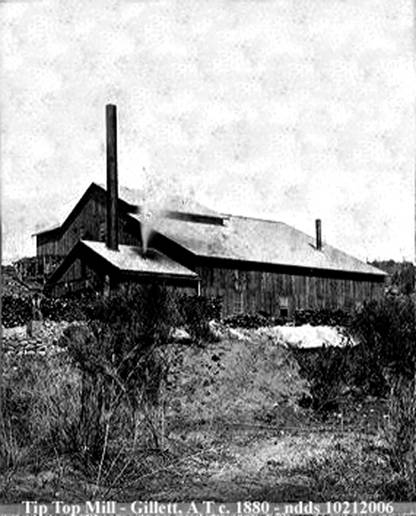 <![endif]>
Tip Top Mill Photograph – Arizona Territory - 1880
The town's blacksmith, a man named Henry Seymour, had a side job of robbing the Wells Fargo stage coach outside of town. In 1882, he held up 3 different stagecoaches on the, obtaining a total of $69,000.
His lawlessness was suspected when he used some of his proceeds in a local saloon's poker game and soon he was caught trying to hold up a fourth stage.  Seymour was then sent to prison, never revealing where he had hidden the loot. After he was released from prison he dropped from sight and allegedly never returned to Gillett to recover his treasure. Gillett is now a ghost town with only the ruins of the Burfind Hotel left behind.
<![if !vml]>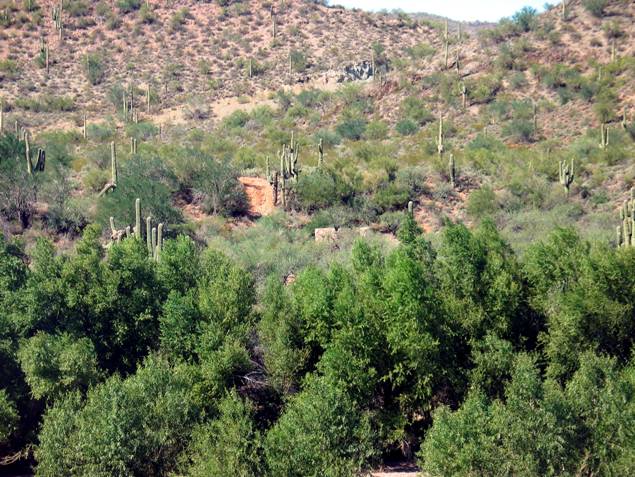 <![endif]>
Looking southwest – Burfind Hotel foundation in center. One of the roads to Tip Top, AZ in background
c. 2006 Photograph by: Neal Du Shane
03/08/06
I had nothing to do this morning, so I decided to checkout Gillett and the road to Tip Top just to see how bad they are.

The road to Gillett is a piece of cake (if it doesn't rain and the river doesn't rise). I found Gillett and what I believed to be 40 to 50 burials (Gillett Cemetery) close to the old Burfind Hotel foundation. All were male with the exception of one female. Didn't spend time defining the size of the internments to determine age of the burials.

There is a lot of evidence of cattle in the cemetery area, bedding down so I'm going out on a limb and predict we might find some headstones if we have a probe. Ground is sandy and somewhat soft making probing easy.

Cattle, horses, burrow's and other wild life, use headstones as scratching posts, topple them, then with natural forces these toppled headstones become covered, just below the surface. Its very probable headstones as we know them today were nonexistent in mining camps such at Gillett. More likely a wooden cross or simple stacking of rocks to identify the graves was used. After 140 years plus or take, these markers would decay and cattle would have scattered the rocks making the graves hard to identify.

I'd like to go back and probe the area looking to see what else we can find.
Gillett Cemetery
40 to 50 burials - found one female child all the rest were male. No visible fence, fenced enclosures or markers or headstones but there are some stone piles indicating burials. Cattle have been the biggest culprits in destruction at this cemetery.
It should be noted the road isn't exactly like this Topographical map shows it. The current road is about a 1/4 mile south of the crossing shown on this map. With the exception of the last 600 feet, Gillett is accessible by a normal vehicle, just go easy and high clearance will definitely be an asset - so long as the river isn't high or it has rained recently. You could walk the last 1/2 mile wadding across the river, leaving your vehicle at the river side, if you prefer.
There are some stone walls/foundations still visible and the remains of the basement walls of the old Burfind Hotel. If you walk carefully in the town site on the upper level ground, you can still identify stone walls from old homes and buildings. The gravity feed stone foundation of the old Tip Top Mill is still visible from the lower bank looking up toward the town. The ore was brought in by various methods from the Tip Top Mine some 9 miles to the west for processing here. Its obvious vandals are trying to destroy this historic ghost town - and I can't blame the cattle for their destruction.
There were two daughters of Jack and Trinidad Swilling. Both were named Matilda, the first child was buried at the Swilling's Stone House in Black Canyon City in 1875 (at that time referred to as Agua Fria) that we have researched and identified her grave and placed a marker to that effect.
<![if !vml]>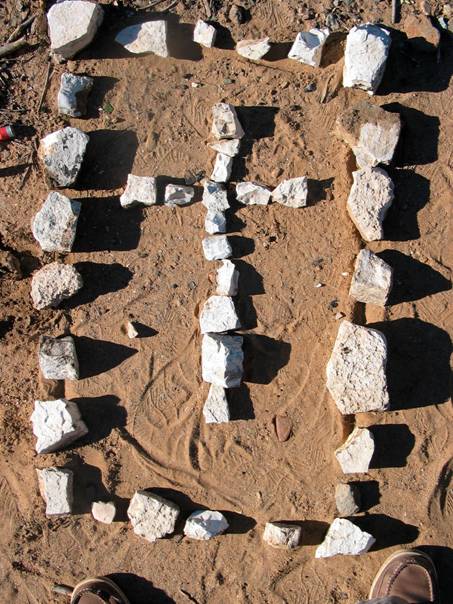 <![endif]>
Possibly the grave of Matilda Adeline Swilling in the Gillett Cemetery. c. 2006
Photograph and feet of: Neal Du Shane
Jack Swilling was arrested for a stage coach robbery southwest of Wickenburg which he never committed at Gillett in 1878. Transported to Prescott for trial he and the other two accused were acquitted. Due to the robbery being committed in Maricopa County and not Yavapai they transported Jack to the Yuma County Jail in Yuma, AZ for a new trial. In the Yuma County Jail Jack died at 6:30 PM on August 12, 1878. Trinidad remained in Gillett for a few more months but subsequently sold her holdings in Gillett and moved to Phoenix in 1879. The second Matilda Adeline Swilling was three years old when she died in 1879 in Phoenix. No record of her burial has been found but speculation the lone female child's grave in Gillett is her grave. Trinidad was in financial straights after Jack's death and was destitute when arriving in Phoenix. Being Trinidad had connections in Gillett it reasonable to assume Matilda Adeline Swilling was returned to Gillett for burial.
I should also mention the road I saw, that I thought was the Highway to Hell, leading to Tip Top wasn't the correct road (Whew). After viewing that road, I instantly decided there were no reasons for me to EVER see Tip Top!
Now it's Tip Top or bust!
GILLETT Cemetery

Yavapai County, Arizona

North from Phoenix on I-17, Exit Table Mesa Rd (Mile Marker 236) L over Freeway, R on W. Frontage Rd. Set odometer to 0.00 when blacktop stops. 1.1 Miles stay R, 1.8 miles stay R, 3.9 miles Agua Fria River cross, 4.0 miles turn R into Gillett, 4.3 miles Gillett N34* 01' 07.5", W 112* 09' 49.3"

Latitude N34 01.156, Longitude W112 09.798 (WGS84) - (Elevation 1,832)

Burials =

53

11/28/2006

Ref.

SURNAME

FIRST NAME

MIDDLE NAME

BIRTH DATE

DEATH DATE

COMMENTS

1

DOE

John

 

5

FULKERSON

William

H.

1878

Tragically shot - accidentally killed by his brother.

6

GRINDELL

Ed

Mar. 2, 1878

Shot and Killed by Calhoun in Levy's Saloon - CTSTP 170

2

SETWRIGHT

John

Jun. 12, 1878

Hanged from Cotton Wood tree on Rio Agua Fria by vigilantly mob.

1,3,4

SWILLING

Matilda

Adeline

1876

1879

Daughter of J.W. (Jack) Swilling 1,822 Elev. N34 01 08.0, W112 09 47.5 (+ - 15')

2

TAYLOR

COL. L.

G.

 

Jun. 12, 1878

Killed by vigilantly mob wanting to hang Setwright.

2

WEIR

Sam

 

 

Jun. 12, 1878

Shot in the head by Setwright

7

 

 

REFERENCE:

1

Neal Du Shane

2

Mark Quigley

3

"History of Arizona", Thomas Edwin Farish, Vol. 2 1915, pg 251

4

Diane Sumrall - Pioneer's Cemetery Association

5

Cathy Cordes - from AZ Miner article in 1878.

6

"Catch the Stage to Phoenix" - Lee J. Hanchett Jr.

Contributor: Neal Du Shane

There could be up to 52 internments. Only one female child interment was found. No headstones/markers remain (if there were any).  In 2006, the cemetery for the most part is in a circular driveway enclosure, E & S of the foundation of the Burfind Hotel. A few rock enclosures are still visible. Cattle use this area as bedding & have destroyed almost all evidence. A few interments were detected north of the north side of the circular driveway.

Material may be freely used by non-commercial entities, as long as this

message remains on all copied material, AND permission is obtained from

the contributor of the file.

These electronic pages may NOT be reproduced in any format for profit

or presentation by other organizations. Persons or organizations

desiring to use this material for non-commercial purposes, MUST obtain

the written consent of the contributor, OR the legal representative of

the submitter, and contact the archivist with proof of this consent.

Directions & GPS readings may not be altered, deleted, changed.

This file was contributed for use and free of any charge.

    Contributor/Archives by: Neal Du Shane (C) - All rights reserved
GPS reading taken by: Neal Du Shane 10/27/2006. The following were set at WGS84.
Burfind Hotel - N34 01 07.3, W112 09 49.5
Matilda Adeline Swilling's grave - N34 01 00.4, W112 09 47.5, Elevation 1,822
Stone foundation in hill – N34 01 00.4, W112 09 49.5 Tip Top Mill
Gillett, AZ the overall size of the town in 1878 was:
525' X 1,620' = 850,500 Sq. Ft. = 19.52 Acres
Consisted of 150, 100' X 25' Lots. 2, 100' X 30' Lots. Total Lots = 152.
East/West Streets names were North Street, Pine Street, Mill Street, and Market Street.
North/South streets names were Main Street and California Street.
<![if !vml]>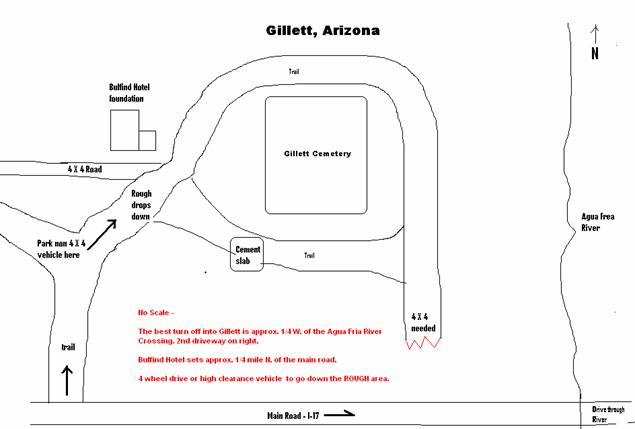 <![endif]>
Gillett Ghost Town Map
Map by Neal Du Shane
Not to Scale
<![if !vml]>
<![endif]>
Gillett Plat Map
Submitted by: Cathy Cordes
I was reading a book of my Grandfather's (Henry Cordes) and ran on to this description of Gillett:
"My first close view of Gillett's ruins thrilled me to the bottoms of my feet! Delighted as I am to find even the bare site of a historical town, my cup of joy almost spilled over as I emerged from the thicket and looked upon a large building, comprising seven units, arranged around three sides of a patio or small plaza. Either these units had been built at different times, or by different owners, as several types of construction were represented. Largest of the several structures was built of white stone, its squared edges laid to the wall's outer face. Frames of the doors and windows once had been painted blue, and the building held two corner fireplaces.
From the descriptions read, and one picture I had seen, it was easy to recognize this as the former Burfind Hotel. Another of the ruins - this fabricated of adobe - contained hand-hewn ceiling beams decorated in orange and blue paint. Still another unit was built of random stone; a fourth, of large cobbles from the nearby river. Some of the adobe walls were plastered, others not. Most of the units contained at least one fireplace. Desert brush was crowding in jealously from all sides, and one large saguaro stood overlooking the ruins. In one corner of the patio or plaza, quite a hole had been dug at sometime in the past-likely by treasure seekers.
From the first group of buildings I ranged over a desert flat to the rear. Here were numerous foundations, caved cellars, low walls, broken glass and assorted castoffs-and the beginning of a rutted road leading to Tip Top." Written by Henry Cordes.
That was written in the 50's. There was also this from the Arizona Weekly Miner written sometime in late January 1878:
"I arrived at the Tip Top mill site after a long and tedious journey". "Tender smiles greeted me from the corner of every saloon and they are quite numerous, I assure you. Messrs. Ganz & Co., have opened out their liquor dept.where, in a couple of weeks, the choicest wines and liquors will be lavishly dealt out. The town site has been located, surveyed, and lots are being rapidly disposed of. They vary from $100 to $250 each, according to location. The principal streets in this town are California, Mill, Main, Pine, and Market. . . Anders and Rowe are hauling in lumber by the thousands. . . The real estate men held a grand mass meeting yesterday, Jack Swilling acting as chairman. After several hours . . . it was decided to christen the newborn city Gillett in honor of one of the most affable gentlemen in the place. . ."
"The mill at this place is about completed," announced the Gillett correspondence in the Miner of February 8, 1878. "The stamps will begin pounding about the 15th. The miners are in great glee, betting that Tiptop will go up to $50 a share in 60 days. . . The Tiptop saloon, kept by Brooks and Collins, late of Broadway, New York, is a secure place. Moss, the post office man, has a log house and dispenses fluids. I don't suppose the Postmaster General would object . . . "
Gillett got its sea legs fast. By the end of March 1878, three men already had been murdered there, and on April 12 the Miner reported that the new and thriving town contained several stores carrying large stocks of goods "that will compare favorably with the mercantile houses of our own town, Prescott."
 "Anders and Rowe, C.P. Head and Co., and C.T. Hayden are the owners of these mammoth establishments," it was set forth. "A brewery has been established by Mr. Peter Arnold. . . Saloons dot the town. . . Mr. Edward's has erected a meat market. . . Building is progressing all over town and the place presents a lively appearance. . . Wood choppers and haulers are numerous and help fill the place with an industrious class of people. Corrals are going up and are being filled with hay for the accommodation of the freighters and others who are arriving continually from the capital and other points throughout the Territory. Messrs. Clark and Crooks have a thriving blacksmith shop in full blast. . "
In the same issue of the Miner as the foregoing report was published a letter, half a column long, signed Eliza Edward's. After giving details of yet another tragic shooting (that of William H. Fulkerson, accidentally killed by his brother) Mrs. Edward's concluded: "Only one thing I regret in Gillett and that is the little regard in which many people here hold God's sacred day. It is nothing but hammer and saw all day."
Before another week had rolled around, a feed, seed, and livery stable, had been opened at Gillett by Tom Cusack, and the Gillett Boarding House had been opened by Mrs. J. E. Brown.
Cathy Cordes shared some historical information she found amongst her beloved Grandfathers (Henry Cordes) documents.
With this information we have documented 37 businesses for Gillett in 1878. There is no mention of a Restaurant, Laundry, Big Nose Kate's or Mattie Silk's Sporting House etc. so we don't have them all yet. Quote "several stores carrying large stocks of goods, "that will compare favorably with the mercantile houses of our own town, Prescott".
We know there were 252, 25'X100' lots that were for sale in Gillett in 1875 - 1878 and Jack Swilling was developing the town and selling the lots.
Cathy also provided one more name of William H. Fulkerson who was accidentally filled by his brother.
The Tip Top Mill at Gillett, started processing the Tip Top Mines ore around the 15th of February 1878?
If you find information relating to any community we are working on, please share, you will be helping us preserve Arizona history.
<![if !vml]>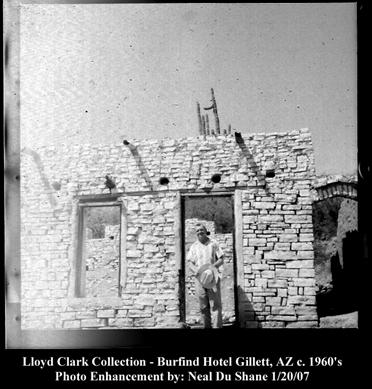 <![endif]>
Author Unknown
Gillett, Arizona, a milling town for the nearby Tip Top Mine 9 miles to the west, began in 1876 and like so many towns of the Wild West was filled with lawlessness and violence.
The town's blacksmith, a man named Henry Seymour, had a side job of robbing the Wells Fargo stage coach outside of town. In 1882, he held up 3 different stagecoaches on the same day, obtaining a total of $69,000.
His lawlessness was suspected when he used some of his proceeds in a local saloon's poker game and soon he was caught trying to hold up a fourth stage.
<![if !vml]>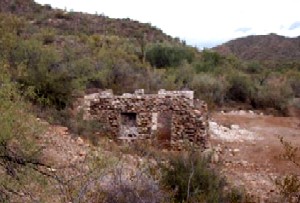 <![endif]>
Remains of the Burfind Hotel in Gillett
Seymour was then sent to prison, never revealing where he had hidden the loot. After he was released from prison he dropped from sight and allegedly never returned to Gillett to recover his treasure. Gillett is now a ghost town with only the ruins of the Burfind Hotel left behind.
APCRP Internet Edition
Version 070607
Web Master: Neal Du Shane
Copyright ©2003-2007 Neal Du Shane
All rights reserved. Information contained within this website may be used
for personal family history purposes, but not for financial profit of any kind.
All contents of this website are willed to the Arizona Pioneer & Cemetery Research Project (APCRP).
HOME | BOOSTER | CEMETERIES | EDUCATION | GHOST TOWNS | HEADSTONE 
MINOTTO |PICTURES | ROADS | JACK SWILLING | TEN DAY TRAMPS