HOME | BOOSTER | CEMETERIES | EDUCATION | GHOST TOWNS | HEADSTONE
MINOTTO | PICTURES | ROADS | JACK SWILLING | TEN DAY TRAMPS
Arizona Pioneer & Cemetery Research Project
Internet Presentation
Version 120208
HI JOLLY CEMETERY
(Quartszite, AZ)
By: Lois Ann Preston
<![if !vml]>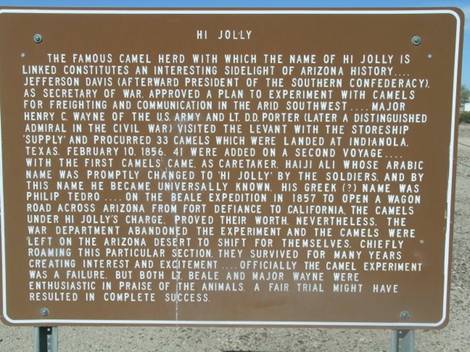 <![endif]>
Photo by: Lois Ann Preston
The cemetery is operated and maintained by the Town of Quartzsite for the purposes of providing a cemetery, historic site and park. The Hi Jolly monument is in the pioneer section of the cemetery where Quartzsite's pioneer families were and are laid to rest. There is a new section to the cemetery also for those who chose to be interred in Quartzsite. The cemetery sits at the west end of town. The Town is committed to beautifying the cemetery and preserving this historic site.
<![if !vml]>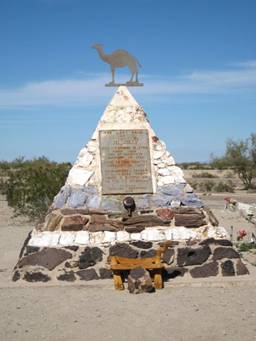 <![endif]>
Photo by: Lois Ann Preston
In 1935, Arizona Governor Benjamin Moeur dedicated a monument to Hadji Ali and the Camel Corps in the Quartzsite Cemetery. The monument, located at his gravesite, is a pyramid built from local stones and topped with a copper camel. The monument is the most visited location in Quartzsite.
<![if !vml]>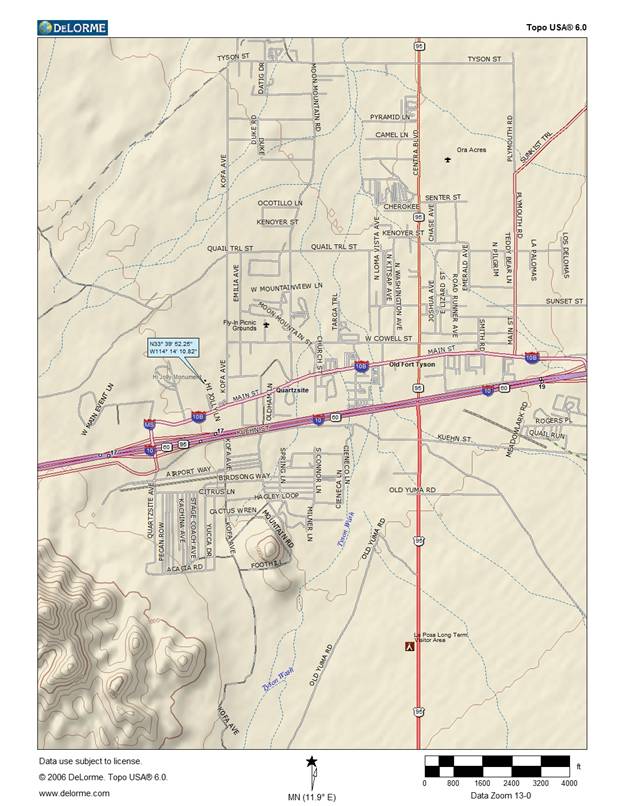 <![endif]>
Map by: Neal Du Shane
Arizona Pioneer & Cemetery Research Project
Internet Presentation
Version 120208
WebMaster: Neal Du Shane
Copyright ©2003-2008 Neal Du Shane
All rights reserved. Information contained within this website may be used
for personal family history purposes, but not for financial profit.
All contents of this website are willed to the Arizona Pioneer & Cemetery Research Project (APCRP).
HOME | BOOSTER | CEMETERIES | EDUCATION | GHOST TOWNS | HEADSTONE
MINOTTO | PICTURES | ROADS | JACK SWILLING | TEN DAY TRAMPS