HOME | BOOSTER | CEMETERIES | EDUCATION | GHOST TOWNS | HEADSTONE
MINOTTO |PICTURES | ROADS | JACK SWILLING | TEN DAY TRAMPS
Arizona Pioneer & Cemetery Research Project
Presentation
Version 082007
McCABE, AZ
Yavapai County
<![if !vml]>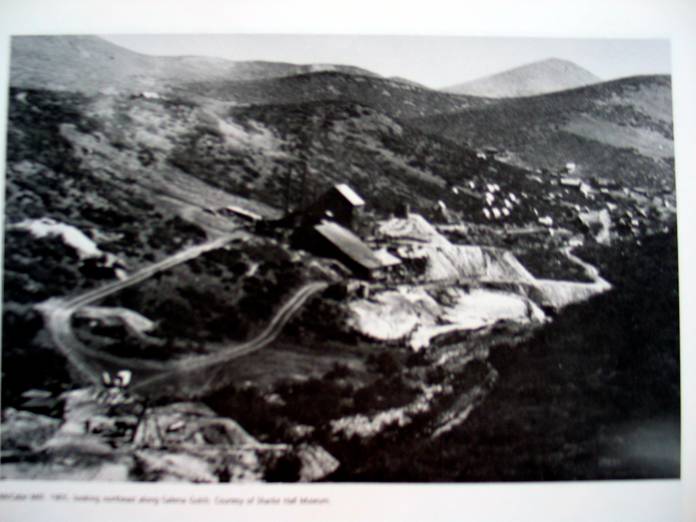 <![endif]>
Table of Contents
McCarty Family section of McCabe Cemetery Photograph. 2
McCabe Mine Reclamation 1990's. 6
The Ghost Town of McCabe is located in Yavapai, AZ - Township 13 N, Range 1 E. at an elevation of approximately 5,000 ft.
McCabe was an active mining town at the turn of the twentieth century. Located in the Bradshaw Mountains in Township 13N, Range 23E of the Poland Junction Quad. 
In 1864, gold was discovered in the area and a mill was erected at King Woolsey's Ranch.  Four years later the gulch was abandoned until 1883 when Frank McCabe found gold in Galena Gulch.  By 1900 there were stores, school, hospital, saloons and assay offices in McCabe. 
A strong labor union, the Western Federation of Miners, won reduction in the workday from ten to 8 hours without loss of pay. 
The town had electricity, telephone and flush toilets.  During the peak years, 1900-1907, 400-600 people were living there.  In 1913 the mine closed. 
A fire destroyed the town and over the years vandalism and nature left only tailings, a few rocks formations, and a portion of the cemetery.  More of the cemetery was washed away by a flood in 1937 Today McCabe is one of Arizona's many ghost towns.
<![if !vml]>
<![endif]>
Photograph by: Neal Du Shane 2005
McCabe

Cemetery
Roster
McCABE PIONEER CEMETERY

Ghost Town of McCabe, W. of Humboldt, Yavapai County, AZ

Highway 69 just S. of Humboldt, take the Iron King Rd. Proceed 3.96 Miles S.W. staying on the main road. When you come to a three way wyes stay on the road straight ahead. Approximately 1/4 mile will be a fenced enclosure on left is the McCabe Cemetery.

Latitude N34 29.389, Longitude W112 17.273 - (Elevation 5,060)

Burials =

24

7/19/2007

Marker

SURNAME

FIRST NAME

MIDDLE NAME

BIRTH DATE

DEATH DATE

COMMENTS

N

DENNY

Alex

No dates

No dates

From Cathy Cordes Grandfathers book

N

DOE

Jane

Unmarked interment

N

DOE

Jane

Unmarked interment

N

DOE

Jane

Unmarked interment

N

DOE

Jane 

Unmarked interment

Y

DOE

John

No Information on the marker

Y

DOE

John

No Information on the marker

N

DOE

John

Unmarked interment

N

DOE

John

Unmarked interment

N

DOE

John

Unmarked interment

N

DOE

John

Unmarked interment

N

DOE

John

Unmarked interment

Y

DOE

John 

No Information on the marker

N

McCARTY

Jack

C.

1879

1925

From Cathy Cordes Grandfathers book

N

McCARTY

Jane Doe

In McCarty enclosure (Child-female)

Y

McCARTY

John Doe

 

 

In McCarty enclosure (Child-male)

Y

McCARTY

John Doe

In McCarty enclosure (Child-male)

N

McCARTY

John Doe

In McCarty enclosure (Child-male)

Y

McCARTY

Martha

Ellen

Aug. 24, 1845

Feb. 4, 1916

Age: 70 Yrs. 5 Mos. 11 Days - Gone But Not Forgotten.

Y

McCARTY

Thomas

H.

Jan. 20, 1844

Aug. 29, 1910

Age: 66 yrs, 7 Months, 9 Dys - Gone But Not Forgotten - Blacksmith

N

MILLIGAN

Harry

George

Jun. 2, 1884

Apr. 14, 1902

Unmarked internment, Parents: Jonathan Milligan & Arabelle Rathburn, parents resided in Yabor Gulch, COD pneumonia

N

REICHELT

Baby

1906

N

REICHELT

Lena

1906

Y

THOMAS

D.

H.

Aug. 7, 1831

Sep. 24, 1906

Gone But Not Forgotten

Y

W---S

M.

Aug 30,  ????

It's possible this reads Age 30? Headstone is Sandstone and decaying

 

9

24

Research by:

Cathy Cordes, Neal Du Shane, Gene Simonds

Mary Belle Smith - family member of Harry Milligan provided info.

Revised:

09/19/07 Neal Du Shane

Contributor: Neal Du Shane: Research of the general area found possible additional unmarked burials. 75% of the enclosure is currently overgrown with dense shrubs. Based on the size of the fenced enclosure its possible 300 or 400 unmarked graves may be at this cemetery.

Material may be freely used in it's exact format and cannot be changed or altered,

by non-commercial entities, as long as this message remains on all copied material,

AND written permission is obtained from the contributor of the file.

These electronic pages may NOT be reproduced, in any format for profit

or presentation by other organizations. Persons or organizations

desiring to use this material for non-commercial purposes, MUST obtain

the written consent of the contributor, OR the legal representative of

the contributor, and contact the archivist with proof of this consent.

This file was contributed exclusively at no charge and free from any charge.

    Contributor/Archives by: Neal Du Shane - All rights reserved ©
McCabe's post office was established December 31, 1897 and was discontinued October 31, 1917. All that is left today at McCabe is some mining equipment and the cemetery with headstones still readable.
Approximately 600 people lived here and McCabe even had a six bed hospital. McCabe was plagued with bad luck. First, there were several fires, one of which burned 14 buildings on July 5, 1900. Then, a small pox epidemic in 1901 necessitated a quarantine barrier. 1913 marked the closing of the mine and the town slowly died.
McCabe was one of the few towns to actually have a telephone line running to Prescott.
Derelict abandoned grave at McCabe Cemetery, one of many. Photo by: Neal Du Shane 2006
Map of McCabe Mine
<![if !vml]>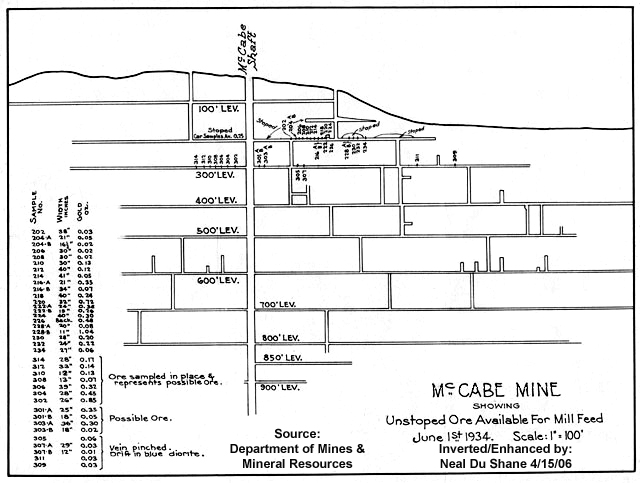 <![endif]>
<![if !vml]>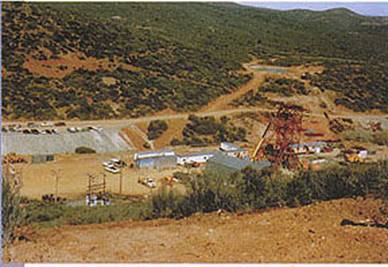 <![endif]>
BHP Copper, McCabe Mine Reclamation Project
<![if !vml]>

<![endif]>
Broken Hill Proprietary Company Ltd. (BHP) is a global company with business in four natural resources: copper, minerals, petroleum, and steel. The McCabe Mine in northern Arizona demonstrates how mines and mine tailings can be reclaimed into land with rich environmental and economic value.
For many years, this area has been used for mining gold. Ore was extracted from two deep mine shafts. It was crushed and processed through a mill. A cyanide solution dissolved the gold out of the rock. After the ore was processed, the remaining tailings (finely ground rock) were deposited in large piles known as impoundments. Later, the use of cyanide was eliminated to allow for the mining of copper and silver in addition to gold.

<![if !vml]><![endif]>

Before and after reclamation of the McCabe mine site

<![if !vml]><![endif]>
Mine site in full operation, early 1990's

Reclamation activities of the mine site required permits to control the quality of the surface and ground waters. Many tests were performed to determine the environmental impact the mining had on this region. Once the tests had been conducted, steps could be taken to begin the revegetation process. The following photographs provide an example of the reclamation of the ponds and surrounding areas.

<![if !vml]><![endif]>

Tailings impoundment prior to reclamation

<![if !vml]><![endif]>

Completed tailings impoundment after reclamation

The water and ground materials were tested to ensure no contamination was present. If resources were of high enough quality, they were incorporated with the rebuilding process. For example water, from the various ponds, was used to irrigate the new vegetation. The areas were covered with waste rock materials and soil. Seed mixtures were then spread over the areas to start plant growth. The area had to be re-shaped with the building of diversion ditches and a retention dam to prevent the accumulation of rainwater.

<![if !vml]><![endif]>
Early revegetation of mine site

The revegetation efforts were very successful. The foliage became dense with flowers and native grasses. The land is currently used for wildlife habitat and livestock grazing. The McCabe mine provides an example of how a site is returned to a natural state after it has been mined for its resources.

<![if !vml]><![endif]>
Completed reclamation of tailings
APCRP Internet Publication
All Rights Reserved © 2007 APCRP
WebMaster: Neal Du Shane
Copyright ©2003-2007 Neal Du Shane
All rights reserved. Information contained within this website may be used
for personal family history purposes, but not for financial profit of any kind.
All contents of this website are willed to the Arizona Pioneer & Cemetery Research Project (APCRP).
HOME | BOOSTER | CEMETERIES | EDUCATION | GHOST TOWNS | HEADSTONE
MINOTTO |PICTURES | ROADS | JACK SWILLING | TEN DAY TRAMPS