HOME | BOOSTER | CEMETERIES | EDUCATION | GHOST TOWNS | HEADSTONE
MINOTTO |PICTURES | ROADS | JACK SWILLING | TEN DAY TRAMPS
Arizona Pioneer & Cemetery Research Project
Presentation
_____________________________________________________
Exploring the Lower Slim Jim Creek
By: Allan G. Hall
Edition 081107
Introduction
If you enjoy hiking, photography and the history and geology of the area east of Wickenburg, then I recommend a hike down Slim Jim Creek.  This area is rich in scenery, wildlife and mining history, and the creek bed and walls provide a visually stunning record of geology that can be appreciated by anyone.  I specifically use the term "hiking" because there is no other way to complete the entire route than on foot.
My Definition of Slim Jim Creek
For purposes of this article, I divide the route into three geographically unequal but logical and convenient segments:
<![if !supportLists]>

<![endif]>Upper Slim Jim Creek – the segment between Buckhorn and Constellation Roads.  This portion of the creek provides access to several mines and historically significant sites, including the remains of the Constellation settlement.
<![if !supportLists]>

<![endif]>Middle Slim Jim Creek – the segment of creek from Constellation Road heading generally west to the point where a trail joins the creek from the Monte Cristo Mine (from the south).  This segment includes the Black Rock Mine with its shaft, tunnels, buildings and cemeteries, as well as side gulches and interesting geology.
<![if !supportLists]>

<![endif]>Lower Slim Jim Creek – the segment along the creek that extends from the terminus of the Monte Cristo trail west to the Hassayampa River.  This segment of the creek contains – by far – the most rewarding trek through the fascinating geology of the area, and includes tunnels, a route to the ATOS Mine and, of course, the Hassayampa River.
This article is confined to Lower Slim Jim Creek and provides only a cursory discussion of the ATOS/George Washington mine.  A second article will deal with the middle segment of the creek.  I have not yet completed researching the Upper Slim Jim Creek segment, but hope to do so in the fall of 2007.  Each segment is unique in their physical characteristics and history of pioneer and mining activity, and each deserves its own special coverage.
How to Get There
The GPS coordinates provided in this article are listed in NAD27 format:  DDD-MM-SS.S.  Conversion to alternate reference systems will be up to the reader.  All location references may be found on the USGS Morgan Butte Quadrangle, Grid numbers 4-5 and 31-32.  See the later section titled "Travel & Hiking Coordinates" for more details.
Access to Lower Slim Jim Creek is achieved by traveling from Wickenburg up Constellation Road to a point about 100 yards west of the Monte Cristo Mine.  Here, turn left onto a trail that runs generally in a NNW direction.  Bear right at the first (and only) fork and continue heading in the NNW direction.
Along the way you will pass a shaft of the Texas Group Mine on your right.  Shortly after this point, at a distance of about one mile to your right (northeast) you will also see the Black Rock Mine; which will be addressed in the next article.  As you proceed along the trail you will come to a cattle gate separating the grazing leases of the JV Bar and Williams ranches.  This gate has been closed each time I have passed through the area, so I recommend that you close it after passing through.  From this point until you reach the creek, I recommend that you use lower 4WD gears and proceed slowly to help preserve the condition of the trail.  Upon reaching the creek bed, you will turn left and proceed down (WNW) Slim Jim Creek.  I define this trail junction as the beginning point of the lower segment.  Elevation at this point is approximately 3040 ft.
4WD and ATV vehicles can travel down the creek as far as the trailhead to the ATOS/George Washington Mine, which departs the creek bed at GPS: 34 o 04' 34N by 112 o 35' 47"W (located in Grid #32 of the Morgan Butte Quadrangle).  There is modest space to park one or two vehicles without obstructing access to the ATOS trail.  From this point forward you should be on foot.  Although it is possible to continue a short distance beyond this point on an ATV, doing so virtually guarantees that you will see no wildlife.
Hiking in Lower Slim Jim
Turn left upon entering the creek.  You will find yourself in a rather broad, sandy wash that initially heads in a northwesterly direction.  At this point the creek will appear to be unremarkable; but this view will quickly change!  The creek will become more constricted as you begin a series of bends and turns and you will soon encounter the first examples of the fascinating geology in the creek, as evidenced in Figures 1 and 2.
Figures 1 & 2.  Geology in Lower Slim Jim Creek
<![if !vml]>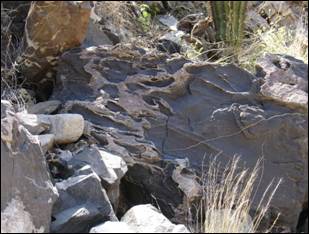 <![endif]>       <![if !vml]>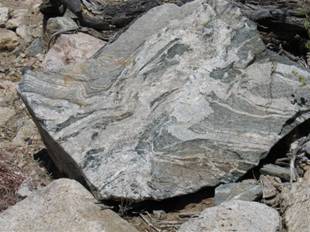 <![endif]>
Seams and bands of volcanic extrusion rock characterize Lower Slim Jim Creek and, as you continue down, you will encounter numerous formations that suggest a violent creation in eons past.  The area is highly mineralized and you will see several types of granite, quartz and diorite, as well as dark ore-bearing bands that suggest the presence of gold and copper.  The creek bed itself is a virtual stream of sparkling, crystallized stones and chrysacolla.  I am not a geologist, so I cannot begin to describe the many types of rock that you will see. 
By the way, don't stow your camera on the way back out!  The light conditions and time of day in Slim Jim Creek will reveal interesting rock patterns that were not visible on the way down to the river.
Figures 3 and 4 provide further examples of the rock formations in Slim Jim.  These photos show the two most significant granite dikes that cross the creek bed.  There are no practical routes around these dikes; so you will need to scale your way up and down them.  Each photo view is taken from below the respective dike looking upstream.
Figure 3.  Granite Dike in Lower Slim Jim Creek
<![if !vml]>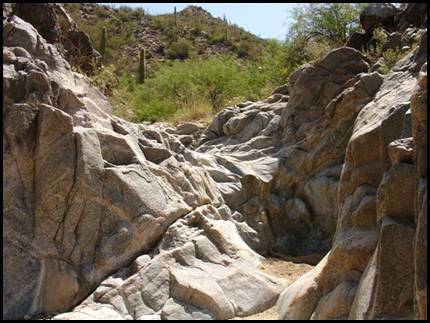 <![endif]>
The dike in Figure 3 is approximately eight feet in height at the point where you descend.  There are ample spots to establish safe footing as you climb this location as well as the dike in Figure 4.  The vertical height of the next dike is probably closer to twelve feet at the point of ascent/descent.
Figure 4.  Additional Granite Dike Formation
<![if !vml]>
<![endif]>
A few hundred yards beyond the ATOS trailhead you will arrive at a location that has been fenced off in the creek bed.  This is the site of a placer claim that appears to be active, although it is not continuously worked.   See Figure 5.  I have yet to encounter anyone at this site, but I would urge caution and respect as you pass through the area.  As the old saying goes, "Friendly is as friendly does."
Figure 5.  Placer Claim in Lower Slim Jim Creek
<![if !vml]>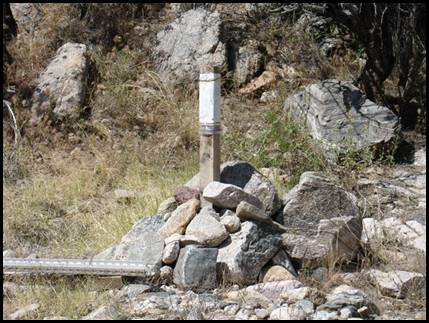 <![endif]>
The fence is actually another grazing boundary line.  Up to this point you will have been crossing Williams Ranch grazing land.  There is no gate at this location so you will have to pass through the barbed wire on foot.  As you pass through the fence to this placer claim, you will be reentering JV Bar Ranch grazing areas which extend several miles to the north of the Hassayampa River.
The topology of the lower segment of the creek bed would not have been favorable to the establishment of mining settlements.  Because it is both narrow and the sides are quite steep, this area is particularly prone to heavy runoff during the storm seasons.  I can easily imagine that miners would have avoided building houses in this area.  There are settlements in and adjacent to the middle and upper segments of Slim Jim Creek, but I have yet to discover any in the lower segment.  Based upon the general topology, I don't expect to find any.
This does not mean that Lower Slim Jim Creek was devoid of pioneer mining activity, however.  There are four tunnels in and above the creek bed.  Two of these are located in Morgan Butte Grid Section #32, about 80 to 120 feet above the creek bed.  See Travel and Hiking Coordinates below for details.  The second of these is very near the trail that leads out of the creek toward the George Washington/ATOS mine.
As you near the end of Slim Jim Creek you will find two more mine tunnels that appear to have been exploratory in nature.  See Figure 6.  Each tunnel is approximately 20 to 30 feet in length and was dug into very conspicuous ore-bearing bands of rock.  These tunnels are on opposite sides (east and west) of the creek and contain no vertical shafts.  I have found no historical references that would connect them to the ATOS or White mines, although the White is much closer.  The floors of both tunnels are covered with sand deposits from past runoffs.  This should give you some appreciation for the potential water flow through the creek after heavy storms.  These last two tunnels are easy to access, but use caution – they could be serving as nursing dens for javelina during late spring, or you could encounter rattlesnakes.
Figure 6.  East Tunnel in Lower Slim Jim Creek
<![if !vml]>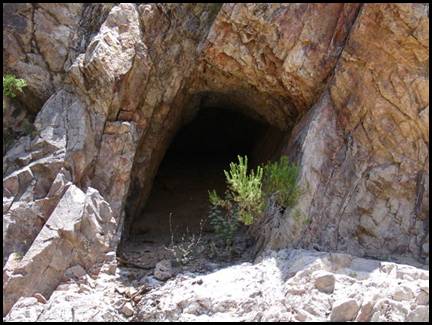 <![endif]>
Quite near the two lower tunnels there is an inscription chiseled into the rock wall on the west side of the creek.  See Figure 7.  The inscription shows three sets of initials, "BR-EEC-DH", and a "cross" or possibly "plus" symbol.  No date is included in the inscription, so it is not possible to determine anything other than what the photo shows.  Close examination reveals a very fine and precise effort was made in the inscription.  Whether this was intended as a memorial to three individuals, or whether it was a "tunnel squatter" with a lot of time on his hands, we will probably never know.
Figure 7.   Inscriptions
<![if !vml]>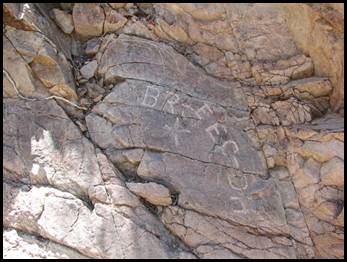 <![endif]>
Vegetation in Lower Slim Jim Creek
The vegetation in Lower Slim Jim Creek is typical of the high desert.  The area is full of color from late February until late May.  You will see an abundance of Ocotillo, Saguaro, Barrel Cactus, Prickly Pear and Beavertail, as well as Hedge Hog, Pincushion and several varieties of Cholla cactus.
Flowering plants will include Mexican Poppy, Brittle Bush, Desert Marigold and Globemallow, as well as many lesser-known species in the creek bed and on the hillsides.  I did not see any Mariposa Lily this year (2007), but the lack of rain in the past three years is probably a factor.  Naturally, you will see a profusion of Jojoba bushes and many Mesquite, Palo Verde and Acacia trees that bloom in the spring season.
If you are seeking views of uncommon species, you will be rewarded with plants such as the Twining Snapdragon vine, as illustrated in Figure 8.  This specimen is located west of the ATOS trailhead in the creek and produces blooms from April through October.
Figure 8.  Twining Snapdragon
<![if !vml]>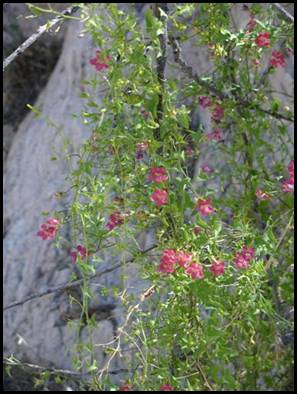 <![endif]>
Once you reach the terminus of the creek at the Hassayampa River, you will find many other flowering trees during the spring season.  The riverbanks seem to be dominated by various species of willow.
Wildlife in Lower Slim Jim Creek
The creek bed will contain many tracks of coyotes, fox, squirrels, deer and javelina in the first half of this hike.  I have seen deer, quail, Gila Monsters, a variety of interesting lizards and, of course, snakes while hiking through the creek.  Doug Miller, at the JV Bar Ranch, reports that is area has quite a number of mountain lions as well, although I have only seen their tracks in the upper Hassayampa River Wilderness above the Williams Ranch.  As the creek progressively narrows toward the terminus at the Hassayampa, you will see fewer signs of these animals, however.  Figure 9 shows an Eastern Collared Lizard that I was fortunate to photograph in the wash east of Slim Jim Creek; but this species occupies Slim Jim as well.  This particular lizard measured between 14" – 16" in length.
Figure 9.  Eastern Collared Lizard – Crotaphytus collaris
<![if !vml]>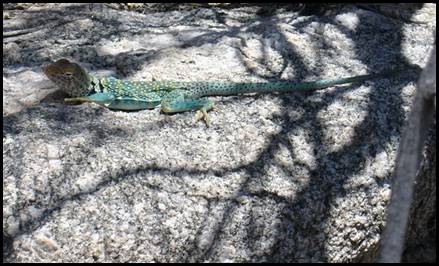 <![endif]>
If you are also a bird enthusiast, you will particularly enjoy the areas upstream and downstream along the Hassayampa River during the spring season.  The habitat is quite similar to the Hassayampa River Preserve south of Wickenburg, although it is not as densely wooded in this area.  With a bit of luck, you may also see large groups of vultures socializing on the rocky bluffs just west of the creek where the river makes a turn to the north.
The River
Elevation at the junction of the Hassayampa River and Slim Jim Creek is approximately 2520 ft., so you will have descended about 520 feet from the point of entry into lower Slim Jim.  To your right (upstream) you can hike a distance of approximately four miles to the Williams Ranch.  See Figure 10.  The banks of the Hassayampa are well covered with several types of trees in both directions.  There is plenty of shade, grass along the banks, and even some large sandy "beach" areas.  It is a great place to consider over-night camping if you are so inclined.   A hike of approximately 1.5 miles to your left (downstream) will bring you to the next wash near the old White Mine.  This wash will lead southeast to the Unida Mine Group.  Although it is unnamed on the USGS map, local tradition calls it "Unida Wash."
Figure 10.  Hassayampa River at Lower Slim Jim Creek – Looking East
<![if !vml]>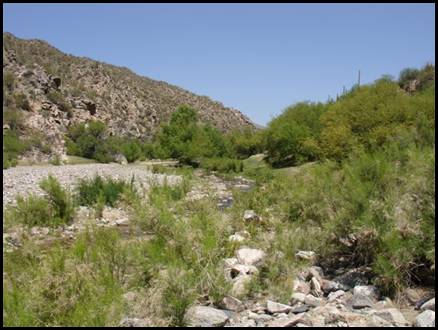 <![endif]>
After a rest and lunch, it will be time to head back up the creek to your vehicle.  Changing light conditions in the wash will reward you with as many photographic opportunities on the return as you had hiking down.  I recommend that you time your exit so that you will reach Constellation Road before sundown.  Negotiating some of the narrow turns and boulders in the creek between the ATOS trailhead and the Monte Cristo trail will be much more difficult in the dark!
Footnotes
The oldest maps we have been able to locate for this area range from 1904 to 1885.  That span of time closely approximates the most significant mine development in this area and the maps show the emergence and disappearance of numerous trails.  It is safe to say that many of the trails are more than 110 years old and some can be dated to 125 years or older.
Slim Jim Creek and mining history are inseparably linked.  Indeed, if it were not for the veins of gold, silver and copper that run through this area, there would have been no mines.  But mines also required equipment, supplies and a means to transport ore.  Lower Slim Jim Creek served as a "highway" of sorts for access to the ATOS/George Washington mine.  Other mines used the relatively flat and sandy portions in the middle and upper sections of the creek in the same way.  The trail to the ATOS/George Washington mine only emerges from the creek at a point where further horse or vehicle travel downstream becomes impossible.  The old maps show pack trails from the present-day Monte Cristo Mine leading toward the George Washington Mine as early as 1893; while other trails passed through this area to the Gold Bar/O'Brien Mine before the earliest version of Constellation Road was constructed in 1894. 
The stream bed renews itself after every runoff from storms – it is cleansed (at least temporarily) of all evidence of human passage.  The old mine trails that lead into Slim Jim Creek are not as fortunate, however.  Natural erosion and vehicle traffic take an inevitable toll.  Please drive these old trails responsibly so that we all can continue to access and enjoy these areas in future times.
Before You Go
Regardless of the time of year that you choose to explore lower Slim Jim Creek, there are some fundamental, common sense things you should consider before entering the area:
<![if !supportLists]>

<![endif]>Let someone know specifically where you are going before you depart and when you plan to return.  If you get in trouble you will have to hike several miles before you reach a cell phone signal!
<![if !supportLists]>

<![endif]>Bring plenty of water and energy snacks.  Depending on the season that you hike, your need for water could vary greatly.  Remember that what you hiked "down," you will be hiking "up" on the way out.  Your energy expenditure and need for water will increase.  I characterize this hike as "moderate" in the scale of effort required. 
<![if !supportLists]>

<![endif]>Make sure that you are properly hydrated before you start.  For the record, I carry four to six pints of water in my backpack for this section of the creek, but I also have additional water in the cooler after returning to my vehicle.  During the warmer season you might even consider making a "water drop" somewhere along the hike so that you will have a cache on your way out.
<![if !supportLists]>

<![endif]>Appropriate clothing, including hiking shoes with good, firm soles and a hat is essential.  You might also consider bringing a pair of leather gloves.
<![if !supportLists]>

<![endif]>Allow a combined travel and hiking time of at least six hours.  If you decide to hike up or downstream along the Hassayampa River, allow more time – and water.
Precautions
<![if !supportLists]>

<![endif]>At the time of publication, there is a placer mine claim in the creek bed a few hundred yards downstream and west of the ATOS trailhead.   This claim appears to be active, although not continuously worked.  This is public land and you have a right to pass through the area.  Be courteous and respect the claim-owner's rights.
<![if !supportLists]>

<![endif]>From mid-April through September you can expect to see snakes.  Be alert.
<![if !supportLists]>

<![endif]>Don't become a statistic.  DO NOT attempt to hike this section of the creek if there are heavy storms in the upper watershed.  The drop in elevation between the peaks at the top end of Slim Jim Creek and the Hassayampa is about 2100 feet.  Heavy winter or monsoon rains can produce sudden and significant water flow.  There are several locations where the width of the creek is very narrow, and the "high water mark" in these areas is quite impressive.  The runoff from light rains will produce only a small stream, but continuous rainfall in the upper watershed can generate heavy, and potentially catastrophic, water flow.  I have seen runoff continue for more than a week after a single storm.
<![if !supportLists]>

<![endif]>Know and understand your own capabilities.  If you are a "cool weather" hiker, you may want to defer hiking in Slim Jim Creek until the November-April time frame. 
<![if !supportLists]>

<![endif]>The sand-gravel mix in the lower creek bed compacts very nicely in dry conditions.  If you enter the area with a vehicle after a heavy runoff, I cannot guarantee that you will not experience problems.  Be aware of the conditions and don't overestimate the capabilities of your 4WD or ATV vehicle.
<![if !supportLists]>

<![endif]>Plan to take photos and leave only footprints.   Pack out what you carry in!  The Lower Slim Jim Creek area is pristine.  Leave it that way.
Travel & Hiking Coordinates
As previously stated, all coordinates are listed in 1927 North American Datum, (NAD27), which appears on USGS Quad maps.
<![if !supportLists]>1. <![endif]>Distance from the Wickenburg Rodeo Grounds to the lower Slim Jim Creek turnoff at the Monte Cristo Mine is 10.4 miles.
<![if !supportLists]>2. <![endif]>Turnoff from Constellation Road to lower Slim Jim Creek: 
34o 03' 54"N by 112 o 35' 04" W - Morgan Butte Grid #4
<![if !supportLists]>3. <![endif]>Entrance to lower Slim Jim Creek:
34 o 04' 26"N by 112 o 35' 22"W – Morgan Butte Grid #32
Elevation is approximately 3040 ft.
<![if !supportLists]>4. <![endif]>Location of first tunnel in Lower Slim Jim Creek:
34 o 04' 29"N by 112 o 35' 41"W – Morgan Butte Grid #32
<![if !supportLists]>5. <![endif]>Trailhead to ATOS Mine and second tunnel in lower Slim Jim Creek:
34 o 04' 34"N by 112 o 35' 47"W – Morgan Butte Grid #32
Hiking distance from ATOS trailhead to Hassayampa River is 1.55 miles, yielding a total distance of 3.1 miles.
Lower Slim Jim Creek at the Hassayampa River:
34 o 04' 56.9N by 112 o 36' 55.2"W – Morgan Butte Grid #31
Elevation is approximately 2520 ft.
If you have any questions about directions or content of this article, please drop me a note via the APCRP web site.
All Rights Reserved
Version 052807
APCRP Internet Presentation
WebMaster: Neal Du Shane
HOME | BOOSTER | CEMETERIES | EDUCATION | GHOST TOWNS | HEADSTONE
MINOTTO |PICTURES | ROADS | JACK SWILLING | TEN DAY TRAMPS