HOME | BOOSTER | CEMETERIES | EDUCATION | GHOST TOWNS | HEADSTONE
MINOTTO |PICTURES | ROADS | JACK SWILLING | TEN DAY TRAMPS
Arizona Pioneer & Cemetery Research Project
Internet Presentation
Version 112207
CEMETERY
at Williams Ranch
<![if !vml]>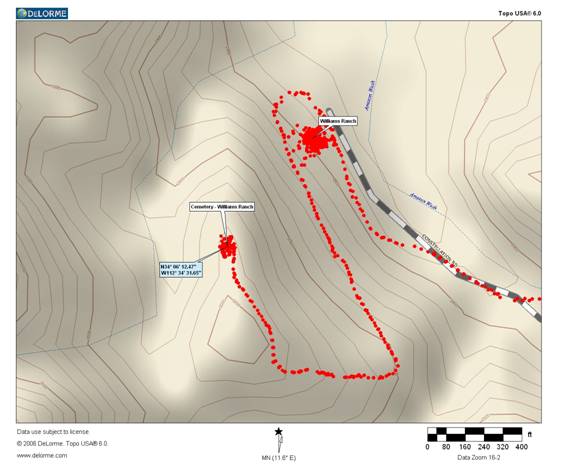 <![endif]>
Two weeks ago I ventured to the end of Constellation Road, some 18 miles from Wickenburg. This culminated a successful research project, finding the Constellation Cemetery at the historic town site of Constellation up Slim Jim Creek from Constellation Road. Interesting historic sites line the way. Historic sites such as Sayer, Sayer Spring, Blue Tank Wash, Orida Mining district, Monte Cristo Mine, Black Rock Mine, and Gold Bar Mine. The Williams Ranch is worth the trip as it is in a beautiful setting near the confluence of the Hassayampa River and Amazon Wash. Introduced myself to Roy and Carrol Williams and we sat in their living room recounting the history of this area.
<![if !vml]>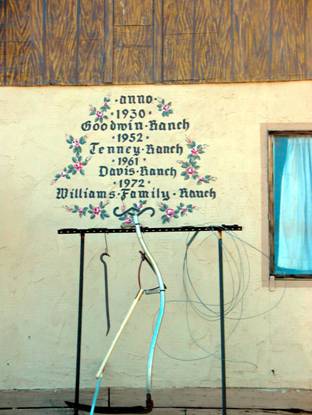 <![endif]>
Ranch ownership historical record, documented on north side of home.
Photo by: Neal Du Shane
Some years ago a Jack Oliphant operated a ranch for wayward children at this ranch. It operated for several years until there was an issue with the State and it was shut down. During this time three young girls were killed in a dormitory fire which consumed the structure they were sleeping in. The young girlís remains were taking to the top of a beautiful mountain and interred there. Carrol Williams had given me a picture of the marker.
<![if !vml]>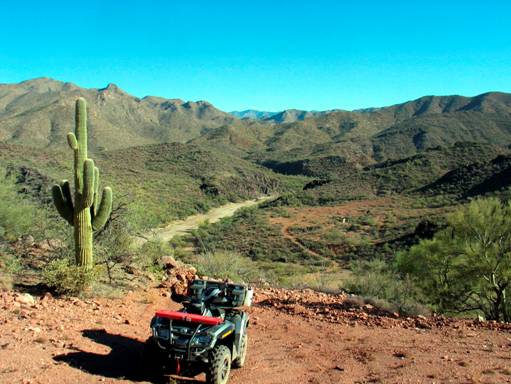 <![endif]>
Hassayampa River in the valley. My amazement was to visualize what this may have looked like when the
Walnut Grove Dam broke 10 miles upstream, flooding and killing many.
Photo by: Neal Du Shane
I had asked the Williams if at a future date I could go up to the cemetery, take photographs, research the interred and, document the site. They were very agreeable as they share interest in history also; such was Nov. 21, 2007.
<![if !vml]>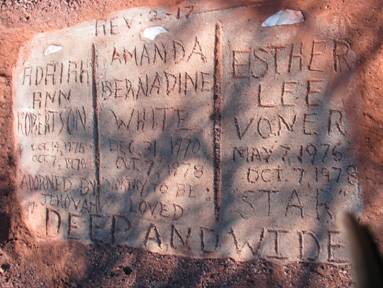 <![endif]>
Horizontal marker for three young girls
Photo by: Neal Du Shane
Upon arriving at the ranch Carrol gave me directions to reach the grave sites. Climbed on the ATV and headed up the trail. It should be noted this cemetery is on private property, please donít trespass. Stop at the ranch house and get permission from Roy or Carrol before proceeding. The road can be dangerous depending on the amount of rain they receive and four-wheel-drive is recommended.
Upon arriving at the grave site I determined the three little girls had been buried side by side in individual graves. Cleaned the run off dirt off the face of the marker. The marker is well preserved after almost 30 years, although hand made it has served the purpose well. As I stood reflecting on my new find, my eyes were drawn to the surrounding panoramic beautiful view of the landscape. On all sides the view is breathtaking which reflects the choice of this location for a cemetery.
<![if !vml]>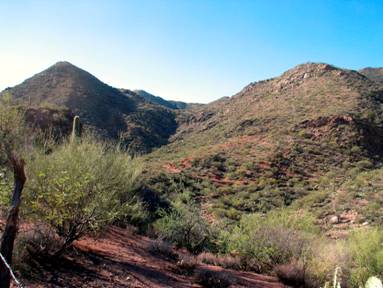 <![endif]>
View looking SE from Cemetery at Williams Ranch
Photo by: Neal Du Shane
As with all potential Historic Pioneer Cemetery sites I visit, as standard operating procedure, I research the surrounding ground adjacent to any marker to see if there are unidentified graves. With a brief walk of this area I identified 14 graves at this cemetery. I identified some of the more obvious graves by drawing a line in the ground, around the grave and marking an F for female and an M for male over the grave. It is likely with research outside the area I walked, there could be more graves. Most were adult but 5 or 6 were children (counting the three girls).
Carrol had questioned, maybe there was a John Goodwin there as two Goodwin boys had perished and no one knows for sure, where they are buried. Determined John isnít at this cemetery but there is an adult male Goodwin here. Carrol will research her files and see if she can document a name for Mr. Goodwin buried here. With research we may be able to put names with other graves at this cemetery.
Arizona Pioneer & Cemetery Research Project

WILLIAMS RANCH Cemetery

†A.K.A. Ranch Challenge Cemetery, Hallelujah Cemetery

Yavapai County, Arizona

From Wickenburg - Constellation Rd the end of the road - Private Property - Do Not Trespass.

Approximately: Latitude N34 6 5.4, Longitude W112 33 56.1 (+ -) (WGS84) Elv. 2,944

Burials =

17

11/21/2007

Marker

SURNAME

FIRST NAME

MIDDLE NAME

BIRTH DATE

DEATH DATE

COMMENTS

N

GOODWIN

Adult Male - Possibly member of previous Ranch Owner

Y

ROBERTSON

Adriah

Ann

Oct. 14, 1976

Oct. 7, 1979

"Adorned By Jehovah" "Deep and Wide"

Y

VONER

Esther

Lee

May. 7, 1976

Oct. 7, 1979

"Star" "Deep and Wide"

Y

WHITE

Amanda

Bernadine

Dec. 31, 1970

Oct. 7, 1979

"Worthy To Be Loved" "Deep and Wide"

N

DOE

Jane

N

DOE

Jane

N

DOE

Jane

N

DOE

Jane

N

DOE

John

N

DOE

John

N

DOE

John

N

DOE

John

N

DOE

John

N

DOE

Jonny

N

DOE

Jonny

N

DOE

John

N

DOE

John

17

NOTE:

Graves reside on mountion top south of ranch house. The three young girls were part of the "Ranch Challenge" and burned to death in the fire that destroyed the wooden dormitory they were in. On 11/21/07 fourteen more graves were identified.

Contributor: Neal Du Shane

Historian: Roy Williams, Carrol Willimas, Neal Du Shane.

Material may be freely used by non-commercial entities, as long as this

message remains on all copied material, AND permission is obtained from

the contributor of the file.

These electronic pages may NOT be reproduced in any format for profit

or presentation by other organizations. Persons or organizations

desiring to use this material for non-commercial purposes, MUST obtain

the written consent of the contributor, OR the legal representative of

the submitter, and contact the archivist with proof of thins consent.

†

This file was contributed for use of

Contributor/Archives by: Neal Du Shane - All rights reserved, © 2007-2008
Carrol indicated they would like to accompany me to the cemetery after doing some research in her files and mark the graves for future reference.
At this time we are not placing a name for this cemetery as it may go back to the original owners of the ranch. Carrol will research this also.
I want to personally thank the Williams, without the assistance and cooperation of Roy and Carrol this ranch cemetery like many others, will be forgotten and lost as time passes and families move on to other occupations. I can think of the three I know of, Three Rivers Ranch, Palmerita Ranch, Santa Maria Ranch, Cullingís Well and the Williams Ranch. It is sad this happens but unfortunately it is part of life. Most people donít take an interest in preserving history. Families that may have been caring for the sites have moved great distances and or have transpired. Even family history can loose this information over centuries. I.e. the Historic Pioneer Cemetery at Champie/Allanís Mill. If historic places arenít documented they will be lost and everlastingly forgotten.
Neal Du Shane
Arizona Pioneer & Cemetery Research Project
Internet Presentation
Version 112207
WebMaster: Neal Du Shane
Copyright ©2003-2007 Neal Du Shane
All rights reserved. Information contained within this website may be used
for personal family history purposes, but not for financial profit of any kind.
All contents of this website are willed to Arizona Pioneer & Cemetery Research Project (APCRP).
HOME | BOOSTER | CEMETERIES | EDUCATION | GHOST TOWNS | HEADSTONE
MINOTTO |PICTURES | ROADS | JACK SWILLING | TEN DAY TRAMPS