HOME | BOOSTER | CEMETERIES | EDUCATION | GHOST TOWNS | HEADSTONE
MINOTTO | PICTURES | ROADS | JACK SWILLING | TEN DAY TRAMPS
Arizona Pioneer & Cemetery Research Project
Internet Presentation
Version 050114
AGUA CALIENTE, ARIZONA
- PIONEER CEMETERY -
By Kathy Block
APCRP Research Staff
<![if !vml]>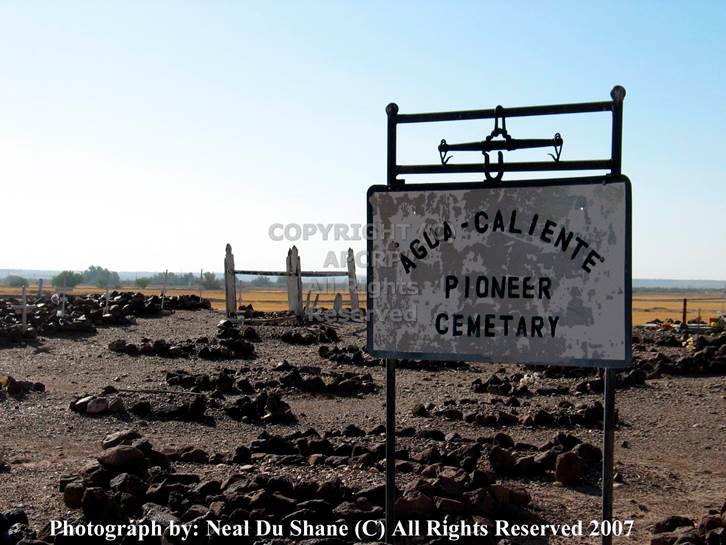 <![endif]>
Agua Caliente is Spanish for "hot water."  Various people, beginning with Native Americans, Spanish missionaries in 1748 and 1750, King Woolsey a prominent landowner and resort developer in the 1860s and 1870s, miners, cowboys - all enjoyed the hot springs and facilities were added for their comfort.
An early visitor to "Agua Caliente Ranch" was John Ross Browne, in 1864, who came with two other men to the ranch of Woolsey and his partner Mr. Martin from nearby Grinnel's Ranch, where soldiers rested from the westernmost skirmish of the American Civil War. As Woolsey had left a few days before to take stock to gold placers, Martin entertained the soldiers. Martin was trying to establish a farm by irrigation, in excellent soil.  In a memoir, quoted on Wikipedia, "Agua Caliente, Arizona", Browne wrote: "We had a glorious bath in the springs next morning, which completely set us up after the dust and grit of the journey...The water is of an exquisite temperature, and possesses some very remarkable qualities in softening the skin and soothing the nervous system."
And, an interesting historical reference: "A Mr. Belcher lived at this place for four years, surrounded by Apaches.  Indeed, it was not quite safe now, and I could not but think, as Poston, White, and myself sat bobbing around in the water, what an excellent mark we made for any prowling Tontos that might be in the vicinity.  It was here that the Indians, who had in captivity the Oatman girls, made their first halt after the massacre of the family.  The barren mountains in the rear, and the desert appearance of the surrounding country, accorded well with the impressive narrative of that disaster."
By 1870 there were a ranch, resort, and hotel.  One famous guest at the hotel was Arizona's first governor, George Hunt, in the 1890s. Farmers irrigated crops from the water also.  The hotel, built in 1897, and springs became a noted "Health
Resort."
<![if !vml]>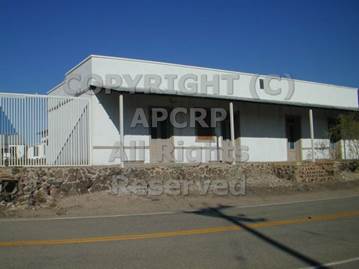 <![endif]>
An advertisement in The Bisbee Daily Review, Dec. 15, 1904, claimed:
     "AGUA CALIENTE SPRINGS...Maricopa County, Arizona. Agua Caliente is the place for all people who are sick as well as those who are well, to visit and obtain speedy relief.  RHEUMATISM and BLOOD DISEASES cured.  For pamphlets and full information Write ALTHEE MODESTI, Agua Caliente, Arizona, via Sentinel."
There were some wild celebrations, also!!
     "Christmas Festivities - How the Event was Celebrated at Agua Caliente.  Festivities were ushered in with sticks of dynamite, shotguns, etc. and ushered out with the finest conglomeration of swelled heads you ever ran up against.  This Agua Caliente booze is something fierce - two drinks will make a jack rabbit spit in a bull dog's face. I took six drinks and it was all the same as 'Edmondson's Golden Aire." (The Cococino Sun, Jan.2, 1904.)
There were several robberies and a tragedy where a saloon keeper was shot dead by a jealous husband.  And at least two different men perished in the desert within two miles of help.  None of these people were documented as buried in the cemetery, though.  The men who perished were "buried on the spot."
The Resort faded until World War II, when a swimming pool was constructed for military officers who used the resort.  Before then, old photos show a pond in a field.  After this, the resort continued to decline.  Causes of this decline were mainly the bypass of Agua Caliente by the Southern Pacific Railroad, Arizona State Highway 85, and I-8.  The water dried up from either over-irrigation or the springs were destroyed when developers dynamited to expand the resort area.
The ruins of the 22-room hotel and crumbling buildings can be seen today.  A caretaker lives in a trailer near the hotel, and the entire property is posted, "No Trespassing" and surrounded by a fence.  DO NOT ENTER THE PROPERTY.
<![if !vml]><![endif]>

Photo by: Neal Du Shane. (C) All rights reserved

<![if !vml]><![endif]>

Photo by: Neal Du Shane. (C) All rights reserved.
The Agua Caliente Pioneer Cemetery is on a built-up mound on the south side of the Old Agua Caliente Highway, about one mile east of the site of the old hot springs resort.  A visitor to the cemetery in 2010 described the Cemetery as a well-taken care of cemetery, with burials ranging from 1896 thru 2007. (There is now a burial from 2009 of Kathleen Martin.)  The blog stated there were lots of graves, many marked, and some were obvious, but not marked.  There are several burials noted by APCRP, with U.S. Military headstones.  One small "plot" area had two small graves and wood headstones. These may be the graves of unknown twin girls.
<![if !vml]><![endif]>

Della Mae Hawthorne grave marker in 2007

Photo by: Neal Du Shane – All rights reserved.

<![if !vml]><![endif]>

Same marker in 2014, illustrates the ravages of time and neglect, not vandalism.

Photo by: Neal Du Shane – All rights reserved.
The Cemetery has 123 total internments, 78 of which are unmarked graves, with approximately 45 marked graves. The cemetery has family affiliation, with 9 Conde's, 6 Amabisca's, 6 Perez, 3 Cruz and 2 Amavisca's buried there. 
<![if !vml]>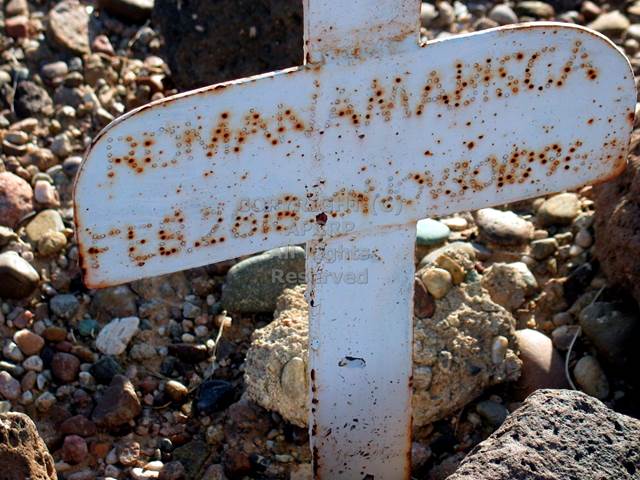 <![endif]>Photo by: Neal Du Shane. (C) All rights reserved.
The first documented burial was Roman Amabisca in 1896.
One notable burial is Joseph Ray "Pee Wee" Amavisca.  He had an interesting obituary in the Yuma Sun, April 17, 2007.  When he was born in Yuma on Dec.2, 1941, he was so small he fit in a shoe box! His uncle Enes (Ines) Amavisca cupped the newborn in his hands and said, "He sure is a pee wee."
<![if !vml]>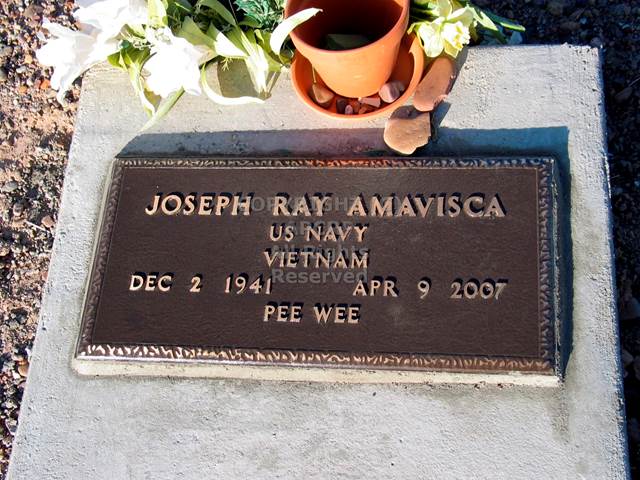 <![endif]>
Photo by Neal Du Shane. (C) All rights reserved.
Peewee died at his mountain home in Pine, Arizona, on April 9, 2007, age 65. He was described as "the typical middle child (fourth of seven children of Colonel and Irene Amavisca), who was a fun-loving, mischievous boy who loved to make people laugh.  As an adult, he was always "the life of the party, dancing and telling jokes."
He was raised in Yuma, as well as the family's cattle ranch near Agua Caliente.  He had been a cattle rancher (his ancestors raised cattle along the Gila River in the 1800s), deputy sheriff, owner and operator of a construction business and truck driver until he was injured in 1987.  A beautiful carved bronze headstone, with cattle brands on the top part, reads: "Riding With The Old Ones", then the initials "JPA and Pee Wee" on lower right. The military gravestone is flat beneath it and reads, "Joseph Ray Arivasca, US Navy, Vietnam, then Dec.2, 1914 to April 9, 2007, with "Pee Wee" underneath.
<![if !vml]>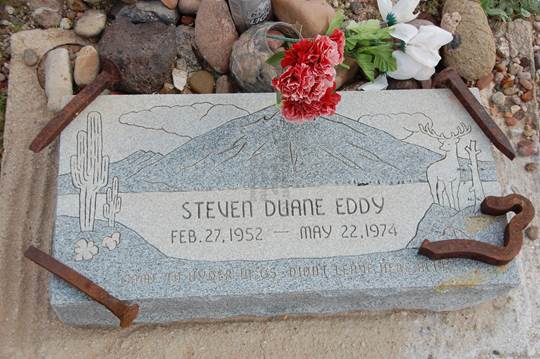 <![endif]>
One other headstone of interest is for Steven Duane Eddy, who died at age 22 (Feb.27, 1952 to May 22, 1975.) A photo of the headstone shows a nice carving with a saguaro cactus on the left, a mountain in the center, and an elk on the right.  Below the name and dates it says: "Came to Hyder in '65. Didn't leave here alive. RIP. Steven."
Photo by Neal Du Shane. © All rights reserved.
<![if !vml]>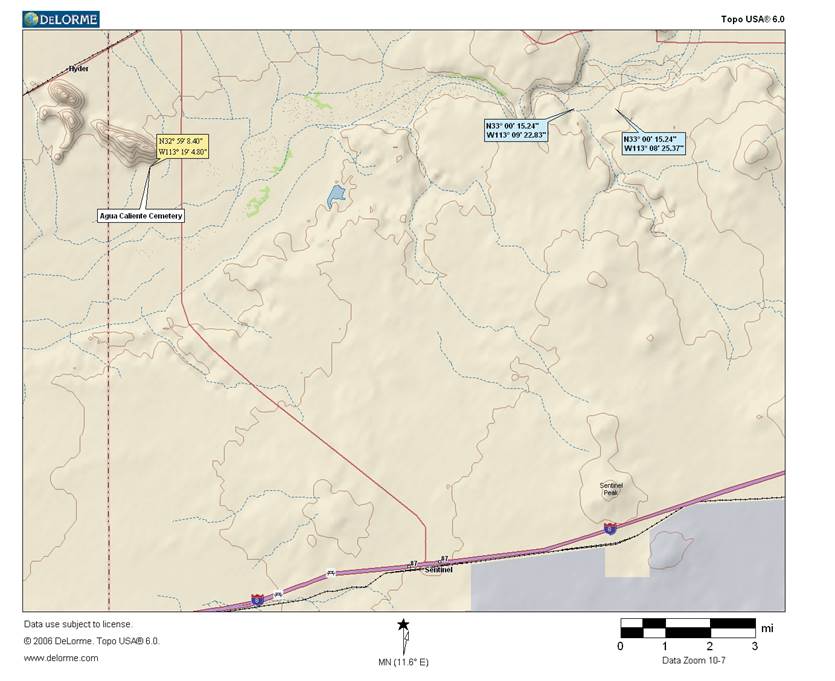 <![endif]>
To visit this pioneer cemetery, take Exit 87 off I-8 (Sentinel), go north (right) 10.6 miles to the Agua Caliente turn. Turn west (left) on the blacktop road. The cemetery is .6 miles. The defunct hot springs and remains of the ghost town of Agua Caliente are one mile further west past the cemetery, but the grounds are POSTED - PRIVATE PROPERTY DO NOT TRESPASS.
<![if !vml]>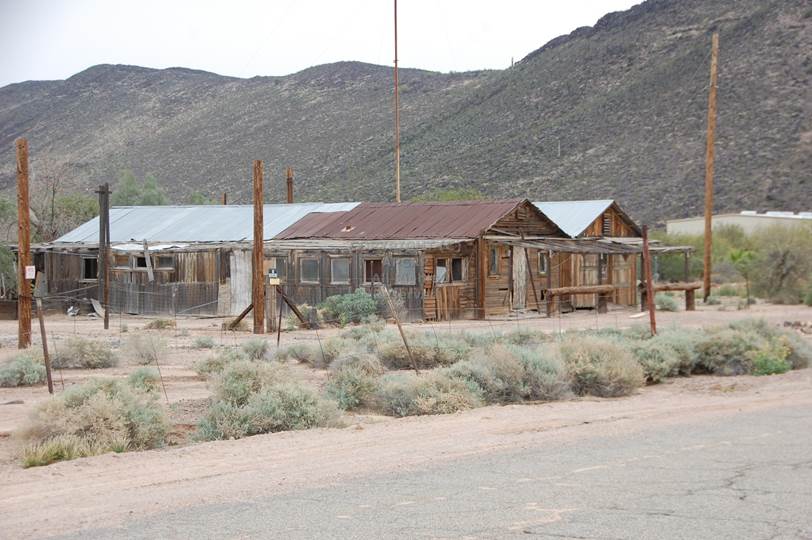 <![endif]>Photo by: Neal Du Shane (C) All rights reserved.
About halfway between Agua Caliente and Hyder remain these structures that the military used in training exercises. Now private property, do not trespass.
Hyder, AZ mentioned on the headstone of Steven Eddy, is approximately two miles farther up the road going northwest through Agua Caliente. As of this writing (2014) there is a store at Hyder that may or may not be open and at this time there is no gas available at Hyder.
The remains of the ghost town of Sundad are also nearby, north of Hyder a few miles. Inquire locally for driving instructions to reach Sundad.
APCRP assumes no responsibility or liability for accuracy or injury relating to information contained on this or any other APCRP page.
Arizona Pioneer & Cemetery Research Project
Internet Presentation
Version 050114
Copyright ©2003-2014 Neal Du Shane
All rights reserved. Information contained within this website may be used
for personal family history purposes, but not for financial profit or gain.
All contents of this website are willed to the Arizona Pioneer & Cemetery Research Project (APCRP).