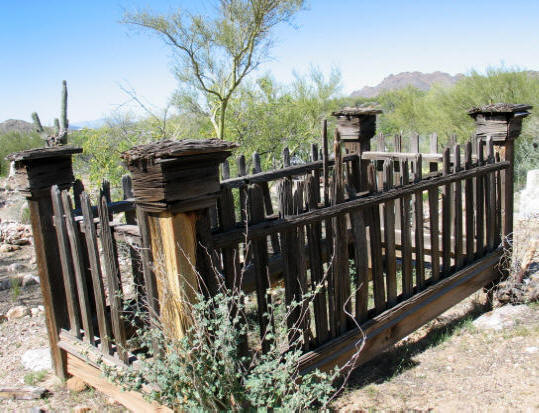 Old Congress Cemetery, Congress, Arizona, Photo by: Neal Du Shane
CEMETERIES: MUSEUMS OF OUR HERITAGE
APCRP is dedicated to the Documentation, Preservation, Protection, Restoration and Maintenance of our pioneer heritage. APCRP's goal is to restore dignity and honor to the final resting places of our ancestors. In addition, research is being conducted on Ghost Towns and individual Pioneers of Arizona. Historical research information is shared, free of any charge. APCRP accept's donations if you find our information interesting and would like to support our research.
Please Adopt a Pioneer Cemetery to help maintain and protect your heritage.
RESEARCH RESULTS - 12/06/08
192 - Pioneer Cemeteries or Lone Graves have been located and identified
7,746 - Graves Identified and Documented
41 - On Average, Graves Per Research Location Found
GOALS
Arizona Pioneer & Cemetery Research Project (APCRP)
Objectives are:
First, research, document and identify pioneer cemetery/grave locations to protect and preserve them.
Second, the cleaning of the sites so that the graves of Pioneers can be honorably presented.
Third, to the extent possible, we will copy the data from the headstones and share the data with relatives and fellow Historians, via the APCRP website. Or any organization, person or group that shares APCRP Goals and objectives.
Fourth, restore or reconstruct the headstone as close to original condition as possible.
Fifth, is to maintain and administer the restored Pioneer Cemetery sites for the future, with volunteer assistance through the "Adopt-A-Cemetery" program.
Sixth, Restoration to raise public awareness for the protection these sites from further decomposition. 98% of all decay of these historic sites is NOT from vandals. Inspection by APCRP professionals find the causes are; apathy, abandonment, neglect, passing of time, the elements, lack of maintained fencing and wild life, respectively.
More specifically, APCRP goals are:
1. Research the exact location of the Pioneer Cemetery to allow relatives closure.
2. Physically locate and document the Pioneer Cemetery.
3. Clean and clear the derelict cemetery from centuries of abandonment and neglect.
4. Restore and preserve the Pioneer Cemetery.
5. Identify and mark individual grave sites with or without headstone markers.
6. Document and record those interred.
7. Register the cemetery with the appropriate authorities.
8. Restore and preserve the headstones.
9. Post names on the Arizona Pioneer & Cemetery Research Projects Web site for genealogical and history purposes.
10. Arrange local "Adopt a Cemetery" program for continued future maintenance, protection and preservation.
Version 070507