HOME | BOOSTER | CEMETERIES | EDUCATION | GHOST TOWNS | HEADSTONE
MINOTTO | PICTURES | ROADS | JACK SWILLING | TEN DAY TRAMPS
Arizona Pioneer & Cemetery Research Project
Internet Presentation
Version 092511-2
ARIZONA YUCCA MINE
GRAVES
By Kathy and Ed Block
APRCP Historians
Neal Du Shane received photos, maps, and directions to three graves found near Arizona Yucca Mine. These were forwarded to us, since we live about 50 miles away in Lake Havasu City. We found the three graves off the track to Arizona Yucca Mine. Research verified a double male grave and another - separate, single male grave close by.  No names or dates were found. A pile of old cans rusting near old mine workings suggests the area may have used in the early 1900s (information on the cans courtesy of Allan Hall). There were also several fairly recent campfire rings on a plateau west of the graves. Historical research suggested use of the mine in the 1920s.
The double grave appeared to have been cleared of brush, comparing it to the photo sent by Neal. An unknown bone fragment, about 5 inches long, was on top, and not shown in the earlier photo. According to a retired heart surgeon, it might be one end of an ulna - human or animal- same type of joint (the larger of two bones of the forearm, on the side opposite the thumb.) Some wood had been removed and stacked beside the outline of rocks.  See the before and after photos.
<![if !vml]><![endif]>

"Before" of double grave. July 2010

<![if !vml]><![endif]>

"After" of double grave. Sept. 2011
<![if !vml]>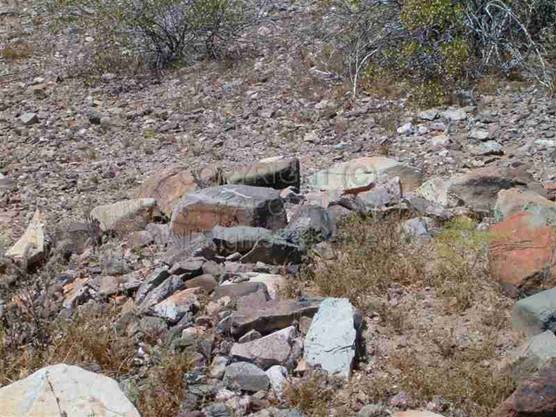 <![endif]>
"Before" - photo of single male grave, July 2010.
The second grave was male and marked by a stone with a cross incised in the center.  It was slightly to the east of the double grave and it seemed to have been cleaned up. (Though Ed points out the grass could have simply dried up!)
<![if !vml]><![endif]>

"After" – photo of single male grave, Sept. 2011

<![if !vml]><![endif]>

Bone on double grave
A tall rusty metal pipe, 8 feet high, 1 ¼ inches in diameter, barely visible up the hill to the right of the road, was somewhat in line with the single grave, which is 50 feet to the southeast. It may have been intended to help spot the location when driving up the wash.
<![if !vml]>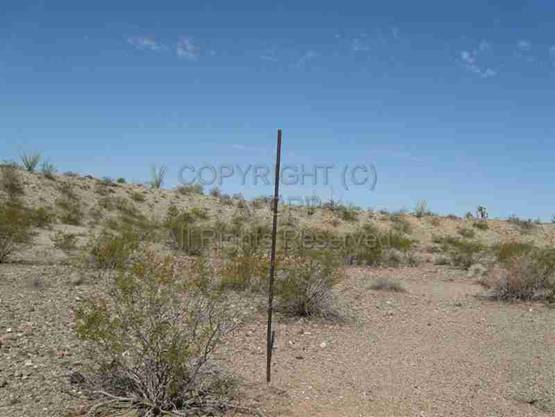 <![endif]>
Metal pole. Graves are to the south.
We continued past the gravesite area on the road, going towards Arizona Yucca Mine.  About 500 feet beyond were a deep shaft in red rock on the left, and two large holes on the right.  Walking up a small hill past these large holes, we found an old arrastra, a cement platform that may have held a motor, and a pit with boards that may have held remains of a structure. Near this were stone walls that were possibly tent sites.  The ore must have been dug across the road and then brought to the arrastra, which was about 50 feet uphill from the main wash.
A few comments about mining in the early days, modified from a transcription of KAET, "Arizona Stories", suggest what the miners faced in areas like this. A woman commented that you were definitely living on the edge of civilization, barely able to survive; it was dirty and rough, and tools were primitive. A man commented that it was "grueling work" and people "didn't last at it terribly long." And, finally, a woman pointed out that as the near-surface deposits were depleted rather quickly, mines needed more sophistication, more money, more investments. Then, it was no longer "the realm of the individual prospector to do the mining" - you had to bring in companies. 
Yucca Arizona Mine, part of "Buck Enterprises" (after nearby Buck Mountain), did not appear to have extensive mining efforts, and was about 9 miles from the railroad at Franconia to the north, and a considerable distance from Kingman, at least 50 miles.  If the graves are connected to the people who worked close by, possibly the people buried there died   from heat in summer, cold in winter, diseases, or accidents from living in this harsh, rocky mining area. A compilation of "Arizona Yucca Mine area temperatures" showed average highest temps for July of 105 degrees; average lowest temps for December of 37.9 degrees. Average summer temps were higher than 99 percent of other nearby locations; average winter temps were higher than 91 percent of other nearby locations; and average precipitation levels were lower than 97 percent of other locations nearby.  Due to travel conditions and distances, miners and others were often quickly buried near their work, and life and the search for gold and other minerals continued!
<![if !vml]><![endif]>

Ruins of a Small house, south of Arizona Yucca Mine

<![if !vml]><![endif]>

Old claim marker above shaft by road

<![if !vml]><![endif]>

Arrastra -  nest on top

<![if !vml]><![endif]>

Remaining stone walls
There was mining in this area reported in The Miner's Handbook in 1922 and 1925.  Mindat referred to the Arizona Yucca Mine as "a former surface and underground Au (gold) mine."  The list, "290 Mines of Mohave County", listed not only Arizona Yucca Mine, but also two "unknown shafts" and an adit nearby. It is actually known as the "Franconia Property. Buck Enterprise Mine, James Rawl Group, Buck Mountains, Mohave County." The Havasu Gold Seekers and private individuals have placer mining claims nearby and in gulches that flow north from the Mohave Mountains. Some placer gold and small nuggets continue to be recovered in this area, which has been described as: "placer and lode gold (hard rock) mines are very rich." (Tom Ashworth site.)
One of the people possibly connected with the Arizona Yucca Mine was James Rawl. His Death Certificate stated he was single, a gold and silver prospector and miner, and a cooper (barrel maker) by trade for 40 years.
He was born in 1852 in New York City, and died August 21, 1924 of myocarditis in the county hospital. He lived in nearby Yucca. However, he was buried in Kingman, so he is not in one of the graves. An obituary notice, courtesy of Mohave Museum of History and Arts, stated that he was "a fine fellow and had a host of friends who will regret his death. The funeral was held from the Van Marter undertaking parlors Tuesday evening, only a few of the old timers being aware of his death and the date of burial, therefore there was a small attendance."
There were remains of barrel hoops near the arrastra. A news item, also from the Mohave Museum of History and Arts, Mohave County News, Jan.11, 1908, mentions James Rawl coming to Kingman and reporting that "the Franconia mining company has a shaft down over one hundred feet and is drifting on the vein. The ore body shows up good and it is expected that machinery will soon be put in and sink the shaft to greater depth." Another news item, from Oct. 1, 1907, mentioned that "Mr. Rawl has interests in Buck Mountain, where he has been working for some time past." Arizona Yucca Mine is near Buck Mountain.
Another old prospector in the area was Alfred Knowland. He died of an acute heart attack early July 3, 1968, and was buried in Kingman. He had come to Yucca with his parents in 1905. Besides leaving his name on a rock south of Arizona Yucca Mine, and in other nearby areas, he prospected all over the area. His obituary said "he was a quiet spoken man, well-read, civic-minded and dedicated in the care of the sick."  The maps that the Mohave Museum of History and Arts librarian sent to me did not specifically show Arizona Yucca Mine. However, in a strange link with James Rawl, one of his diaries in possession of the Museum, about drywashing and prospecting in many areas, noted, in May, 1923, "Jimmy Rahl (SIC) at Arizona Yucca Mine." Did he mine there? Just stop to see an old friend? Were the graves there at the time? Impossible to know!
<![if !vml]>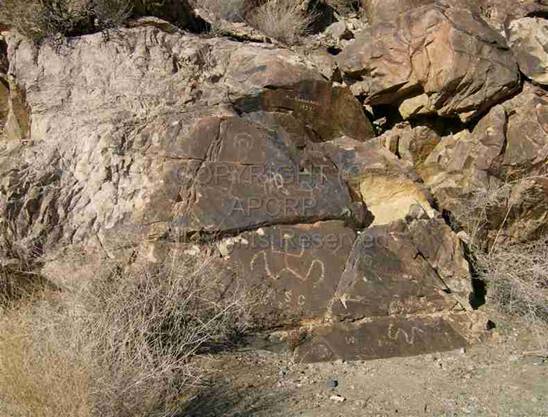 <![endif]>
South of mine, the name "Al Knowland - 1923" etched on on rock behind petroglyphs.
We were unable to drive very far past the ruins, which are part of the Arizona Yucca Mine. A May 2010 posting by "Patrick in Havasu" on an Arizona Gold Prospectors site showed the arrastra and ruins AND the two graves, so the graves are not unknown! They were unkempt in these photos and there was no nest on the arrastra.  Beside the main road, beyond the ruins, were "No Trespassing" signs, and another track had a fresh chain stretched between two posts. The BLM regulates this area and vehicles need to stay on established trails.
A 4x4 vehicle is absolutely necessary in this wash.  Even with our 4x4 in low range, and slow travel, our wheels spun in deep sand. It would be easy to get stuck on this remote road!
<![if !vml]><![endif]>

Start of road to graves signs

<![if !vml]><![endif]>

Road to graves

<![if !vml]><![endif]>

Map to grave site

<![if !vml]><![endif]>

Map of graves by Ed Block
Here's how to find the graves. Looking at the map of the road to the graves, take Franconia Road Exit 13 off I-40. Go south towards the Mohave Mountains.  You will immediately go up a steep dirt hill that looms in front of you shortly after you exit I-40.  This road had recent washouts at the time of our visit (Sept. 2011) and it is somewhat rough. When you reach the top, continue on the gravel road in a relatively straight SE direction. Ignore any side road for 6.6 miles, following the Havasu Gold Seekers (HGS) posts and arrows. They are white with red tops and many have red directional arrows at the bottom.  Go past the turnoff to the HGS camp on your right, continue75 feet to your left, and then turn right and enter a wash. Spirit Ridge Road (marked by green sign) goes to the left here. You will soon need 4x4. The track quickly becomes loose, deep sand and gravel, and the walls of the wash narrow. After 1.9 miles, ignoring any side tracks, look for a white rock formation on your right and a small Joshua tree on your left. Park and walk up a faint trail to your right. A metal pole on the slightly elevated flat on your right also identifies the gravesites. The graves will be on the flat near the pole and below a slightly higher ridge.
The ruins of the mining efforts are about 500 feet further up the track.  There is a deep, unfenced shaft to your left in red rock beside the road. Across from the shaft are two large round pits. Walk slightly uphill by them and the arrastra and stone ruins are to your right near a side gulch.
<![if !vml]>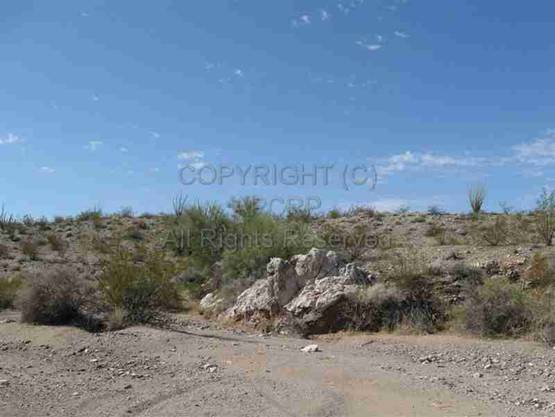 <![endif]>
Parking area - walk up hill to right for graves
Warning: Again, you absolutely need a 4x4 vehicle.   Carry survival gear such as ample water, a shovel, etc. I-40 is a long 8.5 miles away to the North! Two gas stations, and food, are at the junction of I-40 and Hwy.95, about 6 miles cross-country. Two men recently became stranded in this area when they got lost and stuck in sand. They fortunately were able to call for help with a cell phone. They were dehydrated and in serious condition when they were found!  The graves near Arizona Yucca Mine are a stark reminder of deaths that have occurred in this area in the past.
Ed tested this almost vertical mine shaft above the left side of the road just beyond the graves. It was about 40 feet deep, belled out at the bottom, and had loose gravel around the top. Hazards like this abound around old mines. Not a place for small children or pets to explore!
<![if !vml]>
<![endif]>
Ed Block stands next to one of many dangerous deep mine shafts along this road.
All photos and maps, courtesy of the authors, Ed and Kathy Block.
Arizona Pioneer & Cemetery Research Project
Internet Presentation
Version 092511-2
Copyright © 2011 Neal Du Shane
All rights reserved. Information contained within this website may be used
for personal family history purposes, but not for financial profit or gain.
All contents of this website are willed to the Arizona Pioneer & Cemetery Research Project (APCRP).