HOME | BOOSTER | CEMETERIES | EDUCATION | GHOST TOWNS | HEADSTONE
MINOTTO | PICTURES | ROADS | JACK SWILLING | TEN DAY TRAMPS
Arizona Pioneer & Cemetery Research Project
Internet Presentation
Version 060310KB
CHLORIDE
 Mohave County, Arizona
HISTORICALLY WORTH VISITING!
By Kathy Block
CHLORIDE, ARIZONA is not technically a ghost town (currently a retirement and artist haven), but has a very colorful past with many mines in the area and one large cemetery, and one small grave site with four burials separate from the main cemetery. Even though the cemetery has recent burials, there are many unknown and old graves!
<![if !vml]>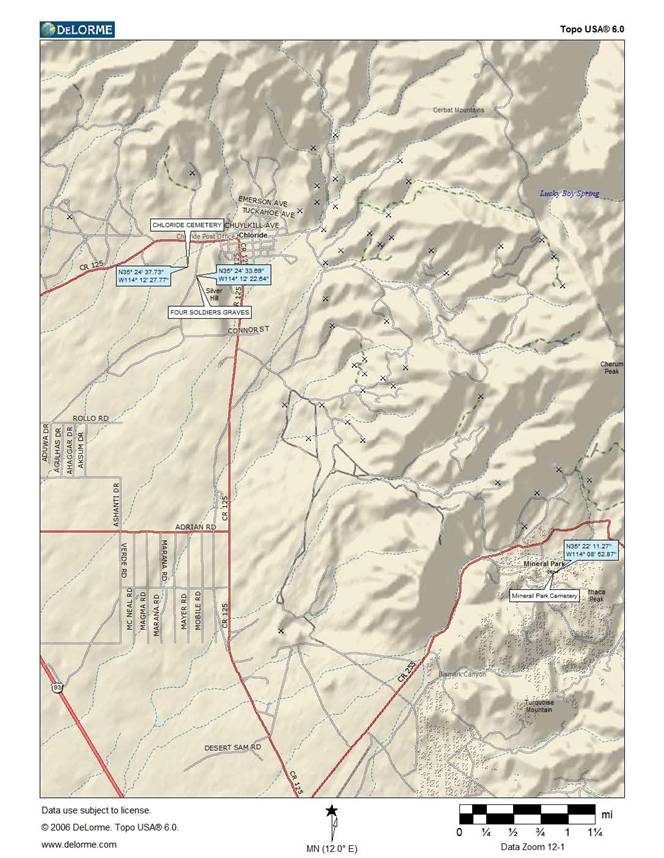 <![endif]>
Map by Neal Du Shane
The settlement called Chloride had its beginnings in the1840s, when prospectors began to search the mineral-rich Cerbat Mountains for gold and silver. It is one of the oldest mining communities in Arizona. In1863 prospectors stumbled across several rich silver veins on a site they called "Silver Hill." Chloride became a silver mining center.  The town grew slowly due to incidents with hostile Hualapai Indians.
The California and Arizona Stage Company, run by James Stewart, serviced Chloride and the surrounding area from1868 to1919. In 1884 stages made weekly runs from Prescott to Hardyville via Mineral Park and Cerbat, to the south of Chloride. The route followed the Fort Mohave and Prescott Toll Road, and also used the Mineral Park and Hualapai Valley Toll Road as a direct route thru the Cerbat Mountains to Mineral Park, then crossed Sacramento Valley, west to Union Pass and on to Hardyville. There was a stage stop and repair station in a building still in use today in Chloride as a restaurant! 
The Stage line discontinued service after the railroad came. The Arizona and Union Railroad began operation in July, 1899. It used a single track that connected with the Acheson, Topeka & Santa Fe RR at McConnico and ran approximately 21.6 miles up the Sacramento Valley to Chloride. Service ended in1935. The post office began March 27, 1873 and is the oldest still - working post office in Arizona, though it closed, on July 14, 1875, but reopened, in 1893. It's in a historic building on the main street. The town at this time had a brewery, general store, blacksmith, and several stores, some of which are still standing. The ghosttowns.com. site has many photos of these buildings.
<![if !vml]>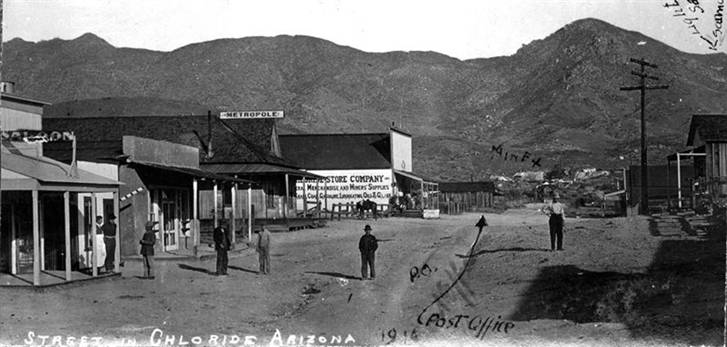 <![endif]>
1916 Chloride Main Street. Note post office.
Courtesy Mohave Museum of History & Arts, Kingman, Arizona.
After the U.S. Army subdued the Hualapai Indians and signed a treaty with them in the early 1870s, the extensive mining began and the population grew. By 1917 the town had an estimated population of 2,000 supported mainly by two major mines, the Tennessee and the Schuylkill, and later the Golcanda Mine. There were about 75 other productive mines, from 1900 to 1920. Large mines produced gold, silver, lead and zinc on a major scale into the late 1940s.  
The Santa Fe Railroad discontinued passenger and cargo service in 1935.  The cost of materials and labor had become too expensive by 1944 and the mines closed and the population decreased dramatically. There are still a few mines in operation today, however.  Now, there are about 300 permanent residents, rising to 400 in the winter. Chloride survives on tourism, art, and some famous sites. One attraction is the murals painted on rocks by eccentric artist Roy Purcell, who supposedly lived in a nearby cave with a group of "hippie" artists. These "psychedelic" art works are periodically touched up by the artist.
There are an interesting graves site (known as Chloride Grave) and a fascinating large cemetery off a main road west of Chloride.  Ed and I recently visited these two burial grounds.
The first is a very large cemetery with at least 819 known burials listed on Find a Grave. It spreads out over 40 acres of barren desert. I had found some very early Death Certificates for Chloride, and since reference is made to "many unmarked graves", decided to check these Death Certificates against the 1900 Census lists for Chloride.  Analysis of the Census lists showed some interesting demographics. There were 260 males and 107 females recorded, for a total of 367 people. This doesn't match the 2,000 estimated population in 1900, but it's possible some were enumerated on census taken at nearby mines and settlements, like Mineral Park or Cerbat. Ethnicity based on census information, comprised 359 White, 6 Chinese, and 2 Black residents. Native Americans were not included in this Chloride census. Some may have been listed in census of the nearby Reservations. 
Most of the people were listed according to relationships with each other, such as Head of household, wife, son, and boarder. A few listings gave occupations as cook and laborer, but none were listed as miners, which is interesting as it was the main occupation! The average age was about 40 years old, with a range from infants of 1 year to the oldest at 81 years old. There were quite a few teenagers, but only three "elderly" residents at ages 66, 75, and 81.  The residents came from many states and countries, predominately from the East coast states like Pennsylvania, New York, and from England.
The very early death certificates had apparently been copied, according to a note written on one, for 1898, "Writing on records of 1898 to 1902 appeared to be the same." Here's an example of a very early DC, which used a standard form. Information had been transferred from some type of early records, maybe funeral home or hospital records or county records. Very frustrating to use! The Arizona Territory Board of Health Death Certificates, with more complete information, began to be used in May 1909.
<![if !vml]>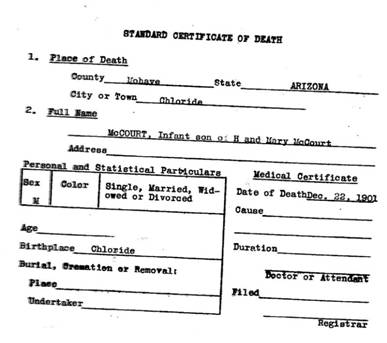 <![endif]>
Example of early standard Death Certificate. Note lack of information.
Comparing Death Certificates for Chloride that I had found in the records, there were a few matches with the 1900 Census records, out of 13 names from the skimpy Death Certificates for 1899 thru April,1909. This strongly suggested burial at Chloride Cemetery. Three persons appeared:  James Marshall Russell, Dora E. Flinn (wife), and J.P. Flinn (head), but there's also a Mrs. John P. or F. Flynn. She and Dora Flinn died several days apart in June, 1900.  I'm fairly certain that a John T. Flynn, who died in 1930 and who is listed on Find-A-Grave as buried in the "old section" is the same person, birth dates matched. Interestingly, he's listed as single, no mention of being a widower. WAS Dora his wife? Note spelling variations. Of these, James M. Russell (who died in 1938) also appeared on official cemetery lists. The early census records were often not very readable and transcriptions done much later contain many errors!  Of the remainder, it's uncertain if they were also buried at Chloride cemetery. Owing to transportation difficulties, however, it's possible they are among the "unknown" graves as well as two above.  Another incomplete Death Certificate was for "Infant son of H. and Mary McCourt, who died Dec.22, 1901, and is listed as BORN at Chloride. Was he buried there, especially since it was winter time, possibly poor travel conditions, and probably died at a very early age?  If the early records these Death Certificates were copied from could be found, they might answer these mysteries.
<![if !vml]>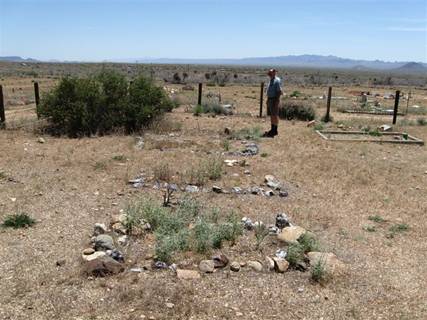 <![endif]>
Ed Block stands at a row of unknown graves in the Chloride Cemetery
Photo by Kathy Block
Some of the marked graves have very interesting headstones. One is this "presumed motorcycle enthusiast grave".  It took some research to find out about him!  Kay Ellerman, librarian at the Mohave Museum of History & Arts in Kingman, supplied a name. The death certificate gave a date of death.  The Find-A-Grave site yielded an obituary for James (Mike) Jones, who died June 14, 1994, age 48, after a long illness, from diabetes and kidney failure. He had 2 sons, 2 daughters, 4 grandchildren, had been married 18 years. No mention of motorcycle interests, though he was a member of a Gemstoners Rock Club and "worked to help out many local auctions." 
<![if !vml]>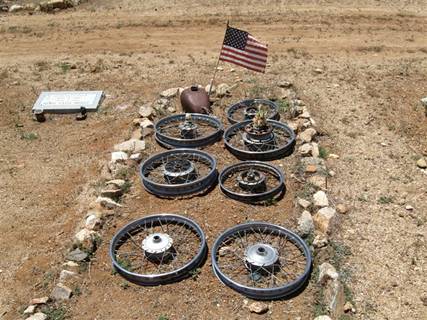 <![endif]>
"Possibly a motorcyclist Grave" of James (Mike) Jones.
Photo by Kathy Block
 Some families seemed to stake out their own family burial plots within the larger cemetery. Here's an example of an elaborate layout. Note the sayings on each marker and the way the stones form a family tree.
| | |
| --- | --- |
| <![if !vml]><![endif]> | <![if !vml]><![endif]> |
                                                                    The Cowell family plot, with photos                   Pair of gravestones. Note: arrows
Many of the graves seem to be abandoned, derelict, and forgotten in this vast cemetery of known and unknown burials.  If you visit Chloride Cemetery, you will be rewarded with varied gravestones and a sense of lost history at the unknown graves, marked by stone outlines.
There is another site just past the Chloride cemetery, known as the Chloride Grave.  Four people are buried within a fence with two separate markers, plus there may be other unknown graves outside the enclosure.
The known graves are: Metcalf Baker and Andrew Judson with one nice marker and Benjamin Uriah and Ira Woodworth beneath a primitive stone marker. The most commonly accepted story about them is told by Florence Jones, apparently, to the Mohave County Miner on July 4, 1891, and quoted on the Find-A-Grave Site. Six miners were working at a mine near Chloride. Some Indians attacked the men. Two miners were working in a deep shaft and the other four were nearby. The Indians rolled large boulders on top of the men in the shaft. Four of the six men were killed and buried on the spot. James Conover and Sam Knoodles survived the attack. There is, apparently, a possibility that Benjamin might have been moved to the Hardyville Cemetery at Bullhead City. (See APCRP write-up on Hardyville Cemetery.) Another writer suggested they were killed by guns the Hualapai's were using for the first time! The elaborate marker was put over the graves of Baker and Judson in 2007 and reads: "Dedicated Sept.22, 2007, by the Ancient and Honorable Order of E. Clampus Vitus. Lost Dutchman Chapter 5913-4." Note the discrepancies. The modern gravestone states, "Killed by Indians, Oct.13, 1866" the crude stone says, "Killed by Indians, 1863."  Find-A-Grave states death dates for all four as June 1, 1863. 
| | |
| --- | --- |
| <![if !vml]><![endif]> | <![if !vml]><![endif]> |
                                                                               Grave of Metcalf Baker and Andrew Judson           Grave of Benjamin Uriah and Ira Woodworth
Photos by Kathy Block
| | |
| --- | --- |
| <![if !vml]><![endif]> | <![if !vml]><![endif]> |
                        Separate Graves - mine tailings in background.        Possible unknown grave outside enclosure.
                                                                                                Photo by Ed Block                                                        Photo by Kathy Block
A final story about deaths at Chloride has two versions at least, illustrating the problems of obtaining accurate historical information. One version, told on one site, tells about a "naval officer" who had dreams of drowning, so he left the Navy and came to live in dry, solid Chloride! He built a rock house, and began to mine. He supposedly accidentally slipped and fell into his shaft and drowned! The house was bought for taxes and may have re-opened up as a house of "soiled doves." 
The librarian, Kay Ellerman, gave a slightly different version. The locals had heard that a fortune teller told him he would die by drowning.  He left a savings and loan business and came to Chloride because it was a long ways from water, and began working in the Tennessee Mine (approximately ¾ mile east, first mine going east of Chloride, on right). One day on the way to work, a huge rain storm caused a wash he was crossing to flood and he drowned. The house originally had round windows like port holes, only the ruined foundation remains today. It is known locally as the Rock House and is down on Silver Sage Road from town. I never obtained a NAME for this person or WHEN the events occurred! Could this be all just a folk tale or tales? If this man did in fact die near Chloride, could he be buried in the large cemetery or in one of the graves near the graves site?
Chloride and the cemetery and graves site is very easy to locate.  Turn east off Highway 93 about 20 miles north of Kingman (highway goes on north to Hoover Dam and Boulder City) between mileposts 52 and 53. There's a well-marked exit, onto County Road 195 (also called Tennessee Avenue). Go 3.3 miles on pavement. Look for a wooden sign on your right that says "Cemetery". Turn right and go about .3 mile. The large Chloride Cemetery is on your right, marked by an elaborate entryway. The four graves of the soldiers and their enclosure are easily visible several hundred yards further on the left.
The GPS of the main Chloride Cemetery is: N35 24 37.73, W114 12 27.77. The GPS of separate Chloride Graves is: N35 24 33.69, W114 21 22.64.
<![if !vml]>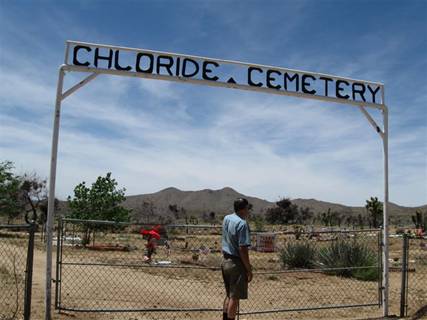 <![endif]>
Ed Block stands at entrance to Chloride Cemetery.
Visit, protect, preserve, respect and enjoy!
Photo by Kathy Block
The author wishes to thank Kay Ellerman of Mohave Museum of History and Arts in Kingman, Arizona, for supplying the historic photo of Chloride and also reviewing this write-up and correcting information about Chloride's history.
Arizona Pioneer & Cemetery Research Project
Internet Presentation
Version 060310KB
WebMaster: Neal Du Shane
Copyright © 2010 Neal Du Shane
All rights reserved. Information contained within this website may be used
for personal family history purposes, but not for financial profit or gain.
All contents of this website are willed to the Arizona Pioneer & Cemetery Research Project (APCRP).
HOME | BOOSTER | CEMETERIES | EDUCATION | GHOST TOWNS | HEADSTONE
MINOTTO | PICTURES | ROADS | JACK SWILLING | TEN DAY TRAMPS