HOME | BOOSTER | CEMETERIES | EDUCATION | GHOST TOWNS | HEADSTONE
MINOTTO | PICTURES | ROADS | JACK SWILLING | TEN DAY TRAMPS
Arizona Pioneer & Cemetery Research Project
Internet Presentation
Version 122312
FOUR GRAVESITES NEAR QUARTZSITE, ARIZONA
By Kathy Block
<![if !vml]>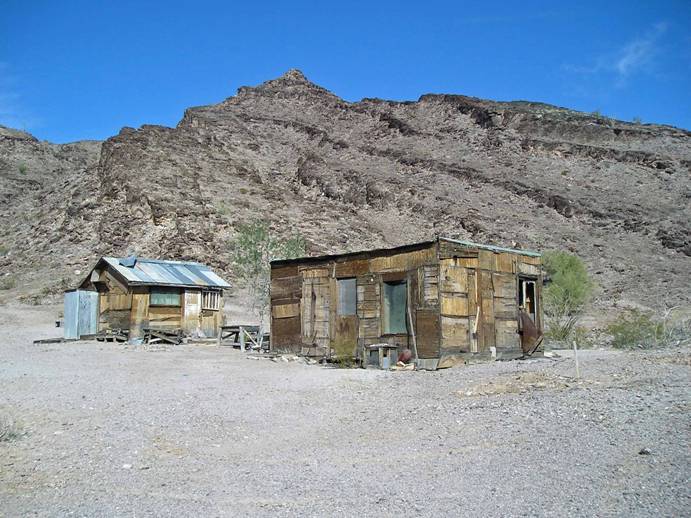 <![endif]>
Reference 1, Yellow Dog Mine and cabins
Quartzsite, Arizona is a major "snowbird" destination at the junction of I-10 and Hwy. 95 in western Arizona.  The area is scenic desert with numerous old mine sites.  About 1.5 million visitors come in January and February every year for 15 swap meets and 8 major gem and mineral shows!
The cemetery at Quartzsite is listed on the www.apcrp.org web site and the famous tomb of Ali Hadji (Hi Jolly) is located nearby. Ali was a Greek-Syrian "camel jockey" who was hired by the U.S. Army in the late 1800s to manage an experiment of using camels for transport in the southwest desert. The experiment failed partly because the soldiers couldn't manage camels and the beasts were turned loose in the desert to ultimately perish.
Quartzsite was founded around 1856 when Charles Tyson settled south of the present town site at Tyson Wash, where he built a single, fort-like adobe building known as Fort Tyson.  After he located a reliable source of water, the Fort was renamed the Oasis Hotel and the settlement became known as "Tyson Wells Stage Coach Station."
This was an important stop on the Ehrenberg-to-Prescott Line. When the stage lines ceased operation in the mid-1890s, the town was abandoned. The discovery of gold and silver in the areas surrounding Tyson's Wells led to a small mining boom in the late 1890s, revitalizing the town. Due to the mining activity and the widespread occurrence of quartzite rock in the area, the post office renamed the area "Quartzsite," adding the "s" by clerical error.  Quartzsite was a mining supply center with a general store, hotel, barber shop, Chinese restaurant, 11 saloons, and other amenities that drew miners from many nearby camps. However, the boom was short.
By 1900, less than 20 people lived in town. The major problem was the lack of water at the mines, which affected production. Water brought from LaPaz sold for $5 a gallon. Most gold was recovered by primitive dry washing. From 1900 to 1960, election records listed a population from as few as 14 to a few hundred during the Depression, to 50 in 1960 on a permanent basis. Then, the shows began to bring in more people and snow-birds and the town began to grow.
A story in the Desert Messenger (Quartzsite), November 4, 2009, "LaCholla Mountain Diggings" from In the Shadow of Saguaros by Rosalee Oldham Wheeler, tells of the early dry washing methods. The only water for any kind of wet concentrator machine came in a frantic gush after a summer downpour up on Cunningham Mountain (near the grave sites), or from a 20-mile hike west over to the Colorado River. Prospectors turned to dry washing, a method perfected by the Spaniards. Dry washers required no water. Gravel put into the device at the top flowed over a series of riffle boards attached on a downward sloping board. The bellows pushed air through a porous cloth and also imparted a small jolt that blew dust out and caused "heavies" to settle behind the riffles, and the lighter material to flow on over them and out as waste. "Heavies": particles that have some weight, like small nuggets, instead of lightweight fine gold!
In 1854 most prospectors searched for gold near the Colorado River because using a wet concentrator or gold pan was the easiest way to recover gold. If the prospector found gold a distance away from water, he had to decide if he was going to haul the gravel containing the gold out to where there was a good supply of water, bring water to his mine, or use a dry method.  A common method of getting the richest material was to dig a hole down into the overburden to bedrock where the gold tended to collect.
The material was hoisted to the surface where it had to be pulverized before further processing by wet or dry methods. This hard, dangerous work might yield about a dollar in gold, when it was valued at $16 a Troy ounce. A good claim was said to be one that yielded $45 to $65 a month. The prospector would barter for necessities. Many gambled the rest away in one of those 11 saloons in Quartzsite.
The mining in the late 1800s and early 1900s extracted a lot of gold. The King of Arizona Mine to south (in the Kofa mountains) (there's an old cemetery located nearby) was very productive.  In order to make miner's wages, the gold-bearing wash had to run well above 50 cents per cubic yard. Because of the variability of the gold content in the wash and limitations of the dry washer, and the necessity to pan the concentrates, no area was thoroughly or continuously worked. All gold and other mining stopped in 1941 at the start of World War II.  Some resumed in the area after the War. Most activity today is recreational use of metal detectors, though a few mines continue to operate in the area.
We came to the Cunningham Mountain area southwest of Quartzsite to follow up a cave lead.  On a series of back roads we instead found two gravesites. One is a grave near an old mine called Copper Bottom Mine.    
The rounded pile of stones had no name on a handmade welded cross. At the nearby site of Yellow Dog Mine site and cabins, a modern-day prospector and friends on ATVs, who own a number of mining claims in the area, told us the grave was that of a miner who'd had a claim there, but didn't know his name.  According to Mindat information, the Copper Bottom Mine was on patented (private) land. It was worked sporadically from the early 1900s thru 1941 from tunnels and a shaft, producing some100 tons of ore averaging 19 percent copper, 1.6 oz/ton gold, and 27oz/ton other minerals. Final work was 1984-1986 when Kennecott Corporation did surface drilling and a geologic evaluation. Of interest was the fact a Mr. Clauson and a Mr. Hussen owned this claim prior to 1941.
The person buried by the road may be one of these miners. It has been determined that an Edward Hussen is buried in the Wickenburg cemetery (1). Death Certificate records showed he lived from 1879 to 1944, had been a miner, died at age 59 of silicosis and hypertension. Could he have been the partner at Copper Bottom Mine? Then, by inference, the grave could be that of a Mr.Clauson. (I was unable to find death certificate information without a first name.)
| | |
| --- | --- |
| <![if !vml]> <![endif]> | <![if !vml]> <![endif]> |
Left, grave below Copper Bottom Mine -  Right, adit above grave site, Copper Bottom Mine
Returning towards Quartzsite, we came to the very interesting ruins of two stone buildings and a tombstone placed in front, "In Memory Of Lehre Harold Erdman". He was born in 1909 in Willow City, McHenry County, North Dakota and died in 1996, of kidney cancer. According to his obituary, he was a miner and mechanic. His tombstone states he was a miner in this area for 63 years. Friends from the area were invited to a memorial and his ashes were scattered.   
 A brochure from the Quartzsite Chamber of Commerce states: "The Erdman mines were near the Yum Yum Mine. The Erdman's made a living mining in the hills 1932-33."
| | |
| --- | --- |
| <![if !vml]> <![endif]> | <![if !vml]> <![endif]> |
Left, Erdman's Tombstone - Right Erdman's tombstone in front of one of the stone buildings.
The roofless stone building behind the tombstone is filled with artifacts that may have been used by Erdman.   An occupied manufactured home above the buildings and a sign asking people not to take anything is on the property. The property was owned by the Erdman family, but sold the mineral rights to the claim to Steve Hunt. Active gold mining has resumed. Erdman also owned the Leadville Mine near the second grave mentioned in this article and employed laborers in the 1940s and 1950s there.
<![if !supportLineBreakNewLine]>
<![endif]> Directions to reach both of these sites:
On I-10 in Quartzsite, take Exit 17. Go south from this exit (west end of town) to Dome Rock Road that parallels the freeway. Turn west (right) about 2 miles. Turn south (left) on Cholla Road.  After about 3 miles on this paved road, you will reach a junction and end of pavement.  Continue straight thru the junction onto a well-graded, gravel road. Go another 2 miles. You will pass Erdman Road on your right (west). Continue south another mile until you see a gravel pit on your left and an old main frame on your right. Look for a blue reflector on a pipe on your right.  Turn right here at a sign stuck in a green bucket that says "cabin"
Look for the stone buildings towards the mountain slightly to your right. Signs point the way. The main frame is to your left as you go up this side road. The grave stone is in front of the roofless stone building. The other stone building is to your right, and the occupied manufactured home and "private property" signs are on the hill above the ruins. GPS at the tombstone is: N33 36.104, W114 17.974, Elev.1201 feet.
<![if !vml]>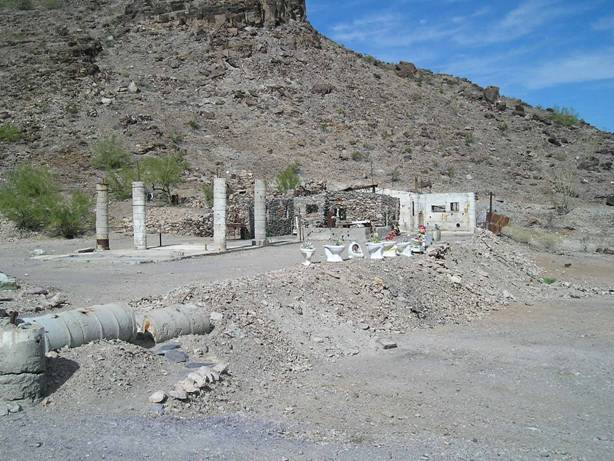 <![endif]>
Ruins at the Erdman site. (Interesting Flower Containers)
Driving on beyond the Erdman site, you can reach the unmarked stone-covered grave. Continue south on the main road a short distance until you see the first rougher track to your west (right) that goes along the south end of Cunningham Mountain. Go west about 2 miles on this track. There is an adit and tailings pile on the hill to your right. The grave is beside the road on the right roughly below the adit. Someone had carefully placed a decorative line of quartz rocks across the top of the grave.GPS N33 36.061, W114 18.570, (WGS84) Elev. 1,216 feet.
A nice stop en route would be the Yellow Dog Mine ruins and cabins. They are to your right as you go towards the unmarked grave on the track. GPS is N33 35.965, W114 18.175.
See Reference 1. Yellow Dog Mine and cabins at beginning of article.
ADDITIONAL GRAVES!
A month later we returned to Quartzsite and visited the Tyson Well Stage Station Museum located in a rebuilt adobe structure at the same location as the stage station built in 1866 by Charley Tyson. We purchased a great booklet, "Stone Cabins and Other Excuses for Exploring the Desert Back-roads Around Quartzsite" by Carol Nilson, Reader's Oasis Books, Quartzsite, 1999. One trip caught our interest: "Old Graves." It said, "Many a miner died in his pursuit of precious metals. Graves can often be found wherever mining took place." Directions were given to two graves SW of Quartzsite.
Grave 1 has a wooden cross that, according to the write-up, once had a sign that told you it was the grave of "one of Dusty's brothers." This writing was not legible on the weathered wooden cross. A nearby fire ring possibly used some of the stones from the grave. 
Information indicated the grave is about a half-mile north of an unnamed shaft. (2) It may or may not have been associated with this mine, as many mines in this area date from the 1860s and the grave might be that old.
<![if !vml]>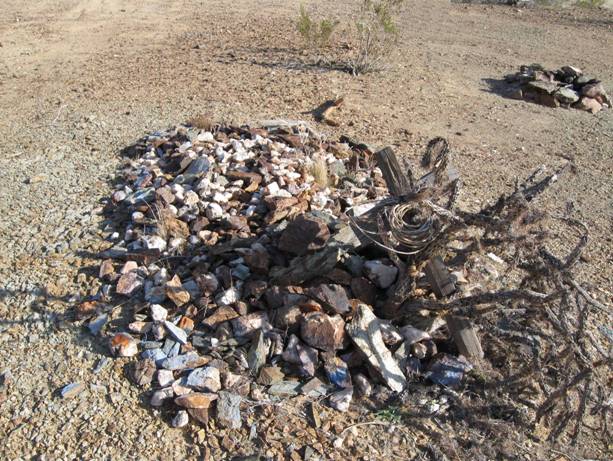 <![endif]>
Grave 1, with fire ring nearby.
Grave 2, also had a wooden cross. Someone had draped a shirt on the cross, making it resembles a scarecrow. Thirty-five cents in coins was laying in a shallow depression in a rock below the cross. This site was only a couple hundred feet north of the Hartzeg Mine. This mine, part of the Leadville Mine Group, was worked 1947-1948, and included an inclined shaft. It was not very productive, only producing some 360 tons of ore, mainly lead, zinc, and minor amounts of silver, gold, and copper. However, this grave may be older than the mine and not associated with it.
| | |
| --- | --- |
| <![if !vml]> <![endif]> | <![if !vml]> <![endif]> |
Photo Left, Grave 2. Right, Grave 2 with diggings in the background
This entire area, in the Dome Rock Mountains, shows much evidence of mining efforts. There are prospect holes, shafts, adits, and numerous tracks carved in the rhyolite and schists.  Patches of broken quartz litter flat stretches. Prospectors still search for gold with metal detectors and dry washers. They may unknowingly pass by or camp by many more graves of unknown miners. The miner who had directed us to the Erdman site claimed there are also numerous graves along the "Pipeline Road" which runs thru this area.
Directions to These Two Graves:
Drive west from Quartzsite on I-10 to Dome Rock Road Exit 11. Turn left under the freeway, then east .3 miles to Road 325. This road is rough dirt and requires a high clearance vehicle. Look for Grave 1 on your right (you can see the pile of stones) just past the gas pipeline road that crosses Road 325 about .5 mile from the freeway.  The GPS is: N33 38.625, W114 20.088, Elev.1190 feet.
Grave 2 is slightly more difficult to locate. The road becomes a washed-out track in places. Continue on Road 325 about .3 miles. Turn left on Road 324. At 1.3 miles keep to the left. (Roads 329 and 330 take off to the right.) In about .1 miles look for the grave to your right.  GPS: N35 38.159N, W114 19.718, Elev.1231 feet.
In conclusion, these four graves (one known and three unknown) are probably just a sample of many others that may be in this area that has been mined since the 1860s.  A drive out the pipeline road (easily identified by markers and warning signs) may lead to the discovery of yet more graves of these early miners!
All Photos by Author: Ed and/or Kathy Block
Edited: N. Du Shane
Source:
(1). Pat Ryland, APCRP Genealogist, Author, Historian, Certified Coordinator
(2). Allan Hall, APCRP, Historian, Author, Certified Coordinator
Arizona Pioneer & Cemetery Research Project
Internet Presentation
Version 122312
WebMaster: Neal Du Shane
Copyright © 2010 Neal Du Shane
All rights reserved. Information contained within this website may be used
for personal family history purposes, but not for financial profit or gain.
All contents of this website are willed to the Arizona Pioneer & Cemetery Research Project (APCRP).
HOME | BOOSTER | CEMETERIES | EDUCATION | GHOST TOWNS | HEADSTONE
MINOTTO | PICTURES | ROADS | JACK SWILLING | TEN DAY TRAMPS