HOME | BOOSTER | CEMETERIES | EDUCATION | GHOST TOWNS | HEADSTONE
MINOTTO | PICTURES | ROADS | JACK SWILLING | TEN DAY TRAMPS
Arizona Pioneer & Cemetery Research Project
Internet Presentation
Version 062510KB
HOVATTER GRAVES SITE
LITTLE HORN MOUNTAINS
YUMA COUNTY
By Kathy Block
For a challenging, worthwhile 4x4 drive, visit the Hovatter Graves Site in the Little Horn Mountains.  En route there are interesting mines, great scenery, and washed-out roads.  
<![if !vml]>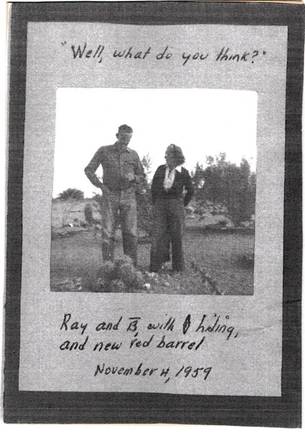 <![endif]>
Photo courtesy Sandra Hovatter Moore
1959 photo of Ray and Barbara Hovatter, in her yard, before a 5' high fence was put around it.
When you reach the Hovatter Camp, which was occupied by the Hovatter family from 1951 to 1973, you are in the Kofa National Wildlife Refuge. The family had manganese claims, and an airstrip, though no airplane of their own. They added to a line shack for a home. Nearby, on a mesa to the south, are the two Hovatter graves. One is a monument to a tragic event.  Barbara Lindsay Hovatter, always called Lindsay, oldest of the three daughters of Ray and Barbara Hovatter, died from burns suffered when a newly installed propane tank exploded. She was burned on May 18, 1968 and lingered for six weeks, dying on June 29, 1968. Her stepfather Ray and her middle sister Sandra Moore, were also burned. Ray died a little over 6 years later, and  is buried next to Lindsay.  Their mother, Barbara, was  born on Dec.11, 1910, in New Hampshire, and died on Dec.10, 1992, of heart problems, a few hours before her 82nd birthday. She lived in Aguila near her daughter, Sandra Moore.  Barbara's ashes were scattered over the two graves. One writer enthused, "A visit here will bring the ghosts of a devoted family-unit close to your heart. Very healthy."  (Footnote 1.) The youngest daughter, Jean Reno, who was not burned in the fire, lives in Washington State.
The graves are outlined with rocks and have simple markers. One is a wooden cross; the other is a beautiful ironwood tree root. Cement plaques at the head of each grave beyond the headboards say: "Barbara Lindsay Hovatter, 2/2/44, 6/29/68." (She was 24 years old); and "D. (for Delbert) Ray Hovatter, 11/22/1897, 11/16/74." He was her step father. There's some confusion over his birth date, as his daughter Jean claims his social security listed his birth year as 1904. (Footnote 2). He was known as "Ray".  He died of pneumonia in his trailer at Camp. After his death, his widow outlined the grave and the two daughters began to dig the grave with shovels -- very slow, hard work. Soon, young Bob Crowder and John Weiser, and others, arrived and the men used picks and shovels to finish. Sandra nailed the first nail on the lid of the wooden coffin, hitting her finger, but continued on. The grave site is somewhat derelict, with a large pack rat nest on Barbara (Lindsay)'s grave.  Faded plastic flowers adorn the markers.
<![if !vml]>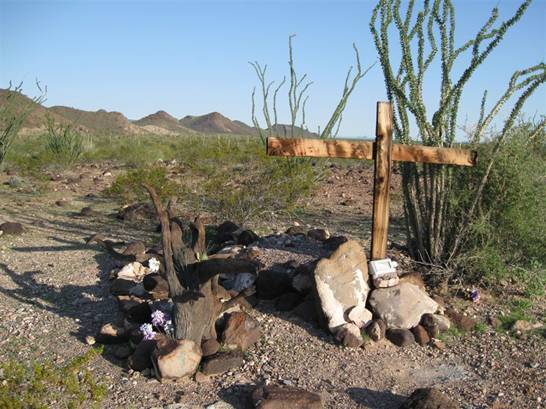 <![endif]>
Photo by Kathy Block
Hovatter graves showing markers, cement plaques. Ray Hovatter grave marked by cross.
<![if !vml]>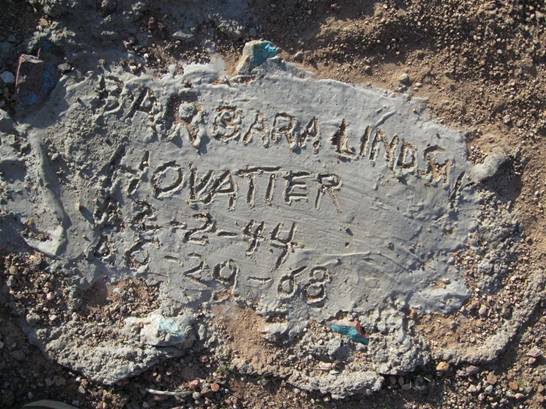 <![endif]>
Photo by Kathy Block
Close-up of Barbara Lindsay Hovatter's plaque.
<![if !vml]>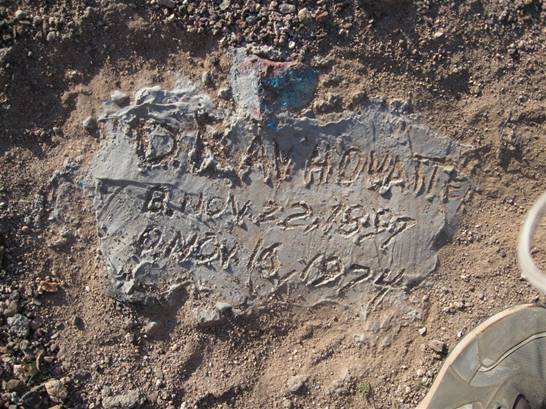 <![endif]>
Photo by Kathy Block
D. Ray Hovatter's plaque.
<![if !vml]>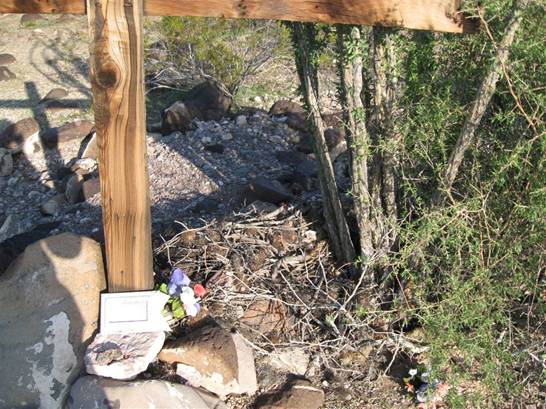 <![endif]>
Photo by Kathy Block
Large packrat nest between Barbara's (Lindsay's) and Ray's grave.
The history of this family and the mining area are interwoven. The Hovatter family originally came from Strausborg, Germany (now part of France), and settled in West Virginia.  The original family name was "von Hochwaerter" (hot water). Ray's parents, Charles and Agnes Burns Hovatter , came to Arizona in the early 1900s, at the time of WW I. The father, Delbert Ray Hovatter, born in St. George, West Virginia, was one of eleven children. Supposedly, his mother was one-fourth Cherokee. (Footnote 3).
In 1951, the family owned the Hovatter claims group. The claims group (which included Barbie claim, Bomboy claim, and Hilltop Claim) was mined for manganese in the Sheep Tanks District, Little Horn Mountains.  They also had claims for gold and copper.  Manganese (Mn) is hard and brittle, rusts like iron, but isn't magnetic. It is used in the manufacture of alloys of iron, aluminum, and copper.  Adding 12 to 14 percent manganese to iron improves the strength qualities of the alloy. The rocks have a powdery black coating that comes off easily. The mining process was very dusty. . The family all helped with the assaying and road building. In the 1950's, Mexican laborers worked also. The ore was loaded into trucks and shipped to Wenden, AZ. In a fascinating conversation with Sandra Moore, who lives in Aguila, she mentioned that sweat and dirt made clothing so stiff it would "stand up". (Footnote 4).
<![if !vml]>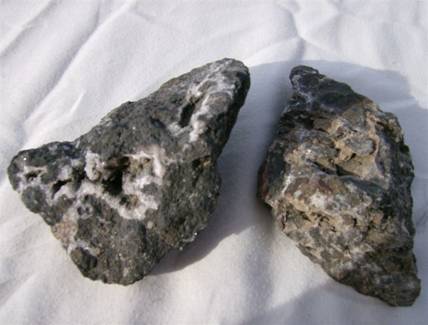 <![endif]>
Photo by Kathy Block
Manganese ore from nearby mine site. Notice quartz crystals in it.
Mining efforts in this region began with the first mineral discovery by a J.G. Wetterhall in 1908. There was mostly small-scale prospecting until 1926-7, when the Sheep Tanks Mines Company of Nevada opened many mines. The ores, including gold, silver, copper, iron, and manganese, were never found in large quantities. They occurred mostly in veins deposited by hydrothermal solutions which rose along brecciated fault zones. Even in the 1930's: "only a rather limited amount of developed shipping ore remains in the Sheep Tanks region. The district contains considerable amounts of lower-grade material, part of which may be worked at a profit after a cheap water supply adequate for milling needs, has been developed." (Footnote 5)  The Hovatter family lived in this isolated area from 1951 thru November 1973. Their main living was from manganese. Some of  their "located" claims produced about 250 tons of 18 per cent manganese ore during the period 1953 - 1954.
The Hovatter camp has been cleared of all buildings. One remainder, though, are the rows of saguaro and ocotillo cactus and raised beds fronted by flat rocks that line the semi-circular driveway entrance to the area. The saguaros were 3 to 5 feet tall when transplanted. Barbara Hovatter, the mother, was apparently a keen and knowledgeable botanist. She planted an extensive formal garden that she called her "hobby yard." The area where the family lived was called "Camp." She used plants gathered from the region and complemented them with mineral specimens, all of which were labeled. Around 1991 she published "Plants of the Little Horn Mountains," which was later referenced in an academic Bibliography.  (Footnote 6). She also had notebooks of photos, sketches, and scientific descriptions of plants in the area. These notebooks are now in the library at the Botanical Gardens in Phoenix. The only remnants of her efforts are the walls, saguaros, and ocotillos; the specimens and labels have disappeared.
Sandra Moore described the family's life at this isolated spot. The girls were mostly home-schooled, and Sandra took high school correspondence courses. They lived there most of the time, except for a brief stay in Yuma while her mother gave birth to the youngest girl, Jean, and also when they lived on "the old ranch" near Brenda, for a short time, and the two older girls went to regular school there. There was no electricity, no running water and no flush toilets. They cooked on iron cook stoves. Water was hauled a tenth of a mile from a 171 foot-deep well, pumped up with a pump jack with a gas engine. Various game animals and birds were found in the hills. The girls competed to kill rattlesnakes. They had pet burros. Although they briefly grew strawberries, with each end of the patch guarded at night by tied-up dogs, jackrabbits managed to get in the middle! Their post office mailbox was in Salome, a drive of 42 miles over rough roads, a trip that took at least two and one half hours each way! The Kofa Wildlife Refuge reclaimed the property after the family left in 1976 and burned down the buildings. (Footnote 7).
<![if !vml]>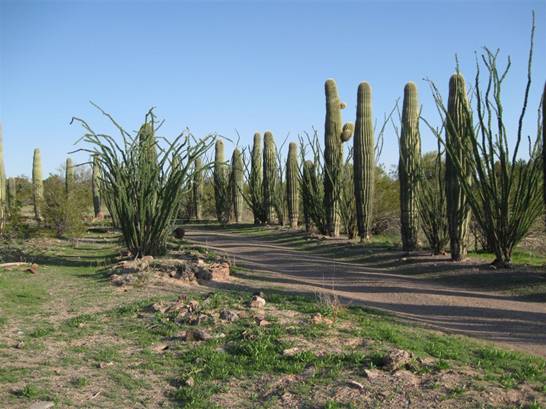 <![endif]>
Photo by Kathy Block
Rows of saguaros and ocotillo lining driveway, raised beds in the foreground. The saguaros were 3-4 feet tall when planted in the 1950s!
<![if !vml]>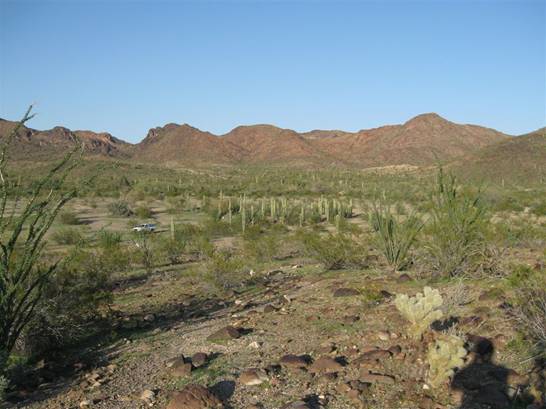 <![endif]>
Photo by Kathy Block
Overview of Hovatter camp. Looking down from graves site.
The Hovatter camp and grave sites is worth a visit IF you have a 4x4. General directions to it are shown on the sketch map and Delorme Topographical map. The graves are at GPS 33 degrees. 21.163 North, 113 degrees, 46.543 West, El.1847. On Topo maps, they are at T1S, R15W, Sec.12. They are most easily accessed from the north, though they can be reached by a series of roads from the south also. Do NOT attempt to drive there during or after a rain storm!
<![if !vml]>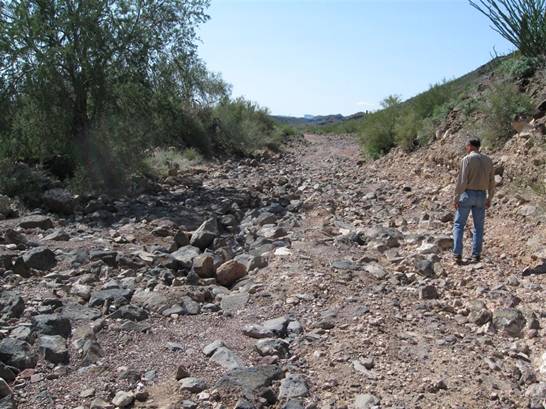 <![endif]>
Photo by Kathy Block
Ed Block studies washed out road to Hovatter camp and grave site.
<![if !vml]>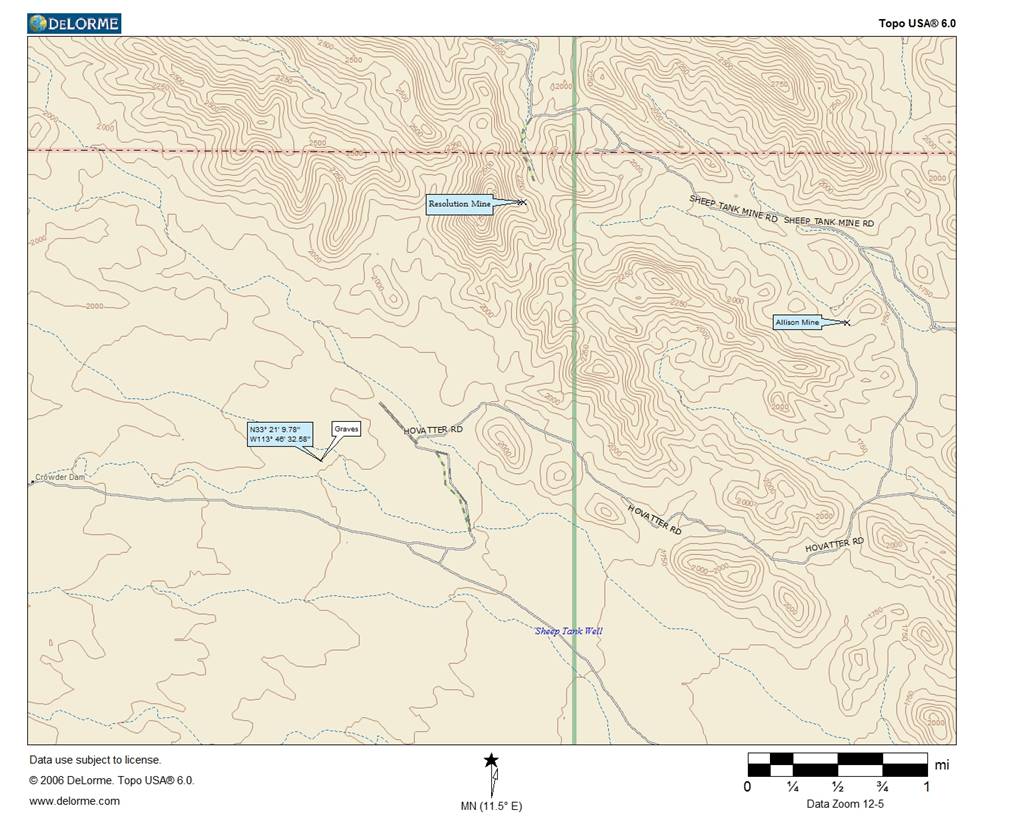 <![endif]>
Map by Neal Du Shane
<![if !vml]>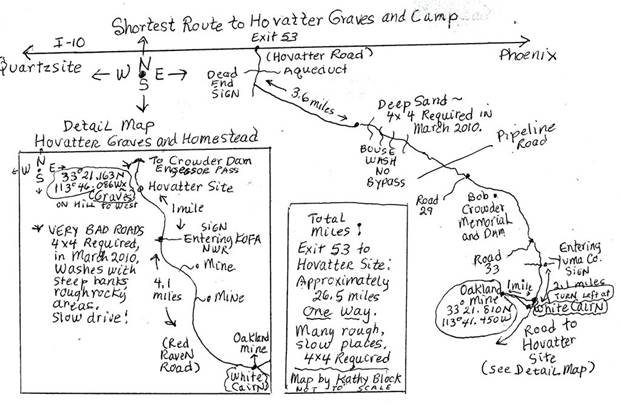 <![endif]>
Map of area by Kathy Block – No Scale
Map of route to the Hovatter camp and graves site.
FOOTNOTES:
1. "Arizona Ghost Towns and Other Places You Folks Have Been Asking Me About," Arizona Rover web site, 2003. Internet.
2. Jean Reno, "Looking for my Dad's Ancestors," MyFamily.Com. Message Boards, May 10,2000.  Internet.
3. Ibid. Jean Reno.
4. Telephone conversations and personal visit with Sandra Moore, middle daughter, Aguila, on several occasions in March and April, 2010. Thank you again for your help and great information.
5. "Arizona Lode Gold Mines and Gold Mining." Eldred D. Wilson  et al. Bulletin #137. Revised 1967. Bureau of Geology and Mineral Technology, Geological Survey Branch, Univ. Az. Tucson. pp.244-5.
6. Diane Moore, Jane B. Cole, "Arizona's Local Floras and Plant List: A Bibliography with Locations and Maps." Journal Arizona-Nevada Academy of Science, 2004.
7. Sandra Moore.
The author wishes to express special thanks and appreciation to Mrs. Sandra Moore who generously shared memories of her life at the Hovatter camp, and provided the photo of Ray and Barbara Hovatter from her personal photo collection; and to Bonnie Helten for her comments.
Arizona Pioneer & Cemetery Research Project
Internet Presentation
Version 062510KB
WebMaster: Neal Du Shane
Copyright ©2010 Neal Du Shane
All rights reserved. Information contained within this website may be used
for personal family history purposes, but not for financial profit or gain.
All contents of this website are willed to the Arizona Pioneer & Cemetery Research Project (APCRP).