HOME | BOOSTER | CEMETERIES | EDUCATION | GHOST TOWNS | HEADSTONE
MINOTTO | PICTURES | ROADS | JACK SWILLING | TEN DAY TRAMPS
Arizona Pioneer & Cemetery Research Project
Internet Presentation
Version 017710KB
KINGMAN PIONEER CEMETERY
 KINGMAN, MOHAVE COUNTY, ARIZONA
By Kathy Block, Historian – Author
<![if !vml]>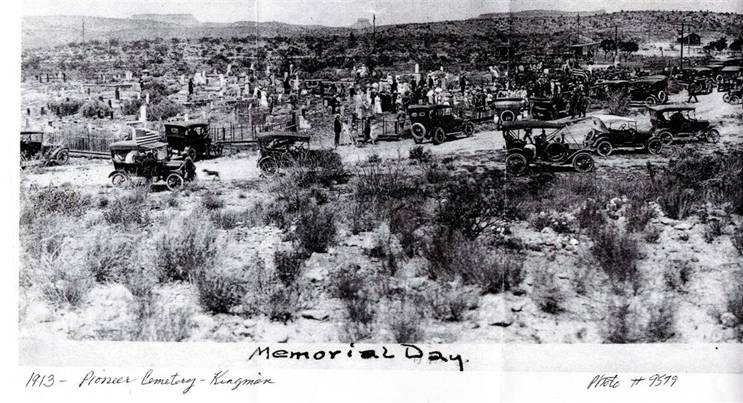 <![endif]>
A historic photo from 1913 shows at least 14 Model T's at the Pioneer Cemetery on Memorial Day.  Note all the tall gravestones and fences!
Old Pioneer Cemetery, which existed from 1900 thru 1917, was established to be the final resting place of at least 400 or more early Mohave County miners, townspeople from Kingman and surrounding settlements, and railroad workers killed in the area.  However, "progress", eerily similar to events in Prescott, Arizona, destroyed this site forever. Only faded photos and a memorial remain to honor those who were buried here.
A check of Death Certificates (DC's) for a roster showed that early DC's up to 1909 listed no burial places. These DC's are skimpy, retyped in the 1930s from county records.  Many DC's could not be found in internet records.  Some did record "Kingman" for burial place.  Death records and contemporary news accounts tell an intriguing story about two burials: Jenny Bauter's and Clement C. Lee (Leigh).
Jenny Bauters, born in 1861, had left Jerome in 1903, where she had a brothel, and opened a saloon in the "Bad Lands" section of Goldroad.  A gambler named Clement C. Leigh, born in 1872, followed her there and shot her to death. Here's some of the newspaper article from September, 1905, quoted for a sense of the contemporary write-up about this event: (Xerox courtesy Mohave Museum of History and Arts, Kingman.)
"Lee (spelled this way in the Mohave County Miner article), and the woman and been living together for several years and lately the woman had been trying to get rid of the man, but he could not be shaken off. Early in the morning he and others took a drink at the bar and in a conversation stated that he intended to get a certain sum of money, 'if he died for it.' Shortly after that Lee went to Jennie Bauter's room and kicked in the door. He was armed with a gun and the woman attempted to escape. The first shot was fired at her in the room and as she ran toward the street Lee followed shooting as he went. Three shots were fired, all taking effect in the head and body of the woman. At the third shot she fell partly in the road and partly on the stony ground close to the wagon rut. Lee went back into a cellar (for the purpose of reloading the gun) and returned to where the body of the woman lay. Observing that she was not yet dead, he moved her head that he could get a better shot and then deliberately fired the pistol into her head. In doing so he remarked, "You are not dead yet, are you!" Lee then placed the gun to his own breast and after selecting the right spot, fired, the bullet ranging around a rib and stopping under the arm, producing but a slight wound. He then laid himself out on the ground by the woman's body as though he expected death to come right away. He carefully placed his hat over his face to shield it from the sun. When the brute was shooting, the woman begged pitifully to be spared, but the man was bent on destroying her life and refused to listen to her appeals. The people of Goldroad were wrought up over the killing, but there was no leader to carry out the sentiment of vengeance and the cold blooded assassin was brought to Kingman and lodged in the county jail."
"Jennie Bauter's, the murdered woman, was known in many of the mining camps of the Territory and especially in Jerome, where she had considerable property. She was big hearted and it is said that she always helped the needy and especially the poor miner and prospector. Her body was embalmed and held to await the arrival of a son from Chicago."
Her Death Certificate shows she was buried in Pioneer Cemetery.
<![if !vml]>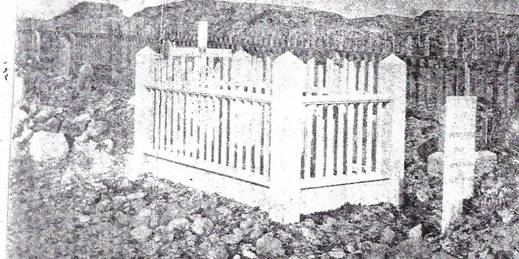 <![endif]>
Grave of Jenny Bauter, Pioneer Cemetery, c.1907.
Courtesy Mohave Museum of History and Arts, Kingman.
Her murderer, Clement Leigh, was finally hung on June 18, 1907, at 2PM in Kingman. He also was buried in Pioneer Cemetery. His Death Certificate states he died from "hanging."
The irony of all this is that when Mohave County began to remove the graves to a new Mountain View Cemetery to give land to the school district to build a school, the bodies of the two were buried in the same mass grave!
One other burial left behind was Mary Emily Rothwell. She had died, of bronchial pneumonia on January 16, 1911 at the age of three months and three days. She was born in Prescott on October 24, 1910.  Her parents, Florence Ellen Griffith and James William Rothwell, buried her in the Old Pioneer Cemetery.  Her grave had been forgotten.  Her family moved on with their life, and a brother, named James Robert Rothwell, was born in Seligman on January 31, 1912.  James William Rothwell, father of Mary Emily, and this new baby, had been a truck driver for the CCC camp, but had apparently been unemployed since April, 1934.  He committed suicide by cyanide poisoning on June 3, 1934, and was buried in Los Angeles, where his parents were living. His wife accompanied his body (on the train?) At the time, his wife's name was given as May Rothwell. Did Mary Emily's mother die and he remarried? The obituary notice for James William Rothwell, born September 8, 1886, in Hackberry, was headlined "Hackberry Native is Suicide Victim". It notes he left behind a father, mother, numerous brothers and sisters, to "mourn his loss", as well as a wife and two children. Was one of them the brother of little Mary Emily Rothwell?
A bill from October, 1915, hints at what a typical burial cost. The deceased was John McDowin, misspelled "McDerwin" at the top of the bill, who died October 23, 1915 at the age of 82, from heart disease. No death certificate was found. A relative named Joe Rosenburg arranged the burial for this miner, who was single. A 6/0 coffin or casket, "french drape" cost $117.50, manufactured by L.A. Co. A special pine "outside box" was $7.50. A "burial robe" was another $7.50. Embalming the body cost $50.00. Wagon delivery and car service added $10.00. Opening the grave was $10.00. The total bill, paid in full in cash by Joe Rosenburg came to $197.50. This was a fair amount of money in 1915 ! One wonders if the deceased had savings that paid for his burial? He was interred in Pioneer Cemetery in Kingman.
<![if !vml]>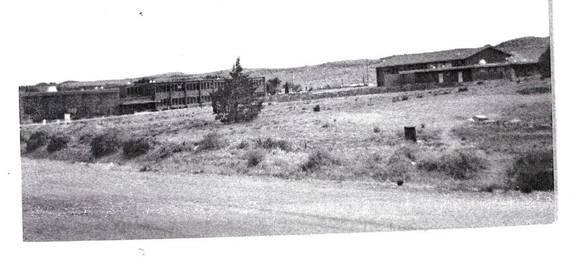 <![endif]>
Old Pioneer Cemetery being converted to a playground in 1960 for the Junior High School,
which was eventually taken over by Kingman High School. Note graves still standing in front!
Photo courtesy Mohave Museum of History and Arts.
The history of Pioneer Cemetery actually involves three locations!  The first location was deeded by George M. Bower in 1899. Some graves dated to 1812. Eventually more than 300 tombstones stretched out across the area. As Kingman grew, space became a problem. The graveyard needed to be moved to make room for construction of Kingman Junior High School. These buildings are now part of the high school.  So, when the junior high school was being constructed on the cemetery land, headstones that could not be read clearly were bulldozed into a nearby wash! Others were removed and stored at the county barn.
However, this historic cemetery had been moved twice before. The first Kingman cemetery was located at Fifth and Spring Streets in Kingman. It was then moved across the tracks on the south side of town, on Kier Street. Finally, it was moved to the area of Kingman High Schools' Lee Williams Stadium and parking lots. Most of the interred were moved to the Mountain View Cemetery on Stockton Hill Road.  But, the removal of these graves was left up to relations. Many weren't removed by family members because the records were not accurate.  If they weren't moved, they were left in place. Doing research with DCs and various rosters showed that up to1909, they did not record a burial place or much information at all about the deceased. And, names were not spelled consistently and burial records didn't agree on dates of death. A cross-check of these lists with DCs was frustrating as an attempted to make a roster of burials in the Old Pioneer Cemetery from 1900 thru 1917. Found DCs for about 60 percent of the burials.
The original Junior High School was built in 1948. Later, Kingman High School took the grounds and buildings and included them on a campus with the high school in 1972. During construction of the high school in 1959, remains of some of the pioneers were unearthed. These were mostly placed in containers and now rest beneath a monument that is next to the student parking lot. Then, again in 1972, during more construction at Kingman High School, more bones were unearthed. Students began bringing them into classes, causing "quite a bit of commotion." Some may have been found by kids playing on the football field.
Various civic groups became concerned about these burials. Most of the remains were unidentified. As noted above, Jennie Bauter's and Clement Leigh, were among those reburied. And those of little Mary Emily Rothwell, whose grave had been left behind and forgotten.      
On May 20, 1963, a memorial, which is a bronze plaque below a representation of an open Bible in marble, encased in stonework, was dedicated by the Daughters of the Pioneers Group. The plaque reads:
"WE HUMBLY DEDICATE THIS GROUND THE SITE OF KINGMAN'S FIRST CEMETERY IN MEMORY OF THE FOUNDING PIONEERS
WHO WERE INTERRED IN THESE HALLOWED GROUNDS 1861-1920, ERECTED May 20, 1963."
<![if !vml]>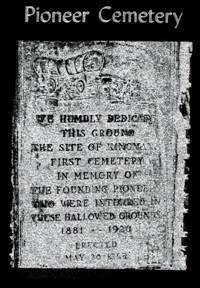 <![endif]>
Plaque on Memorial. Photo courtesy Mohave Museum of History and Arts.
<![if !vml]>
<![endif]>
Memorial, in front of the old high school.
Photo courtesy Mohave Museum of History and Arts.
In 1993 a new high school outside of the Kingman City limits was built. It was called Kingman High School North, and was a campus for sophomores, juniors, and seniors. The older school became Kingman High School South, for ninth graders. This became White Cliffs Middle School in 2006 and is where the memorial and old cemetery grounds are located.  Now, in 2010, the old middle school will once again become a high school. A news article from February 2010 shows a photo of the memorial, which is being preserved during the renovations, and notes there's mention on a sign that it was the original Mohave Union High School that opened in 1917.
The high school is located at 400 Grandview in Kingman. It will be called the Lee Williams High School. The Memorial is located near First Street by the football stadium. Mountain View Cemetery, which contains many of the burials from the Old Pioneer Cemetery, is located at 1301 Stockton Hill Road. It has about 10,451 burials or more, and is some distance from the high school. 
Directions to both of these: Take Stockton Hill Exit 51 from I-40 in Kingman. Go south on Stockton Hill Road, about one and one-half miles. Mountain View Cemetery is on the right.  To see the Memorial, continue on Stockton Hill Road to the south (to the right of the cemetery) to Andy Devine (old Route 66). Turn right at the traffic signal (by Walgreens) on Andy Devine. Stay on this street until 1st Street. Turn right on 1st Street to Spring Street, going about 3 blocks.Turn left on Spring Street into the school. The memorial and field are to your right. Due to construction, the site may not be accessible (in 2010 when this was written).
<![if !vml]>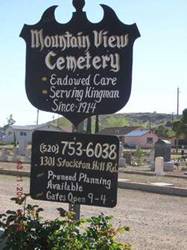 <![endif]>
Entry sign Mountain View Cemetery.
<![if !vml]>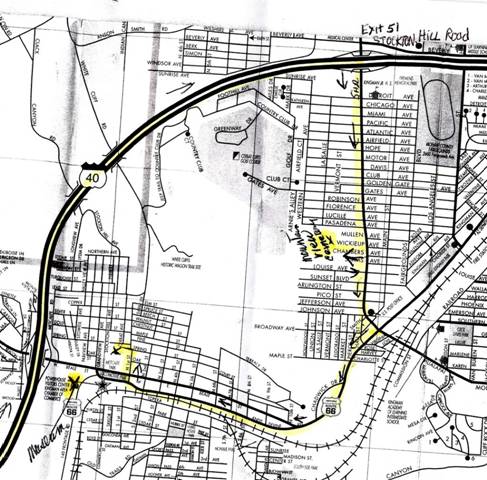 <![endif]>
Map showing route to Mountain View Cemetery and the Memorial.
<![if !vml]>

<![endif]>
Photo of junior high playground, 1957, with Pioneer Cemetery and high school buildings.
Old Pioneer Cemetery is Kingman may be buried, but not forgotten. Its fate has been similar to that of other historic cemeteries, for example in Prescott, Arizona.  Research has shown that in other states there are laws to protect these cemeteries from removal, lack of access, burial under mining debris, and general destruction. There are a few laws here in Arizona for Pioneer Cemetery restoration and preservation.  However, cemeteries can be moved or destroyed for highways, commercial enterprises, parks, or public works, and are sometimes derelict, forlorn, and abandoned.  The Arizona Pioneer & Cemetery Research Project (APCRP) has a goal of preserving, protecting, possibly restoring, and honoring our remaining pioneer cemeteries, possibly preventing the fate of Old Pioneer Cemetery.
A Special thank you to the librarian at Mohave Museum of History and Arts in Kingman for generously providing fascinating historical photos and news items about this Pioneer Cemetery.
Arizona Pioneer & Cemetery Research Project
Internet Presentation
Version 017710KB
WebMaster: Neal Du Shane
Copyright © 2010 Neal Du Shane
All rights reserved. Information contained within this website may be used
for personal family history purposes, but not for financial profit or gain.
All contents of this website are willed to the Arizona Pioneer & Cemetery Research Project (APCRP).
HOME | BOOSTER | CEMETERIES | EDUCATION | GHOST TOWNS | HEADSTONE
MINOTTO | PICTURES | ROADS | JACK SWILLING | TEN DAY TRAMPS