Arizona Pioneer & Cemetery Research Project
Internet Presentation
070213
© ALL RIGHTS RESERVED
MASS GRAVE
YAVAPAI COUNTY CEMETERY, PRESCOTT, ARIZONA
GPS: N34 33 44, W112 28 49 Elevation 5,424 feet
By Kathy Block
APCRP Research Staff
A mass grave in Prescott, Arizona?  It sounded like something worth researching when we were in the area!
The mass grave is located at the east end of Mountain View Cemetery in Prescott. Urban Legend has it that the nearby round stone structure with an octagonal roof is over a mass grave, IT IS NOT!  It's an old cistern that was a water tank for the county farm that once was in an area below the hill, according to a very helpful source of information, Bob Bakken, who assisted in making the mass grave!
<![if !vml]>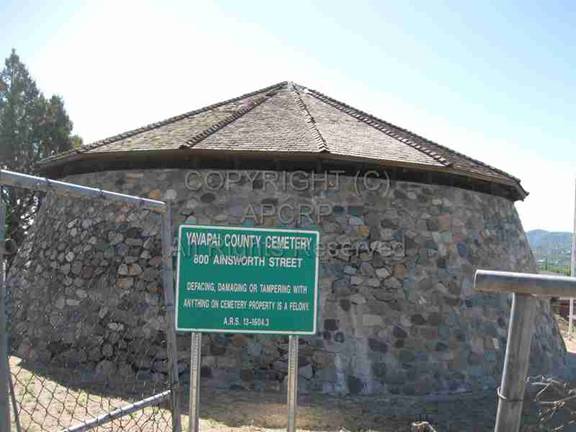 <![endif]>
Round Structure Near The Mass Graves, Prescott, AZ
All Photo's by Author
I had occasionally found references to a person removed to a "mass grave" when using cemetery records of burials in my researches. I did not know how, when, or why, until Ed and I visited the site and I obtained information about this still-used Yavapai County Indigent Cemetery!
The mass grave is on a hilltop within the new Yavapai County Cemetery, which is separated from the adjacent larger Mountain View Cemetery by a fence. Note the differences in the gravestones! One blog noted that senators and governors are buried in the well-kept Mountain View Cemetery, while the indigent are buried in the poorly-kept adjacent grounds. This part of the County Cemetery, also known as the "Yavapai County Indigent Cemetery" has been used since the first burial on July 7, 1959. It is the burial ground for the county's poor and destitute citizens and also contains unknown burials, some with no markers.  As of 1983, there were 125 burials recorded for the newer portion of the cemetery.  Burials in the older portion, from the early 1900s to 1950, were among those removed to the mass grave.
<![if !vml]><![endif]>

Graves by round structure

<![if !vml]><![endif]>

Graves separated by fence
<![if !vml]>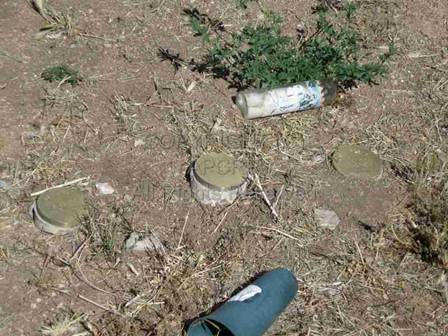 <![endif]>
Discs mark graves but are not believed to be  urns.
Cremation is widely practiced for indigent burials to save costs. These three markers date from 2011. Pat Atchison was instrumental in getting the county to use a more lasting type marker like shown in the photo on those buried with no family assistance. A March 21, 2010 article in The Arizona Republic noted that Arizona counties are turning to cremation as budget woes grow.  Yavapai County made it a requirement in January 2010 as space started running out at the County Cemetery. A long-time advocate for cremations, Public Fiduciary Sheri Thomlinson, was quoted as saying: "The number of indigent dead abandoned by relatives has risen at least 20 percent in the past year as a result of the recession; although hard numbers are not available . . . many of the dead were estranged from families for years for various reasons."
An earlier article in the Prescott Daily Courier, July 22, 1983, provided some answers to the history of the mass grave.
In 1983, as a result about complaints over the un-kept grounds of the County Cemetery, an administrator stated the grounds definitely belong to the county and are the county's responsibility to maintain.  He directed a maintenance department to have a ground crew out to clean it up. Prescott High School's track team had used the grounds as a practice route.
(The Yavapai Cemetery Association did maintenance work in the current County Cemetery from 1995 to about 2002, when the work load became too large.)
The graves in the lower portion of the old County Cemetery were accidentally uncovered in 1960 when the grounds were excavated for the Prescott High School athletic field. They were then exhumed.
According to Mr. Bakken, high school wood working students made many 2 x 4 foot wood boxes for the remains, which were moved to the mass grave.  The boxes were made with donated materials and some material was paid for by the county. Before the fence was erected around the marker, that site was used for a parking place by the county and the adjacent Mountain View cemetery!
There is a plaque on a concrete base with a single wire fence around it that reads: "Final resting place of 845 persons buried in Yavapai County Indigent Cemetery, reinterred April 1961 - rest in peace." Beside this marker is the flat gravestone of Refugio Carrillo (July 4, 1899 to Oct. 30, 1935) on the left. She was 36 years old, died of cancer in the county hospital. There is another flat, unreadable gravestone on the right of the marker.
<![if !vml]><![endif]>

Memorial - Mass Grave Site

<![if !vml]><![endif]>

Prescott High School athletic field on site of original cemetery
The names of the 845 persons buried in the mass grave are not listed on a marker on or by the round structure. Reliable noted historians report that since it's a mass grave, "there are no individual markers or knowledge of who is buried exactly where. There is some question of who is even buried there."
Due to the lack of early burial records and very skimpy death certificates, if available, it is my belief historians will never know the names of all who were buried in the early part of the county cemetery.
Upon researching 10 names of early burials before 1961 from an internet roster of the County Cemetery records indicated they were buried in the mass grave. Many of the people disinterred had died in the County Hospital, and were single. Possibly no family were available to rebury them in another cemetery? Other records listed some people as buried in Citizens Cemetery (most with plot numbers), but a map apparently lists them as buried in the County Cemetery. One burial from 1938 showed burial on his DC in County Cemetery, with note that he was believed to have been moved to Red Rock Cemetery in Sedona before the mass grave was created.
Below are parts of 3 typical records and their death certificates. (Details in the death certificates below.) Note burial in "County Cemetery" on the DC.
     IRA ALLEN. Burial was in the Mass Grave in the County Cemetery in Prescott.
    A.H. AMSDEN. (Misspelled "AMADEN" on some records.) Burial was in the Yavapai County Cemetery in Prescott. (Mass grave.)
     N.M. MERCER. Interred at County Cemetery (Mass grave.)
<![if !vml]><![endif]>

Ira Allen. Now in mass grave

<![if !vml]><![endif]>

A.H. Amsden. Now in mass grave.

<![if !vml]><![endif]>

N.H. Mercer. Now in mass grave.
Checked the DCs for two early burials near the round structure. They are listed as burial in Mountain View Cemetery, not the County Cemetery, and were on the other side of the fence en route to the round structure.
<![if !vml]><![endif]>

Older burial near the round structure.

<![if !vml]><![endif]>

Another old burial nearby.
Ray A. Plumb (March 12, 1904 to December 2, 1918) was a 14 year old boy who lived in Humboldt and died in the Humboldt Hospital of pneumonia and influenza.  He was buried at Mountain View Cemetery.
(Judge A. J. McPhee on gravestone). Archibald J. McPhee (1839 to Aug. 10, 1914) was a miner, not a "Judge" (may have been a nickname). He died from acute diarrhea and was buried at Mountain View Cemetery.
<![if !vml]>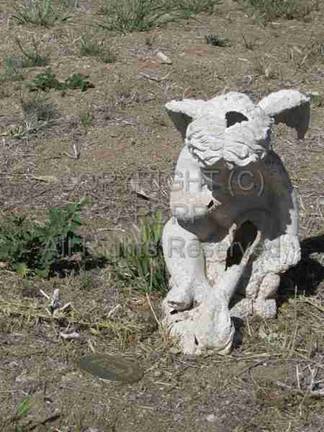 <![endif]>

Grave of "Dallas Unknown"

One burial in the older part of Yavapai County Cemetery has a poignant mystery associated with it. The grave is marked by a crumbling ceramic rabbit, and listed on a roster as "Dallas Unknown." In 2009 a researcher from Find A Grave visited the grave and found a short, handwritten note underneath a then- intact ceramic rabbit. The note apparently was written on paper and tucked under the rabbit, with no name or date. It read something like: "Dear Dallas. You may not know it but your (sic) a big brother and your little sister is writing you. I just want you to know I love you. Love, your sister." (From a photo of the note on the internet.}

    

The mass grave is fairly easy to locate.  Go to Mountain View Cemetery.  Drive thru the entrance gate off Willow Creek Road.  Continue straight east to the far end of the cemetery on a paved road.  You will see the round structure and a pull off to park.  Walk about 75 feet S.E. off the road thru an opening in the fence around the County Cemetery to see the fence around the mass grave and the plaque on a concrete base. Now you know the story behind the mass grave!

<![if !vml]>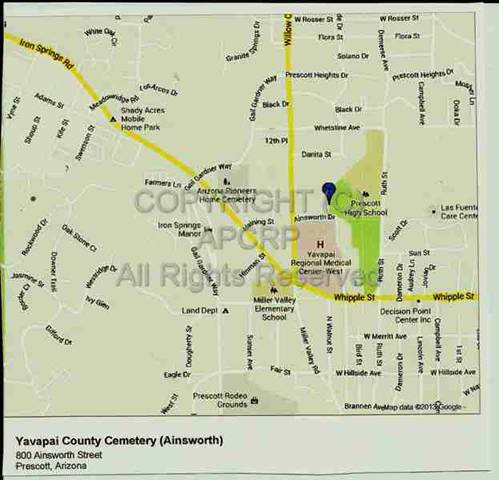 <![endif]>
  Driving instructions from the Courthouse Plaza by Whiskey Row in downtown Prescott.
<![if !supportLists]>1. <![endif]>From Sheldon Street, turn north onto N. Montezuma. The street becomes Whipple Street, then Iron Spring road, CR10.
<![if !supportLists]>2. <![endif]>After 1.7 miles turn right onto Ainsworth Avenue, just north of Hinman Street. A Burger King is on the corner. If you reach Haining Street, you've gone a little too far.
<![if !supportLists]>3. <![endif]>Turn left onto Willow Creek Road after .1 mile. Go to 1051 Willow Creek Road, .2 miles past Ainsworth Drive.  If you reach Danita Street you've gone a little too far. You will see the entrance to Mountain View Cemetery, where you can enter and drive to the mass grave site.
The author wishes to extend a special "Thank you" to Bob Bakken who patiently answered my questions, with his first hand knowledge, and to Louise Harris and Julie Holst of Yavapai Cemetery Association who made the effort to direct my query to the appropriate person!
And, as always, an appreciation for Neal Du Shane for his editing and posting of this article, and to my patient husband Ed, for his proofreading and helpful comments.
Arizona Pioneer & Cemetery Research Project
Internet Presentation
070213
© ALL RIGHTS RESERVED
Copyright ©2003-2013 Neal Du Shane
All rights reserved. Information contained within this website may be used
for personal family history purposes, but not for financial profit or gain.
All contents of this website are willed to the Arizona Pioneer & Cemetery Research Project (APCRP).
HOME | BOOSTER | CEMETERIES | EDUCATION | GHOST TOWNS | HEADSTONE
MINOTTO | PICTURES | ROADS | JACK SWILLING | TEN DAY TRAMPS

<![if !supportLineBreakNewLine]>
<![endif]>