HOME | BOOSTER | CEMETERIES | EDUCATION | GHOST TOWNS | HEADSTONE
MINOTTO | PICTURES | ROADS | JACK SWILLING | TEN DAY TRAMPS
Arizona Pioneer & Cemetery Research Project
Internet Publication
Version 101909-KB
NATIVE AMERICAN AND SPANISH GRAVES IN ARIZONA
By Kathy Block
<![if !vml]>
<![endif]>
Grave of 8 people along the Devil's Highway, AZ.
The above 1971 photo, of a grave for eight people along the El Camino del Diablo (Devil's Highway), sparked interest in researching information about Native American and Spanish graves in Arizona.
In various anthropological and archeological writings there is much information about the burial customs of Native American tribes in Arizona, clues to what possible grave sites might look like, and where they could be found. Practices in different cultural periods varied from cremation, to burial in the ground, caves, or pueblo sites.
<![if !vml]>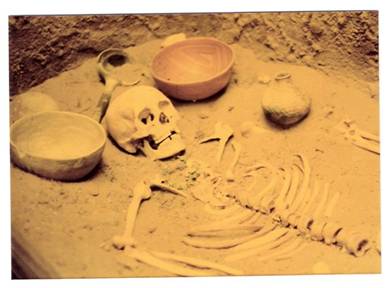 <![endif]>
"Indian Princess" Skeleton
Displays of skeletal remains and objects found with them in Native American graves used to be fairly widespread in museums, visitor centers at national parks and monuments in the Southwest.  (The "Indian Princess" with her jewelry and objects found in her grave was photographed in 1982 at the Anasazi Indian Village State Historical Monument near Capitol Reef, Utah.) Archeological excavations of prehistoric sites, notably in areas around Apache County, Maricopa County, and southern Arizona yielded skeletons and artifacts that were then deposited in many museums, especially during the 1950s and 1960s. Some two million remains of Native Americans are estimated to be currently held in museums, government agencies, and private collections – nearly as many as the population of Native people alive today, according to a 1998 Internet publication, "Coming Home-the Return of the Ancestors" by Claire Ferrell.  In 1868 the taking of Indian body parts became official federal policy with the Surgeon General's order. These remains, mostly 4000 heads taken from battlefields, burial grounds, etc, were sent to various institutions for study. The Smithsonian had a collection of almost 18,500 "ancestral remains." Ferrell claims that the desecration of Native American graves began with the landing of the very first Pilgrim exploring party, which dug up a grave in 1620 and robbed it of its burial goods! (I was unable to verify this claim.)
At present, although U.S. Law and 43 states have laws protecting unmarked burials and grave sites, removal of remains is still allowed for highway expansion, golf courses, recreation areas, and from private lands, usually for reburial elsewhere. Native Americans weren't legally declared "persons" until 1879, and not granted citizenship until 1924, so were unable to protest grave site excavation and desecration. To assist in somewhat rectifying past practices and provide for respectful treatment of Native American graves today and in the future, the Native American Graves Protection and Repatriation Act was passed in 1990. One of the sponsors was Arizona's Senator John McCain.
Very briefly, this act directs museums and other institutions to: (1) Increase protection for Native American graves and provide for the disposition of culturally affiliated remains inadvertently discovered on tribal and federal lands; (2) Prohibit traffic in Native American ancestral remains; (3) Require federal museums and institutions to inventory their collection of Native American ancestral remains and burial goods within five years and repatriate them to culturally affiliated tribes upon request; and (4) Require museums to provide summaries of their collections of Native American sacred objects and cultural patrimony within three years and repatriate them if it is demonstrated that the museum does not have the right of possession.
On the Internet there are now numerous Federal Register notices under "Native American Graves Protection and Repatriation Act". These notices list objects and remains found in various archeological sites and tribes that might be eligible to receive them. The notice gives details of when and where they were taken, what their archeological and anthropological characteristics suggest for cultural group of origin, and what present day Native American tribes were notified to meet and discuss possible repatriation of these items. Here's a typical example, edited for length.
Federal Register.  Vol.73, No.46, Thursday, March 6, 2008. Notices. "In 1964, human remains representing a minimum of 14 individuals were removed from the Fortified Hill Site, Maricopa County, AZ, during legally authorized excavations conducted by the Univ. of AZ . . . the human remains were accessioned into the collection of the Arizona State Museum in 1964. 
No known individuals were identified. (There were 734 associated funerary objects listed, including bones, beads, ceramic bowls and jars, shells, crystals, textile fragments, projectile points, and one wood artifact.) "The ceramic assemblage at the Fortified Hill Site suggests Archeological tradition . . . an occupation between AD 1200 - 1273. Characteristics of the mortuary program including cremation, placement within a ceramic vessel, and the types of associated objects, are also consistent with the Hohokam Archeological traditions.  The human remains are determined to be Native American based on the archeological context . . . " (Eventually the museum staff met with representatives of the AkChin Indian Community of the Maricopa Indian Reservation and other Native American tribes to determine repatriation of return of the bones and artifacts to a tribe or tribes.)
There has been considerable controversy over meeting provisions of the Act. What should be returned and what can be kept for scientific study? Who should receive the objects and remains? Native Americans have gone to museums and demanded return of "sacred objects", and private collectors and dealers have been scrutinized, as in a recent case involving 28 people arrested in the southwest for artifact theft, etc. The on-going struggles, for example, over the Kennewick Man's remains, found along the Columbia River in Washington State in 1996, are discussed in several books. One, Ancient Encounters: Kennewick Man and the First Americans by James C. Chatters, Simon & Schuster, 2001, explores this controversy. As one of the forensic anthropologists working to study these remains, he has found strong evidence the remains are not Native American. Despite this, tribes are fighting to reclaim them. One statement he makes is:
     "As strongly as I believe that it is morally wrong to excavate recent (as in 1,000 to 2,000 years old), American Indian graves or to keep them in museums without the consent and participation of their cultural next of kin, I believe it is immoral to turn the bones of the most ancient Americans over to modern tribes, who have expressed an intent to bury them without learning what stories they have to tell about themselves and their time." (Page 269).
<![if !vml]>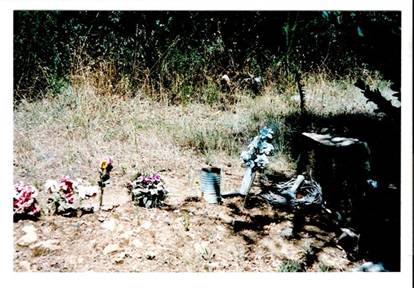 <![endif]>
American Indian Graves, Happy Camp. CA
Reading the Federal Register notices offers clues to various burial practices and where graves were found. Especially in Apache County and areas where Native Americans were most established in prehistoric and more historic eras, as along the Gila and Salt Rivers, remains were found buried under piles of stone or mounds, or sometimes in caves (a famous site was Ventana Cave in Pima County). In the case of cremations ashes were often placed in containers and buried near villages or homes, with special objects (such as those listed above from the Fortified Hill Site). Some cultures had cremations and inhumations (intact burials) grouped in areas that appeared to have been used for burial purposes only. There were various developmental periods of Hohokam cultures, with characteristic burials in each. Details can easily be found in anthropological and archeological texts, and won't be elaborated upon here. A modern-day person who finds piles of stones suggesting graves, or objects in a remote cave, may reasonably assume there may be a Native American grave site, if in an area known to have been occupied by Native Americans.  A rough indicator of age is the fact that in prehistoric times the graves were generally placed without regard to uniformity of direction. When uniformity is found, it is generally an indication of comparatively modern internments.
Burial practices varied greatly in the Southwest from tribe to tribe. The Apaches, for example, had elaborate rituals. A book on the Internet, "Life Among the Apaches as Observed by John C. Cremory, 1868," gave his observations. Briefly, Apaches at that time abhorred cremation. They generally buried their dead at night, with stones on the grave to prevent wolves and coyotes from digging them up. The burial was as far away as possible from the village, either in a hole in the ground or rock crevice.  They feared ghosts of the dead, and burned or destroyed personal belongings of the dead or placed them in the grave, to prevent "strange disease" (maybe smallpox?) They would never approach graves, and anyone who did was considered a witch! The wickiup was also burned, as nobody would live in it again. The Yavapai had similar beliefs at this time.   The Yuma on the Colorado River practiced cremation. A jet boat tour guide told us that all belongings were also destroyed so that, according to him, there would be no inheritance conflicts!
<![if !vml]>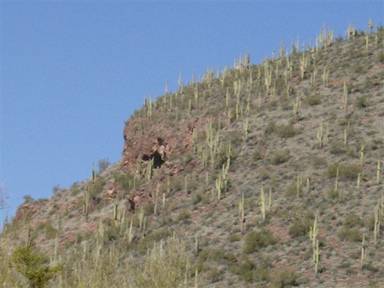 <![endif]>
Burial cave near Globe, Arizona.
A cautionary tale here! A friend and another man found this remote cave on the east side of Roosevelt Lake, near Globe, Arizona. The other man removed a basket with a mummified baby in it, woven fiber sandals, pottery, etc. Eventually he was caught and received heavy fines and some prison time! Our friend had to testify against him. A sad situation. Moral: Don't disturb any graves or artifacts you may find! There is also a Federal Antiquities Law that may be enforced for removing objects over 50 years old. This sign, found at the site of Signal, Arizona, is typical.
<![if !vml]>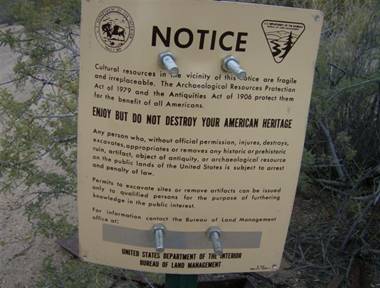 <![endif]>
Sign at Signal
Native Americans may sometimes remove remains from graves. A site, Native American Netroots. Net. claims that the remains of Geronimo (referred to as Goyathlay) were secretly removed to Arizona after he died of pneumonia in Fort Sill, Oklahoma in 1918. A Native American wrote on this site:
     An elder told me that the Navajo took Geronimo's bones
     and gave them a proper burial place before the U.S. Army
     only thought that he remained buried at Fort Sill after
     they buried him there. I told her I had been to the grave
     site. She asked me, "Did it feel like he was in there?" "No,"
     I said. "They 'buried' him in the grave stone by stone, so
     he wouldn't ever come back." she said. I personally don't
     believe he is at Fort Sill, and I don't believe this either.
A later note states:
     A look around the cemetery reveals the possibility of that
     being true, due to the remoteness and seclusion of the area.
     Note that there was probably more tree cover nearly a
     century ago.
     A legend still persists that not long afterward (his death) his
     bones were secretly removed and taken somewhere to the
     Southwest.  (From Dee Brown, Bury my Heart at Wounded
      Knee, page 412.)
Most Native American graves and Spanish graves of the 19th century on into the present are found in cemeteries. A count on the Find-A-Grave site showed at least 91 cemeteries scattered thru all the Arizona counties with names that suggested Native American or Spanish use. Examples are: Navajo Family Burial Cemetery in Cochise County; Hopi Indian Cemetery at Tuba City in Cococino County; Bighorse Family Plot in Graham County; The Mexicano Cemetery in Clifton, Greenlee County, which had five graves, all of which were infants; The PeePosh cemetery in Maricopa County; and two Piute Tribal Cemeteries in Mohave County at Kaibab and Moccasin.
<![if !vml]>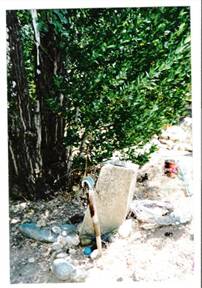 <![endif]>
Single grave at Happy Camp, CA
Here is one Native American grave and a few others in a small, rundown cemetery at Ferry Point, west of Happy Camp in Northern California. There is a road to the Klamath River and Ferry Bar from the bluff where these graves are located. Notice the turquoise bracelet and pile of rope by the grave of a 25-year-old man who died in 1993. Was he a cowhand? A rodeo rider? A feather (possibly eagle) hung on a branch above. This appears to be a family cemetery, with many unmarked graves. A sign asks people to be "respectful of the graves", but a sagging iron fence with a gate hanging on one hinge encloses the area. There are signs of vandalism, maybe from people or from bears (which frequent this area). The Karouk tribe, who live near Happy Camp, close this site and a stretch of river below every August for ceremonies.
<![if !vml]>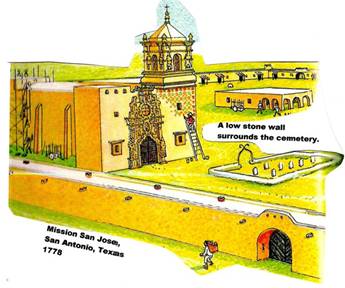 <![endif]>
Typical mission church with cemetery, 1778
Historically, Native Americans and Spanish immigrants often intermarried, as people migrated northward from Mexico and Central America.   The Pascuayaqui Tribe, of southern Arizona and northern Sonora, Mexico has an intriguing project, called Mission 2000, thru Tumacacori National Historic Park.  An accessible data base from Spanish mission records of baptisms, marriages, and burials from the late 17th to mid-19th centuries has been computerized. As of May 2005 it contained nearly 8,090 events, over 22,031 people and their known information. The ethnicity of names include various Native American tribes such as O'odham, Yaqui, Apache, Seri, Opata, Yuma, Mexican, Spanish, and various other European groups.  This site gives an interesting version of how "Arizona" got its name. A Yaqui prospector living in 1736 at Agua Caliente discovered some extremely large pieces of nearly pure silver in the mountains about half way between there and Nogales, Arizona. The discovery, known as "Planchas de Plata Canyon" became associated with a nearby ranch called....."Arizona"!!!
| | |
| --- | --- |
| <![if !vml]><![endif]> | <![if !vml]><![endif]> |
Cemetery at Tumacacori
There are a few descriptions of cemeteries on the Internet that mention cemeteries at the Spanish missions, which were established by Spanish Franciscan priests and missionaries throughout the southwest to convert the Indians to Christianity, and turn them into "productive" Spanish subjects whose toil would enrich and enlarge the Spanish Empire. Indian neophytes were instructed in Catholicism, the Spanish language and customs, farming, and simple handicrafts. In spite of resistance and shirking of work, runaways, and even revolts, missionaries created cohesive, self-supporting communities in the late 1700s.
An account. "The Early Spanish Missionaries", The Resources of Arizona by Patrick Hamilton, published in 1881 in Prescott, "under the authority of the legislature" mentions San Xavier de Bac, nine miles south of Tucson. He wrote that on the west side of the church was an enclosure and a small chapel, which was formerly used as a cemetery.  Bodies were kept in the chapel until the ceremony of burial was performed.  This was the most important mission in the Territory, established in 1694. Papago Indians who resided at the mission preserved it from destruction by Apaches in 1827.
Tumacacori National Historic Park is three miles below Tubac on the Santa Cruz River. The original mission was destroyed by the Apaches in 1826 and the occupants massacred.  Much has now been restored. The above photos show the Soto marker, which identifies several graves belonging to members of a family who lived at Tumacacori in early 1900. The marked graves in this cemetery are from the late 19th and early 20th centuries. Evidence of mission-era graves was destroyed long ago by "weather, treasure hunters, and cattle."  Toward the end of the 19th century the cemetery was used as a corral during cattle drives and roundups! Families who moved into the area around 1900 knew it was holy ground, "campo santo" , and used it again as a cemetery. The last burial was Juanita Alegria in 1916 - the only one that has been identified. Dead from the mission era are also here. Between 1746 and 1825, there were 637 burials recorded. Forty-two burials were registered by Father Ramon Libeross between 1822 and 1825 in the "new cemetery". Record of a Pima child, named Maria Teresa Gonzalez, age five, was the first. This shows use by Native Americans of mission cemeteries. Some of the dead were killed by Apache raids or smallpox and measles epidemics. Records from 1826 to 1848 when Tumacacori was abandoned have never been found!
One final mission is Mission San Augustin, a site known as Tucson's birthplace, which is being restored. The project is heavily dependent not just on archeological finds, photographs and documents, but also on conjecture. The mission was built in the 1770s and had a convento, two cemeteries, a granary, and other smaller structures contained in a compound wall. The site had a much earlier history. Archeologists uncovered American Indian pit houses, storage pits, and other features that date to 4000 years ago. The site was already deteriorating by 1798 and a small section of the convento wall was all that was left by the 1950s. About two-thirds of the mission site west of the Santa Cruz River at the base of "A" Mountain was destroyed more than 30 years ago by a clay-mining plant and city landfill. An 1874 photo showed only the outside of the two-story convento. Were the two cemeteries destroyed by the clay mine and city landfill?
<![if !vml]>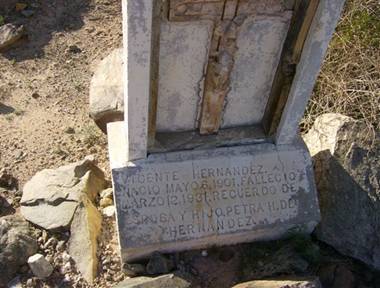 <![endif]>
Gravestone at Laguna Cemetery, Yuma County, Arizona.
My write up on Laguna Cemetery on the APCRP website has photos of graves that are probably Hispanic. In some early Hispanic or Mexican cemeteries, from the late 1890s and later, tombstones often have genealogy of the deceased engraved on them, so that  the person's family names, etc, would be preserved in the event that records were lost. An example of this practice is shown above. This type of grave marker is seen in many Mexican or Hispanic burials throughout the Southwest.
In summary, Native American graves, particularly from prehistoric and historic areas, have been excavated and studied mostly in the middle of the last century. There is now a process to return artifacts and skeletal remains to descendents or tribes of the persons buried in them. It is a crime under State and Federal Law to disturb or desecrate Native American graves, as well as any other graves one may find. Responsible people, such as APCRP members, often photograph, research, and sometimes even restore grave sites for future generations to ponder, as we all know. Certainly the small portion of the public that vandalizes and desecrates Native American or other graves in search of artifacts will continue to be prosecuted.
BIBLIOGRAPHY
The information in this article was obtained from:
Chatters, James C. Ancient Encounters: Kennewick Man and the First Americans. N.Y. Simon & Schuster, 2001. p. 268.
Cremony, John C. "Apache Burial Customs," Life Among the Apaches, as observed by John c. Cremony, ca. 1862.  History book on Internet.
Federal Register, Vol.73, No.45, Thursday, March 6, 2008. Notices. Internet.
Ferrell, Clare. "Coming Home – the Returne of the Ancestors," Native Chicago, 1998. Internet article.
Hall, Allan. Note with information about Snaketown and other burial sites. October 5, 2009.
Hamilton, Patrick. "The Early Spanish Missionaries," The Resources of Arizona, Prescott, 1881. Internet book.
Handbook of American Indians North of Mexico.  Vol.1 and II, 1907, Smithsonian, Washington, D.C.
Reader's Digest. "A Day at Mission San Jose," Story of the Great American West. Reader's Digest, Pleasantville, N.Y. c.1977. 3rd Printing, 1987. p.114.
Stauffer, Thomas. "Rebuilding Convento is no Easy Task," Arizona Daily Star, May 24, 2002. Internet article.
Tumacacori National Historical Park. "Articles of Historic Interest-Mission 2000." 2005. Internet article.
Tumacacori National Historical Park. "Mortuary Chapel and Cemetery." Internet article.
Winter Rabbit. "The Spirit of Goyathlay (Geronimo)." Native American Netroots. Dec.20, 2008.  Internet article.
Arizona Pioneer & Cemetery Research Project
Internet Publication
Version 101909-KB
WebMaster: Neal Du Shane
Copyright © 2009 Neal Du Shane
All rights reserved. Information contained within this website may be used
for personal family history purposes, but not for financial profit or gain.
All contents of this website are willed to the Arizona Pioneer & Cemetery Research Project (APCRP).
HOME | BOOSTER | CEMETERIES | EDUCATION | GHOST TOWNS | HEADSTONE
MINOTTO | PICTURES | ROADS | JACK SWILLING | TEN DAY TRAMPS