HOME | BOOSTER | CEMETERIES | EDUCATION | GHOST TOWNS | HEADSTONE
MINOTTO | PICTURES | ROADS | JACK SWILLING | TEN DAY TRAMPS
Arizona Pioneer & Cemetery Research Project
Internet Presentation
Version 122310
POTTER'S FIELD WITHIN CITIZENS CEMETERY
Prescott, Arizona
By Kathy Block
APCRP Historian
<![if !vml]>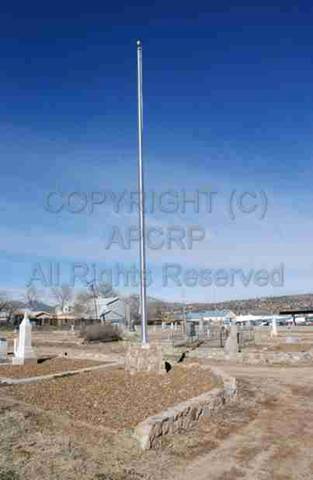 <![endif]>
Photo courtesy: Bruce Colbert
Citizens Cemetery in Prescott is a very large, historic final "resting place" for at least 3,500 of the area's pioneers, miners, and merchants of all kinds, Citizens and non-Citizens, wealthy, indigent, famous and infamous, and unknown deceased.
Citizens Cemetery began in June, 1864, with the burial of Colorado Legislator, Joel Woods, on "public land" southwest of Fort Whipple. His June 22, 1864 obituary in the Arizona Miner stated that the "Hon. Mr. Woods was buried on a beautiful ground just east of the town which will be reserved for a public cemetery."  This cemetery, called by various names such as "Town Cemetery", "City Cemetery", "Prescott Cemetery", and "Citizens Burying Ground", was first called "Citizens Cemetery" in print in 1872.  In 1876, the United States deeded the land to Virginia Koch. When she died, it was purchased by a series of people until 1884, when the land was transferred to Yavapai County, which has maintained it ever since, with the help of a group of volunteers, The Yavapai Cemetery Association.
<![if !vml]>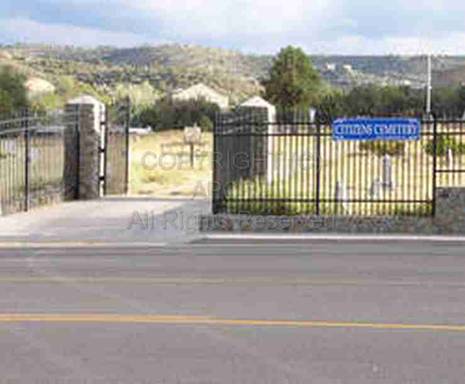 <![endif]>
Photo courtesy: Bruce Colbert
Burial lots were "deeded for 99 years at a cost of $2.50." In 1933 burials were stopped except for persons or family members who had already reserved a plot; now the cemetery is closed to all burials.  This is partly due to the fact that as the number of graves increased, earlier burials were being dug up by mortuary workers – coffin fragments and bones-from unmarked or unknown graves!  There are only about 600 markers that have survived the passage of time.
As a visitor enters the Citizens Cemetery from the entrance on the right hand side of Sheldon Street, at 815 East Sheldon Street, behind the Smoki Museum (that building faces Gurley Street); a dirt track wanders towards the Museum. On both sides are an assortment of tombstones, some extremely derelict and only piles of stones with unreadable flat slabs of wood, and others very fancy. Woodsmen of the World tree sculptures, gleaming black or white marble markers, and high white or dark bronze memorials sprawl in somewhat random order. But, there's an exception to this in the upper left area of the 6.2 acre grounds - the historic "Potters Field" within the larger cemetery.
<![if !vml]>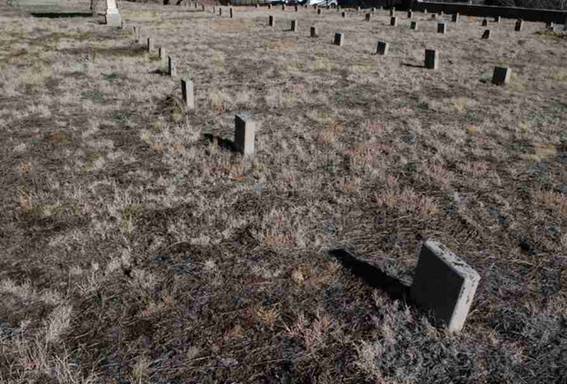 <![endif]>
Photo courtesy: Kathy Block
The term "Potters Field" means a place for the burial of unknown or poor people. The term comes from the Bible, Matthew 27:3-8 in the New Testament, in which Jewish priests take 30 pieces of silver returned by a remorseful Judas. "And after they had consulted together, they bought with them the potter's field, to be a burying place for strangers." This field is traditionally known as Aceldama, in the valley of Hinnom, which was a source of potter's clay.  Because of the clay, it wasn't suitable for agriculture, but was ideal as a graveyard. The tradition of a "Potters Field" continues, especially in the New York City area. The largest cemetery in the United States is the current Potters Field, with at least 800,000 burials on Hart Island!  Potter's Field was also the name of a small cove of the East river below Williamsburg Bridge on the Brooklyn side. Bodies that have been in the river from November thru the winter season tend to surface in April as the rising temperatures causes them to decompose!
The "Potters Field", within Citizens Cemetery, was used by Yavapai County from 1895 thru 1912 to bury the indigent, travelers with no known relatives, criminals, and unknown bodies. Many of its more than 450 burials were patients at the County Hospital. Unlike graves in the larger cemetery, these remains are interred in chronological grid order, marked with modest, rectangular concrete slabs that give the name, date of death, and age at the time of death. At first this area was considered to be a separate cemetery.
<![if !vml]>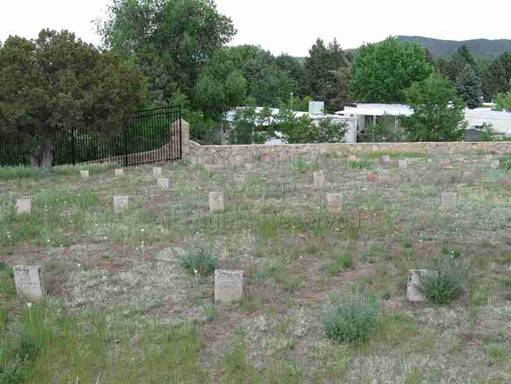 <![endif]>
Rows of graves at Potters Field, Citizens Cemetery
Photo courtesy: Kathy Block
This photo shows at least 19 graves.  Efforts to research some of the burials shown on the markers yielded mixed results. The incomplete early Vital Records Death Certificates were recopied from later records, and there are few for 1900. NONE of the names that could be read when this photo was enlarged were listed in the DC records. Sharlot Hall cemetery archives, however, gave this information about some of the burials.
Looking left to right, beginning with the foremost row, Row 1. J. L. RILLER. Died July 28, 00. Aged 35. (Known as Plot D/06-49 as an example of the plot record system.)  E.GIBSON, Died June 18, 00. Aged 45. (Plot D/06-48). He was born in 1854.  Row 2. G.A. STEWART. Died Sept 11, 00. Aged 38. He was born in 1862. (Plot D/06-31).
We know a little more about G.A. STEWART's neighbor, CHARLES H. COY. He was born in Alameda, California in 1864, died at the County Hospital on July 28, 1900 after "having been ill for some time." He had relatives living in California, but was single. Plot D/06-32 has his remains. The burial next to him is EUGENE F. HOLDEN, who was born in Gardendale, Kansas in 1871. He died at the Yavapai County Hospital at age 29, though his headstone says age 24. He is listed as Plot D/06-33.
In Row 3, J. LAIRD. Died May 13, 00. Aged 20. He was born in 1865 at Bloomfield Station, Prince Edward Island, Canada, and died at the County Hospital. Plot D/06-29. One other visible marker, on Row 4 is PROSPERO PEREZ. Died Apr 11, 00, Aged 35. Plot D/06-35. He was a laborer from Sonora, Mexico, born 1864, who was a suicide, cut his throat!
<![if !vml]>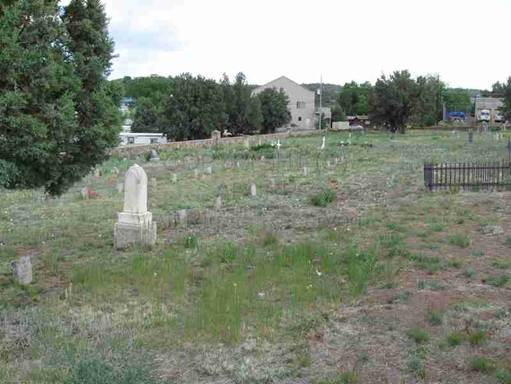 <![endif]>
Border between Potters Field and the rest of the cemetery
Photo courtesy: Kathy Block
In this view of Potters Field, note the encroachment of more varied gravestones. One burial of note was John C. Clarke. He died of cancer at the County Hospital on June 24, 1905. He had been a cattle rancher, miner, fruit grower, born in Ireland in 1837. Clarke was a hermit and left no will or papers stating the value of his estate. The Board of Supervisors directed the undertaker to either "bury the body and put the bill against the estate" or "give the remains burial in the Potter's Field and put in his bill to the county." The second option was chosen. Then, when the estate was finally settled in February 1906, the Prescott Weekly Courier reported that, "the estate was realized upon much better than was expected." A probate court ordered the remains to be "moved to the Citizens Cemetery and a suitable monument placed over the grave." This was done, and an ornate white bronze grave marker was erected.
There is also a section of Potter's Field known as "Murderers Row" by the volunteers from the Association. Four of these criminals were well-known.
JAMES FLEMING "JIM" PARKER died June 3, 1898. He robbed a train outside of Peach Springs, Arizona Territory, with an accomplice. The partner died of wounds and Parker lost the stolen money.  After an 8 day chase by a posse in the area of the Grand Canyon, he was captured and put in the Prescott jail. A cellmate named Louis Clair Miller and Parker escaped. Miller had been a forger and one time candidate for Yavapai County Sheriff! During the escape, Parker shot and killed the prominent Prescott resident and district attorney E. Lee Norris in the courthouse square. After the pair was quickly tracked down, Miller missed the death penalty by one vote, but Parker was hanged in the courthouse square and buried in Potter's Field, in an unmarked grave at plot D12-07a. He was 33 years old and had been born in 1865 in California.
<![if !vml]>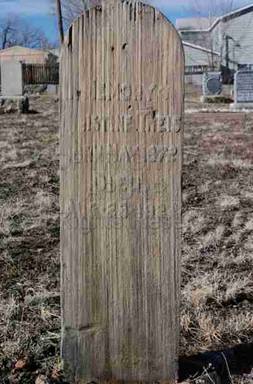 <![endif]>
Photo courtesy: Bruce Colbert
Another outlaw, known as "DENNIS W. (Mad Dog) DILDA is also buried in an unmarked grave, plot D/12-07. (Next to Parker).  Dilda was hanged on Feb. 5, 1886 for murder of Deputy Sheriff John M. Murphy. He also murdered at least 1 man in Texas, 1 or more in the Salt River Valley, and probably General Grant Jenkins in the Walnut Creek area! Dilda, born in Georgia in Feb. 1860, was 26 years old when he died, leaving a wife, parents, and two children named John and Fern, who were living with him and his wife Georgia at the time of the murders.
Two other infamous burials in Potters Field are HILARIO HIDALGO and FRANCISCO RENTERIA. These two men were hanged on July 31, 1903 for the murders of two men at Goddard Station near New River.  A newspaper account states: "The GODDARD MURDERERS ARE EXECUTED IN JAIL YARD TODAY. The execution of Hilario Hldalgo and Francisco Renteria for the murder of Charles E. Goddard and Frank Cox took place this morning in a small enclosure in the court house yard.....The funeral for both occurred from the Catholic Church at 4 o'clock this afternoon." The murderers, both born in the U.S. were buried side by side in unmarked graves, plots D/12-09 and D/12-08, next to Dilda and Parker, forming a true "Murderer's Row" of unmarked graves. Thought: Why were these graves unmarked? Note the four murderers were promptly hanged in the Courthouse Square area.
<![if !vml]>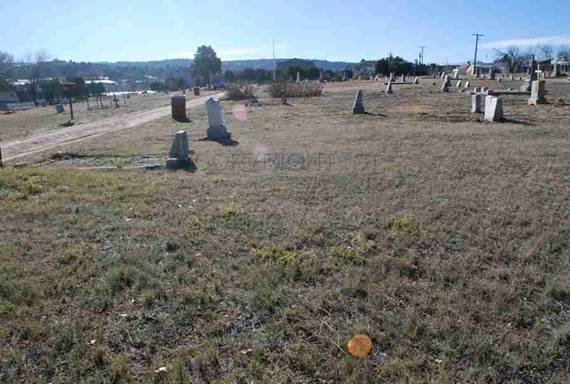 <![endif]>
Photo courtesy: Bruce Colbert
A final burial of note in Potter's Field was H. SMITH. On Feb. 18, 1904, newspapers reported a grim discovery. "Two men came into the office of the board of supervisors....and reported that they had found the remains of a man....near his cabin on Blind Indian Creek, about five miles southwest of Prescott".....They didn't know who the man was, but he seemed to be a prospector and had evidently caught his clothes on fire in his cabin and run outdoors. The flames and smoke coming up in his face suffocated him and he fell unconscious and was burned to death...He hadn't been seen for about a week and had probably been dead for several days....A coroner's jury and some men from the office and from the undertaker held an inquest there and brought the remains back to town for burial.  A subsequent news article identified him as a man named H. Smith. "He will be remembered by having worked in the little tobacco and fruit stand with Gene Nobles several months ago."  He is interred in Plot D12/20 with a marker.
One modern burial was in Potters Field – the naked remains of a female found in August 2005 by deer hunters off Devil's Dog Road near Flagstaff.  The young woman had been hit in the head and murdered and her body had been there at least three days to two weeks. All efforts to identify her failed. A data base of over 278 missing people was searched.  One of the potentially useful clues was a bite mark on her right arm. DNA was taken; she might have been a foreigner, maybe from northern Europe. She had at least $20,000 work of crowns and bridges and beautifully manicured nails, suggesting she came from a well-to-do background.  Until a forensic sketch or information from someone who misses her gives an identity, she is buried "in the potter's field portion of Citizens Cemetery. The grave is unmarked."
In conclusion, Potters Field Cemetery within Citizens Cemetery has some interesting and often sad stories about the people buried there.  If you visit Citizens Cemetery in Prescott, be sure to check out this part of the grounds. Access off Sheldon Street is tricky; the East bound lane has fast traffic. Watch for a gate opening in the middle of the block in a high stone wall erected around the entire property by the Public Works Administration in 1934 and modified when Sheldon Street was enlarged in 2000. You can drive into the cemetery and park along the road. The Cemetery is listed in the National Register of Historic Places.  A sign just inside the gate tells the history of this place.
A sign inside the gate of Citizens Cemetery reads:
_______________________________________________
 Citizens CEMETERY
(Rosette)  Citizens Cemetery was founded in early June 1964 with the burial of Colorado legislator Joel Woods. Established on public land east of Prescott and southwest of Fort Whipple, the cemetery has been known at various times as "Town Cemetery", "City Cemetery:, "Prescott Cemetery" and "Citizens Burying Ground". The name "Citizens Cemetery" first appears in print in January 1872. The United States deeded the land to Virginia Koch in 1876. After her death, it was purchased by T.W. Otis and George Tinker and their wives. On October 13, 1884, the land was transferred to Yavapai County. Burial lots were "leased" for 99 years at a cost of $2.50.  Internment continued on a regular basis until 1933. The cemetery contains the graves of more than 3,500 pioneers and approximately 600 markers. Citizens Cemetery is populated with a wide spectrum of individuals who settled and developed central Arizona during the late 18th and early 20th centuries.
<![if !vml]>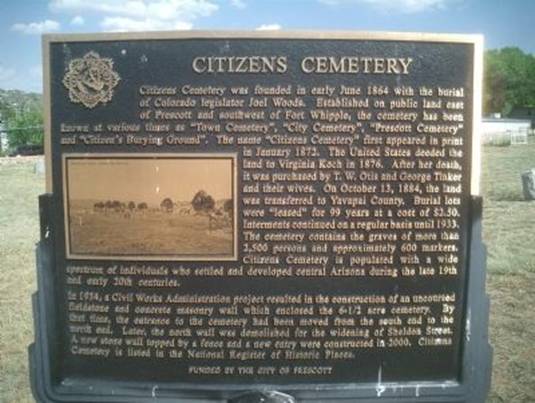 <![endif]>
Photo Courtesy: Kathy Block
In 1934, a Civil Works Administration project resulted in the construction of an un-coursed fieldstone and concrete masonry wall which enclosed the 6 and one-half acre cemetery. By that time, the entrance to the cemetery had been removed from the south end to the north end. Later, the north wall was demolished for the widening of Sheldon Street. A new stone wall topped by a fence and a new entry were constructed in 2000. Citizens Cemetery is listed in the National Register of Historic Places.
FUNDED BY THE CITY OF PRESCOTT
---------------------------------------------------------------------------------
<![if !vml]>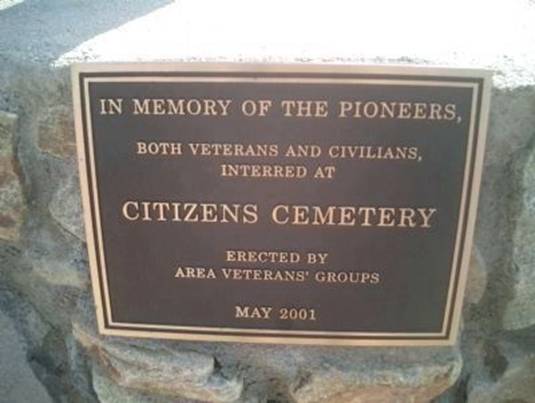 <![endif]>
Photo courtesy: Kathy Block
At a flagpole in the center of the cemetery is a bronze plaque, erected in 2004, as a memorial to all interred there.
NOTE
GPS of Citizen's Cemetery is: N 34 32.704, W 112 27.498.
<![if !vml]>
<![endif]>
Map by Neal Du Shane
Arizona Pioneer & Cemetery Research Project
Internet Presentation
Version 122310
WebMaster: Neal Du Shane
Copyright © 2010 Neal Du Shane
All rights reserved. Information contained within this website may be used
for personal family history purposes, but not for financial profit or gain.
All contents of this website are willed to the Arizona Pioneer & Cemetery Research Project (APCRP).
HOME | BOOSTER | CEMETERIES | EDUCATION | GHOST TOWNS | HEADSTONE
MINOTTO | PICTURES | ROADS | JACK SWILLING | TEN DAY TRAMPS