HOME | BOOSTER | CEMETERIES | EDUCATION | GHOST TOWNS | HEADSTONE
MINOTTO | PICTURES | ROADS | JACK SWILLING | TEN DAY TRAMPS
Arizona Pioneer & Cemetery Research Project
Internet publication
Version 111811
A TALE OF TWO TOWNS
 Cedar Glade (Drake) and Puntenney, Arizona
By Kathy Block
APCRP Historian
<![if !vml]>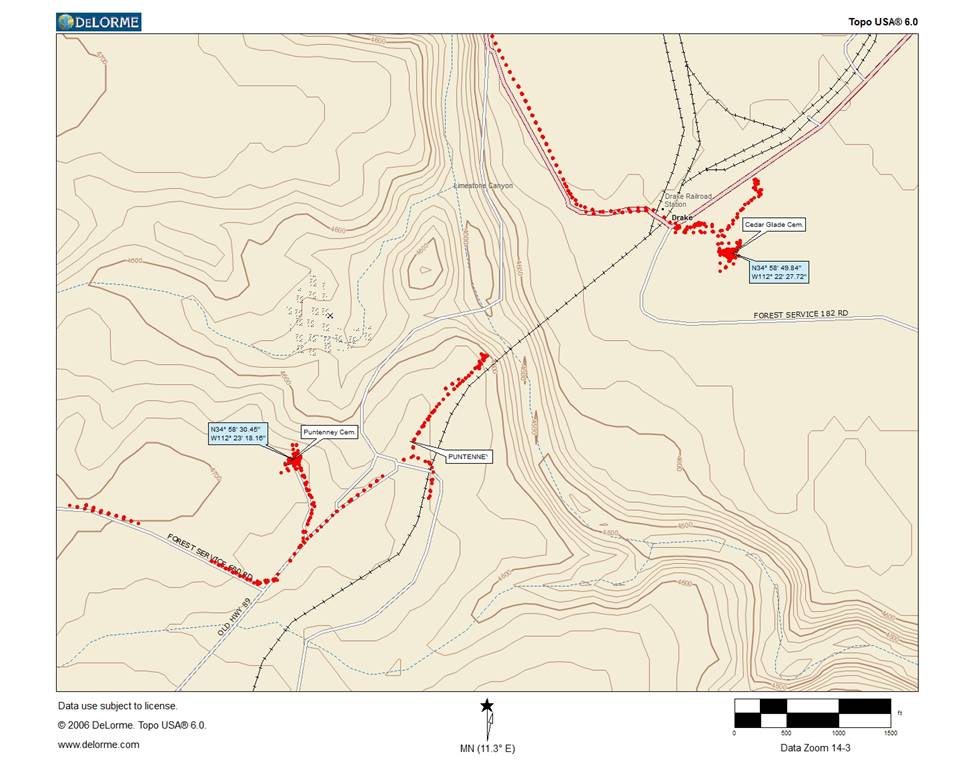 <![endif]>
Map shows location of Cedar Glade and Puntenney.
The Cedar Glade (Drake)/ Puntenney site in Yavapai County, about 40 miles north of Prescott, is characterized by a high plateau of mixed grasslands and junipers, and shrubs. There's a long history of human occupancy. An early documented use of this area is called the "Archaic Period" (circa 8000BC to 1000BC). Ancient peoples followed a seasonal round of hunting and gathering and "Archaic" sites are common here. These groups are followed by "Formative" phases of agriculture, and the use of ceramics. Archeologists have found pottery shards and pit house ruins, evidence of the "Prescott Branch of the Upland Patayan" using this area between AD 900 and 1300.  Spanish explorers in the late 1500's found the region occupied by Yavapai and Tonto Apaches. With "Euro-American settlement" and mutual conflicts between the Natives and new arrivals, these Native peoples were "removed" to reservations by the 1870's.
<![if !vml]>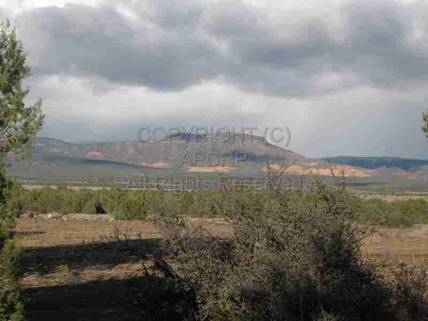 <![endif]>
Trees and Grassland East of Drake Cement Plant.
A story about nearby Long Meadow Ranch (now owned by a Puntenney descendant) illustrates conflicts with the Native Americans. In the 1870s, a Mrs. Stevens and one old man held off fifty attacking Apaches for six hours until a group of passing cowboys rescued them.  The cowboy foreman took the wife's note into Prescott to her husband. It supposedly read, "Dear Henry. Apaches come. I am almost out of buckshot. Please send me some more. Your loving wife."
This area at elevation 4,550 to 4,800 feet contained limestone deposits, some of which are overlain with basalt flows 4 to 8 million years old, and sedimentary and alluvium (stream deposited sediments.)
These were deposited under subsequent oceanic conditions approximately 380 to 300 million years ago, forming limestone, a source of lime.
<![if !vml]>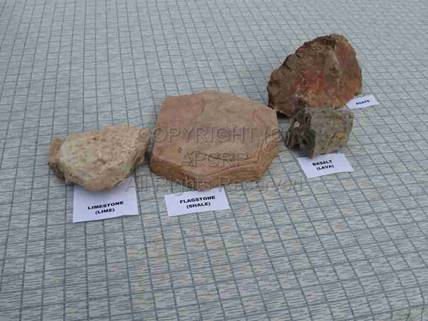 <![endif]>
Typical rocks found in the area of Cedar Glade and Puntenney
Lime was a very valuable commodity as the West developed. It could be used for making mortar and plaster and in the manufacture of glass and casting, the refining of sugar, and leather tanning.  Medicine used "limewater", a solution of slaked lime.  A famous theatrical phrase, "standing in the limelight" came from actors aspiring to stand in a brilliant theater spotlight that used the oxidation of lime!
Looking at the geography of this area, the development of the two towns was shaped by: Hell Canyon. Puntenney developed first on the south rim in the 1890s, with Cedar Glade developing on the north rim at about the same time period.
Limestone mining has been done in the Cedar Glade/Puntenney area since around 1880, and off and on again thru 1985, and now again at present time. (More later). The town of Puntenney was named after George Hollingsworth Puntenney who, with wife Lucy, followed his bachelor brother Eli to the West from Ohio. 
George, born on March 5, 1838, in Ohio, and Lucy, born Nov. 14, 1854, in North Carolina, married in 1873. They had six children after moving to Puntenney, five survived. They located an abundance of limestone on the south rim of Hell Canyon and built the Arizona Territory's first lime kiln. A small town quickly formed around their "Puntenney Lime Company." The family was still listed in the 1920 Census. According to their Death Certificates, George H. Puntenney, married, died in Phoenix at age 85 of "senility" on Sept. 13, 1923 and is buried in Greenwood Memory Lawn Cemetery  in Phoenix.. "Lucy's" official name was Louise Saunders Puntenney. She died at age 85, a widow, of "Myocardial Degeneration and Arteriosclerosis" in Phoenix on April 6, 1940. She is buried in Cottonwood Cemetery.
A note from a reader, M. Puntenney, about a 2001 Sharlot Hall archives story on the "lime rush" stated that "I was told that my Great Grandfather George Puntenney discovered the lime when the old RR was being built." There were three limestone claims with a brick kiln at each claim. The old train went just behind the kilns. 
A rare token that says "Puntenney Lime Company Amusement Hall" was offered for sale by the Holobird-Kagin Americana company for $1,200 on their web site.   One can only speculate what the "Amusement Hall" may have been. A history of tokens indicates they were in wide use in the late 19th century and early 20th century, and were used by reputable businesses as well as saloons. They were needed because money just couldn't travel quickly into the remote locales that needed it.  Banks had to send money on stage coaches and by Pony Express. Even though trains brought goods West, Puntenney and then Cedar Glade were relatively isolated until train service was established.  Many of the people who came to work in the lime mines and kilns were probably poor, if not penniless. As more people arrived with less money in their pockets, circulating money became scarce. The Puntenney Lime Company coined its own tokens to expedite trade for goods and services. Early miners often had purchases at a company store deducted from their pay, and the remainder was issued as "script." Possibly these tokens were used to compensate for the lack of cash in the settlement!
| | |
| --- | --- |
| <![if !vml]><![endif]> | <![if !vml]><![endif]> |
Puntenney Lime Company Token, 1910. L – Front, R -  Back
Photo courtesy Barbara Wilson, Holabird-Kagin Americana, Reno, Nevada.
A Puntenney Post Office was established January 12, 1905, and closed September 30, 1932. Mail then went to Paulden.  An early post office misspelled "Puntney" and existed April 26, 1892 to July 3, 1893. In 1905 the first Puntenney postmaster was Thomas A. Miller, then in 1906, Charles B. Brown and Henry W. Carson. The population served at first was estimated as 10 people, then 50 people.  By 1909 the post office also served Cedar Glade, with a population of 70 people.  The postmaster compensation for the year was $24.41 in 1905 and $120 in 1909. Cedar Glade was named for the junipers, commonly called "cedar"in those times.
George Puntenney, when he established Puntenney, built a one room schoolhouse for the area's children.  As Cedar Glade across Hell Canyon developed, the children living there had to cross on a railroad trestle until the schoolhouse was moved across the canyon. Finally, a schoolhouse for Cedar Glade was built in 1928.  The 1920 Census listed Barnetta Ball, age 39, as "Teacher Public School." Freda Schwanbeck Davis was a student at the school in Puntenney (which had a peak population of about 2,500.) Freda was the daughter of Herman Schwanbeck's widowed sister-in law, and was only 9 years old at the time. Herman had built a house for them and hired them to run his restaurant. She reminisced in 1981 to the Prescott Courier about her early memories of Cedar Glade.
The teachers tried to keep track of the train schedule so students wouldn't be on the trestle when a train roared thru.  One time she was crossing with two younger children when they heard the train whistle. They held her hands and raced to one of the water barrels fastened to the trestle below the tracks, crawled down, and hung onto the barrel as the train shook the bridge!  She was later thanked by the families of the two children for "keeping her head".
Hell Canyon runs between Cedar Glade/Drake on the north rim and Puntenney on the south rim. An early journey in 1864 was described by a member of  a trip with Judge Joseph P. Allyn as: "About ten o'clock we got under way and an hour brought us to the most infernal canyon for wagons I had yet seen. It was about 300 feet deep and the sides nearly perpendicular and covered with rolling stones."
<![if !vml]>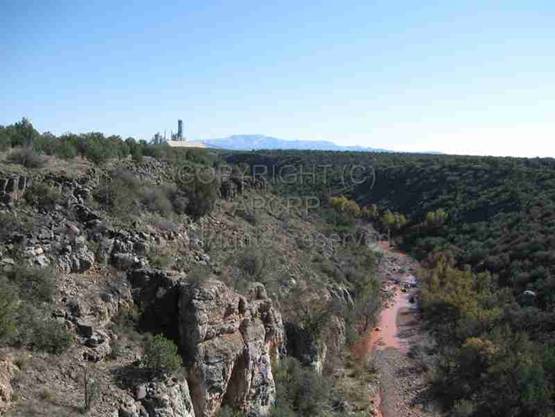 <![endif]>
Hell Canyon from Hwy. 89 bridge, looking east towards Cedar Glade/Drake.
Before the arrival of the trains, transportation to the area was provided by the Prescott and Ash Fork Stage Road, around 1877 near Hells Wall.  This was before George Puntenney developed his lime mines and settlement. The road forded Hell Canyon about one mile upstream, but the route was abandoned by 1910, as a new, local road called "The Road to Cedar Glade" crossed the bottom of Hell Canyon, at the mouth of Limestone Canyon. In 1923 a paved auto road crossed the canyon on a concrete bridge.  In 1954 the present SR 89 was constructed to the West, and the old bridge was abandoned.
The railroad brought many changes and growth to the area. In 1891 construction on the Santa Fe, Prescott and Phoenix (the Peavine RR) began between Prescott and Ash Fork, passing about two miles west of the present-day Drake Cement Company plant.  A "Cedar Glade" siding was located 3.5 to 5 miles west of the settlement of Cedar Glade. The depot was built by the Atchison, Topeka, and Santa Fe railroad in 1901. Rail service ended in 1969, except for a spur line 28 miles from Drake to Prescott which carried freight until October, 1983. Rain seriously damaged a bridge north of Prescott and it was too costly to rebuild, so the line was abandoned in March 1984. Now part of this RR right of way is 6.6 miles of non-motorized trail for walking, biking, and equestrian use, called "the Peavine Trail.," so named because an abandoned section from 1894 west of Hell canyon resembled a peavine with its torturously curving route.
One of the major changes encouraged by the railroad and the depot was that Cedar Glade began to develop into a town across from Puntenney when Herman Schwanbeck and his family arrived around 1917. He built a hotel, general store, and restaurant (where his sister-in-law mentioned above worked).A newborn male child was buried in Cedar Glade Cemetery. He died of strangulation at birth, July 1, 1917. Herman had been born in Colorado in 1872 and on January 24, 1915, married 16-year-old Maria J. Esquibel, born in 1899 and emigrated from Mexico in 1905.  She was listed on the DC as mother of the newborn child who died. A 1930 Census listed Herman as age 58, Maria age 38, and 5 children, ages 11, 10, 7, 5, and 3 living in Ash Fork No other records of this family were found.
There may have also been a brothel, according to an archeologist quoted in The Daily Courier, Prescott June 21, 2007. Everett Basset had thought the story of the old brothel at Drake was "an old wives' tale that was too good to be true." But then he examined a tiny lava rock building with four little rooms, all with their own doors, that dated to 1916 to 1925. There were many single, young railroad workers, cattle hands, miners, and wood choppers (who provided fuel for the limestone kilns and railroad engines.)  He found pieces of old champagne bottles dating before 1918 behind the alleged brothel and now believes "the brothel stories are not only plausible, but also likely." The building later housed a midwife then later an auto repair storage structure.
Cedar Glade quickly grew from a temporary work camp for construction of a cut-off route over Hell Canyon at Cedar Glade. The new route reduced the number of trestles by 30, but required the enormous 165 foot high, 647 foot long steel trestle over Hell Canyon. This trestle was completed in November, 1901. In 1912 Cedar Glade also became the junction for the Verde Valley Railroad, which accessed a copper smelter in Clarkdale. In 1920, Cedar Glade was renamed "Drake", (after William Drake who was in charge of building a cut-off line to Jerome's copper mines on the railroad at Cedar Glade between Prescott and Ash Fork). Approximately 20 structures had been built there by the railroad, including a depot, agent's house, water tank, a number of section houses, bunkhouse, and freight warehouses.  The railroad kept a small staff in Drake thru the 1950s.
<![if !vml]>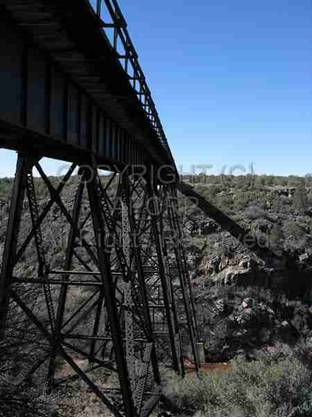 <![endif]>
Railroad trestle at Hell Canyon, Drake
An analysis of the 1920 Census revealed some interesting demographics about the 291 people recorded as living in Cedar Glade. None appear on the Cedar Glade or Puntenney Cemetery rosters even though burials in Cedar Glade Cemetery extend to October, 1929. And a search of other sources, such as DC records and Family Search, yielded no matches in samples of the 291 names on the Census. This suggested that most of those listed left when the lime works closed in 1932 for the first time. None of the people seemed to have been buried in Puntenney Cemetery either. Some of the family names on both rosters appear on the census, but not the individual first names.
EMPLOYED:
     72 Wood choppers, average age 29.
     23 R.R. Section workers, average age 30.
     19 Laborers in Lime Company, average age 35.
     12 Wood haulers, average age 32.
     Miscellaneous occupations: 5 Fireman, Lime Company; 3 RR Operators, 2 Chinese cooks, Lime Company; 2 workers General Store (possibly Schwenbeck's?); 2 Fence builders; 2 Foreman RR section; then, one each: Forest Ranger, Wood Sawyer, Cook in Eating House, Brick Mason, Bookkeeper, Clerk in General Store, Supt. General Store, Foreman wood camp, miner, laborer in tanking work, Engineer in lime company, Teacher public school, Goat Herder, and Supt. Lime Company.
NOT EMPLOYED:
     83 Female, average age 12.5 (mostly children)
     36 Male, average age 11 (mostly children)
     Others unable to determine from name whether male or female.
Comment: The majority of workers in Cedar Glade in 1920 tended to be in their 20s to 30s. Most were probably Hispanic, judging from their names, with approximately 45 non-Hispanic. Most of the jobs were related to the lime company and railroad. Some Hispanics had many members who were laborers. The CORRAL family, with 11 people listed, had 7 members who worked as wood choppers or wood haulers.
<![if !vml]>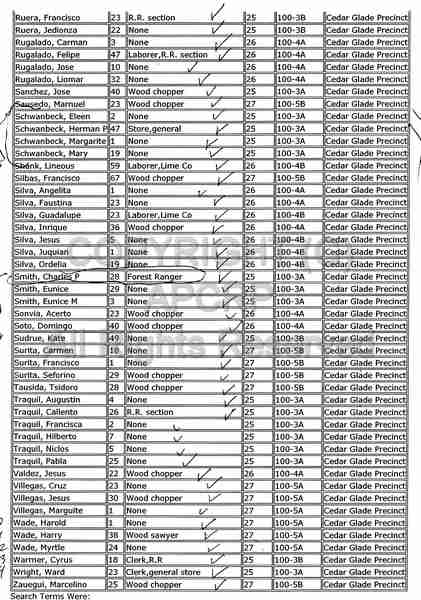 <![endif]>
Page from 1920 Census listings. Note the Herman Schwanbeck family.
Cedar Glade was served by a ranger station, According to information from James McKie, a Forest Archeologist for Prescott National Forest,  in response to a query about a 1915 photo of a ranger station at Cedar Glade, this structure or structures may have been there from 1898 when the Forest Reserve was established or when the Prescott National Forest was designated in 1908. The photo caption noted it was moved from Verde. The structure was either replaced or added to in the 1930s, somewhere between 1933 and 1936, when nearly all the ranger stations on the Prescott National Forest benefited from new construction.  The Ranger Station was located about 1.5 miles northeast of the kiln and directly west and adjacent to the Drake property, near where County Road 71 crosses the railroad. It was there from 1911 to 1963. An article on forest service architecture said that in the 1930s a distinctive architectural style was used by the Forest Service. It was a "bungalow type with low pitched gable roofs sheathed with asphalt shingles. Rafter ends were exposed under wide eaves. Exterior chimneys were prominent. This type was popular for Arizona's national forests. These buildings could be disassembled and moved to other locations."
Information was found on two of the Forest Rangers. The 1920 Census listed Charles P. Smith, age 28, as a Forest Ranger.  A DC was found for Robert Thompson, whose death "occurred in open country "from "natural causes", He was a  married Forest Ranger from New York, born Dec.18, 1880, and died August 31, 1937, at age 56 years, 8 months, 13 days, and was buried in Mt. View Cemetery.
| | |
| --- | --- |
| <![if !vml]><![endif]> | <![if !vml]><![endif]> |
Left - Ranger house. Portable. 1915. Moved from Verde.  Right - Ranger station. 1937. Cedar Glade.
Photo's Courtesy: U.S. Forest Service.
Puntenney, which had begun as a town serving lime kiln and quarry workers, faded in the early 1930s. Cedar Glade (renamed Drake in 1920), which initially provided services to the RR workers, gradually shifted its focus to the production of lime and rock products after the railroad centralized its maintenance elsewhere and the Puntenney Lime works shut down.  A 1930 article in a mining journal noted several new companies formed to mine and process the lime. In 2002 a company called Stirling Bridge proposed mining limestone, building a cement plant, and electrical cogeneration facilities, but the project never was begun. 
Drake Cement acquired 70 acres, over 5,000 of  mining claims and  144 acres of private land from Stirling Bridge.  After a lengthy process of environmental reviews (since some of the claims were on Chino Valley Ranger District of the Prescott National Forest), Drake Cement was able to build a state-of-the-art cement plant ten years later.  The Grand Opening was on June 17, 2011. It has a quarry about a quarter mile away that supplies it with limestone and silica.  It imports coal from S.W. Colorado to fuel the plant and has a rail connecting it to the Burlington Northern Santa Fe Railroad.  Unlike a coal-fired plant, the cement plant doesn't have coal ash waste because the ash is incorporated into the cement.
According to a Drake Company website: "The plant is a state-of-the-art six stage precalciner/preheater with a rated capacity of 660,000 tons of clinker per year. Several operating and pollution controls incorporated into the plant are so advanced they are found in only a few other facilities throughout the world."
They state that "over the long term, the Drake plant will provide dozens of new, high quality manufacturing jobs and economic development in Northern Arizona."  At present 20 to 56 people are employed there. The construction phase employed up to 600 people! The plant cost about $300 million to build. It is the first cement facility built in any county in Arizona in the past 50 years and marks Drake's first facility west of the Mississippi River in decades.  The plant is expected to last 50 to 100 years, with an annual revenue of $6 to $10 million. It's "sister company" is Drake Materials, a Redi Mix company, in Scottsdale. Surprisingly, it is a subsidiary of Cementos Lima, the largest cement company in Peru!
Drake Cement has built around the old Cedar Glade Cemetery and protects it with a fence enclosing the graves of those early workers and settlers in Cedar Glade. See APCRP Cedar Glade for more details.
In summary, two towns, which formed in the early 1900s as "bookends" on each side of Hell Canyon were Puntenney and Cedar Glade.  There are two cemeteries and various ruins of buildings and kilns that can be seen. Some are protected by the Forest Service.  A few trivia: Supposedly actor Walter Brennan (1894 to 1974) was in this area during filming of "How the West Was Won" and fell in love with the area and bought one of the quarries. The film itself may show a brief glimpse of the old RR trestle. (1962, narrated by Spencer Tracy.) I was unable to verify these trivia.
Flagstones were mined at Drake across from the railroad depot, another source of employment in this area. 
There are many hiking and biking opportunities (such as the Peavine trail), camping, sightseeing (Hell Canyon overlook).  If you visit this area, think of the century of limestone quarries, the railroad, and human history at Puntenney and Cedar Glade.
<![if !vml]>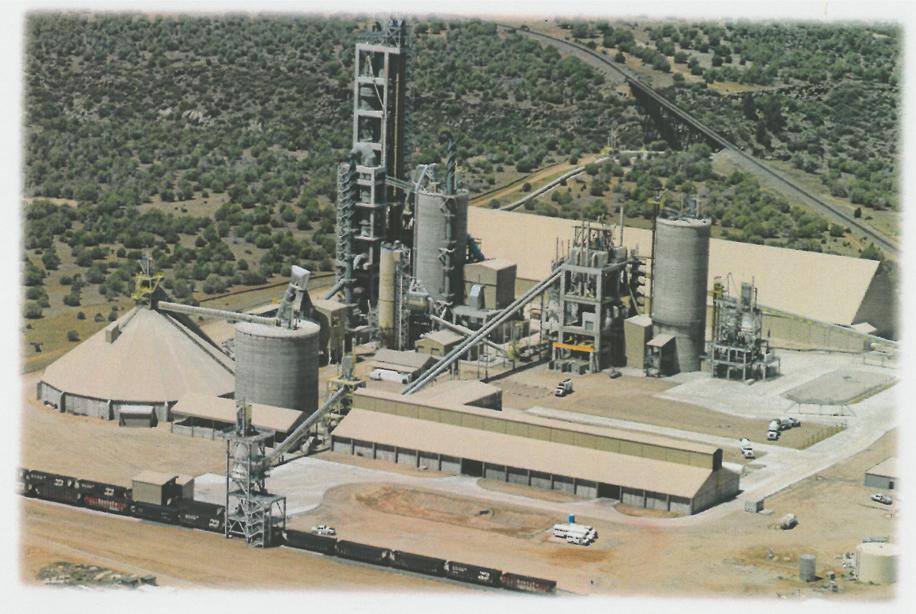 <![endif]>
Photo courtesy & reproduction approved by Drake Cement LLC
<![if !vml]>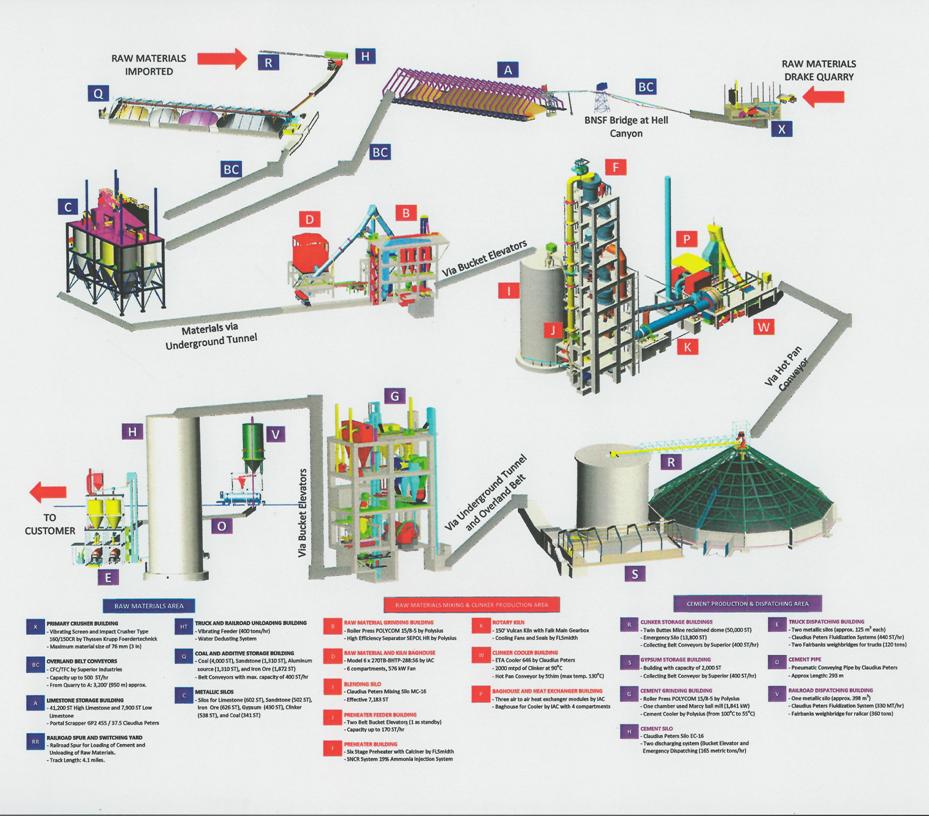 <![endif]>
Photo courtesy & reproduction approved by Drake Cement LLC
All photos not noted, are courtesy Ed and Kathy Block.
Arizona Pioneer & Cemetery Research Project
Internet publication
Version 111811
WebMaster: Neal Du Shane
Copyright © 2011 Neal Du Shane
All rights reserved. ® Information contained within this website may be used
for personal family history purposes, but not for financial profit or gain.
All contents of this website are willed to the Arizona Pioneer & Cemetery Research Project (APCRP).
HOME | BOOSTER | CEMETERIES | EDUCATION | GHOST TOWNS | HEADSTONE
MINOTTO | PICTURES | ROADS | JACK SWILLING | TEN DAY TRAMPS