HOME | BOOSTER | CEMETERIES | EDUCATION | GHOST TOWNS | HEADSTONE
MINOTTO | PICTURES | ROADS | JACK SWILLING | TEN DAY TRAMPS
Arizona Pioneer & Cemetery Research Project
Internet Presentation
Version 120207
<![if !vml]>

<![endif]>
Yavapai County, Arizona
<![if !vml]>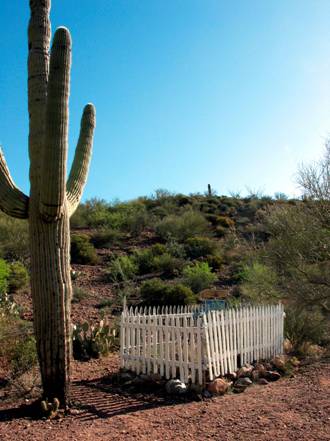 <![endif]>
Isaac Bradshaw's Grave - Spring 2006
Photo courtesy: Bruce Colbert – All rights reserved APCAP
2006 found the grave site of Isaac Bradshaw being restored in two aspects. First and foremost the Gray family who has adopted and maintained this remote grave had identified the picket fence was in need of replacement. Over the years painting was done periodically to keep it fresh and to protect the wood. But with time there is just so much you can to do preserved wood in Arizona.
<![if !vml]>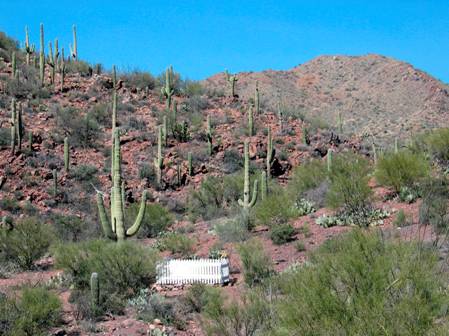 <![endif]>
Isaac Bradshaw's final resting place.
Photo by: Neal Du Shane © 2006
Not knowing exactly when the original fence was installed it was starting to show its age. Being held together with wire, ripe and hope, it was time. Thus was the plight of the old fence . . . time had come to replace it.
<![if !vml]>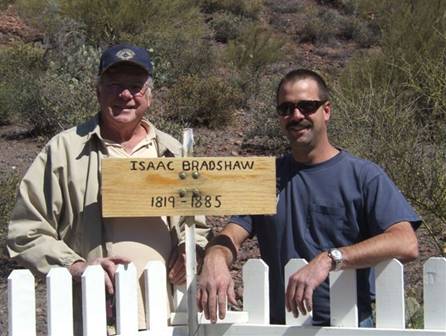 <![endif]>
Newly constructed fence at Isaac Bradshaw's grave
L-R: James Gray, Robert Gray c. 2006
The Gray family donated the materials and labor to rebuild the fence. On March 3rd, 2007 a brigade of friends and interested historians made a sojourn to this remote site and installed a new picket fence around Isaac Bradshaw's grave.
<![if !vml]>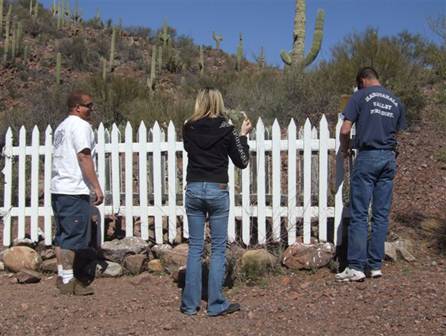 <![endif]>
Disassembling old Isaac Bradshaw fence.
Photo courtesy: Robert Gray
Our hats are off and everyone gets a standing ovation for their interest in preserving and maintaining history.
Prior the new fence being installed, APCRP build a new headstone to be placed at what we believe to be the head of Isaac Bradshaw's grave. A group from wickenburg-az.com had a ride scheduled to travel to the grave site and we tagged along. Being extra careful, we tied the 80# headstone on the back seat of my ATV and proceeded.
<![if !vml]>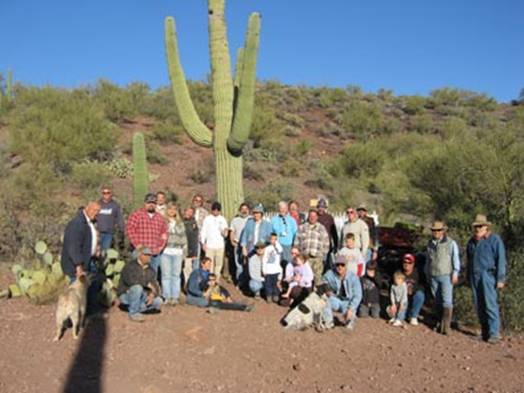 <![endif]>
APCRP installing headstone at Isaac Bradshaw's Grave c. spring 2006
Photo courtesy: Maria Langer
Our major concern was breaking the headstone on the trip out as there were ample bumps and rough roads to go around. With this in mind we left the frame around the concrete headstone for added protection and wrapped it in a furniture blanket. Fortunately it arrived with absolutely no damage.
With assistance from the group we unhooked one end of the picket fence enclosure and some people pulled weeds and brush, as they were starting to creep within the fence.
With great care the headstone was place at the west end of Isaac Bradshaw's grave. Christian tradition, people are interred facing east to witness the second coming. His head placed to the west, his feet to the east.  Thus it was agreed this was the configuration of Isaac's interment.
<![if !vml]>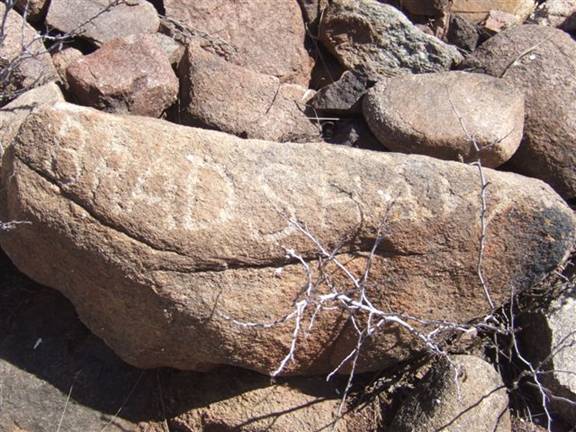 <![endif]>
As we were preparing the ground to place the new headstone we discovered an old rock someone had chiseled in "Bradshaw" (see above). The new headstone was laid with due respect to this pioneer.
<![if !vml]>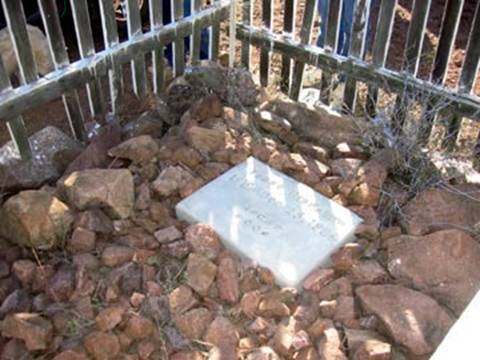 <![endif]>
Isaac Bradshaw's donated headstone by APCRP 2006
Photo by: Neal Du Shane © 2006
<![if !vml]>
<![endif]>
Isaac Bradshaw's marker freshly poured and in frame.
Photo by: Neal Du Shane © 2005
<![if !vml]>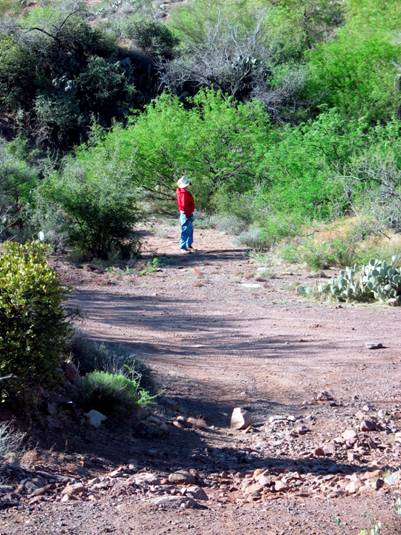 <![endif]>
Darrel Steffen checking out Bradshaw Spring
Photo by: Neal Du Shane © 2005
As remote a location as this is, its setting is beautiful with Bradshaw Spring a short distance from the grave, it has a lot of visitors that pay their respects.
<![if !vml]>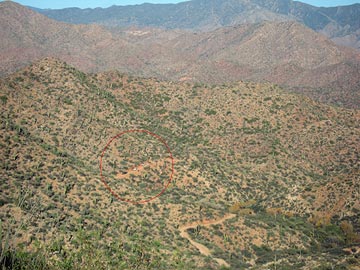 <![endif]>
Keep in mind weather and heavy rains will affect the routes to this location. Be advised to ask locally as the accessibility.
At these remote Ghost Towns, old mines the Pioneer Cemeteries which in most cases is the only evidence that remains of the history of the residents that lived and died near the old mines and towns are being lost to future historians without your assistance. APCRP continues our research on these sites. If you would like to adopt this or any other cemetery for restoration and maintenance let us know. If you would like to assist in this project let us know.
Arizona Pioneer & Cemetery Research Project
Internet Presentation
Version 120207
WebMaster: Neal Du Shane
Copyright ©2003-2007 Neal Du Shane
All rights reserved. Information contained within this website may be used
for personal family history purposes, but not for financial profit of any kind.
All contents of this website are willed to the Arizona Pioneer & Cemetery Research Project (APCRP)
HOME | BOOSTER | CEMETERIES | EDUCATION | GHOST TOWNS | HEADSTONE
MINOTTO | PICTURES | ROADS | JACK SWILLING | TEN DAY TRAMPS