HOME | BOOSTER | CEMETERIES | EDUCATION | GHOST TOWNS | HEADSTONE
MINOTTO | PICTURES | ROADS | JACK SWILLING | TEN DAY TRAMPS
Arizona Pioneer & Cemetery Research Project
Internet Presentation
Version 072608
<![if !vml]>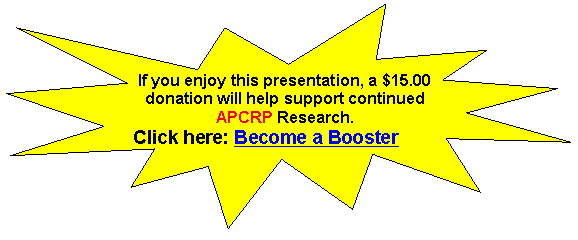 <![endif]>
CAMP BOUSE, AZ
<![if !vml]>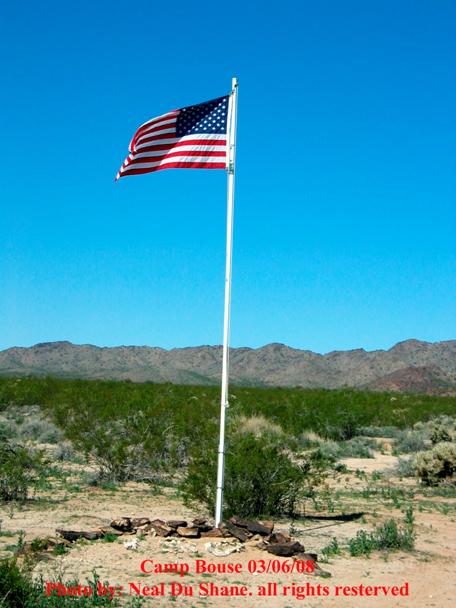 <![endif]>
Camp Bouse "Happy Valley" – August 1942 – April 24, 1944
"Bouse World War II Desert Training Camp
Established in August of 1942 this camp was a top secret post for developing and testing "Gizmo" – tanks with modified turrets, carrying a 13-million-candlepower searchlight that passed through a narrow slot, using shutters that opened and closed six times per second.
The tanks were designed to light up the battlefields for nighttime frontal assaults. The flickering lights made it difficult for the enemy to focus on the tanks. Although successful, the tanks were never deployed to the war. The post was occupied by the 9th Tank Group and the 526th Armored Infantry Battalion."
<![if !vml]>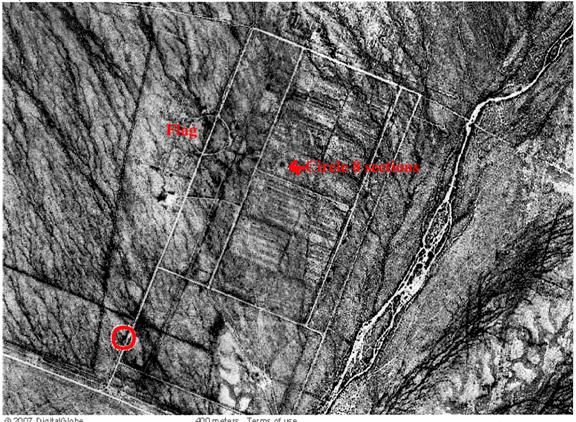 <![endif]>
<![if !vml]>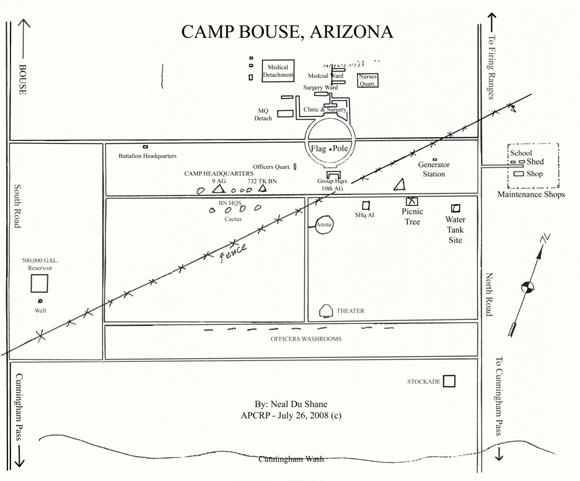 <![endif]>
Today (March 6, 2008) little remains that the creosote plants aren't reclaiming. A patch work of graveled streets laces the former camp with hand made stone sidewalks leading to former tents for the soldiers. Some of the roads are still drivable and the flag still flies high with honor at this deserted desert outpost Northwest of Wenden, AZ. To locate Camp Bouse follow the Alamo Lake Road over Cunningham Pass. Within a mile of cresting the pass, look for the Powerline Road on the left – as the name implies the road follows the Powerline power wires.
<![if !vml]>
<![endif]>
Proceed NW for approximately 10.25 Miles. You will pass through one gate and proceed only 2/10ths mile and watch for a road on the right. Turning to the North (right) you are now at the main gate of the former top secret facility. Follow this main road until you come to the flag on your left about ¾ mile. At this point you can walk the desert and witness many remains of the former Camp. Concrete sidewalks as well as footers and building slabs are easily identified.
<![if !vml]>
<![endif]>
If you proceed to the Southeast approximately ¼ mile you will witness many stone walkways that the soldiers made to identify their tent homes. There is a well stand painted Mann's Well and Mill and there is another spring slightly south on this property.
<![if !vml]>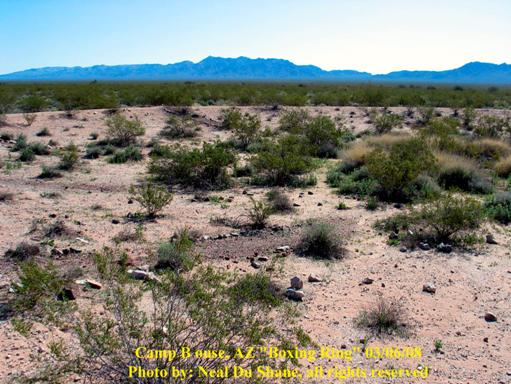 <![endif]>
Very interesting is a man made circular depression approximately 150' across. We are told this was the boxing ring for recreation for the soldiers that were stationed there. If you observe closely and walk the perimeter of the circle you will see eight equally spaced walkways of stone, the soldiers used to get to the center of this depression. We are told that each pie shaped section had wooden bleachers the soldiers could cheer on their favorite boxer. All wood was disassembled and burned before they decommissioned this camp.
<![if !vml]>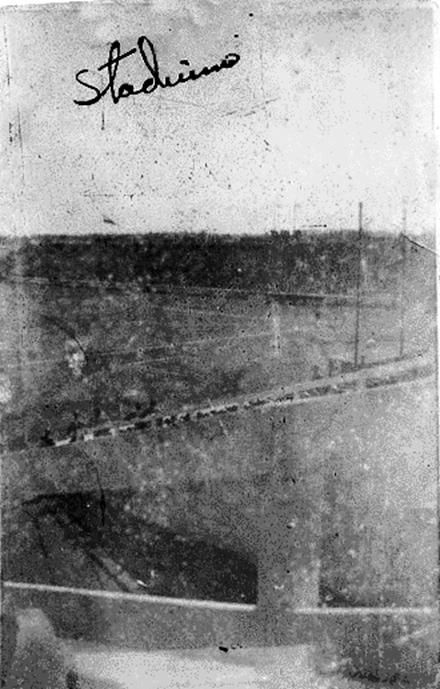 <![endif]>
Camp Bouse Stadium – Flag in upper left of picture
This is obvious as you witness nails grouped periodically as they disassembled these wooden structures.
<![if !vml]>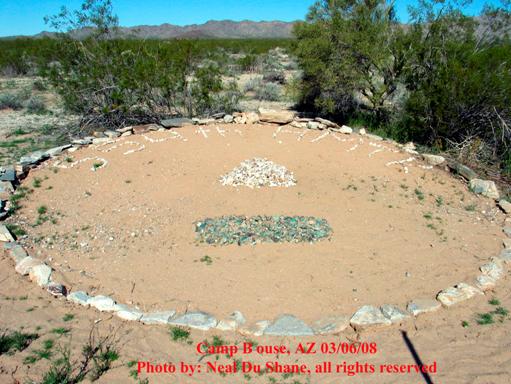 <![endif]>
<![if !vml]>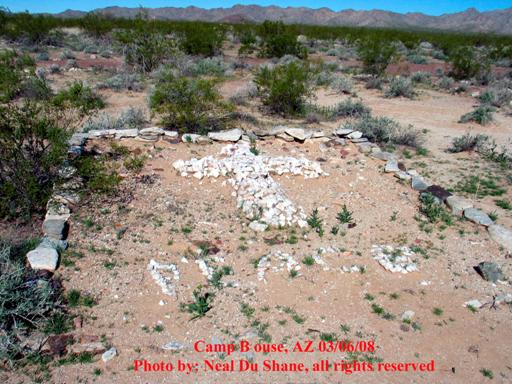 <![endif]>
In 1950,  the military again returned to Camp Bouse and "Happy Valley" this time to complete the policing of stray ordnance. Thirty-one tons of scrap were cleared and warning signs posted at strategic locations alerting visitors not to molest stray objects or to do any sub-surface digging.
Take your time walking this area as you will observe many interesting artifacts.
Arizona Pioneer & Cemetery Research Project
Internet Presentation
Version 072608
WebMaster: Neal Du Shane
Copyright ©2003-2008 Neal Du Shane
All rights reserved. Information contained within this website may be used
for personal family history purposes, but not for financial profit of any kind.
All contents of this website are willed to the Arizona Pioneer & Cemetery Research Project (APCRP).
HOME | BOOSTER | CEMETERIES | EDUCATION | GHOST TOWNS | HEADSTONE
MINOTTO | PICTURES | ROADS | JACK SWILLING | TEN DAY TRAMPS