HOME | BOOSTER | CEMETERIES | EDUCATION | GHOST TOWNS | HEADSTONE
MINOTTO | PICTURES | ROADS | JACK SWILLING | TEN DAY TRAMPS
Arizona Pioneer & Cemetery Research Project
Internet Presentation
Version 060409
CHRISTOPHERSON CEMETERY
And
 ORIGINAL SKULL VALLEY CEMETERY
By Pat Ryland – Certified APCRP Coordinator
These cemeteries are on private property
Ask permission before you enter
Do not trespass
June 2, 2009 found three APCRP Certified Coordinators, Bonnie Helten, Cindy Enos & Pat Ryland at two historic pioneer cemeteries in Skull Valley, AZ.
<![if !vml]>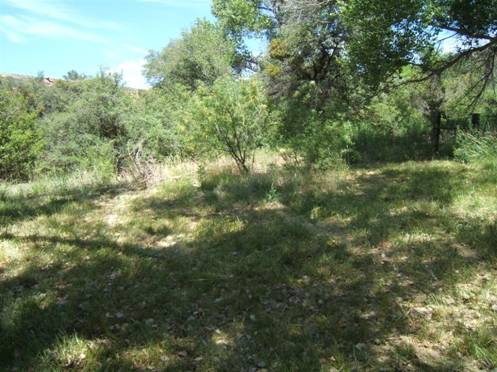 <![endif]>
Historic Pioneer Christopherson Cemetery – Skull Valley, AZ
<![if !vml]>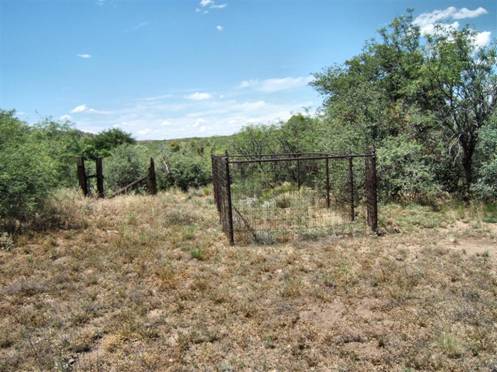 <![endif]>
Historic Pioneer Original Skull Valley Cemetery
I had been trying to find the correct location of the Christopherson Cemetery where a person named Earl Strowbridge was believed to be buried. Bonnie made all the contacts necessary to go there as both cemeteries are on private property.
<![if !vml]>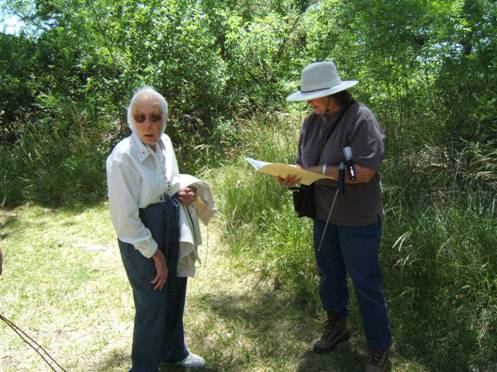 <![endif]>
L–R, Mrs. Hulda Christopherson & Pat Ryland
We arrived at the Christopherson Ranch, just north of the town of Skull Valley, around 11am. Mrs. Hulda Christopherson, who is 95 years old, was our guide. We followed her through a gate and into the field behind her house into an area with large old cottonwood trees. She showed us the general area of where she knew the grave was located. We got our research tools out to see what we could find as I didn't see the rock headstone configuration as shown in a photo at the Sharlot Hall Museum Library.
<![if !vml]>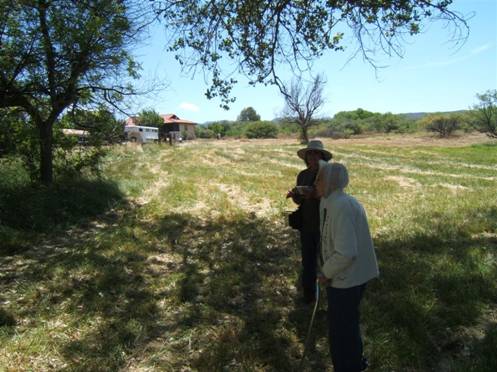 <![endif]>
L-R. Pat Ryland & Hulda Christopherson at Christopherson Cemetery
We found 12 graves in this area. We went back through the gate into the same general area but on "the other side of the fence" and completed field research again. Here we found ten more graves, mostly females and found the grave of Earl Strowbridge. Of the two male and one female, these three each had a single rock marker which were all in row but nearly buried in the ground. Mrs. Christopherson tried our certified research techniques and was amazed at her results.
She talked about the various owners of the ranch over the years so we have a few names to work with in seeing who else may be buried here. We asked if she knew where the "Old" Skull Valley Cemetery was located. She said she did and gave general directions telling us who to ask for permission to gain entry. We thanked Mrs. Christopherson for her kindness and departed.
<![if !vml]>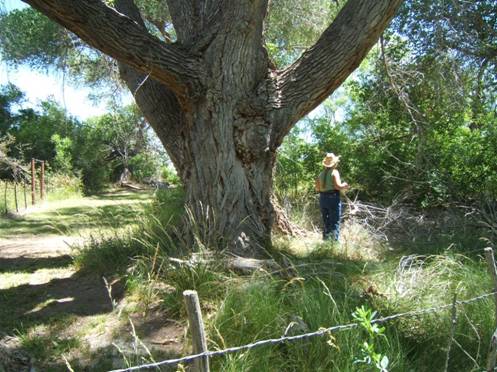 <![endif]>
Certified APCRP Coordinator Cindy Enos, researching unmarked graves
From the Prescott Morning Courier, June 9, 1900
Earl Strowbridge of Skull Valley, who has been in attendance at the Tucson University, died at that place yesterday and his remains were shipped to this city. The deceased was only 19 years old and was considered one of the very promising young men of the territory. The funeral services will be held at the Presbyterian Church this evening at 7:30 PM, after which the remains will be taken to Skull Valley for burial. The young man was attacked by a virulent case of typhoid fever which caused his death. He was greatly loved by his fellow students, who deeply mourn his untimely death.--Arizona Gazette, June 8
From Prescott Morning Courier, June 14, 1900
Universal regret is expressed at the sad and untimely death of Earl Strowbridge, in Tucson, where he was attending the university. He was a most exemplary youth. His parents, who manage the railroad eating house in Skull Valley, have the heartfelt sympathy of the community in their great bereavement. The corpse was buried in this valley, near the station.
We went to the Skull Valley Cafe for lunch, then to see if we could get permission to go the Old Skull Valley Cemetery.
<![if !vml]>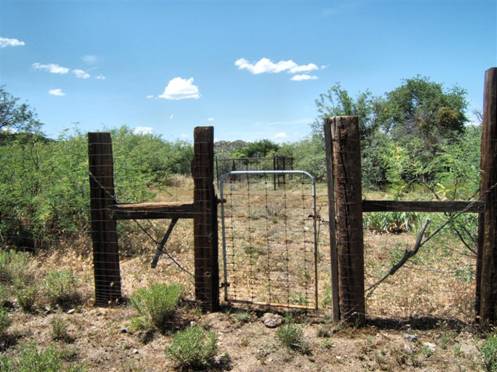 <![endif]>
Entrance – Old Skull Valley Cemetery
With permission granted we went through the gate that is just north of the bridge in Skull Valley on the right (or east side) and followed directions to the cemetery, which is just a couple blocks off the highway.
<![if !vml]>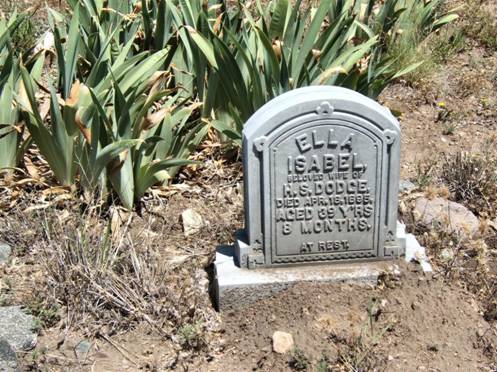 <![endif]>
Lone headstone of Ella Isabel Dodge
It has a fence around it with two large "fancy" fence enclosures inside. There is one headstone there that reads:
Ella Isabel, beloved wife of H. S. Dodge,
died April 18, 1895, aged 39 years 8 months.
At Rest
There are many graves inside and outside the fenced area. Inside the fence is mostly females and outside is mostly males. There is no current explanation found for the separation.  
We had been told that someone with the last name of Shupp was buried there and Cindy found a female by the name of Shupp inside the fenced area. We estimate there are probably at least 100 burials here. Without possessing more historical information at these two cemeteries and since it was getting late, we departed for home.
All photos courtesy: Cindy Enos, Bonnie Helten & Pat Ryland
Arizona Pioneer & Cemetery Research Project
Internet Presentation
Version 060409
WebMaster: Neal Du Shane
Copyright © 2009 Neal Du Shane
All rights reserved. Information contained within this website may be used
for personal family history purposes, but not for financial profit of any kind.
All contents of this website are willed to the Arizona Pioneer & Cemetery Research Project (APCRP).