HOME | BOOSTER | CEMETERIES | EDUCATION | GHOST TOWNS | HEADSTONE
MINOTTO | PICTURES | ROADS | JACK SWILLING | TEN DAY TRAMPS
Arizona Pioneer & Cemetery Research Project
Internet Presentation
Version 080113
BISHOP FAMILY CEMETERY
CIBOLA, La Paz County, Arizona
At the
request of the Bishop family, directions to this cemetery have been removed
This cemetery is on private property and is posted NO TRESPASSING
If you want to pay your respects, please contact the family to arrange a visit to this cemetery
Through cooperation of the Bishop family, updated and inaccurate information is forthcoming
By Kathy Block
APCRP Booster and Historical Staff
<![if !vml]>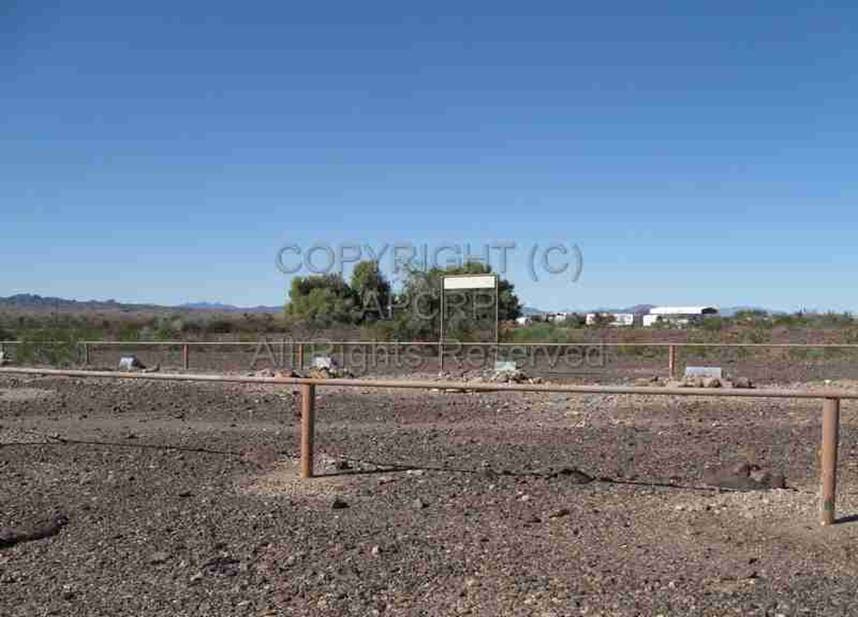 <![endif]>
Bishop Family Cemetery, on L. Bishop Ranch. Photo courtesy: Author
While researching the area near Cibola National Wildlife Refuge to the north of Cibola settlement and Trigo Mountain Wilderness to the south of Cibola, the word "Cemetery" appeared on an old Topoquest map! The cemetery was a small, private, historical burial site for members of the Bishop family. The Bishop family has many links to the development of this agricultural community in an unknown corner of western Arizona.
The first white visitor to the area was an intrepid Spanish ship captain named Hernando de Alarcon, from Colima, Mexico, who was supposed to bring supplies to Coronado by sea in 1540. He commanded three supply ships and sailed up the Gulf of California from Mexico. They became stranded on sand bars where the Colorado River flows into the Gulf. On June 26, 1540, he named the Colorado River "Rio de Buena Guia" or "River of Good Guidance." He came up the Colorado as far as Yuma in his flag ship, and then may have traveled as far north in a rowboat to the Gila River. He sought Coronado, who was actually far to the east looking for the "golden city of Cibola." Alarcon was always heralded by a drummer and trumpeter and claimed he made "excellent friends with the tall Yuma Indians."
Cibola was part of the ancestral and traditional home of the Yuma tribes of the Colorado, the Mohave and Quechan. These people farmed the river flood plain, which flooded annually, depositing rich soil for crops. After each harvest, the people left the river to hunt and gather wild plants in nearby desert uplands. They returned to the river after spring floods had subsided. Little physical evidence of their dispersed villages is found due to this flooding.
The name Cibola was given to the rich agricultural lands and valley along the Colorado River. An 1899 article in the Yuma Sun glowingly reported:
"Cibola Valley – so called by the original projectors of enterprise now nearing consummation, after the theme of the Zuni villages of the 16th century, contains 20,000 acres of as fertile irrigable land as there is under the sun. 5000 acres susceptible to annual overflow from the silt-laden Colorado, and 5000 acres too high to be watered by gravity, making 30,000 acres in all, the major portion of which will very soon blossom under the influence of the application of water and all of which will at no distant day feel the skill of the farmer's hand."
"Cibola" was supposedly the "Chi-vo-la" of Fray Marcus of Nizza, which equals the Zuni name for themselves, namely Shivona, Sinbwina. The last pueblo of the Zunis was called Cibola or Granada, and was first visited by Coronado and other Spanish explorers in 1540.
<![if !supportLineBreakNewLine]>
<![endif]>
Another glowing report, in an 1899 The Arizona Sentinel, came from a wealthy man who was one of 13 "agriculturalists" from California who had shown enthusiasm about the prospects of the area for growing oranges, walnuts, grapes, apricots, beets, and alfalfa. Others wanted to bring cattle. The article predicted, "It will not be long before the valley will teem with palatial homes, luxuriant grain fields, beet fields, and orchards of every semi-tropical fruit."
An example of cattle coming to the area was in an article about Angela Scott (born in Yuma 1881). Her father in 1882 brought cattle down the river from Ehrenburg to Cibola. Then, in the early 1900s, he moved them to Tyson's Wells (Quartzsite) and finally to Wenden.
Another account told of William B. Roods, of Death Valley '49ers fame, who had a herd of 4000 cattle to furnish beef to forts, stations, miners, and travelers near Cibola. He drowned in early 1870 while attempting to cross the Colorado River. No mention was made about the fate of these cattle!  
One of the pioneer families in the Cibola valley was that of Louis W. Bishop, born 1850 in Missouri, died 1919 in Cibola. He and his older brother came to Cibola by wagon from San Diego across the Imperial Valley in 1898, at the beginning of the boom. Bishop and other settlers immediately began to build a canal to bring water into the valley to irrigate crops.
He and his neighbors filed for their Homesteads in late 1910, witnessing each other's notices. The notice, published in several local papers, for Louis W. Bishop read:
03119

Notice for Publication
Department of the Interior
U.S. Land Office at Phoenix, Arizona, November 21, 1910.
Notice is hereby given that Louis W. Bishop of Cibola, Arizona, who, on November 11, 1901, made Homestead Entry No.03119 for NW1/4 Section 21, SW1/4, NW ¼, W1/2-W1/4 Section 13, Township 1 South, Range 24 West. G and S.R. Meridian, has filed notice of intention to make final five-year proof to establish claim to the land above described before Charles H. Utting, Clerk of the District Court, at Yuma, Arizona, on the 27th day of December, 1910. Claimant names as witnesses: Gus Livingston, of Yuma Arizona; W.E. Marvin of Yuma, Arizona; Mrs. T.M. Hart of Cibola, Arizona; Adolph W. Frankenberg, of Cibola, Arizona. FRANK H. PARKER, Register, Nov. 24, 1910.
There were many similar notices filed in newspapers for homesteads in Cibola that year.
A year later, an interesting letter to the Arizona Sentinel and Yuma Weekly Examiner proclaimed:
Turlock, Cal. Dec.4, 1911
Editor Arizona Sentinel, Yuma.
Please give this letter to a live real estate agent. I am in the market for any amount of 2,500 acres of valley land located in the Cibola valley, Yuma County.
There is about one half of that valley patented land, and patented land is what I want.
I have been over it all and I know it well as I have been in the valley on two hunting trips. I am in the Angora goat raising industry and I think that it would be a good place for them.
The price must be cheap and the terms easy.
Let me hear from you at once as to any proposition you have. State the legal description of the land as I have a map and I can tell where it is located.
Yours truly, C.H. McDonald.
In March 1914, the Arizona Sentinel and Yuma Weekly Examiner reported glowingly about the irrigation projects. There were as many as 14 men working, and the field work was done. Cibola valley had about 100 inhabitants. The valley was as rich as the Yuma valley. But, "There has hardly been any development done in the Cibola valley. The river overflows each year and leaves rich silt behind." R.L. Morton, in charge, stated that as soon as the number of acres of the valley was determined, he would be able to determine the number of canals and levees needed. 
The canal to bring water from the Colorado was to be 16 miles long, 12 feet wide and 4 feet deep. Then, after only 2 miles were completed, the project ended. Some farmers built their own canals.  A 2008 blog by Chea Lamb, a photographer, reminisced that her grandfather and his brothers had a farm at Cibola and dug a 7 mile canal from the river to the farm. The 2500 acre farm required removing many salt cedars. A ferry on oil drums brought them across the Colorado. They grew cotton and alfalfa and ran cattle in 115 degree heat! The children were required to help with planting, weeding, and harvesting cotton and alfalfa, with no respite from the heat. Her grandfather's two brothers, Marvin Thomas Arnett (b.3-15-1916) and Fred Gale Arnett (b.8-7-1921) were killed in a plane crash on September 17, 1964, as they were leaving the farm. Approximately 18 children were left fatherless. Her grandfather witnessed the accident and pulled them from the burning wreckage. He'd lost his best friends and partners, and eventually his farm. The brothers were buried in the City of Mesa Cemetery, Arizona. The farm land is now part of the Cibola National Wildlife Refuge. The salt cedars were removed, and cottonwoods, willows, and mesquites and native vegetation have reclaimed the fields.
<![if !vml]>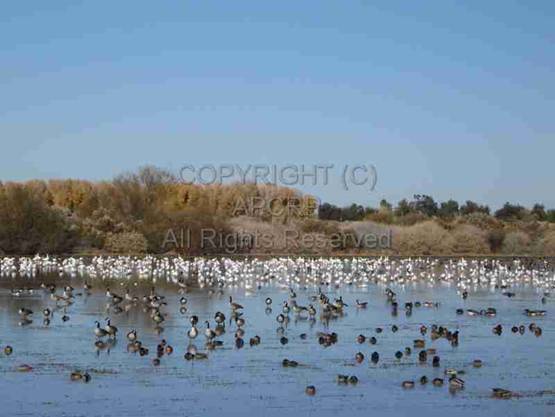 <![endif]>
Canadian Geese and Snow Geese at Cibola National Wildlife Refuge on reclaimed farm land. Photo courtesy: Author
There was a steamboat landing called Cibola Boat Landing in the late 1890s, where river steamers unloaded freight and took on wood for their boilers. These boats traveled about 86 miles upriver from Yuma. After 1900 a ferry crossed the Colorado River to Blythe at this site, known as the "old Rhodes Ranch."
Cibola in the early 1900s was fairly prosperous and even had a stage office/stop. Ehrenberg to the north was a shipping point for most freight for Prescott, Wickenburg, and points east and had a general stage office of the California and Arizona Stage Company. This company was sold out, though, in 1878 to competitors. There was an early stage line that served settlements along the Colorado River north from Yuma and may have briefly come to Cibola. In 1881 Patrick Hamilton in "The Resources of Arizona: A Manual of Reliable Information Concerning the Territory", enthusiastically wrote:
"Yuma has a tri-weekly mail line to Castle Dome, Silver District, and Ehrenberg. Nearly all these lines have comfortable coaches and good stock. Passengers will find eating stations at convenient distances. The traveling is nearly all by day, and no pleasanter trip can be imagined than a ride on the outside seat of a Concord coach, behind a good team, over the ever-changing panorama of mountain, valley, and table land which make up the bold outlines and wonderful perspective of Arizona scenery."
By 1930 although crops of cotton and alfalfa continued to be grown, the beekeeping industry became a livelihood.  In the 1930 Cibola census, forty people were listed. Five were bee keepers. Other sources of income were: one proprietor and one laborer on the river ferry; seven "cattle farmers"; three "cow punchers"; one mail carrier; one clerk at the water works; one carpenter; and one lumber yard laborer. Six farmers were bee keepers and raised cattle. The Bishop Family was listed as:
    Bishop, Carrie J., Head of household, age 73, widow, farmer
                  Joe, son, age 48, single, mail carrier.
                  Robert, son, age 45, single, farmer, cow farm.
                  Clark, son, age 42, single, bee keeper, gen.farm.
                   Zella, daughter, age 38, single, no occupation listed.
                   Charles, son, age 50, single, cow puncher, range.

It is interesting to speculate why none of the 5 children were married! Did they stay home to help their widowed mother on the family farm?
Mines in the Trigo Mountains, southeast of the Bishop Family Cemetery, provided some employment and a small amount of minerals. Original efforts in the 1890s were on small gold veins and placers. There were only about 52 tons of mined gold ore that yielded about 62 oz. of gold and 10 oz. of silver and about 323 ounces of placer gold with minor silver. Manganese was mined in the 1950's after buying stations were established for low grade material. About 7,000 long tons of 40 percent or more manganese ore was mined. All operations were abandoned and much of the ore processing facility was dismantled. Here's what is left, reached by Hart Mine Road just 6 miles south of Cibola and Bishop Cemetery.
<![if !vml]>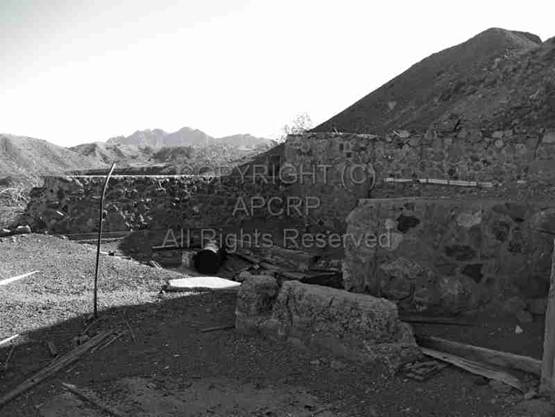 <![endif]>
Remains of a processing mill south of Cibola.
Photo courtesy: Author
Imperial Dam and Cibola Lake Reservoir flooded some of the land and produced swamps. Part of the fields and canals now are the Cibola National Wildlife Refuge. It was established in 1964 to restore and protect historic habitat and wintering grounds for migratory birds and other wildlife. The 16,627 acres encompass both the historic Colorado River channel, and canals built in the late 1960's.
Carl Bishop built a second cabin south of Hart Mine Road near Cibola Road. A BLM plaque there reads:
"Cibola Cabin". This historic cabin was built in 1910 by Carl Bishop as a second home. When the river overflowed and it was no longer possible to live in the valley floor with the farm and livestock, it was time to move to higher ground. This cabin was built of cottonwood trees, which were planted in the early 1900s. This ample building resource has now been replaced by tamarisk thickets, and the flooding Colorado River is now tamed by dams, making the current landscape far different from the one seen from this cabin's windows when it was first built.
This structure is called a "dog trot" cabin because of the covered breezeway that separates the two rooms. The "dog trot" generally separated the kitchen from the living quarters to allow for a cooler living area and to prevent kitchen fires from destroying the house's living area.  This breezeway, as the name indicates, also kept the house cool by allowing air to circulate through the two halves."
<![if !vml]>

<![endif]>
Artist rendering of Cibola Cabin
Louis W. Bishop became the postmaster of the post office at Cibola, which operated Jan. 23, 1903 to Sept.15, 1933. His son Joe was a mail carrier in 1930. The post office was in a crude log shack and later became a cowboy's shack. This photo from 1951 shows Louis' son Robert Hugh Bishop (1886 - 1968) standing in front of the door, which had a slot in it for mail.
<![if !vml]>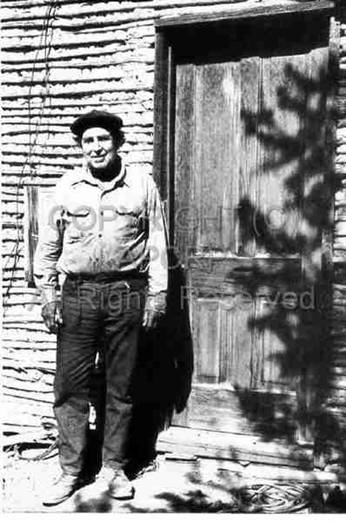 <![endif]>
Bob Bishop; age 65 in 1951, standing in front of Post Office.
According to a 1951 interview in Desert Magazine, Bob noted that as the population of the valley shrunk, mail service was stopped. Residents had to go north into Blythe, California for their mail. But they defiantly marked their mail address as "Cibola, Arizona via General Delivery." There were not friendly feelings toward California then! Currently there are about 200 residents in the Cibola area on scattered farms, in an area of 18 square miles, elevation 243 feet.    
<![if !vml]>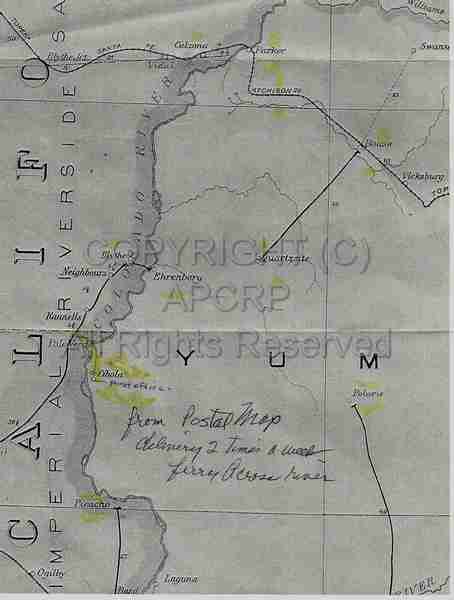 <![endif]>
Map of early postal rout to Cibola. Courtesy Mohave Museum of History & Arts.
Note other towns on this map that have been featured in APCRP articles: Polaris (Kofa Cemetery), Laguna (Laguna Cemetery), Ehrenberg (Cemetery), Quartzsite (Cemetery), and Swansea (Cemeteries). There was no highway south from Quartzsite to Yuma and no bridge over the Colorado to Cibola
Residents traveling to and from isolated Cibola and Yuma drove on about 100 miles of bad roads. The route from Yuma was across the river on a bridge to California, up to Picacho, then across again by ferry. Later, a road was built from 5 miles north of Stone Cabin to the west from the old Yuma-Quartzsite Road, now Hwy. 95.
<![if !vml]>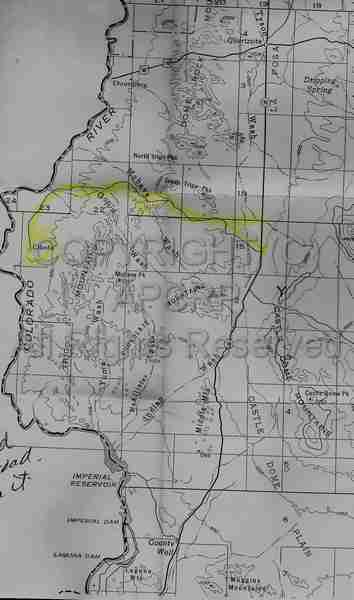 <![endif]>
Map route to Cibola and the Mountains from Hwy. 95 south of Quartzsite, AZ. Courtesy Mohave Museum of History & Arts.
In 1957 a bridge was built by farmers across the Colorado River, about 15 miles south of Ehrenberg at a ferry site. Local boaters were unhappy with "Farmer's Bridge" because it was not very high above the river. In October, 2011, the bridge was repaired and paved by the highway department at a cost of $980,000. It was renamed "Oxbow Bridge", and carries cotton gins, residents, and visitors south to the Cibola National Wildlife Refuge, Cibola, Trigo Mountains and Cibola Lake from Blythe, California to the north. The secondary road is paved to the Cibola area.
<![if !vml]>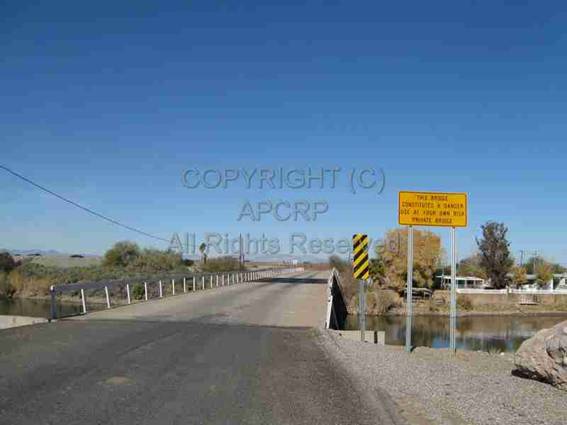 <![endif]>
Present-day bridge across the Colorado River to Cibola. Note warning sign and marginal guardrails. Photo courtesy: Author
Louis W. Bishop and his family were involved in many events in Cibola, not all of them positive. Louis Bishop was a Justice of the Peace and his neighbor, Constable Frankenberg, had been one of the witnesses to signing the homestead filing.  Famed Wyatt Earp, who had mines in the area to the north, was possibly the sheriff of Cibola for one year in the 1890s. (Not confirmed.)
In March, 1909, the Bisbee Daily Review reported a bizarre string of events as, "Mix Up in Yuma Case is Puzzling: Justice of Peace, Constables, Deputies and Specials Are Hauled into Court – Justice before himself!" Very briefly, a neighbor named Stephan B. Sealy came across HIS OWN two sons and a Mexican boy in the act of dressing a steer, which they had killed from a herd of cattle over which there had been a lawsuit between Sealy and his estranged wife. Sealy complained to a justice at Kofa, who issued a warrant. The Cibola justice, Frankenberg, refused to serve a warrant from another precinct. Then, Frankenberg was charged with contempt of court and a warrant issued for HIS arrest. Sealy was appointed to go with the constable and gather in the suspects! They weren't arrested and took their time to go to Kofa. There were all kinds of mix-ups, but the situation was resolved.
A year later, in June, 1910, this same Stephan B. Sealy was shot to death. Some of the news account in the Arizona Sentinel mentions Carl Bishop, one of the sons of Louis Bishop. This sad story read in part:
"S.B. Sealy, one of the best known and wealthiest citizens of Yuma County was shot and killed at his ranch home in Cibola valley. Sealy has been in domestic and financial difficulties for years; he has long been regarded as a man of unbalanced mind, and from the meager details at hand, his tragic death seems to have been due to an insane act.
Sealy believed that his wife and other members of his family were conspiring with others to defraud and rob him. With this idea predominant he last week imprisoned one of his sons in a room and with a rifle went hunting for another son, Toney, who in company with Carl Bishop and Leo Frankenburg, was trying to evade his father's mad vengeance, and the three had combined also to release the imprisoned son and disarm the crazed father.  On the way to the Sealy home they encountered the elder Sealy, who from ambush opened fire upon the party without warning. The men returned the fire and Sealy fell, mortally wounded.  He was shot through the neck and expired in a few moments.
Mr. Sealy with his family came to Yuma county from Oxnard, California, 14 years ago. He possessed considerable wealth and invested his capital in the lands of the Cibola valley, on the Colorado River....and owned most of the district as well as the canal from which it was irrigated.
During the greater part of his residence in this county he has been involved in litigation and in family difficulties, which preyed upon and unbalanced his mind, undoubtedly.  A few years ago he was committed to the asylum, but we believe was never closely confined, and was soon released.  He attributed many of his troubles to his own family and affairs finally led to his wife securing a divorce. With all his vagaries and troubles Mr. Sealy was looked upon as a progressive citizen, a square man in business and in fact did a great deal in the development of Yuma County."
His Death Certificate indicates burial in Cibola, but he is not buried in the Bishop Family Cemetery. Maybe he was buried at his ranch? The DC was filed with the local registry by Louis W. Bishop.
<![if !vml]>
<![endif]>
<![if !vml]><![endif]>Copy of Death Certificate of S. B. Sealy
Generations of the Bishop family are buried in this small, neatly arranged cemetery located just to the south of the present L. Bishop ranch. The graves are laid out in progression from that of pioneering Louis W. Bishop and his wife to the latest burial. An interesting sign is at the entrance:
<![if !vml]><![endif]>

Bishop Family Cemetery Sign

<![if !vml]><![endif]>

Pioneer Louis W. Bishop, 1850-1919

<![if !vml]><![endif]>

Plain  headstones used with later burials. Note sign on last burial.

<![if !vml]><![endif]>

Overview of the nine grave sites in the Bishop Cemetery. Photos courtesy: Author
Over the years, the style of headstones have changed. Most had some genealogical information about the person buried there.
Here's the list of burials in Bishop Family Cemetery, in order of their graves, with #1 closest to you in this photo, extending to the most recent burial at the farthest point. The cemetery measures 140 feet long by 39 feet wide inside the fence, with the graves oriented to the Northwest.
1. "Grandpa" LOUIS WILLIAM BISHOP. Born June 1, 1850 in Missouri, Died March 13. 1919. Burial place of Yuma was circled on the DC with an arrow, probably indicating burial or reburial at Cibola. He was married and a farmer. COD: Cancer of stomach. First grave. Note the elaborately decorated headstone in photo.
2. "Grandma" CARRIE JOSEPHINE STROH BISHOP. Born March 30, 1859 in Illinois. Died August 28, 1937. Burial in Cibola. She was widowed and a housewife. COD: Natural causes, old age. "no doctor present or no justice the Peace here." On the DC, Joe Bishop was the informant. Elaborately decorated headstone.
3. "Uncle Joe" FRANCIS ALFRED BISHOP. Born May 1882 in Kansas. Died December 24, 1940. Buried in Cibola. He was single, a rancher, and raised stock. His parents were Louis and Carrie Bishop. Carl Bishop was the informant. COD: Occlusion of coronary artery, diabetes mellitus. Elaborately decorated headstone.
4. "Uncle Clark" CLARK STROH BISHOP. Born Jan.25, 1888 in San Diego, Cal. Died July 29, 1947. Buried in Cibola. He was single and a rancher. His parents were Louis and Carrie Bishop. R.H. Bishop was the informant. COD: Myocardial failure. Rheumatic heart disease. Elaborately decorated headstone.
5. CARL MASTON BISHOP. "Father of Joe, Louis, and B.L." Born 1880 in Kansas. Died 1952. Buried in Cibola. Elaborately decorated headstone.
6.  ROBERT HUGH BISHOP. "Arizona PV U.S. Army World War 1." Born Aug. 8, 1886 in Kansas. Died Sept.12, 1968 in Ehrenberg, buried in Cibola. Plain concrete headstone.
7. "Aunt Zetta" LAZETTA BISHOP. Born June 2, 1890 in California. Died Nov. 19, 1970 in Ehrenberg. Buried in Cibola. Daughter of Louis and Carrie Bishop. Was single in 1930 census. Elaborately decorated headstone.
8. Last burial. LOUIS CARL BISHOP. "A Good Friend."Born Nov. 18, 1921. Died Jan.9, 2002. "PFC U.S. Army, World War II." Buried in Cibola. Plain concrete headstone. Extra sign above grave. (See photo).
9. Pile of rocks with concrete base, but no headstone. Possibly recent and waiting for headstone?
Bishop Family Cemetery is located facing the L. Bishop farm. A potential visitor needs to contact the family then needs to check at the farm to gain permission to visit this cemetery. Keep in mind trespassing is a felony in Arizona if the property owner wants to file charges. This small cemetery is a well-preserved example of a historic homestead cemetery.
Arizona Pioneer & Cemetery Research Project
Internet Presentation
Version 080113
WebMaster: Neal Du Shane
Copyright © 2013 Neal Du Shane
All rights reserved. Information contained within this website may be used
for personal family history purposes, but not for financial profit or gain.
All contents of this website are willed to the Arizona Pioneer & Cemetery Research Project (APCRP).
HOME | BOOSTER | CEMETERIES | EDUCATION | GHOST TOWNS | HEADSTONE
MINOTTO | PICTURES | ROADS | JACK SWILLING | TEN DAY TRAMPS