HOME | BOOSTER | CEMETERIES | EDUCATION | GHOST TOWNS | HEADSTONE
MINOTTO | PICTURES | ROADS | JACK SWILLING | TEN DAY TRAMPS
Arizona Pioneer & Cemetery Research Project
Internet Presentation
Version 112112
IKE CLANTON
GRAVE RESEARCH
"X" MARKS THE SPOT
HIDDEN IN PLAIN SIGHT
By: Neal Du Shane
Contents
SPINGERVILLE MORMON CEMETERY  7
MAP WITH DISTANCES FROM PEG LEG WILSON'S CABIN  14
IKE CLANTON SHOOTING REPORTED   16
<![if !vml]>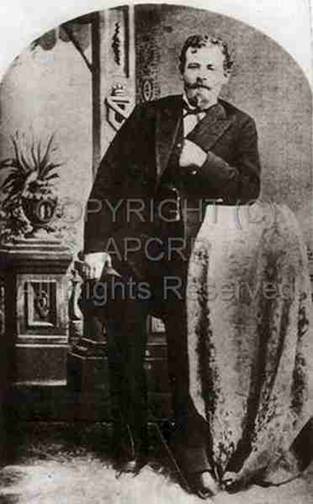 <![endif]>
Joseph Isaac (Ike) Clanton (1847-June 1, 1887),
Parents: Newman Haynes Clanton and Mariah Sexton Kelso
It can and will be argued for centuries, that Joseph Isaac (Ike) Clanton was a major influence in the history of Arizona, good, bad or indifferent. As with most early pioneers their negative influences are most often documented and written as to a person's character.
Ike it would seem was a leader in "The Cowboy" gang after the "Old Man" (Newman Clanton) was killed. Ike was a major influence in the Earp brothers and Doc. Holiday confrontation in Tombstone at the O.K. Corral.
It is not our intent to re-document this world famous historical event but rather try to research the seldom documented facts on Ike Clanton, specifically trying to document his demise and where he was believed to be so unceremoniously interred.
Nov. 15, 2012 after several years of research we traveled to Eagle Creek to investigate what historical knowledge we had accumulated as to Ike Clanton's final resting place. As of this date Ike has been at rest 125 years, 5 months, and 14 days. Eighteen miles off the Coronado Trail black top, we arrived at Smelly Crossing (the third water crossing) along Eagle Creek. A short distance along the main road you are within the San Carlos Apache Reservation but there are no issue's with the tribe, traveling on this main road. There are a few deserted Ranches along the way and a few are still lived in and actively ranching in the area.
<![if !vml]>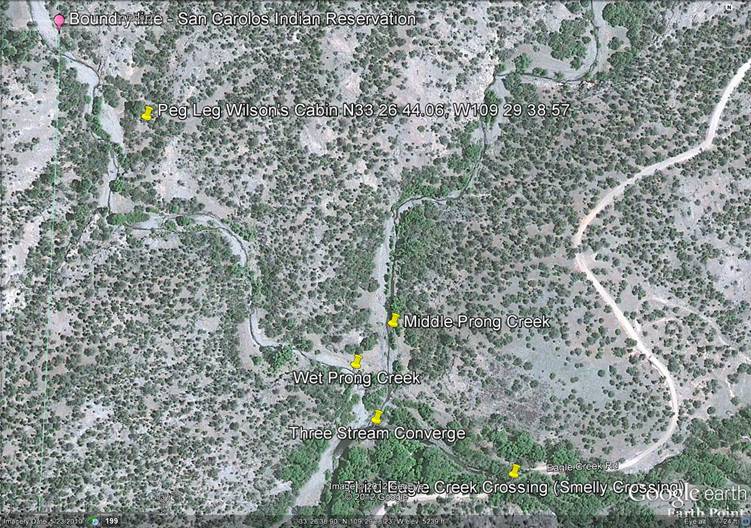 <![endif]>
At the convergence of Eagle Creek, Middle Prong Creek and Wet Prong Creek we proceeded to set up for our hike, for the most part we followed Wet Prong Creek. A short distance up the creek we came across the remains of "Peg Leg" Wilson's cabin on the right about 100' off the creek. Only the remains of the fireplace, with no chimney are still visible.
Apparently "Peg Leg" Wilson owned the cabin where Ike Clanton was killed on Wet Prong Creek. Research finds the first Wilson surname found as owner of the Double Circle was Abner Wilson who was manager and part owner in 1909. The Wilson family mentioned by the Double Circles owners was absentee owners in the 1920's and 30's. We found no family relationship between James and Abner Wilson. It is believed "Peg Leg" was one James Wilson and had killed a man in Silver City, NM in 1886 before moving to this area. No recorded brands for Jim Wilson, but there were brand books missing. Jim Wilson aka "Peg Leg" Wilson. http://www.roundvalleyaz.com/owens2.html, this site refers to Miller as Albert Millet (possibly a misprint). The sheriff of Apache County at this time was Commodore Perry Owens.
Geronimo surrendered in 1886. Non-Indians started filling in the ranching areas after that date. The Apache Reservation (San Carlos) is within a quarter mile of the gravesite. Speculating "Peg Leg" Wilson relocated to this area in 1886 and his Cabin on the ranch would have been very new at that time.
<![if !vml]><![endif]>

Fireplace at "Peg Leg" (James) Wilson's former cabin

<![if !vml]><![endif]>

A natural "X" marks what is believed to be Ike Clanton's grave
It was discovered what we believe is the final resting place of Ike Clanton in front of a rock with a natural "X" in the rock as the headstone. In addition to Ike's grave we identified an additional five graves within 100' of Ike's grave and all the graves were verified and confirmed. None of these graves have a headstone and very faint rock outlines as to the perimeter of each grave. It is believed these graves were of rustlers that may have had encounters with Clanton and Wilson over the ownership of the livestock that was being kept here for resale to the military at surrounding forts in Arizona at the time.
<![if !vml]><![endif]>A. Warren April 18, 1886

<![if !vml]><![endif]>

Wm. Creach April 18, 1886

Double Circle Ranch Brand on the steer etching.
Documented two additional graves slightly east of this site and the information for A. Warren April 18, 1886 and a person by the name of Wm. Creach April 18, 1886 are visible in the outcropping of rock. It was well known "Peg Leg" Wilson's cabin was the center of a horse and cattle rustling operation and these two graves are believed to be the aftermath of a confrontation between the individuals involved. It would be interesting to know if Mr. Warren and Mr. Creach were cowpokes for the Double Circle Ranch confronting Wilson and Clanton or involved in the midnight asset reduction of the ranch?  Regardless of their intent, the only record of their demise was scratched on the rock face above their grave sites.
There has been some confusion of the surname etched on the rock, Creach or Creaghe. St. George Creaghe was a deputy and neighbor rancher to Ike in Nutrioso, AZ. St. George Creaghe lived a long healthy life and had many children. On the 1880 census it listed him as being born in 1859 in Ireland and as 21 years old. His wife was Sarah who was born in New Mexico. He moved from Apache County to Colorado where he died years later. We tried to determine if there was ever a William (Bill) Creaghe, and the only one we found was not age appropriate.
There was a Bill Creach who worked for the Double Circle ranch. His name will come up in newspapers of the period from Clifton. We have had little luck finding the A. Warren. There were several with that initial in Tombstone, and Pima County in the 1880 Census. As employees of the Double Circle Ranch, Creach and Warren might have discovered the Rustlers hideout and killed by same.
It is doubtful Ike or the Clanton's immediate family were Mormon. Later descendants of his brothers and sisters were possibly. It has never been mentioned or documented.
"Old Mormon Cemetery" is a name given by locals. It was probably just "the cemetery" at one time. John Wayne the actor, owned the ranch and enjoyed telling people that Ike was buried there. The original Sheriffs report stated he was shot and buried on Eagle Creek, AZ.
Apache County had both the Mormon and Outlaw factions. Outlaws caused the Mormons a lot of grief by constant harassment and stealing of their livestock and in some cases shooting them for little or no reason. They were a good source for livestock to steal and move south.
Ike would have been in the Outlaw group, but there is no record that has been found where Ike specifically did harm to a Mormon. He was accused of all sorts of things, but never found Guilty. One article stated Detective Brighton, who shot Ike, was a Mormon. There is a lot online from Apache County newspapers of the period, along with writings from several historians who can substantiate the information.
<![if !vml]><![endif]>

Flat area where an additional 5 graves were identified

<![if !vml]><![endif]>

Author points we believe is Ike's grave
To dispel urban legends regarding the rumors that Ike was buried with his personal belongings (which were few), it is our belief Ike was not buried with his guns, bridal or saddle. Logically the cowboys, Indians, law enforcement officers, ranchers, at the scene would have shared all of Ike's worldly belongings, including his horse and divided them amongst themselves. This was the custom of the day and to bury worldly belongs like this would not have been logical, as this was not the custom. Anything that wasn't blood stained or had a hole in it was valuable to the individuals at the scene.
In addition to these two graves and Ike Clanton's an additional five graves were researched and identified within 100' of Ike's grave site. No headstones were placed and all record of their history is only etched in the rock or the natural "X" formation at the head of Ike's grave. A faint formation of rock outlines the parameters of these five graves. With the cattle that roam the area many of the rocks have been scattered and misplaced from their original placement and are challenging to identify the actual grave.
Other than the remote location and mileage to reach this site it is overgrown with wild shrubs and weeds. There is no clear trail to hike but we were able to access it without too much difficulty. We accessed it in the fall of the year and much of the area was free of leaves and we could reach it with little difficulty. If you tried to hike this in the summer or spring the growth of the shrubs may make this sojourn more of a challenge and the water flow in the creeks would be a major challenge. This area is best accessed in the dry season and the 18 miles of gravel road would be a challenge if snow packed or wet. Only then would we suggest a four wheel drive vehicle but you never know how the weather can change, so be prepared for the worst conditions. There a few scattered ranches along the road but most are abandoned with only three having year round residences.
<![if !vml]>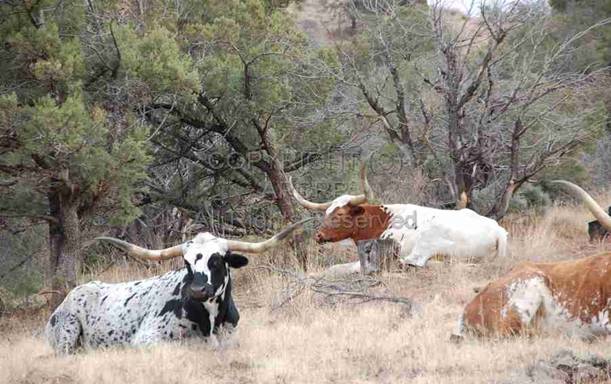 <![endif]>
Free Range Long Horn cattle of the Double Circle Ranch
After the shootout at Tombstone, Ike and his brother Phinn moved their ranching operations to Springerville where they became the scourge of local ranchers with constant cattle thefts. Phinn wound up in Yuma Territorial Prison warrants were issued for Ike. Two officers from Apache County were determined to either capture or kill Ike. One was C.V. Brighton, a former friend of Ike. The other was named Miller.
On the morning of May 31, 1887, the two law officials were eating breakfast with "Peg Leg" Wilson at his ranch located on upper Eagle Creek. Many years later cousins of Ike tried to dig up his grave because they incorrectly speculated his gun and spurs had been buried with him, but with the knowledge of all the trouble that had beset the parties who robbed King Tut's grave they had second thoughts they stopped and filling in the grave.
It was discovered that Jonas V. Brighton and Albert Miller, the officers involved in the shooting of Ike were actually from Apache County.
But Ike Clanton's run-ins with the law were not over, however!

Charged with cattle-rustling, Ike and his brother Phineas also known as Fin or Phin Clanton were cornered by The Mormon Detective Jonas V. Brighton, in Springerville, Eagar, Arizona. Fin Clanton surrendered, but Ike resisted and was later shot dead at "Peg Leg" Wilson's Cabin!
April 1887, in Springerville, Albert Miller, 36, was a cattleman who was appointed deputy sheriff by Owens. He had previous experience as a deputy when Tom Perez was sheriff and had arrested Juan Carrillo on Dec. 29, 1884 in Springerville for killing Jose Rafael Aragon over a gambling dispute.
George Powell, 34, a cattleman and rustler who had a ranch near Vernon, was the other deputy. Baldwin still held three warrants for Powell's arrest for stealing horses in Springerville in January. By agreement, these charges would be dropped for his cooperation in securing indictments against the Clanton's.
The third lawman was Jonas V. Brighton, 40, a detective who arrived in 1885 from Wichita, Kan. at the request of Henry Smith, president of the Apache County Stock Growers Association. In 1886, Brighton ran a blacksmith shop and saloon in Springerville where he obtained valuable information regarding the activities of the outlaws.
The Clanton's, Isaac, 39, and Phineas, 42, had long been suspected of running a rustling operation, taking stolen livestock from the Springerville area to Clifton and southern Arizona by way of the Blue River down to Eagle Creek. Tired of being hunted by Wyatt Earp and his posse after the famous O.K. Corral gunfight in Tombstone Oct. 26, 1881, they had secluded themselves on a ranch owned by their sister Mary near Nutrioso. Phin arrived in June and Ike in August 1882. By 1885, each had a 160-acre ranch 10 miles east of Springerville near the New Mexico border. Congressional Medal of Honor winner Ebin Stanley, 43, who was married to Mary, also had a ranch there.
The "Clanton-Stanley Outfit" was targeted by Owens and the Stock Association as a priority. On March 1, 1887, George Powell testified before the grand jury, giving names, dates and locations of stolen livestock which implicated Charles Gray, Robert Gray, Ike Clanton, Phin Clanton, Ebin Stanley and Lee Renfro.
A warrant for the arrest of Lee Renfro had already been issued on Feb. 26, accusing him of murder in the shooting death of Isaac Ellenger which occurred at Phin's Cienega Amarilla ranch the previous November. Springerville citizens were outraged at the unprovoked incident. The Critic reported, "Mr. Ellinger lived several days in great agony, suffering a thousand deaths, and died on the tenth of November. Renfro, seeing that his victim had received a mortal wound asked for a horse, which was at once provided by the Clanton's, and Lee Renfro rode away."
Ebin Stanley was arrested on March 1 and locked in jail. Because of poor health, certified by the county physician, Stanley's bonds were reduced and he was released.
Phin Clanton was arrested and jailed on April 30 by George Powell and Albert Miller. Charles Gray was arrested on May 1, jailed and charged with grand larceny.
Around May, St. George Creaghe reported, "Some parties had appropriated, stolen and driven off almost every saddle horse he had, some eight or ten." John C. Wahl also had his horses "appropriated from his range near Nutrioso." Mr. Horton had a mule stolen at the same time and "followed the trail on foot for three or four days" to the Blue in the direction of Eagle Creek.
On May 14, deputies Albert Millet, George Powell and J.V. Brighton left Springerville for the Horton brothers' camp on the Black River. Upon their arrival, tracks were found from the band of horses stolen from Mr. Wahl. One of the Horton's, who was acquainted with the mountains, accompanied the deputies, following the trail to Solomonville.
After resting several days there, Brighton and Miller arrived at ""Peg Leg"" Jim Wilson's ranch on Eagle Creek the evening of May 31, 1887.
BY: ANDY BRUNSON
March 18, 1882
Morgan Earp is murdered while playing pool at the Campbell and Hatch Saloon in Tombstone.
March 20, 1882
Frank Stilwell is murdered by Wyatt Earp at the Tucson train station. Ike Clanton and Peter Spencer are said to have been with Stilwell.
March 22, 1882
Wyatt Earp murders Florentino Cruz at Pete Spencer's wood camp, located at South Pass in the Dragoon Mountains. Cruz was also called Indian Charlie.
March 24, 1882
Wyatt Earp kills "Curly Bill" Brocius in Mescal Springs, in the Wetstone Mountains, also known as Iron Springs, Arizona. Johnny Barnes will also die from gunshot wounds from this gunfight.
July 13, 1882
One of Ike Clanton's best friends and business associates John Peter Ringo was found dead on Turkey Creek, Sulphur Springs Valley, Arizona of an apparent suicide.
Late 1882
Ike and Phin Clanton move to hundred miles north of Tombstone to Apache County, Arizona. Both acquired one hundred and sixty acres in an area known as Cienega Amarilla (Yellow Corners). There little sister Mary Elsie lived nearby in Springerville with her husband Ebin Stanley. Ebin would begin working in the "cattle business" with Ike and Phin.
April 1884
Ike Clanton was helping Apache County Sheriff arrest a bunch of stage robbers up in the mountains, where he was shot through the shoulder inflecting a nasty flesh wound.
Ike and Phin are falsely accused and arrested on robbery charges.
December 7, 1885
During the night, the entire Apache County Treasurer's safe was broken into and its entire contents stolen. Deputy Treasurer Francisco Baca claimed that the masked robbers came to his house, took him down to the Treasurer's office and forced him to open the safe. Baca claimed he knew the robbers; they were Phin and Ike Clanton, Ebin Stanley and Lee Renfro of Springerville and Mr. Buck Henderson of St. Johns. The men were taken into custody, immediately placed bonds and it went quickly to trial. The court found the Francisco Baca himself concocted this story, and he was ultimately found guilty of embezzling $11,166.54
May 19, 1886
Rumors surfaced in Springerville that Ike Clanton was involved in a gunfight over a card game with a man named Pablo Romero. Allegedly Romero was shot through the left hip and Ike was slightly wounded in one of his legs.
May 23, 1886
Ike Clanton and his accusers appeared before Justice Hogue. There was insufficient evidence to recommend a trial and the judge ordered the charges to be dropped and Ike Clanton was released.
June 1, 1887
Ike Clanton is murdered by Jonas V. Brighton, near Springerville, Arizona. Ike was 40 years old. Ike was buried where he fell in an un-marked grave along Eagle Creek. Ike was not a wanted man when J.V. Brighton gunned him down. Brighton was arrested for the murder, tut the charge we later dropped. Some people believe Brighton was hired by a local cattle association to rid the area of rustlers, while others believe Brighton was a hired killer.
<![if !vml]>
<![endif]>
A detailed story of Brighton's killing of Ike as retold by a reporter as written in late June 1887:

"The next morning, while they were at breakfast, Ike Clanton came riding up to the door. Mr. Brighton got up from the table, walked to the door, and was familiarly saluted by him. Just at this time, Mr. Miller stepped to the door, to be ready to render any assistance needed, and when Ike saw him he wheeled his horse and attempted to get under cover of the thick cover which grows close to Wilson's home, at the same time pulling his Winchester from its scabbard. Both Brighton and Miller ordered him to halt but instead of doing so, when about twenty yards distant where the trail took a turn to the left, he threw his rifle over his left arm attempting to fire; at this instance Detective Brighton fired, the ball entering under the left arm and passing directly through the heart and out under the right arm. Ike reeled in his saddle and fell on the right side of his horse, his rifle falling on the left.

Before the fall, Brighton fired a second shot which passed through the cantle of the saddle and grazed Ike's right leg. When Brighton and Miller walked up to where Ike lay they found he was dead. Mr. Wilson, at whose ranch the shooting occurred, notified the nearest neighbors and four men came over and identified the deceased and assisted in giving him as decent a burial as circumstances would admit."

In late June 1996 one of Ike Clanton's relatives, Terry Ike Clanton, along with former Citadel professor and grave expert James A. Browning, began a search of the area where Ike was reportedly buried. This area is near Eagle Creek in what is now Greenlee County, Arizona. They quickly discovered a shallow grave under a large tree that they believed contained the remains of Ike Clanton.

Since their discovery, Terry has repeatedly contacted the city officials of Tombstone in an attempt to interest the town in exhuming the remains and re-burying them in Tombstone's famous Boot Hill Graveyard. So far, he has met with a great deal of resistance from town officials who believe it is best to "let the dead rest where they lie". Ike's remains, if that is really what was found, remain where they were first discovered in 1996.
It is against the law to disturb any grave or deface headstones/markers.
Take only pictures and pay respect when visiting grave sites or cemeteries.
Trespassing is a felony in Arizona.
Arizona Pioneer & Cemetery Research Project
Internet Presentation
Version 112112
Copyright ©2003-2012 Neal Du Shane
All rights reserved. Information contained within this website may be used
for personal family history purposes, but not for financial profit or gain.
All contents of this website are willed to the Arizona Pioneer & Cemetery Research Project (APCRP).

HOME | BOOSTER | CEMETERIES | EDUCATION | GHOST TOWNS | HEADSTONE
MINOTTO | PICTURES | ROADS | JACK SWILLING | TEN DAY TRAMPS