HOME | BOOSTER | CEMETERIES | EDUCATION | GHOST TOWNS | HEADSTONE
MINOTTO | PICTURES | ROADS | JACK SWILLING | TEN DAY TRAMPS
<![if !vml]><![endif]>
A

rizona

P

ioneer &

C

emetery

R

esearch

P

roject
Internet Presentation
<![if !vml]>

<![endif]>
Version 110807
Table of Contents
(Click on hyperlink below – go directly to subject)
Arizona Pioneer & Cemetery Research Project 1
Constellation, AZ Photograph - 1909. 2
Constellation, AZ Area Map Pre-1893. 4
Post Card mailed last day - January 31, 1939. 5
Monte Cristo Mine & Milling. 6
Monte Cristo Mine – Early photograph. 8
Monte Cristo head frame and lift house. 8
Constellation Location Documented. 10
Constellation Cemetery Documented. 11
Roster of Interred at Constellation Cemetery. 12
<![if !vml]>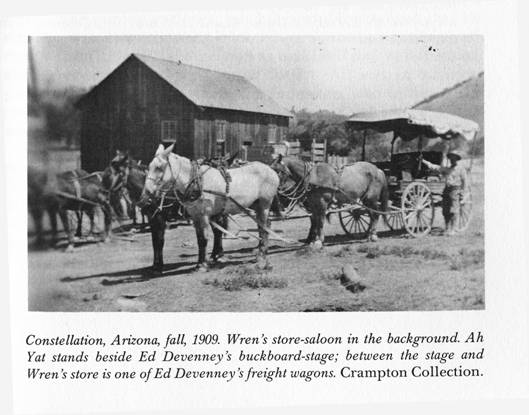 <![endif]>
Figure 1. Photograph courtesy of the book "Deep Enough" by: Frank A. Crampton
<![if !vml]>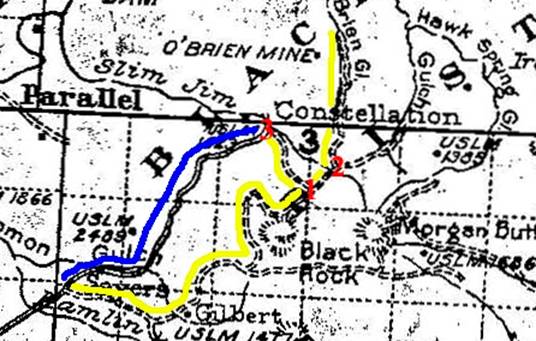 <![endif]>
Figure 2. Constellation, Arizona Map. C. 1890's
As indicated on the above map, the yellow line follows the original road from present day Constellation Road, over Buckhorn Road through Gilbert, AZ. Past the Keystone Mine (not indicated on map) and on to Constellation, AZ. Constellation's approximate location is at the RED number two (2) on this map. This would place it approximately 1.2 mile up Slim Jim Creek from current day Constellation Road at the point where Slim Jim Creek intersect. Today the only ghostly remains of Constellation are some foundations, windmill and a carrel.
Due to the present day configuration of the primary roads in the area, it's easy to think the town of Constellation would have been located on or near the present main road, highlighted in BLUE which is the current day Constellation Road and is the main thoroughfare. This is a misconception and has lead historians and map makers to incorrectly place the Ghost Town of Constellation.
We believe this Topographical Map (Figure 2) original was produced in the late 1890's or very early 1900's, with an updating and re-printing in 1904. Interesting to note on this map none of the mines are indicated. Mines by the names of Monte Cristo, Unida Group, Black Rock, Bloo Nellie, Black Rock, Key Stone, Wren were but a few. The O'Brien is indicated and the name later changed to the Gold Bar Mine.
Pat Ryland informs us that the name Constellation didn't come from a mine name, rather it is believed to come from the term "Constellation of mines" in the area that the community served. There are vast amounts of unnamed placer and lode mines in the area.
It is documented that the Constellation Road from Slim Jim Creek to the Gold Bar (O'Brien) mine was installed in 1893 at a cost of $17,000. Speculation that this particular township was not surveyed until later years, accounts for the lack of sections and notations of landmarks on this reproduced 1904 map. (Figure 2.)
<![if !vml]>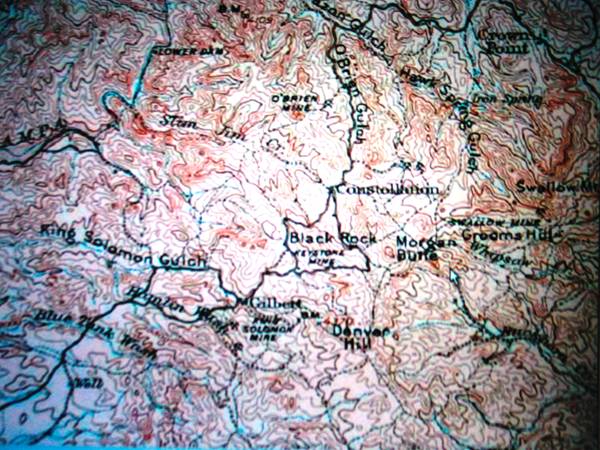 <![endif]>
Figure 3. Pre-1893 Map of the Constellation area.
Courtesy: Arizona Dept. of Mines and Mineral Resources
Photo by: Neal Du Shane
This map is a photographic reproduction. Notice the trail leading from King Solomon Gulch to the O'Brien Mine west of the old stage coach road. The original road went from Wickenburg to Gilbert, Keystone Mine, north to Constellation then followed O'Brien Gulch north. It should be noted that this original old Stage Road is not the current Constellation Road which would have been west of this original Stage Road.
It's been documented that the physical town of Constellation was approximately at the junction of Slim Jim Creek and O'Brien Gulch or a little west of that junction, which is confirmed on this map.
Gold was discovered by James Mahoney at the Gold Belt (O'Brien) mine in 1877. There is ample speculation as how the present day Constellation Road followed the old trail from King Solomon Gulch to O'Brien mine.
Constellations Post Office was established on April 29, 1901. Wm. F. Roberts Post Master. Closed Jan 31, 1939.
<![if !vml]>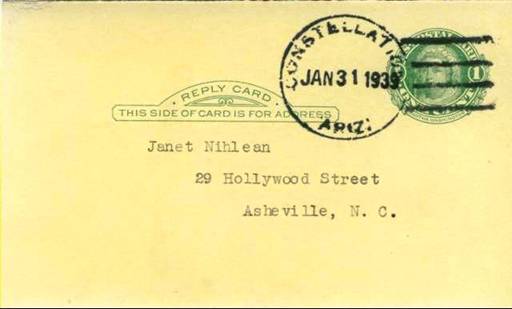 <![endif]>
Figure 4. Post Card was mailed and post marked the last day of operation at 
Constellation, AZ Post Office. Courtesy: Scott Rogers.
Constellation, Arizona

Location: Where Constellation Road and Slim Jim Creek (SJC) intersect, travel (SE) up SJC approximately 7/10th mile, foundations, mines, stock corral, windmill mark the remains of Constellation, AZ. Lat. N34* 4' 8.00" Lon. W112* 34' 20.9" (WGS 84) Elev. 3,424

Revised 6/24/07 by Neal Du Shane

Business Type

Structure

Stories

Comments

Casino

1

2

Largest building in Constellation - 2 story, multi-room structure - located up in a dry wash.

Rest House - Cribs (several rooms)

1

2

Dance Hall

1

2

Stage Station

1

2

General Store

2

1

Located 100 yards from wash. Post Office established April 29, 1901 Wm. F. Roberts Post Master. Closed Jan 31, 1939

Post Office

2

1

Saloon

2

1

Stables – building

3

1

Up the wash, beyond the large Corral

Corral – Small

4

Up the dry wash after the 2 story building

Corral – Large

5

Up the dry wash after the Sm. Corral

3 room structure (House)

6

1

Located behind the General Store

Chinese Restaurant

 

1

On Constellation Road 1/2 mile N of Monte Cristo Mine - not at Constellation.

Stage Coach & Freight

Ed Devenney  owned and operated

Powhatten J. Wren is the only documented business man in Constellation, he operated all business's. Owned all the buildings, inventory and assets. He was assisted by Ah Yat a Chinese of more than ordinary accomplishments. Plus at times the ladies would assist at the gambling tables and at the Rest House. Powhatten is described as five-foot-three edition of a Kentucky Colonel, he was embodiment of everything a Southern Gentleman was pictured to be, including a well-groomed mustache and goatee, his especial price. He wore high leather boots, black well-creased trousers, and a cutaway morning-coat; under the coat was a cartridge belt with a holster that held a Colt Frontier forty-four. Wren was never known to use the six-gun on a live target, but on tin cans and bottles thrown into the air he was deadly.

Arizona Place Names: Yavapai Co. U.S.G.S Map. 1923 - P. O. and mining camp about 12 miles northeast of Castle Hot springs in Wickenburg mountains. After a mine by this name located here. P.O. Established Apr. 29, 1901, Wm. F. Roberts. P.M.

Source:

"Deep Enough" by Frank A. Crampton

"Arizona Place Names" by Will C. Barnes

Compiled and researched by: Neal Du Shane - All Rights reserved © 06/24/07
"The mine was originally worked by Mexicans who recovered large amounts of silver from ore that they mined and smelted. The kiln in which the ore was treated was a short distance down the gulch from their workings, around it were tens of tons of slag.---a couple of prospectors learned that they were not American citizens and therefore had no legal rights to the claim. --- and they exercised their legal rights by locating the claims and driving the Mexicans off after a couple of days of gun play but no shooting. The prospectors got what was coming to them and after several months, they found no signs of the area where any of it had came from.  Apparently the prospectors owed Thayer money which they couldn't pay----he took the claims over and the former owners departed.
        "Deep Enough" by  Frank A. Crampton pp152
Alternate names:
JULIAN MERGER MINING
AMETHYST VEIN
MILS NO: 365A
: TOWNSHIP 8 N RANGE 3 W SECTION 4 QUARTER W2
LATITUDE: N 34DEG 03MIN 51SEC  LONGITUDE: W 112DEG 34MIN 28SEC
Original owner Ezra W. Thayer. He was a hardware merchant in Phoenix.
1926 C.C. Julian purchased the mine. Whenever he was asked about selling it he would say, "The Monte Cristo Mine is not for sale".
1933 High tension was run from Prescott. A boarding building for 100 men was built along with several cottages, they all had water and sewage. They also built a blacksmith shop. There were a total of 11 buildings.
The mine went into receivership in 1938 or 1939. Dr. N. H. Morrison purchased it.
The mine is 1,150 feet deep and had drifts at each 100' level. Approximately 22,000 feet of tunnels. That's over 4.16 miles of tunnels.
1970         The head shed and three surface buildings were destroyed by fire set by juveniles.
1972         The owner was listed as Perry Underwood. He also owned the Wickenburg Lumber Co. (I don't know purchase date)
7/12/76     W.K Presmyko was the owner. (I don't know purchase date)
1976         The Goldex company from Spokane, WA contracted with Southern Mines from Vancouver BC for $200,000 to rehabilitate and develop the property. There was to be an 80 – 20% split of profits with Goldex getting 20%. Goldex was the same company that worked the Gold Bar.
9/2/1976    Goldex quit. They got the water down to the 800 foot level, put no             levels were cleaned out.
1984         Test drilling was done at the Monte Cristo.
1984         Last entry in file at Dept Mines & Minerals  W.K. Ranies looking for a mining   engineer to supervise the de-watering and to reopen the Monte Cristo.  He reported that his people have a lease-purchase agreement on the property and need an engineer with a "good resume" to satisfy the investors.
All information obtained from AZ Dept of Mines and Mineral Resources as well as Yavapai County records.
<![if !vml]>

<![endif]>
Figure 6, Photograph courtesy of the Arizona Mining Journal c. 1913
<![if !vml]>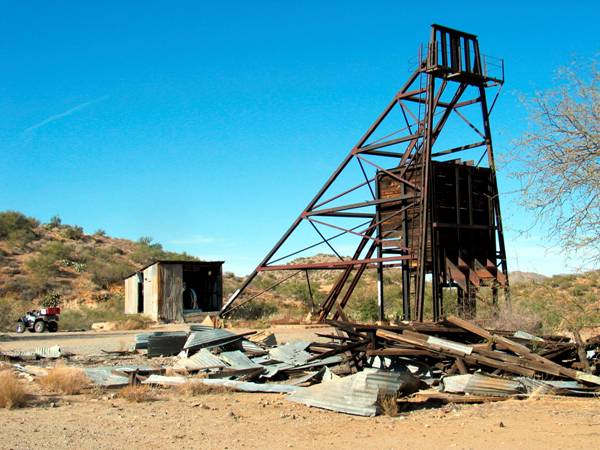 <![endif]>
Figure 7, Monte Cristo Mine, head frame and lift house, c. 2006. Photograph by: Neal Du Shane
In 2006 there isn't much left of the former grand Monte Cristo Mine but none the less an interesting stop to explore. Remember to take only pictures and help preserve history for generation's to come. The head frame and lift house are the only structures remaining upright. There is a lot of interesting history if you walk the area. Foundations of former structures dot the landscape in all directions from the head frame. Needless to say this was a very impressive operation in its day. By: Neal Du Shane.
Courtesy: Scott Rogers
Alternate Names:                       
Bloo Nellie
Home
Patented Claims MS 2489       
Blue Lead Group         
MILS NO:   369B                                 Past Producer
TOWNSHIP  8N  RANGE  3W  SECTION 8 QTR N2                           Commodities: Cu (Sulfide)
                                                                                      Au
                                                                                                            Ag
                                                                        Cu (Oxide)
LATITUDE:  34DEG 03 MIN 31 SEC   LONGATUDE:  112DEG 35 MIN 43 SEC                                  
This property is located in the Black Rock District, 11 miles northeast of Wickenburg and is a parallel true fissure vein to the Electra vein and is between the Electra and Blue Lead properties, in an altered diorite dyke in a granite formation and consists of four full lode mining claims on the lead. Several shafts and cuts expose a quantity of high grade carbonate ore carrying good values in gold and copper. Owned by Geo. Margaritch and L.C. Nickerson of Wickenburg. (1905 Mines of Wickenburg)
<![if !vml]>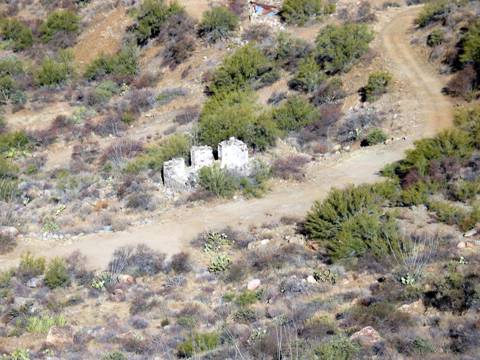 <![endif]>
Figure 8. One of the structures at the former Unida Mine Group. Photo by: Neal Du Shane
By: Pat Ryland

The place I know Constellation to be, would be the red #2 on the topographical map (Figure 2.). Where Slim Jim Wash crosses the old stage road. The stage road is the yellow line you're talking about that goes thru Keystone & O'Brien Gulch. We have walked following the old stage road from Keystone to Constellation but it's much faster & easier to go up Slim Jim Wash. Just walk up Slim Jim Wash for a mile or maybe a little more. When you get to the bigger wash there should be a windmill with an old can/glass dump close by. All the glass is broken unfortunately. If you look around under the tress along the edge of the wash there are a few remnants of foundations. Or at least there was the last time I was there, probably five years ago (2002).
The late Dana Burden also said that this was the location of Constellation because he had seen photos that were donated to the Los Cab Museum in Wickenburg & used the backgrounds of the photos to find the town. All the photos were destroyed in the 1972 museum fire.

Constellation wasn't a mine. My understanding is that the town was called that because there was a constellation of mines all around it. But the Monte Cristo seems to have often been called Constellation so I think that's why it gets a little confusing.
 
When it cools off in the fall (2007) I'd be willing to show you where it is. Hopefully you don't walk too fast! Also, have you talked to Joe Stevens? He lives in Wickenburg & knows a lot about the Monte Cristo Mine & all around that area.
Constellation

Cemetery

Documented
11/08/2007 found Pat Ryland and myself venturing to the Ghost Town of Constellation up Slim Jim Creek.
History regarding this town has been sketchy as it would seem all reference points were using the current day Constellation Road.  Refer (Figure 3). When in fact. the original Stage Road to Constellation and the actual town of Constellation, traveled a route farther east by approximately one mile. Refer (Figure 1).
The original Road went through the not Ghost Towns of Camp B. King Solomon Mine, down to Gilbert then east to Keystone. At this point after Keystone, turning north to Constellation and Slim Jim Creek. At this point the old stage road roughly went in a northerly route following O'Brien Creek then points north. Most maps of this area incorrectly locate Constellation at or near the Monte Cristo Mine, which is incorrect.
Venturing the 1.2 miles up Slim Jim Creek from the current day Constellation Road we arrived at the wind mill and stock pens. Depending on the run off, Slim Jim can be an easy drive or a nightmare that should only be hiked. Our sojourn was about one step away from parking the ATV and hiking the total distance. Fortunately Doug Miller or a ranch hand of Doug's had preceded us by a few days and rebuilt portions of the road that were in the worse conditions. An ATV, horse back or hiking would be the only way to get there this week.
Upon arriving at the Ghost Town of Constellation we researched many of the possible locations that looked like they were inhabited at one time.
Roy Williams of the Williams Ranch, brought up a very valid point: During the hard times of the depression in the 1920's and 30's many of the old wood structures in these Ghost Towns were dismantled by "City Folks" down on their luck, the wood taken to town and reused in habitats there.
This may be the explanation why so many nails are laying about these old structure foundations. Roy went on to explain that there are boards in their ranch home that were from the original Saloon at Constellation.
Surmising a community that survived for some 50 years would have had a death or two. None of the history we have researched ever indicated or mentioned a "Constellation Cemetery". Or for that matter anyone dying in or near Constellation. The Arizona Pioneer & Cemetery Research Project (APCRP) has come to the conclusion that all mines and Ghost Towns would have had a burial grounds whether official or unofficial. Accidents happen as these were rough and dangerous times.
Such was our quest to the Ghost Town of Constellation to see if we could identify the Constellation Cemetery. After physically researching the town for about a 1/4 mile up and down Slim Jim Creek we were constantly pointed in one direction. Following the directions we walked up a road to the north leading out of Constellation. In a short distance we came upon one outline of a grave on the west (left) side of the road. With additional research we identified 5 adult male and one adult female grave. There is a lot of brush, that has grown up over the years and further research was impossible without some brush clearing. It would be my belief there are many more graves in this general area. Theorizing if there was one death a year that could account for 40 to 50 graves. This was a bustling community in its day with a general store, brothel and saloon what more did the miners need? One stop shopping.
Coming up Slim Jim Creek on the way in I noticed two or three likely places where graves may have been. We stopped at two of them on the way out. One yielded no graves, but the second we identified two male graves. One may have been a teenage boy or very small adult. Keeping in mind stature of our ancestors is shorter than today.
Figure 9. Constellation Cemetery and Graves along Slim Jim Creek.
<![if !vml]>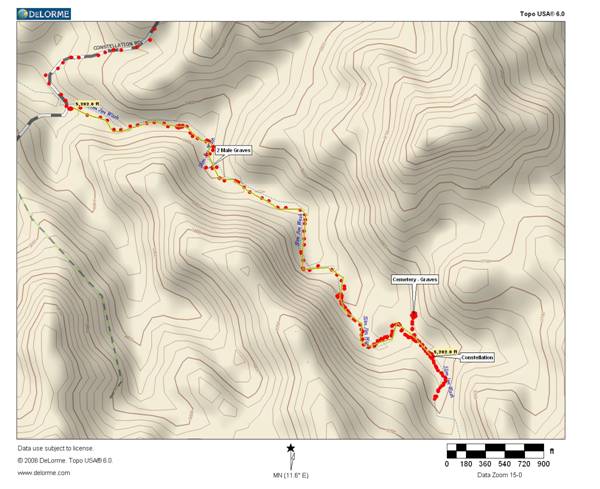 <![endif]>
Arizona Pioneer & Cemetery Research Project

CONSTELLATION Cemetery

 

Yavapai County, Arizona

From Wickenburg - Constellation Rd to Slim Jim Creek - Turn Right - hike up the creek 1.2 miles.

Latitude N34 03.819, Longitude W112 33.081 (+ - 12) (WGS84) Elev. 3,572

Burials =

6

11/8/2007

Marker

SURNAME

FIRST NAME

MIDDLE NAME

BIRTH DATE

DEATH DATE

COMMENTS

Rocks

DOE

John

 

 

 

Adult male

Rocks

DOE

John

 

 

 

Adult male

Rocks

DOE

John

Adult male

Rocks

DOE

Jane

Adult female

Rocks

DOE

Johnny

Child male

Rocks

DOE

Janny

 

 

 

Child female

6

NOTE:

1.2 miles up Slim Jim Creek from Constellation Rd. on the West side of the windmill is a road that leads up the mountain side to the north. Approximately 300' to 600' up this road is the cemetery on the left side of the road. Between road and old mine shaft. The overgrowth is so thick it wasn't possible to research the total area. Very likely there are more graves under the overgrowth. No headstones were visible.

Contributor: Neal Du Shane

Historian: Pat Ryland, Neal Du Shane.

Material may be freely used by non-commercial entities, as long as this

message remains on all copied material, AND permission is obtained from

the contributor of the file.

These electronic pages may NOT be reproduced in any format for profit

or presentation by other organizations. Persons or organizations

desiring to use this material for non-commercial purposes, MUST obtain

the written consent of the contributor, OR the legal representative of

the submitter, and contact the archivist with proof of this consent.

 

This file was contributed for use of

    Contributor/Archives by: Neal Du Shane - All rights reserved
We have been unable to find documentation as to names of those interred and there is no headstones on any of the graves. It is very doubtful there were ever headstones as we know them today. Very likely rocks outlined the grave and a wooden cross was used. After 100+ years the cross has decayed leaving no trace of a grave other than the rock outline. Cattle roam this area and are notorious destroyers of headstones and markers. Our research continues.
Editors Note: Research on the Ghost Town of Constellation continues, as well as information on the general area. Our research confirms the location of the Ghost Town of Constellation to be at a point up Slim Jim Creek approximately 1.2 mile from current day Constellation Road. It has never been documented that the Post Office was relocated from Constellation, although there has been rumors that it may have been relocated to the Monte Cristo Mine. Additional information will be updated and posted as we discover new facts. Please revisit this site for new information as we discover it.
Acknowledgements: Pat Ryland, Allan Hall, Pat Ryland, Scott Rogers, Roy Williams, Doug Miller, for their continued support and dedication to research and preserving historical information.
APCRP Internet Presentation
All Rights Reserved, © 2007 by Neal Du Shane
WebMaster: Neal Du Shane
HOME | BOOSTER | CEMETERIES | EDUCATION | GHOST TOWNS | HEADSTONE
MINOTTO | PICTURES | ROADS | JACK SWILLING | TEN DAY TRAMPS