HOME | BOOSTER | CEMETERIES | EDUCATION | GHOST TOWNS | HEADSTONE
MINOTTO | PICTURES | ROADS | JACK SWILLING | TEN DAY TRAMPS
Arizona Pioneer & Cemetery Research Project
Internet Presentation
Version 011412
By Neal Du Shane
LEONARDO CORDOVA
GRAVE SITE
N34 03 52.99, W112 39 57.00
During the early pioneer days of Arizona, times were much different than they are today. Historians of today have a difficult time realizing how different it was back then and tend to try and rationalize everything with today's standards.
Case in point, this is a situation APCRP Boosters encounter on every outing identifying unmarked graves. Lone, single unmarked graves, in the middle of nowhere, with little reason by today's standards, why these graves were placed there. Which skews current day historians factual research with a philosophy "if there isn't written documentation or a headstone, these graves can't possibly exist"? They do factually exist and are numerous throughout Arizona.
<![if !vml]>
<![endif]>
Lone grave of Leonardo Cordova 1864 - 1929
One might ask "how do you know it is a grave if there is no proof?" Over the years of APCRP research there are tell tale signs of graves whether in a formal cemetery or in the wilderness. A few of these signs include depressions in the earth, stacks of rocks (formal or informal) health of vegetation at the grave site etc. Once some of these signs are identified we research old death certificates and historical writings to try and validate who might be buried in the grave. Vast majority of the time it was a prospecting minor, wayfarer traveling through and was simply buried where they died and were found. Getting a corpse to a community for recording was a major factor, especially if it was summer in the desert. Many communities were several days ride before automobiles and paved roads.
<![if !vml]>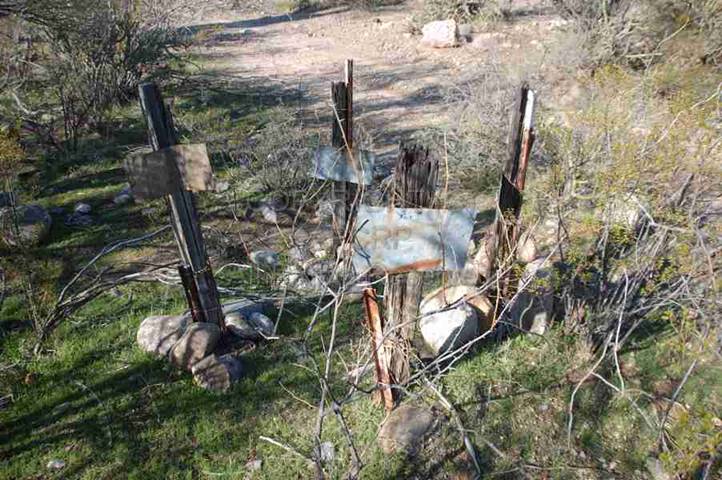 <![endif]>
GPS N34 03 54.2, W112 39 48.3
Lone 8 year old female grave
Photo Neal Du Shane
We were researching a lone eight year old female grave that was burned to death we believe in the 1920's along the Hassayampa River. When some local residents came up to our group and asked if we were looking for Leonardo Cordova's grave? We weren't, at that point but they directed us to the general area where he was buried. After some searching we found his grave.
<![if !vml]>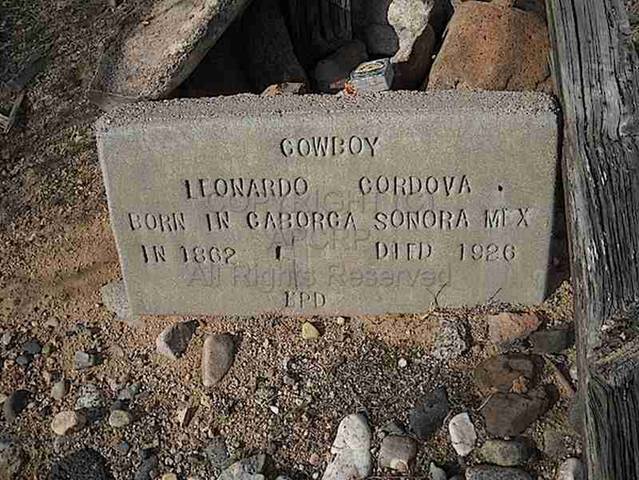 <![endif]>
Marker at grave. Dates are inconsistent with death certificate dates.
Photo by Neal Du Shane
Local Urban Legend had him as a black man who had fought in the Civil War. The death certificate reflects he was Mexican, born in Mexico, Mother and Father unknown) single, died of heart failure, he was 65 years old, died on December 12, 1929 (contrary to his marker) residing on a "Ranch near Wickenburg", no physician was present. (See Leonardo's Death Certificate below). One James Cameron of Wickenburg supplied the information for the Death Certificate and it took them two days to perform the burial. It isn't possible Leonardo fought in the Civil War as he would have been only one or two years old.
BUT could there be another unmarked grave in this peaceful flat piece of ground with the other person buried here who did? Research continues.
<![if !vml]>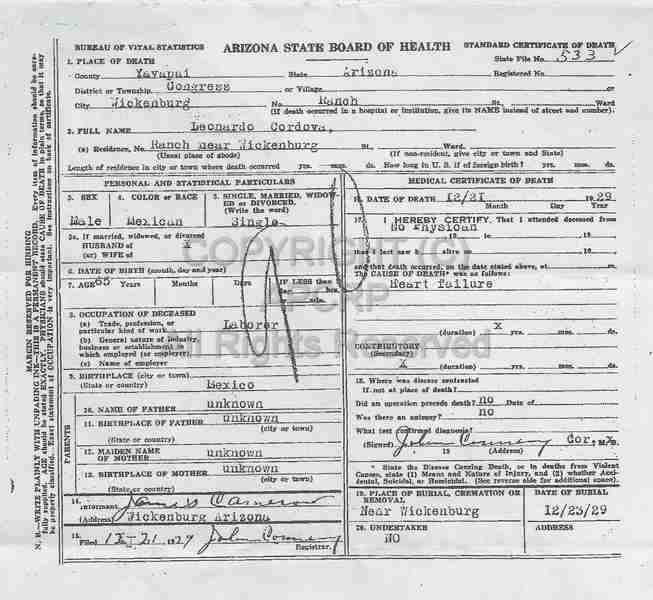 <![endif]>
Death Certificate of Leonardo Cordova
<![if !vml]>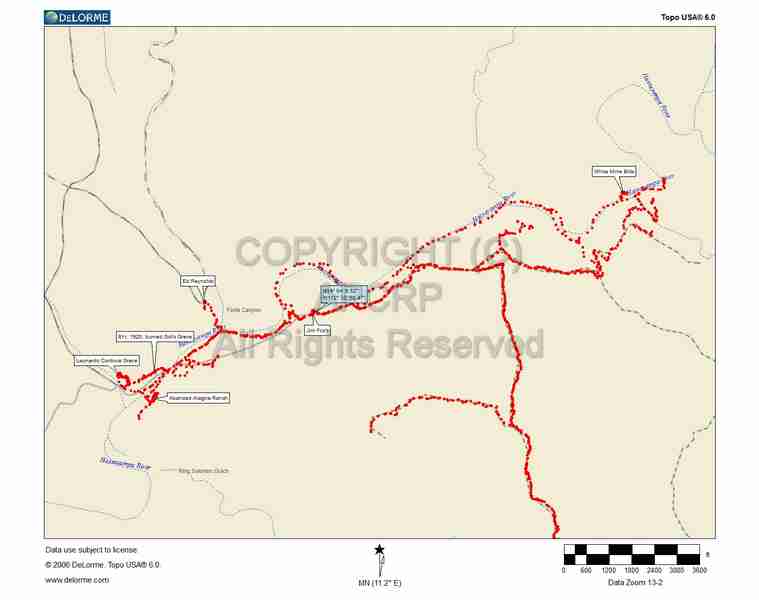 <![endif]>
Map by Neal Du Shane
<![if !vml]><![endif]>

APCRP's Mary Ann Wunderlin Identifies Infants Grave

Photo by Bonnie Helten

<![if !vml]><![endif]>

Possible graves in area

Photo by Bonnie Helten

<![if !vml]><![endif]>

Photos by Bonnie Helten

<![if !vml]><![endif]>

Photo by Bonnie Helten
Evidently a family member or someone close to Leonardo Cordova made a cement marker and placed it at his grave.
There is evidence to suggest there are other unmarked graves in this general area and further research will be conducted by APCRP to verify and identify these graves.
If you have historical information on Leonardo Cordova please forward it to APCRP and we will add it to this information on Leonardo.
Research by: Kathy Block, Jim Fox, Gary Grant, Bonnie Helten, Ed Reynolds and Mary Ann Wunderlin.
Arizona Pioneer & Cemetery Research Project
Internet Presentation
Version 011412
WebMaster Neal Du Shane
Copyright © 2012 Neal Du Shane
All rights reserved. Information contained within this website may be used
for personal family history purposes, but not for financial profit or gain.
All contents of this website are willed to the Arizona Pioneer & Cemetery Research Project (APCRP).
HOME | BOOSTER | CEMETERIES | EDUCATION | GHOST TOWNS | HEADSTONE
MINOTTO | PICTURES | ROADS | JACK SWILLING | TEN DAY TRAMPS