HOME | BOOSTER | CEMETERIES | EDUCATION | GHOST TOWNS | HEADSTONE
MINOTTO | PICTURES | ROADS | JACK SWILLING | TEN DAY TRAMPS
Arizona Pioneer & Cemetery Research Project
<![if !vml]>

<![endif]>
Internet Presentation
Version 120207
<![if !vml]>
<![endif]>
Yavapai County, Arizona
Copperopolis according to our research never had a Post Office. Although in Arizona Place Names by Will. C. Barnes it lists Copperopolis in Pinal County with the following information "Just a name for a hopeful little copper settlement and mine. P.O. established Oct. 17, 1884, Edward E. Hellings, P.M." which pretty well describes Copperopolis in Yavapai County. We are not sure if there is a misprint with the county reference?
<![if !vml]>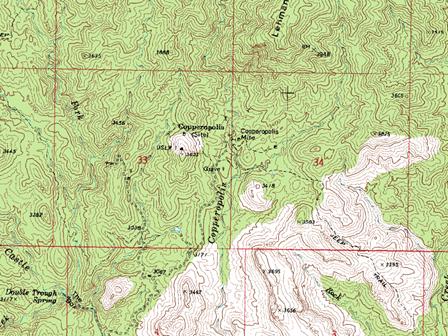 <![endif]>
The community of Briggs was a mile and a half to the south on Castle Creek. Lehman Mill was one and a half miles to the north of Copperopolis. Between Copperopolis and Briggs was the UFO Mine which has been disassembled with only tailing piles as grim evidence of its existence. From the remains this looked to be a large mine and was more current that others in the area.
<![if !vml]>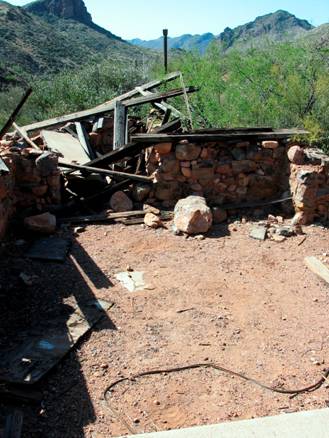 <![endif]>
Copperopolis building 2006
Photo by: Neal Du Shane
When I visited Copperopolis in 2006, the best way to reach it is to come up Castle Creek. After coming out of Castle Creek you travel approximately one third mile and come to a "Y" in the road, stay to the right and precede approximately one half mile and your standing in the valley of Copperopolis. Be aware that flooding can change all routes making the roads impassable from what we have described. The road to the left will take you to the UFO Mine then continue past the Mine to Isaac Bradshaw's Grave.
<![if !vml]>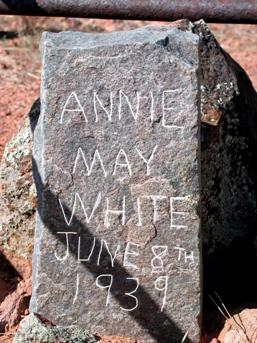 <![endif]>
Marker of Annie May White in Copperopolis Cemetery
Photo and enhancement by: Neal Du Shane © 2007
According to Betty Hastings, Annie May was the sister of Newt White who was a pillar of the area at Champie Ranch, Humbug, Columbia, Tip Top and as far away as Cordes. In later years Newt was the caretaker for Humbug and is buried there. Annie May White, grave is the only remaining grave visible at the Copperopolis Cemetery. Research identified an addition 10 or 12 graves in the cemetery.
<![if !vml]>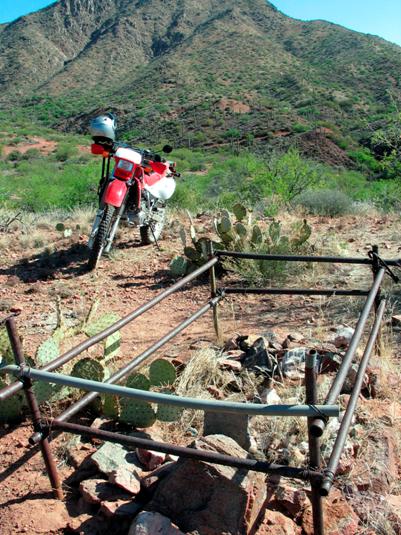 <![endif]>
Annie May Whites grave – Copperopolis Mine tailing pile in distance
Photo by: Neal Du Shane © 2007
Today all that remains is the Copperopolis Mine tailing pile on the far mountain side, a well that's used for watering cattle by a local rancher. And a few remains of stone walls from former structures. It's not known if these were homes or mining buildings, most likely a combination of both.
<![if !vml]>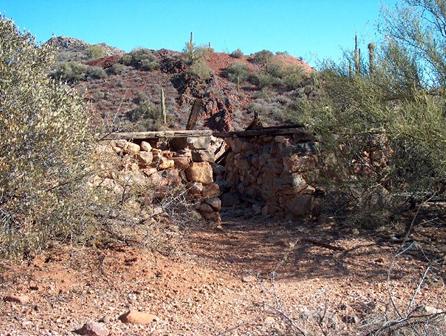 <![endif]>
Copperopolis Structure c. 2007
Photo by: Bruce Colbert © 2007
<![if !vml]>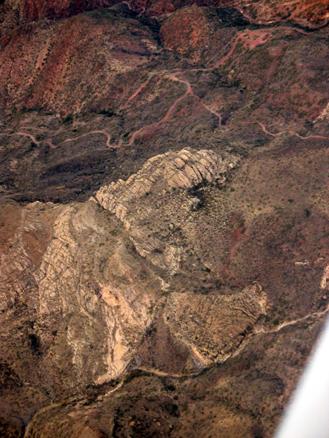 <![endif]>
Road to Copperopolis c. 2006
Pilot Gary Grant, Photo by: Neal Du Shane © 2006
At these remote Ghost Towns, old mines the Pioneer Cemeteries which in most cases is the only evidence that remains of the history of the residents that lived and died near the old mines and towns are being lost to future historians without your assistance. APCRP continues our research on these sites. If you would like to adopt this or any other cemetery for restoration and maintenance let us know. If you would like to assist in this project let us know.
Arizona Pioneer & Cemetery Research Project
Internet Presentation
Version 120207
WebMaster: Neal Du Shane
Copyright ©2003-2007 Neal Du Shane
All rights reserved. Information contained within this website may be used
for personal family history purposes, but not for financial profit of any kind.
All contents of this website are willed to the Arizona Pioneer & Cemetery Research Project (APCRP).
HOME | BOOSTER | CEMETERIES | EDUCATION | GHOST TOWNS | HEADSTONE
MINOTTO | PICTURES | ROADS | JACK SWILLING | TEN DAY TRAMPS