HOME | BOOSTER | CEMETERIES | EDUCATION | GHOST TOWNS | HEADSTONE
MINOTTO | PICTURES | ROADS | JACK SWILLING | TEN DAY TRAMPS
Arizona Pioneer & Cemetery Research Project
Internet presentation
Version 041711
FAIRBANK and FAIRBANK CEMETERY
COCHISE COUNTY, ARIZONA
History research by Kathy Block
APCRP Historian
Cemetery research by Kevin Hart
APCRP Certified Coordinator
Original
Cemetery research by
H. Cloughley cloughley1@aol.com
<![if !vml]>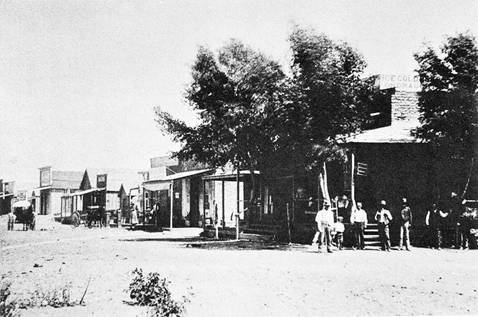 <![endif]>
Fairbank, AZ c. 1890
Fairbank was a frontier town located on the banks of the San Pedro River ten miles west of Tombstone.  Initially, the area was first part of an old Mexican land grant called the "San Juan de las Boquillas y Nogales."  It was first settled in the 1870s as a simple stagecoach stop on the way to Tombstone and called "Junction City." Then, it was named "Kendall" before officially becoming a town with the name "Fairbank" in 1881. When the New Mexico and Arizona railroad established a train station, the town was renamed for a Chicago investor, Nathaniel Kellogg Fairbank. He was also one of the main organizers of the Central Mining Company in Tombstone. A "wye" for turning locomotives was installed in town, bringing at least three railroad lines to establish depots. A short New Mexico and Arizona line connected the Southern Pacific track in Benson southwest thru Fairbank and on to Nogales, Arizona and Nogales and Guaymas, Mexico.  The depots were important for shipping cattle and ore coming from Tombstone. 
Freighters hauled ore from the Tombstone mines to mills at Contention City and Charleston. Fairbank was not connected to Tombstone by railway until 1903. Until then, travelers continued the last ten miles to Tombstone by stagecoach on the Butterfield Overland Mail line, which opened in 1885.
A post office was established May 16, 1883, in the "Adobe Commercial Building", which also housed a saloon and general store.  The post office was finally discontinued in the 1970s, as population shrunk. At its height of prosperity, by the time of the 1890 Census, Fairbank had approximately 478 residents. The population shrunk to 171 by 1900, increased to 269 in 1920, before a steady decline, ending with its abandonment, with zero population, in 1970.
| | |
| --- | --- |
| <![if !vml]><![endif]> | <![if !vml]><![endif]> |
Fairbank Pioneer Cemetery
Photos by Kevin Hart
Residents and travelers, at its peak, were served by four stores, a butcher shop, the elegant Montezuma Hotel with a restaurant (established 1889), two other restaurants, five saloons, a Wells Fargo office, the railroad depot,  a stage coach station, a much-needed jail,  the post office and a school.   It also had a steam quartz mill. A cemetery was soon developed a half mile out of town, high upon a hill with views of the San Pedro River and mountains.
The cemetery was needed to bury residents of the area who died from disease, fire, murder and other causes. See the roster for the variety of illnesses and causes of death. The San Pedro River flooded in 1890 and 1894. There was much property damage, and some narrow escapes from death. An earthquake in 1887 altered the course of the river, devastated some of the makeshift structures of Fairbank, and knocked railroad tracks out of place. A fire in a building on May 5, 1897 burned three young children to death: Edward Blanco, age 3; Gabrille Blanco, age 4; and Manuel Padrea, age 3. Their remains were probably buried in Fairbank Cemetery, though their DCs give no location. There were eventually 31 documented known burials, which Kevin Hart recently researched. See the Fairbank Cemetery roster for causes of death and demographics.
Kevin's detailed infield research found there are in total potentially 60 sites, 38 adult male graves, 11 adult female graves, 4 male children's graves, and 1 female child's grave. It is believed in total there are 54 internments plus 6 memorials.
26 confirmed death certificates have been documented listing Fairbank Cemetery as the place of interment. In addition 5 death certificates were found of individuals listing Fairbank as their place of residence at the time of their death, but no place of burial was listed. If interred in the Fairbank Pioneer Cemetery it would raise the internments to 59.
<![if !vml]>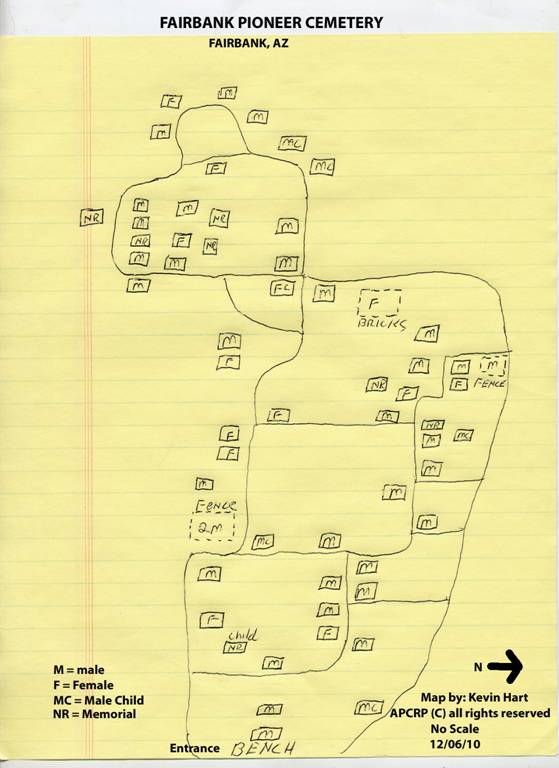 <![endif]>
Layout of the Fairbank Pioneer Cemetery
By Kevin Hart
A train robbery on February 21, 1900, added to the colorful history of Fairbank. Very briefly, the express car of a Benson to Nogales train was held up by six gunmen when it arrived at the Fairbank railroad station. Two of the robbers, named Billy Stiles and Burt Alvord, had been deputy sheriffs but joined four outlaws. They mingled with the crowd milling about the station and pretended to be drunken cowboys. Suddenly they attacked the baggage car.  A brave lawman, named Jeff D. Milton, "who was given the highest praise for his defense of his trust", was inside the express car guarding the Wells Fargo box and its payroll. As he was hit by gunfire, he threw the key to the box away into a corner, so the gang couldn't open it.  He fought the men with a shotgun even though his left arm was shattered by shots from lever-action Winchesters. Milton slammed the door shut, and collapsed unconscious between two large boxes. This saved his life when the outlaws riddled the car with bullets. The robbers opened the door of the baggage car and were unable to find the keys, so they mounted their horses and rode away.
One who was left behind, Jeff Dunlap, alias Three-fingered Jack, was a well-known horse thief. He died a day later of buckshot wounds to the chest from Milton's shotgun. Before he died on February 22, 1900, he confessed who the gang members were, with Alvord named as the leader. His DC is available, and it says he died from "Gunshot wounds." He was buried in Tombstone. The robbers were eventually hunted down and imprisoned. One had fled to Mexico. The penalty for train robbery was hanging. Leniency was exercised for the attempted robbery, and all the outlaws ended up with lesser sentences.
| | |
| --- | --- |
| <![if !vml]><![endif]> | <![if !vml]><![endif]> |
Two of the remaining markers
Photos by Kevin Hart
Milton was sent for treatment to San Francisco, as medical care in Fairbank was very limited. When told his arm would have to be amputated, he reportedly went into a rage, vowing he would kill any doctor who amputated his arm! His arm wasn't amputated, but was permanently disabled. Jeff D. Milton's DC shows he died May 7, 1947, at age 85 and 6 months, in Tucson, from "Cerebral hemorrhage, and arterial sclerosis." His occupation was given as "retired peace officer" and he was cremated and buried in South Lawn Cemetery.
Fairbank began its decline when drought ruined farmers who traded there. The Tombstone mines closed in 1887 from flooding and depletion of gold and silver ore. This forced the mills that processed the ore to shut down. Then, in 1901, the Mexican land grant on which the town was situated was purchased by the Boquillas Land and Cattle Company. The owners extended leases only on the commercial buildings and several residences, into the 1970s. Any remaining residents left the town, when the buildings were declared unsafe. The former land grant was acquired by the Bureau of Land Management in 1986, and the town site and cemetery were incorporated into the San Pedro Riparian National Conservation Area.
| | |
| --- | --- |
| <![if !vml]><![endif]> | <![if !vml]><![endif]> |
| <![if !vml]><![endif]> | <![if !vml]><![endif]> |
Remaining structures in Fairbank
Photos by Kevin Hart
Some of the remaining structures have been stabilized and preserved. The gypsum block schoolhouse, built in 1920 to replace the old one which burned down, was opened as a museum and information center for Fairbank in March 2007. Other buildings on display include the Adobe Commercial Building, which had a general store, post office, and a saloon; the Montezuma hotel foundations (the building was torn down when Hwy. 82 was built); a small house built in 1885 with gypsum block made in Douglas and used until the 1930s; a later house built in 1925; and the stable and outhouses from the early 1940s.
<![if !vml]>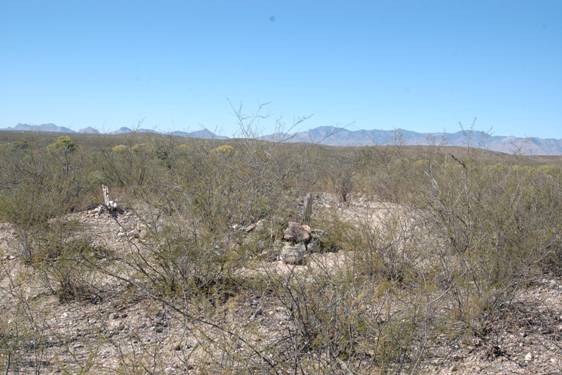 <![endif]>
Fairbank Cemetery overview
Photo by Kevin Hart
A half-mile trail leads to the old cemetery, described by one writer as: "Now there are only the whispers of the breeze and perhaps the ghosts of loved ones longing for someone to visit and lay fresh flowers on their graves."
The ruins of the Grand Central Mill are a mile beyond the Fairbank Pioneer cemetery.
A special acknowledgement to H. Cloughley cloughley1@aol.com for research of Death Certificates for names of the interred.
Arizona Pioneer & Cemetery Research Project
Internet presentation
Version 041711
WebMaster: Neal Du Shane
Copyright © 2010 Neal Du Shane
All rights reserved. Information contained within this website may be used
for personal family history purposes, but not for financial profit or gain.
All contents of this website are willed to the Arizona Pioneer & Cemetery Research Project (APCRP).