HOME | BOOSTER | CEMETERIES | EDUCATION | GHOST TOWNS | HEADSTONE
MINOTTO | PICTURES | ROADS | JACK SWILLING | TEN DAY TRAMPS
Arizona Pioneer & Cemetery Research Project
Presentation
Version 102307
<![if !vml]>

<![endif]>
<![if !vml]>

<![endif]>
<![if !vml]>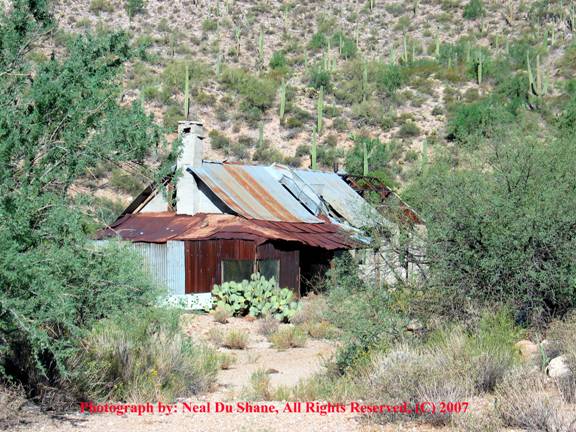 <![endif]>
For several years I have tried to find the exact route to this historic location. I've know if its existence for two decades. Last year we came close but no cigar, the high water levels in Lake Pleasant blocked the road we were traveling.
<![if !vml]>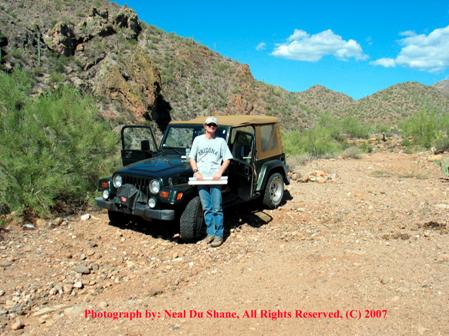 <![endif]>
Kevin Hart, Photo by: Neal Du Shane
On Sunday October 14, 2007, Kevin Hart was kind enough to spend a Sunday and to take me to Ft. Tule in his Jeep. You can visit Kevin's other adventures at: http://4wheelingarizona.com/tulecreek.html
My research is finding Fort Tule may not correctly be defined, in that it may not have been a Military Fort as the name would imply.
Rather it was an Indian Fortification (Fortified) on the Mountain near Tule Spring on Tule Creek. On the trip to this area you can definitely see a rock outcropping that would lend itself to this fact. We are told if you walk the mountain you can still identify foundations to rooms that were build years ago.
<![if !vml]>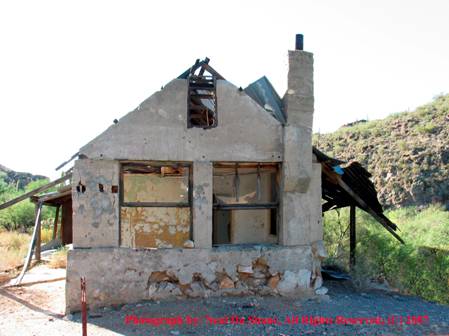 <![endif]>
North end of main house at mine.
Mining is evident in the area; in fact there is still a house and some out buildings still present in the area.
We have researched that a Mr. Johnson lived at the house, as well as his beloved dog "Pooch".
<![if !vml]>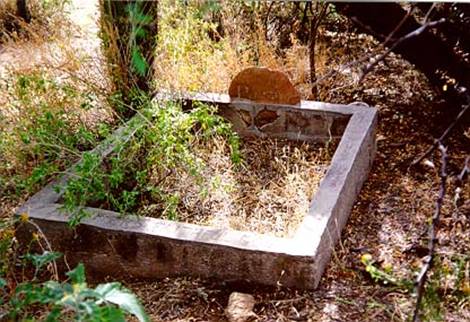 <![endif]>
Photo courtesy: Kevin Hart
<![if !vml]>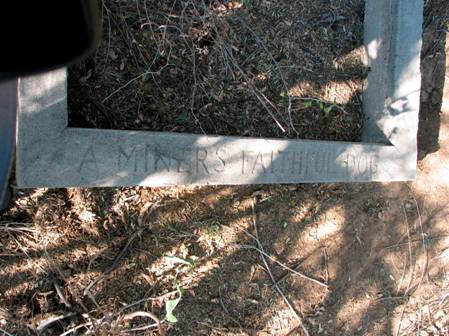 <![endif]>
"A MINERS FAITHFUL DOG"
<![if !vml]>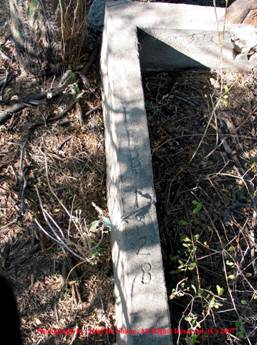 <![endif]><![if !vml]>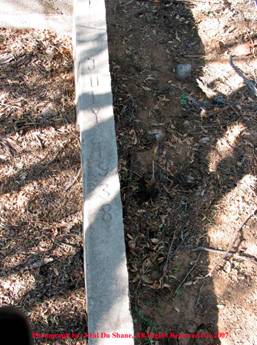 <![endif]>
Feb. 1928                                                     July 1938
The date's on the edges of "Pooch's" grave indicate he was Mr. Johnson's faithful dog from Feb. 1928 until July 1938 when it is assumed Pooch expired. Little known fact, Pooch was a male dog.
Pets, especially dogs were often the only companionship these miners had, and gained high respect by their owners. Pooch's grave is still visible with a little searching under overgrowth of trees in the area.
<![if !vml]>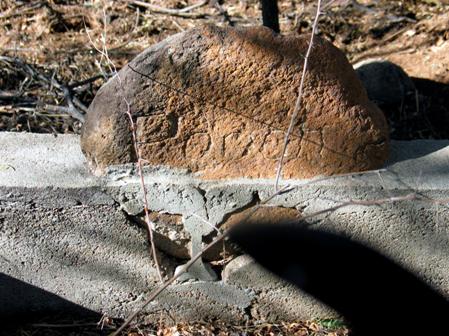 <![endif]>
Pooch's Headstone, Photo by: Neal Du Shane, All Rights Reserved © 2007
In researching the ground in and about "Pooch's" grave we found the remains of two adult male graves a short distance to the south. Once again the trees have overgrown this area making it difficult to identify more graves but it is possible there are more graves.
Depending on your definition of a room, the current main house structure consisted of three larger rooms. In addition there are two add-on rooms to the ends of the main structure.
<![if !vml]>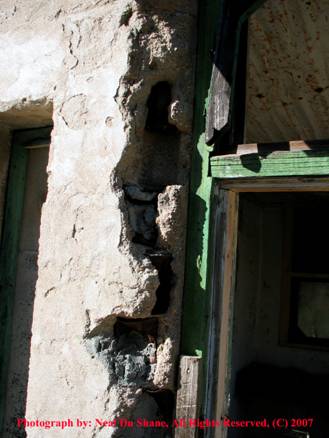 <![endif]>
It is interesting in this exterior wall; you can see that they used tin cans as fill in the concrete when they poured the walls of the house to save on cost of concrete.
<![if !vml]>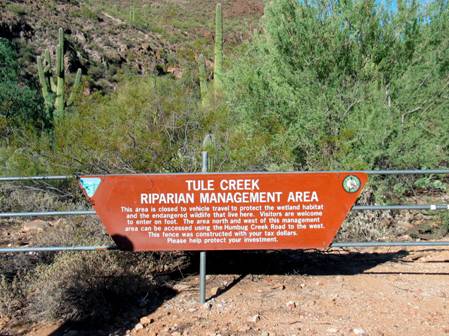 <![endif]>
Tule Creek Riparian Management Area
In 2007, wind and storms of destruction are starting to take a toll on the main house's corrugated roof. Once the roof is gone the main house will only survive a few years more before water and the elements destroy it, leaving only a foundation as evidence if its once healthy existence.
<![if !vml]>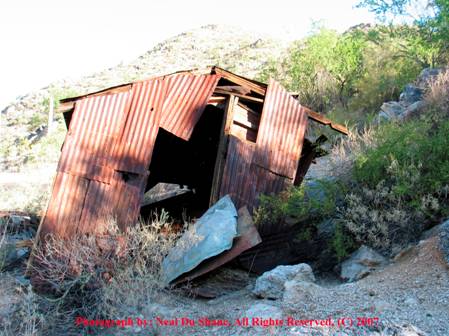 <![endif]>
This dilapidated corrugated building is on the far side of the house that looked as though it might have been a garage or work shop for the mine.
The valley along Tule Creek is lush and green. Evident that it would and could support life by Indians and Miners.
At this writing there is no record of the name of the mine or what mineral/s they mined.
In our entire trip took about 4 hours with a side trip or two.
This page will be updated as information is found and documented that reflects the history of Ft. Tule and the general area.
ACKNOWLEDGMENT
Thank you to Kevin Hart for taking the time out of his busy schedule to show me this historic location. A new friend was gained this day.
Directions
By: Kevin Hart
Humbug and Tule Creek
Take I-17 north to Carefree Highway. Go west on State Route 74. Take a right after mile marker 19 onto Castle Hot Springs Road into Lake Pleasant regional Park. The road will intersect about 3 miles. Turn left. Set your trip meter to 0.00 when the dirt road starts.
| | |
| --- | --- |
| 2.2 miles | Bridge over Castle creek |
| 2.8 miles | Turn right, the road straight will take you to Castle Hot Springs resort, well worth seeing. |
| 5.4 miles | Right turn. |
| 5.8 miles | Left turn. N 33* 58' 11.0" W 112* 16' 32.6" Stay to the right at any forks or left turns. |
| 6.6 miles | Stay to the right. Left will take you to Humbug creek but you can no longer get across. Check out the dam downstream a bit if you go this way. |
| 7.8 miles | Humbug creek. Use road to the right and turn left and drive up creek. |
| 8.0 miles | Cross Humbug creek |
| 8.2 miles | Stay right and keep staying right until you come to a good size road coming in from the right. |
| 10.3 miles | Road coming in from the right. I will call this Humbug creek rd. Turn left. N 33* 59" 39.5" W 112* 16' 53.7" |
Humbug Creek

Tule Creek

10.5 miles

Reset trip meter to 0.00 continue straight

10.5 miles

Turn right

0.1 miles

Stay right

11.6 miles

cross Tule creek

0.6 miles

Stay right

11.8 miles

Turn left, go through gate.

0.7 miles

Right will take you to West side of Tule creek.

12.2 miles

Tule Riprian Area N 34* 00' 18.2"
W 112* 16' 16.6"

1.2 miles

Turn left N 34* 00' 33.1" W 112* 17' 21.4"

Return to Humbug creek rd.(10.5 miles). Take a right and reset your trip meter to 0.00 to continue to Humbug creek.

1.4 miles

Turn right follow road down to creek. Cross the creek and turn up creek

1.9 miles

Hidden road on the right and just up creek a road on the left. Take the left.

2.1 miles

Back in the creek. Drive up creek and turn right when you see an abandoned truck. N 34* 00'
53.0" W 112* 17' 47.0"
 Arizona Pioneer & Cemetery Research Project
Presentation
Version 102307
All Rights Reserved, © 2007 by: APCRP
WebMaster: Neal Du Shane
Copyright ©2003-2007 Neal Du Shane
All rights reserved. Information contained within this website may be used for personal family history purposes, but not for financial profit of any kind. All contents of this website are willed to the Arizona Pioneer & Cemetery Research Project (APCRP).
HOME | BOOSTER | CEMETERIES | EDUCATION | GHOST TOWNS | HEADSTONE
MINOTTO | PICTURES | ROADS | JACK SWILLING | TEN DAY TRAMPS