HOME | BOOSTER | CEMETERIES | EDUCATION | GHOST TOWNS | HEADSTONE
MINOTTO | PICTURES | ROADS | JACK SWILLING | TEN DAY TRAMPS
Arizona Pioneer & Cemetery Research Project
Presentation
Version 010708
<![if !vml]>

<![endif]>
<![if !vml]>

<![endif]>
Table of Contents
Click on hyperlinks below in BLUE – go directly to subjects.
Speculation On The Al Francis Name "Fort Misery". 1
Photo of Al Francis's Fort Misery. 2
Map - Ft. Misery, Kentuck's and Burro John.. 5
Sparkling Trail From Misery to Gold.. 6
Fort Misery Barrack's dispelled.. 8
Fort Misery Revisited 1/3/08. 9
Fort Misery Cemetery Photo 1/3/08. 9
Photo of Corpl. Wm. Bell "Kentuck" marker. 12
Kentuck's grave - Update 1/3/07. 12
Fort Misery is Now a Ghost Town.. 14
"Burro John" Revelos 1/3/08 Update. 16
There is a spring near this location by the name of Misery Spring. Knowing water was as good, or in some cases more valuable than gold in those days, it would make sense to name this location Misery or Misery Springs. Al Francis's who lived here it seems had a sense of humor and with tongue in cheek, dubbed it "Fort Misery" due to his difficult and bleak living conditions at his residence, this name stuck. Although it has been written there was a military fort, there is no military documentation that we have found to substantiate this. We have found a Fort Misery in military documents but no reference to a physical location.
1/4/08 Neal Du Shane: Spoke to Lloyd Clark Arizona Historian, who has written and documented all the historic military forts in Arizona. He indicates there was never a military fort at Al Francis's Fort Misery. The name Fort came from Al Francis for the meager existence he had to endure here.
<![if !vml]>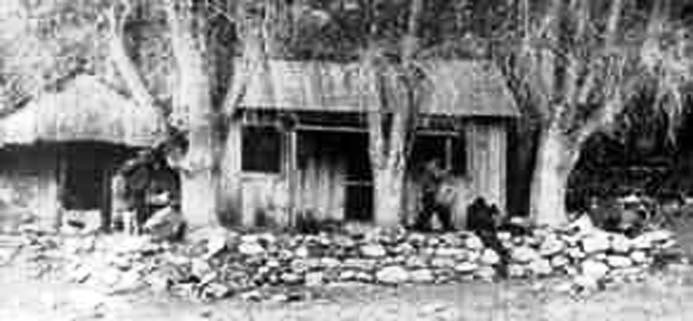 <![endif]>
The residence of Al Francis
Stone structure on left still remains. Never a Military Fort
Photo courtesy: Bonnie Helten
Fort

Misery

1 & 2
"X Marks the Place" by Byrd Howell Granger
"Fort Misery   Yavapai County    elevation 5,355'
This name was given to the first house built in Prescott, to provide quarters for governor John N. Goodwin and his party upon their arrival in 1865 in newly created Arizona Territory.  It was a two room log cabin built by Manuel Yasera, a member of the military escort, who stopped his loaded teams were Granite Street now turns to cross Granite Creek.  One legend asserts that the building was called Fort Misery because of the manner in which its second occupant, Judge Howard, meted justice.  A second legend says the building was converted to a boarding house and the quality of the food was the cause of the name.  An American dubbed "Virgin Mary" cooked meals for 50 men here.  Her nickname is said to have derived from her many charities.  Her real name may have been Mary Brown.  The Arizona 1864 census notes her as having been born in Texas and lived in Arizona for the preceding eight years.  She died at Lynx Creek in 1880.
<![if !vml]>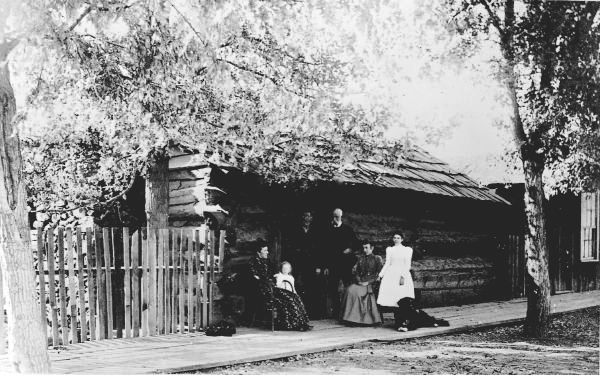 <![endif]>
Fort Misery 1 or 2, at or near Prescott, AZ
Source of Photo unknown.
Fort Misery number two, constructed in the early 1870s, was called Happy Valley possibly because it witnessed many happy times.  It was probably where the Sharlot Hall Museum is today."
After four years of research we have found the term "FORT" in reference to a military fort does not to apply to any of the three locations that were named "Fort Misery" in Arizona. No military documents have been found to substantiate a Military Fort in any of the three locations that were known as Fort Misery. Any reference or pictures regarding a military fort at any of these three locations is erroneous and incorrect.
Barkdull's writing below and pictures of Barrack's at Fort Misery in "Lonesome Walls" is the most descriptive and compelling for a fort at Al Francis's Fort Misery. Our extensive research has found not only was his writing can not substantiated in this instance but the pictures shown as "Barracks" were not accurate. The pictures in his article are actually the buildings at "Kentuck's Place" a distance of one half mile south of Al Francis's Fort Misery and would have had no bearing on the term fort there either.
Often when writing historical information you have to publish the best information you have available at the time, based on the research you have done. If the author doesn't physically visit and researched an article, they are publishing from the best information at hand by others.
At best, accuracy may only be 50% in any historical publication unless the author actually witnessed or observed the incident. What was the slant of the author when they wrote the article?
As with witnesses in an automobile accident, if five people witnessed the incident, there can be five different observations of facts. History is normally told by the person that wrote it and is only as accurate as their perception at that time. We constantly find new information relating to a historical event after years that can change it completely from what was previously written.
Billy the Kid: was believed to be left handed for years when history was written regarding his life, when if fact someone had simple reversed the photograph negative and he is actually right handed – whoops.
Custer's Last Stand: we have all read the encounters of his heroic event, when current day technology was applied to the Little Big Horn battle ground it turns out to be a route - whoops. 
Map -

Ft.

Misery

, Kentuck's and Burro John
<![if !vml]>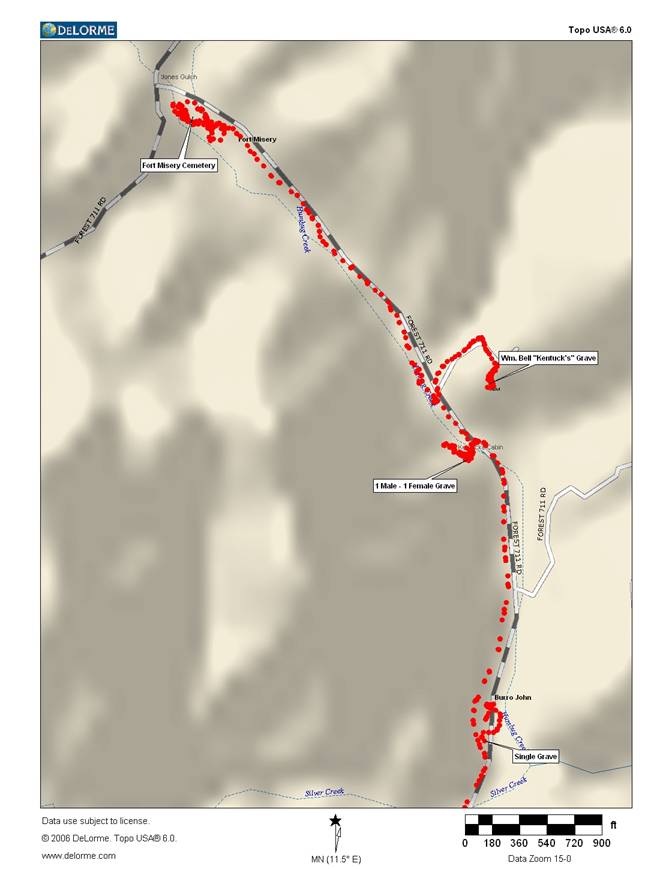 <![endif]>
Courtesy, Author: Tom Barkdull's book "Lonesome Walls"
TO THE BUFFS OF WESTERN heritage - those who follow ghost trails of our great Southwest-the Fort Misery - Oro Trail is a must. Any car can traverse the road, (Editors Note: in 2006 this is no longer a true statement, the road isn't suitable for 4 X 4 travel) a road only three miles long with a ghost at its beginning and a ghost at its end, with a breathtaking panorama of mining and hunting country between.
But before you start, come with me for a preview. If you like it, maybe we'll meet in the shade of an ancient barracks or on a long-forgotten Main Street-meet to talk and dream together.
Hunkered against the steep wall of a narrow canyon high in Arizona's Bradshaw Mountains, the decaying remains of old Fort Misery wait's out their last fleeting years. Saggy buildings stare through empty windows at the weed-grown parade ground-and at the grave-dotted knoll beyond.
Photo of Ft. Misery Barracks (incorrect)
<![if !vml]>
<![endif]>
Fort Misery was a cavalry outpost established in the 1880's for protection against Indian raids on the miners and their families at Oro, a community of several hundred pion­eers nestled along Humbug Creek, three miles above the fort. Information regarding Misery is meager. Even the War De­partment reports that a search of its archives reveals nothing concerning the fort's establishment or discontinuance. How­ever, their letters do confirm that the headstones are official military markers.
Although the site is far off beaten trails, it is easily ac­cessible to the back-country enthusiast. Abounding with picnic and camping spots, it's truly a place to dream. Hum­bug Creek ripples a lullaby as it picks its way over rocks between the road and the ancient corral. The air is sweet and clean, the vegetation lush and ripe, laden with wild grapes and berries. Trees had donned their autumn colors during my visit, and the winds of change had picked gold coins from the giant cottonwoods and tossed them into the stream.
<![if !vml]>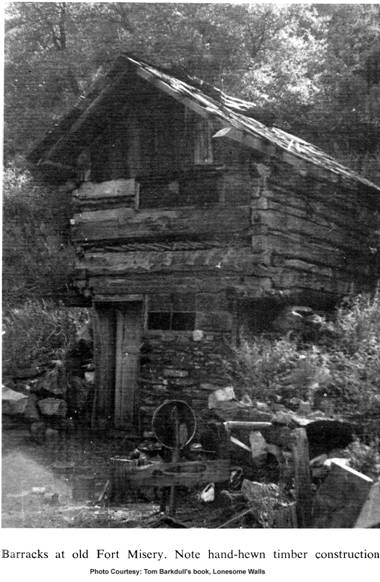 <![endif]>
Fort Misery is dead and the soldiers are gone; the sun­, rise gun no longer shatters the hush of dawn; but the vener­able buildings still stand as patient sentinels awaiting your visit. Rest in the shade of their sinking walls soon, before the last vestiges of the fort melt into the canyon floor. And after your respite in its tranquil yard, proceed the easy three miles upstream to the old townsite of Oro, site of the Grey Eagle, Tiger and Oro Belle mines.
Main Street of Oro is one of the best-preserved of the Arizona ghosts. Eleven houses and stores still sprawl along the valley or cling stubbornly to its steep slopes. The old bistro will probably be your favorite.
This massive structure, constructed of stone and timber, has hidden its head in the upper foliage of towering cotton­woods. A stairway, attached solidly to the outer wall, leads to the second floor, where the rooms are musty and dim.
Soft mountain breezes whimper along the hallway, stir the brittle wallpaper, then depart with a sigh through the open door at the landing.
The main floor is shady and cool. Tiny dust devils spin long-cold ashes along the huge hearth which dominates the old dining room. Silence is absolute here, broken only by the occasional rasp of a branch along the roof or the rustling escape of a swift lizard across yellowed newspapers which carpet the floor.
Outside, the street is sunny and warm. Soft air and the splash of capricious Humbug Creek make this a place for reverie. As you stroll down the old main stem unfetter your imagination. Listen to the tattling wind as it whispers through the sagging headframe high on the canyon wall above the townsite. It will tell you, if you're in tune, many tales of the lusty men who toiled for gold in the very tunnel before you, and of their gracious ladies who chatted across the picket fence just beyond the smithy.
And perhaps, if you're really a dyed-in-the-wool ghost ­town enthusiast, you'll imagine for just a second the tread of cavalry horses-the rattle of scabbard chains-as the brave men from the fort ride in for a night on the town.
This is the Fort Misery - Oro Trail. Snuggled between majestic mountains, sheltered by abandonment, defended by pluming cottonwoods and stately pines, it 'offers to share its serenity with you. Leave your mundane cares behind. . . come and dream awhile.
Fort

Misery

Barrack's dispelled
<![if !vml]>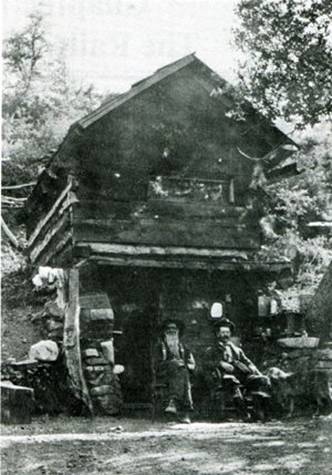 <![endif]>
If you enlarge the photograph that Tom Barkdull calls the "Barracks at Fort Misery" you find his information is incorrect. Not only is this structure not at Fort Misery, it is the living quarters of William "Kentuck" Bell at Kentuck's Place one half mile south of Ft. Misery. Possibly this structure was his residence before the wooden house to the right (North) was built.
Facing the picture, there are two gentlemen setting in front of the structure under a roofed porch with Kentuck's dog at the left knee of the person seated. Above the head of person on the right in the picture seated, the shiny object is a mirror mounted on the exterior wall.
We are speculating the person on the left is William "Kentuck" Bell do to the style of beard he is wearing. The person on the right looks to be more of a "City Slicker" and a visitor.
         Kentuck's Place – Kentuck on left?          
            Photo courtesy: Richard Pierce
In this picture on the right is a bench in the hill side that has personal items on the shelves and a porcelain wash basin on the stone ledge. On the left of the door way is a keg with a wooden flow controller, large enough to hold several gallons of water for personal use.
On the left of the keg is a lantern mounted on the post, and Kentuck's dainties (wash) hanging on the line. At the time this picture was taken it appears this structure was used as a residence with possibly the bedroom on the second floor – how they got to the second floor is still unknown as the first floor room isn't logical to have a stairway as the structure isn't large enough. We are estimating the structure foot print to be approximately 10' X 12'. Possible there was an entrance at the rear of the second story as the embankment would elevate you to the same level as the second floor at the rear.
Fort

Misery

Revisited 1/3/08
With historical research nothing is set in concrete, even when it is written. The controversy regarding an actual Fort Misery or the whim of Al Francis nicknaming it Fort Misery continues. We have not found anyone that can document that there was an actual military fort here but the above article does reference a fort. Over the years and many visits to this site then reading the above article very closely it references a cemetery at Fort Misery with military graves.
Fort

Misery Cemetery

Photo 1/3/08
<![if !vml]>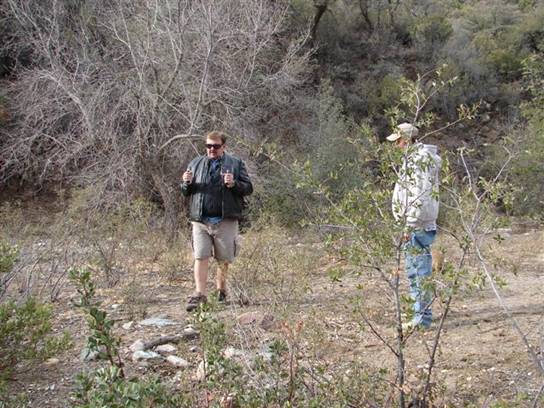 <![endif]>
L-R, Neal Du Shane, Darrel Steffen research the military graves at Fort Misery Cemetery
Photo courtesy: Bonnie Helten
Always trying to keep an open mind with any research into history, we arrived at Fort Misery and evaluated the landscape. It is obvious where the buildings would have been, windmill, fenced garden and of course the one holer outhouse is still evident but on its last legs. Upon walking the banks of the creek on the far side we started to identify locations of graves. This was in soft sandy soil and would have been ideal for digging. With the eye of a detective we were able to identify several graves with the possibility of many more. Conclusion: there is a cemetery at Fort Misery.
Time and the elements have erased all most all evidence of this cemetery. Upon close research and investigation we did locate the cemetery with up to 20 graves possible. It was exactly located as described in Tom Barkdull's description above. Of the graves found our research found 4 graves of military solders. We did not spend a full day laying out this cemetery and identifying all the graves but this gives us reason to return for this project in the near future.
With this evidence in hand is it possible this was a outpost of the military and not an actual fort? True the soldiers could have been killed at one time on an expedition from somewhere else. None the less the question remains, was there an actual Fort Misery and not just a name Al Francis dubbed for his home?
Fort

Misery

Tour 1/3/08
<![if !vml]>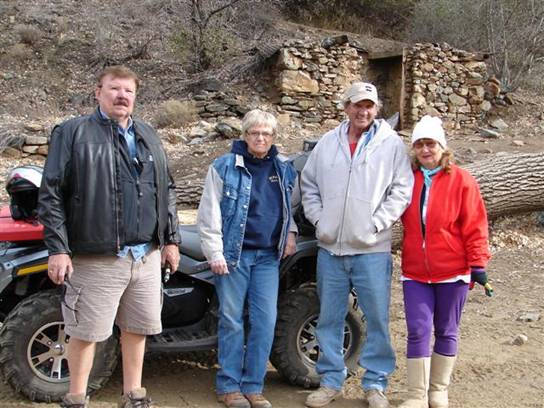 <![endif]>
L-R, Neal Du Shane, Mary Ann Wunderlin, Darrel Steffen,
Barb Steffen not pictured Bonnie Helten & Buddy.
Photo courtesy: Bonnie Helton
Information Provided By: Richard Pierce
"William "Kentuck" Bell," June 20, 1910, Kentucks Cabin, Humbug Creek, Yavapai Co, AT.
Cause: Brights Disease (Note: Brights Disease is a chronic kidney disorder.)
The headline on Kentuck's Obituary said:
"Kentuck" Bell has answered summons. Pioneer Succumbs To Attack in Cabin In Mine Section. Was Veteran of War and served in Kentucky Regiment.
Hilltop NE of Kentucks' Cabin, William "Kentuck" Bell; Al Francis; "Burro" John Revello, Sept., 1910. Placed stone at Kenkucks gravesite.
A tombstone was shipped to Crown King, and hauled to the Humbug Creek by Al Francis. Al Francis and Burro John put the headstone on Kentuck's grave. Kentuck lived about half way between Al and John. They must all have been good friends.
The stone read: "Corpl. Wm Bell, Co. E, 35th Kentucky Mtd. Inf."
<![if !vml]>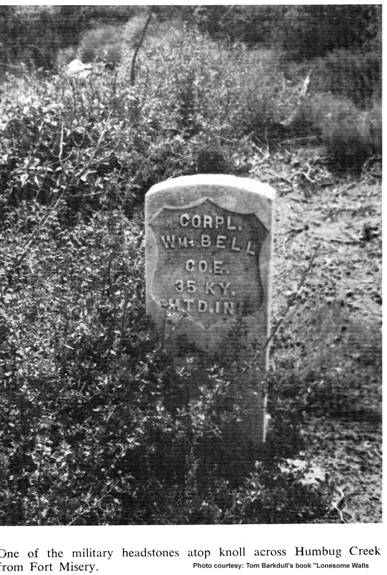 <![endif]>
The descriptions in the above picture are simply wrong. We walked up to the grave site of "Kentuck" and there is no evidence of a headstone. We did identify his grave location and took a GPS reading. From the above picture there is consideration by APCRP to recreate this marker and replace it out of respect to "Kentuck" and history. It was suggested by the group that his headstone be rebuilt and replaced at his grave site. If you would like to participate in this restoration project please email us.
<![if !vml]>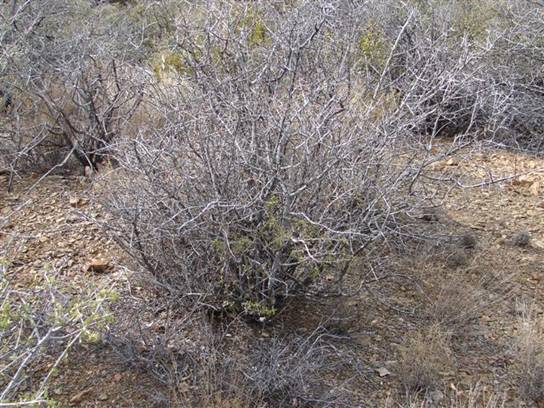 <![endif]>
Sadly all that remains is a bush and Wm. Bell's grave
Photo courtesy: Bonnie Helten
Proceeding back to the old structure where Kentuck lived, on topographical maps there is indications of a grave on the south side of the flat area where his cabin is. After researching the area we found two graves, one an adult male and one a teenage girl – presumably the daughter of the male. At this time nothing else is known regarding either of these graves. If you have information please forward it to APCRP so we can share it with fellow historians.
From Internet – AZ Ghost Towns
Al Francis built Fort Misery as his home while he lived in the Bradshaw Mountains. Al was in charge of hauling ore from Oro Belle to Crown King. He jokingly called his home "Fort Misery" and the name stuck. Francis was responsible, along with Burro John, for putting up William Bell "Kentuck"'s grave headstone. Fort Misery was inhabited through the 1920's.
12/27/07 By Neal Du Shane: The final resting place of Al Francis has been found in the Walnut Grove Cemetery. He died on the James Minotto ranch near Walnut Grove and farther East the ghost town of Wagoner which was destroyed in 1997.
 Al Francis's Fort Misery
Fort

Misery
is Now a Ghost Town
Fort Misery was built by a man who helped build the railroad to Crown King. The mining camp got its name because of the hard times that people experienced there. Fort Misery is one of several mining camps located near Crown King. People lived in Fort Misery until the 1920's.
Ft.

Misery

Photo in 2005
<![if !vml]>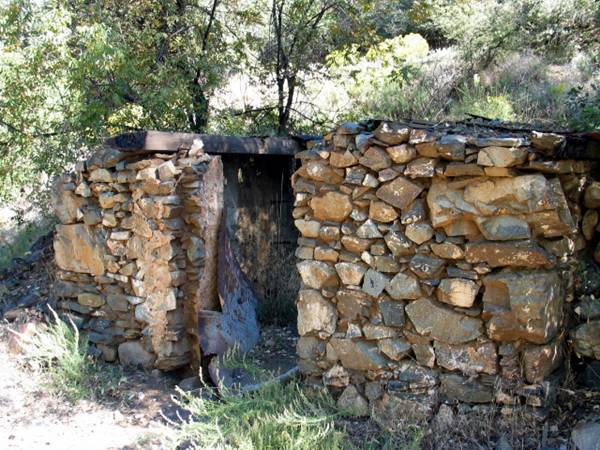 <![endif]>
Remains of Al Francis's Ft. Misery 2005. Photo by: Neal Du Shane
If you compare the stone's in Barkdull's photograph of the "Fort Barracks" and the stones in this photo they are not one in the same buildings, could it be they tore down the "Barracks" in Barkdull's building and used the stones to construct this structure. I can see some similarity in the rock on the left side of this structure. All of this of course is speculation on our part and Barkdull's photograph may have been in another location close to Fort Misery.
Ft.

Misery

Interior 2005
<![if !vml]>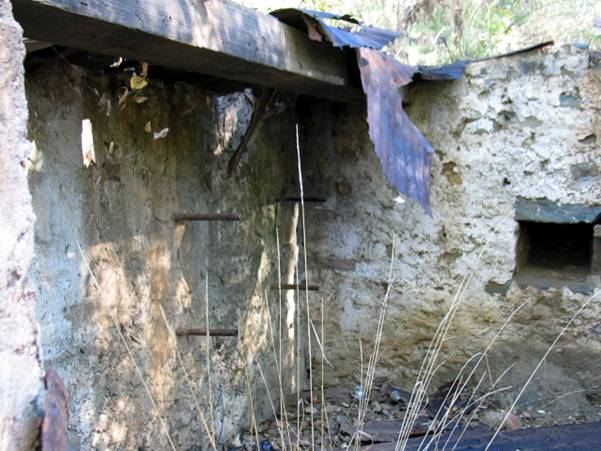 <![endif]>
Interior of Al Francis's Ft. Misery. Photo by: Neal Du Shane c. 2005
Directions to Al Francis's Fort Misery

Fort Misery is not too hard to find, but requires a 4-wheel-drive vehicle. From Phoenix take I-17 (the Black Canyon Freeway) North to Crown King exit. The Fort Misery mine was five miles southwest of Crown King, 7 miles from what was the Old Senator Highway.
Be advised there is another road called the "Crown King Trail" that comes in from the south off Cow Creek Road. The heavy rains in 2002 – 2003 have turned this road into an extremely treacherous venture. This is a true 4 X 4 road and should not be traveled unless you are in a group of experienced 4 X 4 drivers. Also be advised if you continue south from Fort Misery you are on the Crown King Trail. Travel at your own risk, it's a long walk out in either direction!
The history of this area along Humbug Creek has the residence of Burro John, Kentuck's Place and Fort Misery all approximately ˝ mile apart along the banks of the creek. Our first stop was at Burro John's which today looks to be a recreational stopping point, vastly overused.
<![if !vml]>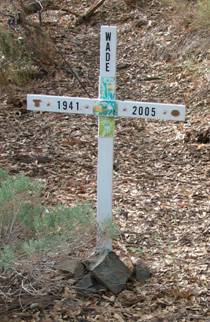 <![endif]>
WADE grave, 1941 – 2005 at Burro John
Photo courtesy: Neal Du Shane
There is a new grave that has a white cross in the picture above with a date burial date of 2005. If you know anything about this grave please forward it to APCRP.
Not much remains of Burro John's except for the clearing between the road and creek.
Arizona Pioneer & Cemetery Research Project
APCRP Internet Edition 2008
Compiled by: Neal Du Shane
All Rights Reserved, ©
WebMaster: Neal Du Shane
Copyright ©2003-2008 Neal Du Shane
All rights reserved. Information contained within this website may be used
for personal family history purposes, but not for financial profit of any kind.
All contents of this website are willed to Neal Du Shane
APCRP

.

HOME | BOOSTER | CEMETERIES | EDUCATION | GHOST TOWNS | HEADSTONE

MINOTTO | PICTURES | ROADS | JACK SWILLING | TEN DAY TRAMPS