HOME | BOOSTER | CEMETERIES | EDUCATION | GHOST TOWNS | HEADSTONE
MINOTTO | PICTURES | ROADS | JACK SWILLING | TEN DAY TRAMPS
Arizona Pioneer & Cemetery Research Project
Internet Presentation
Version 052110BHCE
GLEED, AZ
By Bonnie Helten and Cindy Enos
APCRP Certified Coordinators - Historians

Charles S. Gleed, of Topeka, Kansas, was born in Vermont, in 1856, of an English father and a New England mother. He moved to Kansas when ten years of age, and has resided in or near Kansas ever since. He grew up as a journalist, concluding his journalistic work as editor of the Denver Daily Tribune. He acquired an extended and diversified experience in the passenger department of the Kansas Pacific, Union Pacific and Atchison, Topeka & Santa Fe roads, and in the law department of the last named company.
Charles Gleed also learned much of various western railroad properties as an attorney and has enjoyed special advantages for becoming acquainted with the system about which he writes, because of his long connection with the company, in its construction days, and subsequently he acquired an extended knowledge of the legal and financial history of the company by work along those lines.
<![if !vml]>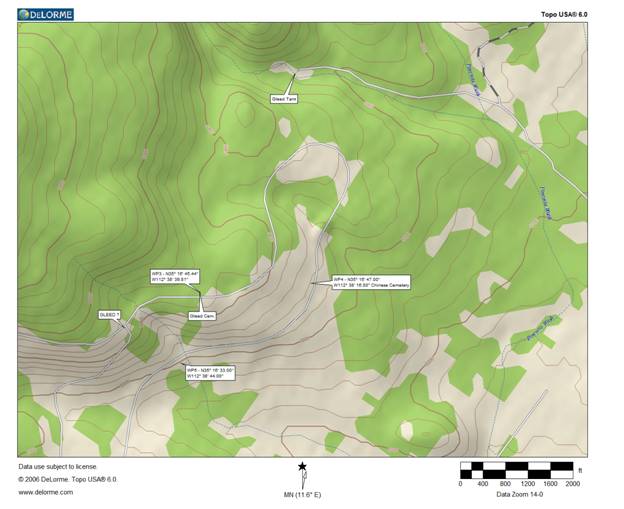 <![endif]>
Gleed, AZ and surrounding area. Map by Neal Du Shane
Gleed was a water stop on the original AT&SF Railroad Mainline. In 1960 both Gleed and the old mainline were abandoned when the new alignment was opened. It was located approximately halfway between Seligman and Ash Fork Arizona and a mile or two north of old Route 66. (Crookton Rd.)
<![if !vml]>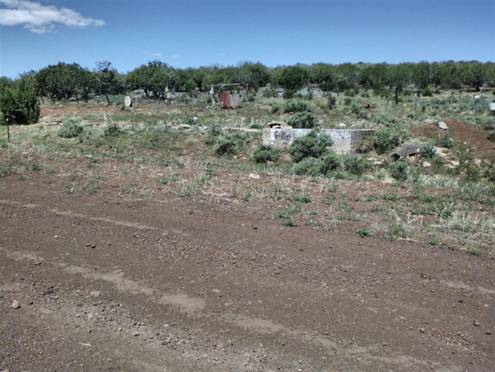 <![endif]>
Remnants of Gleed, AZ Photo by Bonnie Helten and Cindy Enos
Bonnie and Cindy parked at WP5 (indicated on the map above), not knowing exactly where the cemetery was located. Our research pointed us up the hill and I knew the RR bed was up that way. Hiking up a rocky and fairly steep hill we came across quite a few graves. Having good luck topped out at the old RR bed right at what we later learned was Gleed.
<![if !vml]>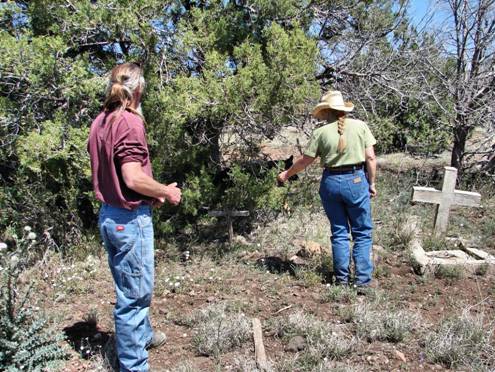 <![endif]>
Dan & Cindy identifying graves. Photo by Bonnie Helten
It was obvious that who ever lived there didn't want any company by the way it was posted. I started walking down the old RR bed to the east and that is when local resident Dan, came on his ATV with some barking dogs. Dan turned out to be a very informative and open with his knowledge.
<![if !vml]>
<![endif]>
Gleed Cemetery, photo by Bonnie Helten
Cindy was hanging back about a 1/4 of a mile in case I got in trouble and she could head for the hills. I'm never going to let her live that down.
Anyway he was very nice and showed us where the cemetery was located which is directly across from his house. I loaned him my dowsing rods and he picked up on dowsing very quickly. He said he was going to make himself some rods. I asked if he cared if I gave out information where the cemetery was located and he did not mind. He got pretty enthused and invited us back sometime and he would take us to some Indian Ruins.
<![if !vml]>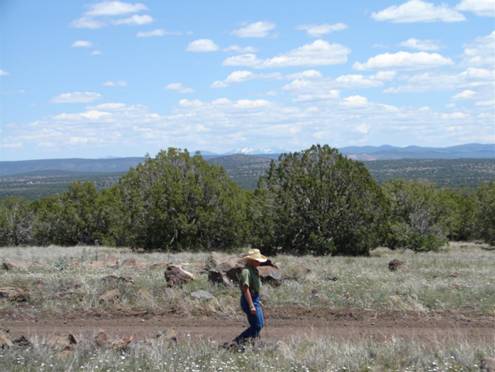 <![endif]>
Cindy Enos exploring road, RR right of way. Photo by Bonnie Helten
We walked back down the RR to Gleed and followed what we were told was the old stage road that was used to haul supplies to Gleed. It headed down the hill in the general direction of where my truck was parked.
As we were walking along the road to the truck, Jess who lives at Gleed where the No Trespassing signs are posted, came along in a car and stopped to see what we were doing and why I was taking photos near his place. I explained about looking for graves and dowsing and he too got pretty enthused. I asked him if I needed to worry about getting shot if I took any more photos of Gleed. He laughing said no and that he didn't have any weapons. He ended up being very friendly and seemed to know quite a bit of history. Jess then said further up the road where there were some weird trees he had been told there was a second cemetery.
Jess indicated the second cemetery was on the right but we found it on the left. I decided to drive on up the road and make a loop instead of turning around and going back the way we came.
<![if !vml]>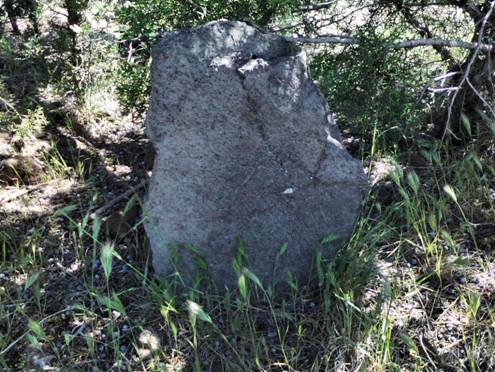 <![endif]>
Gleed Cemetery Marker, photo by Bonnie Helten
That was not a good idea. After passing Gleed, the RR bed got very narrow and my truck is pretty wide. The old railroad bed had a drop off on both sides. I kept saying to Cindy "I don't like this and at least when I'm riding Mikey (my horse) on a narrow trail and get scared I can get off and walk." Anyway we made it and had a great day.
As of this posting, three names have been researched and documented by APCRP staff from Death Certificates that are interred in the Gleed Cemetery. Researching the grounds of the cemeteries it is believed there could be 30 to 60 graves at the Gleed Cemetery and 20 to 40 graves at the Gleed's second cemetery.
Speculating this is the cemetery for the RR laborers when the line first went in.
Further research and documentation is continuing to identify the actual town site of Gleed and Gleed Tank as water was extremely important to these communities and the main water source seems to be about one mile from what Dan identified as the town of Gleed.
As described earlier, Gleed was a water stop for the steam engines that originally ran this route and it is speculated 12,000 to 16,000 gallons of water per day would be required for the trains let alone the community use.
Arizona Pioneer & Cemetery Research Project
Internet Presentation
Version 052110BHCE
WebMaster: Neal Du Shane
Copyright © 2010 Neal Du Shane
All rights reserved. Information contained within this website may be used
for personal family history purposes, but not for financial profit or gain.
All contents of this website are willed to the Arizona Pioneer & Cemetery Research Project (APCRP).
HOME | BOOSTER | CEMETERIES | EDUCATION | GHOST TOWNS | HEADSTONE
MINOTTO | PICTURES | ROADS | JACK SWILLING | TEN DAY TRAMPS