Arizona Pioneer & Cemetery Research Project
Internet Presentation
Version 041209
<![if !vml]>

<![endif]>,
MOHAVE COUNTY, ARIZONA
By Kathy Block, APCRP Historian
Hackberry is a silver mining town, one of the oldest along historic Route 66. It was founded in 1874 when miners set up a mining camp on the east side of the Peacock Mountains. After rich deposits of silver were discovered, the Hackberry Silver Mine was soon established and named for a large Hackberry tree growing near a spring adjacent to the mine. There was enough silver ore to have a 5 stamp mill, which quickly doubled its capacity. This rich vein was about 40 feet in width, and large amounts of silver were mined.
Figure 1<![if !vml]>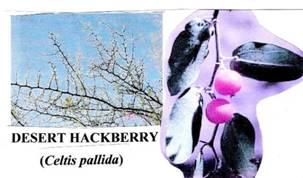 <![endif]>
A note about the Hackberry tree: It was probably a Desert Hackberry (celtis pallid - Figure 1). A member of the elm family, this brushy plant grows thickly and may reach 20 feet high in washes, canyons, and even open desert, but prefers occasional water sources. The fruits of this plant are eaten by a variety of birds and other animals, and were also consumed by Native Americans. It has thorns also!!
The railroad came thru in 1882 and the small settlement moved some 4 miles from the original site. The "new" town of Hackberry became an important loading port for large cattle shipments, soon ranking third in Arizona in volume shipped. Between the cowboys, the miners, and railroaders, this transient town boasted its share of shooting, fighting, and faro (a gambling game). An elementary school (now abandoned) was built on the eastern edge of town in 1917.
The silver mine closed in 1914, due to litigation among the owners, but it earned almost 3 million dollars in silver production. But, then, a new period of exploration and development began, with some production, done very systematically until the workings became flooded in 1920-1921. All workings of the Hackberry mine are flooded and inaccessible. The vertical shaft, which is 750 feet deep, which used to access 4 1/2 miles of underground tunnels, appears to be in reasonably good condition and might be rehabilitated, according to a recent geologist report. Actually, it appears that upper or hillside veins have more potential than the original Hackberry mine, as they branch and continue northward. The silver ore averaged 32 ounces per ton, with a reported reserve of 2 million tons of silver ore. The mine is advertised for sale for $40 Million. Anyone want to buy a flooded silver mine and nearby claims?
Hackberry, though, survived when Route 66 came thru. It was a tourist town until I-40 bypassed the entire town. Today, the old town is to the south of the Santa Fe railroad tracks and the Hackberry General Store on old Route 66 is a virtual museum. Visitors can walk thru a vintage diner and see a lifetime collection of Route 66 history and memorabilia. Outside is a collection of old cars and gas pumps. One can buy souvenirs of Route 66 in this interesting store. A weathered sign at the store once told of Hackberry's history.
<![if !vml]><![endif]>

Figure 2 left, Figure 3 right

<![if !vml]><![endif]>
Photos by: Kathy Block
<![if !vml]>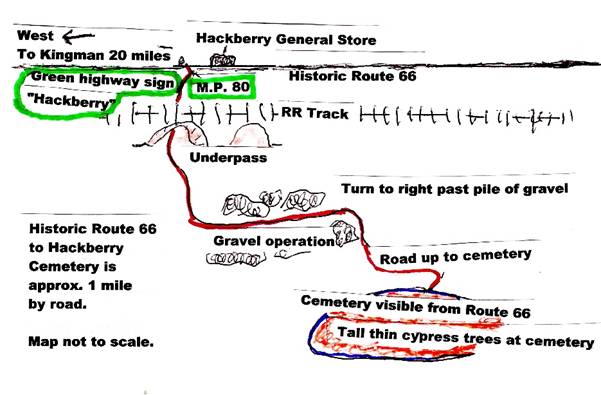 <![endif]>
Figure 4, Map by: Ed and Kathy Block
The CEMETERY, if you take the correct road, (which we missed at first), is relatively easy to spot. (Figure 4) Coming east from Kingman, on Historic Route 66, about 20 miles, turn to the right at green highway sign marked "Hackberry" onto a rather primitive road that is partly old pavement, gravel, and dirt. (Okay for cars if driven carefully.) It is just past mile post #80 and across from the Hackberry General Store. Looking south, south of west, towards the mountains, you can see the tall, pencil thin cypress trees at the cemetery, which is on a hill, on the south side of the Santa Fe Railroad tracks and a gravel mining operation. Go under the railroad in a brick-lined underpass, and then turn left (east) past piles of gravel, then turn right past the last pile of gravel and go up a few hundred yards to the cemetery, which can easily be seen as you come under the railroad tracks.
<![if !vml]>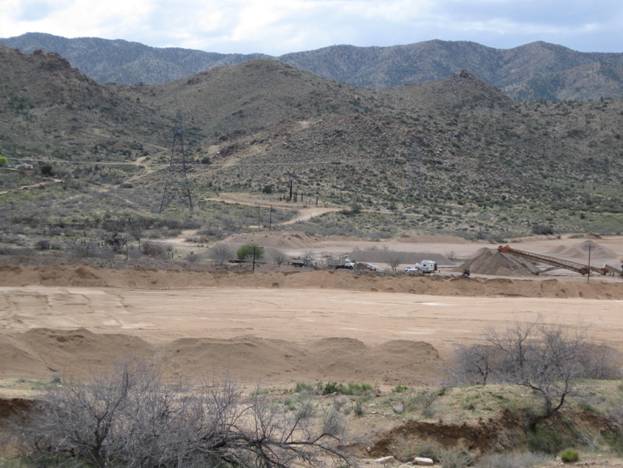 <![endif]>
Figure 5, Cemetery in Center of Photo by: Kathy Block
<![if !vml]>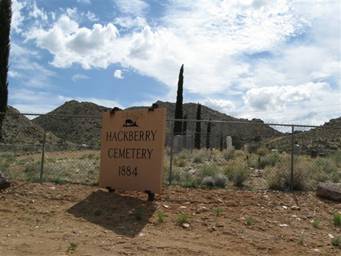 <![endif]>
Figure 6, Photo by: Ed Block
The actual entrance to the cemetery (Figure 6) is thru a series of unlocked gates in the fence to the left of the sign, as the main gate is locked. A very interesting array of graves can be explored. They represent different graveyard styles possibly from different time periods, as the cemetery grew and/or from individual family preferences. You will not find neat rows of look-alike headstones here! The dates of the approximately 150 burials range from unknown and unmarked, with the earliest marked grave probably Sarah Rucker who died in 1885, age 74. Two early burials with nice headstone are Peter Miller and Euphania Miller, 1891 and 1907. One, complete with photo, is 2006. Many have elaborate displays on headstones.
<![if !vml]><![endif]>

Figure 7 left, Figure 8 right

<![if !vml]><![endif]>
Photos by: Kathy Block
There are many unmarked graves, identified only by piles of rock and little empty metal frames on stakes. (Figure 8)
<![if !vml]>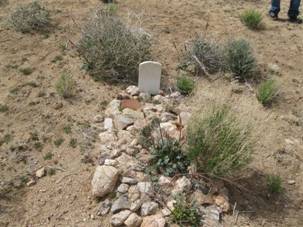 <![endif]>
Figure 10, Photo by: Kathy Block
<![if !vml]>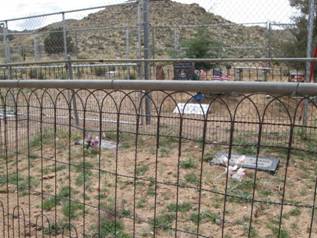 <![endif]>
Figure 9, Photo by Kathy Block
Family burial plots are marked by individual fences. (Figure 9) Some plots are well-maintained with plastic flowers, cleared areas; others are un-kept and abandoned-looking. (Figure 10) In the 1930s, Mrs. Joe Daniels, working with the local mortician, Ray Van Marter, marked many of the graves with mortuary markers. Unfortunately, the names were on paper behind glass and due to the weather and cattle breaking in, all names have weathered away. 
<![if !vml]>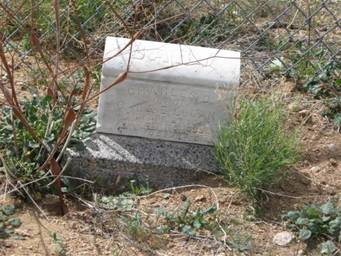 <![endif]>
Information on individual burials from Find A Grave hints at long-ago tragedies in this small town. The Bacon family lists various family members. One, a three year old boy, Guy, died May 27, 1913 from spinal meningitis, as did another child named Thomas Hale, age 10, on May 31, 1913. Was there an outbreak of this disease, often fatal in those days? Testimony to inadequate medical care and knowledge in this somewhat remote mining town, with Kingman being the closest town 20 miles away on poor roads, were deaths from "gastro enteritis"; "Bronco pneumonia" for a child less than a year old; "metastatic abscess", Martha C. Hunt Bacon died just after her 43rd birthday, on November 14, 1916, of "post partum hemorrhage during child birth". The child, Martha Christina Bacon, died less than a year later on Sept.20, 1917. What a tragedy this must have been for the Bacon family. Some of these short-lived babies had rather elaborate headstones. Baby Charles Otto Logan, for example, lived from April 27, 1897 to Sept. 5, 1898. (Photo at Left) Another tragic occurrence was the deaths of Nettie Davis and her "infant Davis" burned in a fire on May 16, 1916.  Frame houses heated by wood-burning stoves or fireplaces would be subject to fires, especially during cold winter months.
Occupations listed for some of the burials include retired rancher, stockman. Members of the Imus family owned a cattle ranch named "Willows", started in the 1800s, and descendents still live in Mohave County. There were probably miners, also, from the Hackberry Silver Mine, and workers from the railroad after it came thru town in 1882.  Since the town was somewhat rowdy in its early days, there are maybe shooting victims also. One could research more burials on Find a Grave by clicking on the individual names listed. In any event, even brief notes about individuals give a picture of the life and deaths of people buried in Hackberry cemetery.
| | |
| --- | --- |
| <![if !vml]><![endif]> | <![if !vml]><![endif]> |
Figure 12 left, Figure 13 right Photo's by: Kathy Block
Final photos show an overview of the cemetery grounds. Hackberry Cemetery is a step back in time and worth a visit next time you "get your kicks on Route 66!" as the old song goes. A plaque at a goldfish pond at the Hackberry General Store neatly sums it all up. (Figure 13)
<![if !vml]>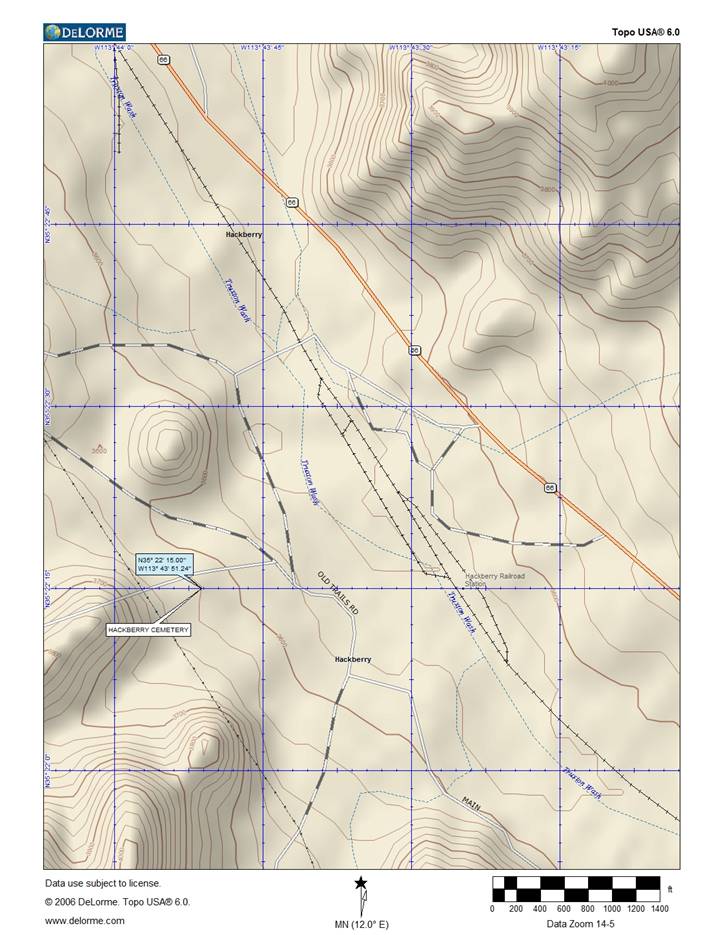 <![endif]>
Map by: Neal Du Shane 04/12/09
GPS Coordinates (by main gate): N35 22.250, W113 43.854
Elevation 3,620 feet, Accuracy 23 feet.
Arizona Pioneer & Cemetery Research Project
Internet Presentation
Version 041209
WebMaster: Neal Du Shane
Copyright © 2009 Neal Du Shane
All rights reserved. Information contained within this website may be used
for personal family history purposes, but not for financial profit or gain of any kind.
All contents of this website are willed to the Arizona Pioneer & Cemetery Research Project (APCRP).
HOME | BOOSTER | CEMETERIES | EDUCATION | GHOST TOWNS | HEADSTONE
MINOTTO | PICTURES | ROADS | JACK SWILLING | TEN DAY TRAMPS