Internet Presentation
Version 121712
CHARLES ALLEN HAMBLIN
GRAVE SITE
By Neal Du Shane
<![if !vml]>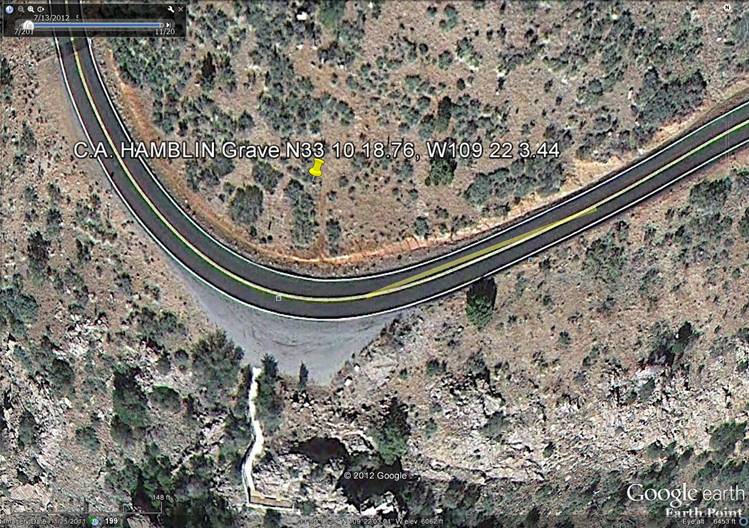 <![endif]>
Charles Allen Hamblin was born on December 28, 1874 in Farmington, Davis County Utah. According to APCRP research Charles was born to Lyman Stoddard Hamblin (b. Mar. 11, 1848, d. Sep. 23 1923, 75y, 6m,12d) and Esther Cecelia Burk Hamblin (1849-1936) 87 years old.
Lyman and Esther are buried in the Eager, AZ Cemetery.
Charles died February 10, 1899, north of Metcalf currently named Morenci, Greenlee County, Arizona along the Coronado Trail, AZ highway 191.

Charles was 24 years old, having celebrated his birthday just one month and thirteen days prior to his death.
Hauling freight with a team of horses and a wagon had a long history in the Hamblin family. Charles father was also a freight hauler as well as several other Hamblin's, it would seem logical that Charles and his brother would follow in the same professional footsteps. Life was difficult in that era; you did whatever you could to survive.
Charles and his brother had a freighting business. They had their youth, strong backs, and a few good teams of horses, good tack, and a sturdy wagon. It is believed that Charles and his brother were possibly on their way from Eager, AZ to Morenci and points south to deliver and pickup goods for a return trip. On this Tuesday, the day that Charles Allen Hamblin and his brother made Charles final trip was very likely cold, below freezing at this elevation (6,069í). It can be speculated there was mud; snow and ice were factors during the day, adding to the hazardous road conditions.
| | |
| --- | --- |
| <![if !vml]><![endif]> | <![if !vml]><![endif]> |
Prior to this section, the road had not been difficult compared to other roads of that era and passable this day, until they reached Chase Creek and there they had to traverse down into the steep canyon below. The old wagon road was rocky, crooked slippery and steep. Even today it is inspiring to look down the canyon below and envision a heavily loaded wagon headed for their destination with teams of horses going down this narrow little road.
If you stop just below the grave site at the highway pull off, you can see sections of the old road below the present roadway. It is believed the Hamblin brothers were going down an extremely tight place on this the road.
One of the horses may have stepped or slipped off the edge of the road, causing the wagon wheel to move toward the edge. The wagon was loaded and presumably heavy, the horses were having difficulty restraining the wagon on the steep declining grade down to Metcalf. It is possible the rocks and/or dirt gave way or skidded on the snow and ice covered road. One of the wagon wheels may have gone off the edge of the road and the wagon jerked the teams over the edge and everything went into the canyon below.
| | |
| --- | --- |
| <![if !vml]><![endif]> | <![if !vml]><![endif]> |
The men didn't have enough time to react or jump, possibly they may have been caught in the wreckage on the way down. Charles Allan Hamblin was killed, the teams of horses mangled and crippled. Charles brother was critically injured, but somehow managed to crawl back onto the road and make his way down the canyon to Metcalf to inform locals of the accident and summon assistance.

Charles Allen Hamblin had his 24th birthday, just one month and thirteen days prior to the time of his death. He was buried in this lonely mountainous country at the point where the accident happened. His grave is by the side of a now busy highway up on the side of the mountain side. Most people, who travel AZ Hwy 191 (Coronado Trail) today, never see the grave-site. Time and the elements have taken a toll on this lonely marker. It is possible someone used the headstone as a target or winter conditions have popped this soft sandstone marker. It is in remarkable condition for being exposed, low these 113 years. There is currently a chain link fence surrounding the grave protecting it from further decay from cattle, horses, wild life and the elements. There are no steps or formal walkway up this steep climb to his grave, you have to find your own way up to the grave site. Research found no other graves in the immediate area near Charles grave.

It is rumored Charles brother didn't live long after the accident. It is not known if his death was caused as an after effect of the accident or a natural event. There is speculation he died around the Safford Valley as there were Hamblinís in that area. No documentation as to Charles Allen Hamblinís brotherís given name has been found. Neither is there any documentation of an older brother passing within many years of this accident. Charles Allen Hamblin was one of 12 children. Neither of the two brothers approximately the same age died soon after the accident in 1899.
One brother was Lyman Duane Hamblin, 1872 to 1951, buried in Wellington, Carbon, Utah. Some historians have confused him as the father listing for Charles Allen Hamblin.

The other brother was Graham Hamblin, 1879 to 1945, buried in Eager Cemetery, Apache County, Arizona.

Either brother could have been riding with Charles on that deadly day! If you have information relating to this subject please contact APCRP at the webmaster listed below, thank you.