HOME | BOOSTER | CEMETERIES | EDUCATION | GHOST TOWNS | HEADSTONE
MINOTTO | PICTURES | ROADS | JACK SWILLING | TEN DAY TRAMPS
Arizona Pioneer & Cemetery Research Project
Internet Publication
Version 080410
Historic Helvetia Pioneer Cemetery
APCRP Revisited
<![if !vml]>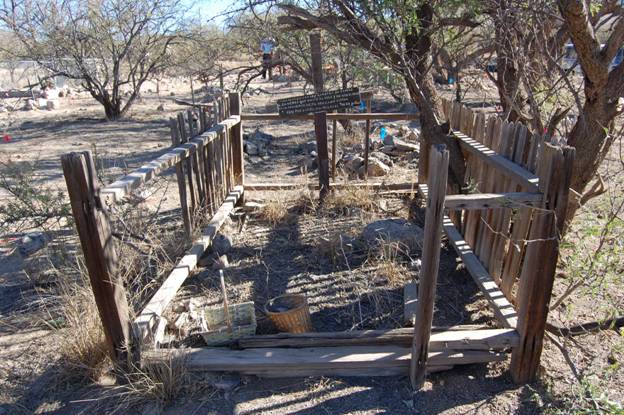 <![endif]>
One of many derelict grave sites in the Historic Helvetia Pioneer Cemetery
Photo courtesy Neal Du Shane
One day early in 2009 I received an email from 13 year old Alex LaValley from Green Valley, AZ indicating his interest in restoring then preserving this historic Cemetery as his Eagle Scout project. Emails and phone calls were exchanged rapidly and a game plan was forth coming.
Basically a new onsite APCRP Helvetia Cemetery Team started the wheels rolling getting approvals from State Land Offices and present caretakers of the site. Discussion with local organizations and business for support and materials was implemented.
A plan of action included participation from the Boy Scouts, APCRP, LaValley and Garcia families with assistance from various sources. A date was set to spend time at the cemetery to determine and document the actual graves of the unidentified interred as well as trying to identify the graves of the names from death certificates.
The team started pulling Death Certificates for the Helvetia Cemetery and came up with a total of 33 documented names. This effort was challenging with many hours put into computer research looking through state records.
Several trips were made by the volunteers in the Sahuarita area to prepare the cemetery for a major offence to restore it.
<![if !vml]>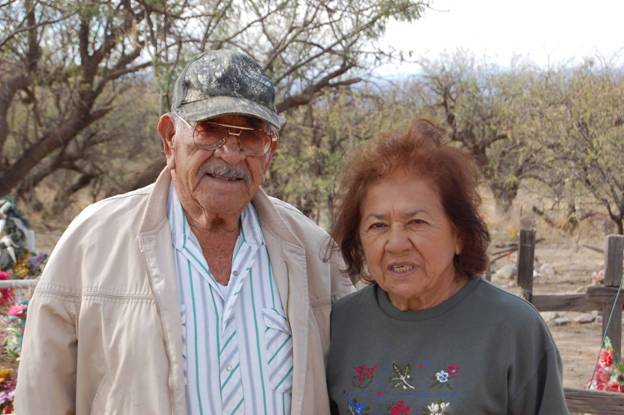 <![endif]>
Federico and Lilly Pallanes
Photo Courtesy Neal Du Shane
The former caretakers, Federico and Eclilia (Lilly) Pallanes were contacted and brought up to date as to the plans and time schedule. The Palanes's had family that lived and worked in Helvetia, several relatives are buried in the Helvetia Cemetery. The Pallanes family has done an outstanding job of protecting the cemetery and keeping it maintained. With their blessing a date was set for the restoration to begin. They couldn't believe anyone would be interested in restoring this cemetery that they love and labored over for years.
Certified APCRP Coordinator Pat Ryland made a visit prior to the major restoration to train those interested in APCRP research techniques. Those that were trained by Pat were immediately in the field finding many unmarked graves.
<![if !vml]>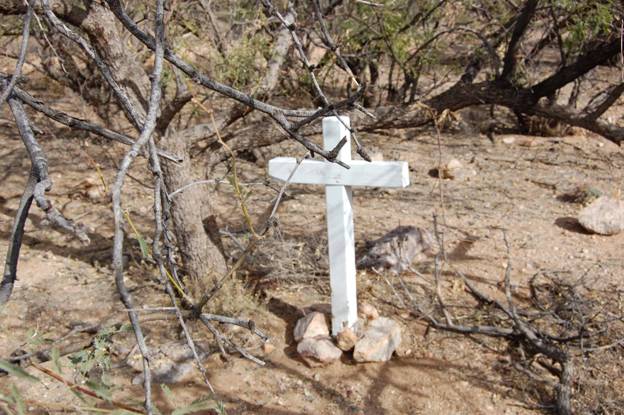 <![endif]>
Lone marked grave at the Helvetia II Cemetery
Photo courtesy Neal Du Shane
Another derelict abandoned cemetery approximately the same size in respect to interments was found closer to the ghost town of Helvetia. No official record or name has currently been documented for the name of this cemetery so it has been dubbed Helvetia II Cemetery. Only one cross remains at the Helvetia II location, many graves are distinguishable. The second cemetery sits on private property owned by a mine.
<![if !vml]>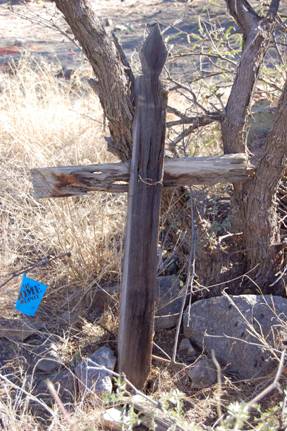 <![endif]>
One of many derelict unidentified grave sites at the Helvetia Cemetery.
Photo courtesy Neal Du Shane
With copies of the death certificates in hand, loading all needed equipment, we gathered at the LaValley home for a kick off BBQ on December 4, 2009. The morning of December 5th found us headed for the cemetery to start the major portion of the restoration. As we arrived at the cemetery, we walked the area, it was apparent if tree trimming was accomplished more graves would be visible.
<![if !vml]>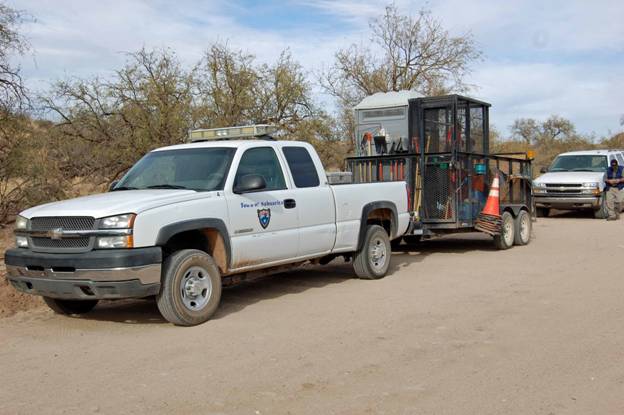 <![endif]>
Equipment at Helvetia restoration site
Photo courtesy Neal Du Shane
Starting with four graves that had readable headstones we could see many others that had wooden crosses that were in dire need and in a state of total decay.
<![if !vml]>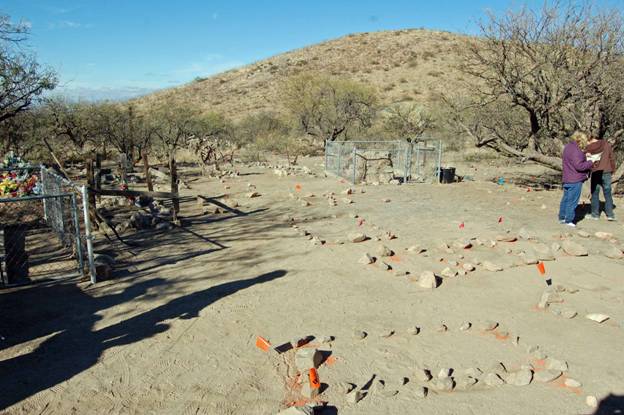 <![endif]>
Averell Garcia & Jordan Chandler recording graves with a layout of names identifying all known graves.
Photo courtesy Neal Du Shane
Once the tree and weed trimming was complete an all out research project was instituted by several APCRP staff. In total we found 188 graves. Much more than the 33 graves we had documented previously. The vast majority of the graves were within the existing fenced area, plus ten were found just outside the fence. At first this seemed like an unusually large amount of graves. When we realized the community of Helvetia existed for some 60 years, the average would be 3.1 burials per year, which would be realistic.
Working a large loop beyond the fenced area Judy Borrajero and Alex LaValley found an additional cemetery near the mine tailing pile, 800' to the west of the Helvetia Cemetery that contained an additional seventeen graves. This brought the total count up to 205 graves within a quarter mile of the Helvetia Cemetery.
<![if !vml]>
<![endif]>
Ground flags & stones identify 188 graves
Photo courtesy Neal Du Shane
Field ground flags were placed at the head of every grave found, indicating male, female, adult or child written on each flag or the name of the individual buried in the grave. With the list of certified Death Certificate names, all individual graves were found and marked for future reference. A team came in and outlined the physical size of each grave using fist sized rocks as boarders from the surrounding area.
The APCRP team's goal is to place a marker with the names of the 33 individuals who have been identified as being interred in the Helvetia Cemetery, now that the unmarked individual graves have been identified by their name.
<![if !vml]>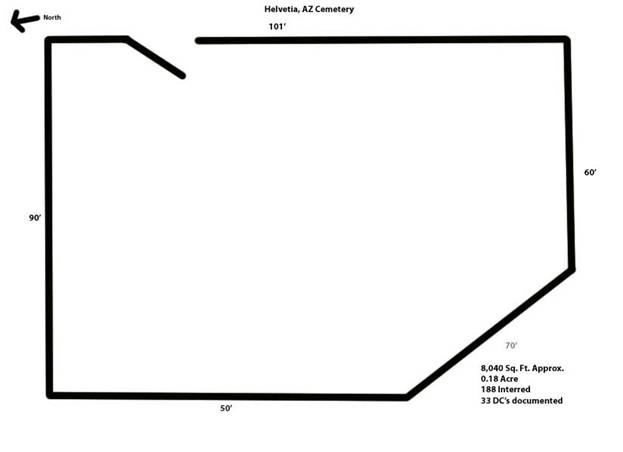 <![endif]>
Layout of the Helvetia Cemetery.
It has been documented there was one acre dedicated for this cemetery, only 1/18 of the acre is being used and fenced.
Layout by Neal Du Shane
A layout of the ground and grave sites were recorded. This is a very difficult cemetery to layout as there seems to be absolutely no pattern to any of the graves. It would appear when there was a death they would observe an open space and dig a grave. No paths or walkways were observed once all the graves were identified. There seems to be no record of cemetery plots being sold or a formal layout to the cemetery to sell the plots.
<![if !vml]>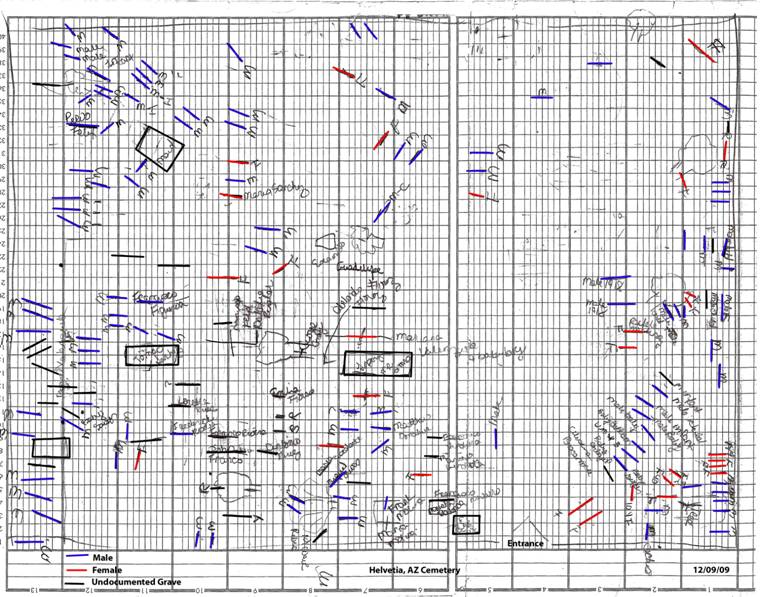 <![endif]>
Map of grave sites in Helvetia Cemetery – No Scale – North, upper right corner
By Averell Garcia & Neal Du Shane
The Pallanes's are in the process of contacting relatives to gain further information for any family members buried here that are not known to them. One lost grave of a family baby was identified from the information they provided the APCRP team.
Alex LaValley will work to complete the restoration for his Eagle Scout Badge and has agreed to take the caretaker position over from the Pallanes.
Federico and Lilly Pallanes have requested their remains be placed at this Historic Pioneer Cemetery and are grateful to the LaValley family for taking the caretaker position for future maintenance.
Mable LaValley earned the status of APCRP Certified Coordinator, exhibiting needed research techniques to qualify. Many of the volunteers studied with supervision of existing APCRP Certified Coordinators to start their training to become certified by APCRP for future research.
The Historic Helvetia Pioneer Cemetery is a beautiful example of a declining relic of our heritage. Thanks to the volunteers that adopted this project it will set an example of what can be accomplished with involvement of local citizens to retain honor and dignity to the interred.
<![if !vml]>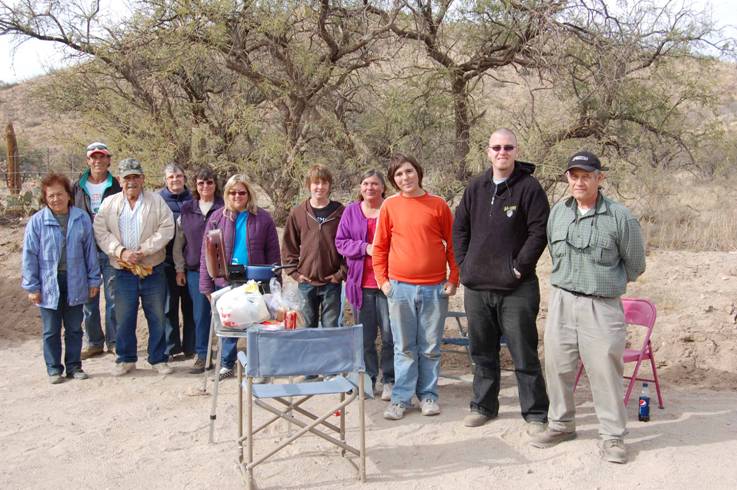 <![endif]>
L-R; Lilly Pallanes, Paul LaValley, Federico Pallanes, Judy Borrajero, Pat Ryland, Averell Garcia,
Jordan Chandler, Mable LaValley, Alex LaValley, David Reynolds, Jose Borrajero.
Not Pictured: John Garcia, Kayla Garcia, Daryl Mallett
Photo courtesy Neal Du Shane
EDITORS NOTE: the movie Hombre staring Paul Newman was filmed in and about Helvetia, several years ago. We believe you can still see the area where the standoff took place in the movie on the mountain. There is nothing left of the movie set today.
If you are interested in organizing an "APCRP Adopt-A-Cemetery" project in your area for a derelict cemetery, please contact us and we will provide training and assistance whenever possible.
UPDATE: A legal letter was received a short time after this restoration was completed, in an attempt by the State of Arizona to put this cemetery back to its derelict apathetic status. All legal permits were obtained by this restoration team prior to the restoration with approvals granted by Arizona State agencies and Arizona State University. In an attempt to comply with their demands all rocks outlining the individual graves were removed by the restoration team destroying the majority of the research evidence for the interred. The State alleged it was impossible that the graves weren't in rows and columns. Contrary to this thinking APCRP finds that seldom are graves in these Historc Pioneer Cemeteries in an organized formal layout. First there is no longer a plot plan (if there ever was one) in these abandoned Ghost Towns and mining camps and individual families simply buried their loved ones where ever there appeared to be clear ground. There is no city government remaining for the abandoned town of Helvetia nor authority to supervise burials in this cemetery. Which obviously without aid of marked graves leads to burials over old burials and random placement. So continued random graves will continue be placed as there is no longer marked evidence of the existing graves as this cemetery slowly continues to decay. We tried to reach the State with telephone calls, with no response from them in an attempt to work out their indifference to this and other planned restoration projects.
The LaValley family has volunteered to maintain and preserve this historic pioneer cemetery taking the responsibility from Federico & Lilly Pallanes who have cared for this site in years past.
MINNIE MAUD GANDY
Research by Daryl Mallett
For some reason, Minnie Maud Gandy's name popped into my head this weekend. She is buried at the Helvetia (I) Cemetery and is one of the few graves that is marked.
I started doing some research and managed to find out more about her.
Birth Certificate: http://genealogy.az.gov/azbirth/402/402-0717.pdf
Death Certificate: http://genealogy.az.gov/azdeath/007/10070389.pdf
Daughter of James Ross "Ross" Gandy & Ida Singleton.
She was born February 6, 1907 at Willcox, Cochise Co., AZ.
She was one of seven children, only four of whom lived to adulthood.
She died on July 17, 1909 at Helvetia, Pima Co., AZ, of colitis, from which she suffered for 8 days, aged 2Y 5M 11D.
She was buried on July 18, 1909 by her parents.
Her father was James Ross "Ross" Gandy.
He was born in 1875 in the south (Alabama, Georgia, Mississippi...still searching).
He worked as a cattle ranch foreman across the southern states.
He met his wife in Texas.
He died in 1934 in California, perhaps in Santa Barbara, CA.
Her mother was Ida Singleton. She was born in 1878 in the south (Louisiana or Texas...still searching.
She died in 1971 in California, perhaps in Santa Barbara, CA.
Ross and Ida's children were:
1. William Ross Gandy (b. 1895; d. young)
2. Violet May Gandy (b. 1897). Three children: Lola, Lillian, Bennett.
3. Mattie Lenora Gandy (b. c. 1899; m. Richard Stuart Masson or Massan (b. 1890; d. 1942)).
Four children:
Mattie Martha Masson (b. bef. 1918; d. aged 2M of dysentery)
Mattie Misa Masson (b. 1918; d. bef. 9/22/2007)
Emma Elfreda "Freda" Masson (b. 4/5/1926 at Santa Barbara, CA; m. 1946 to Alvin L. "Al" Forbach (still living, in Cottonwood, AZ); d. 9/22/2007 at Cottonwood, AZ. Obit: Emma Elfreda M. Forbach -- Emma Elfreda M. Forbach, 61, resident of Cottonwood, passed away on Saturday, September 22, 2007. She was born in Santa Barbara, California on April 5, 1926 to Richard Stuart and Mattie Lenora (Gandy) Massan. Emma attended her childhood and high school years in Coolidge, Arizona. After graduating high school, she went on to the Baptist Bible College where she received her diploma. Emma went on to work as an administrative secretary, and worked for Southern Union Gas in Flagstaff for 20 years. While she was employed there, she was a member of the National Secretaries. During this time she was also a devoted wife-being a wonderful helpmate to her husband, and she was a loving and dedicated mother. Since she has been in Cottonwood, Emma worked as a volunteer greeter at the front information desk at the Verde Valley Medical Center. She was also very active in her church, holding many positions, in which some included teaching and secretarial. Emma enjoyed sewing, doing crafts, and cooking. She is preceded in death by her parents. Emma leaves behind her husband of 61 years, Al Forbach, Cottonwood; sons, Gary B. and Paula Forbach, Topeka, Ks., and Larry C. and Robyn Forbach, Flagstaff; her daughter, Ann and Kenneth Dodd, Forsyth, Mo.; her sister, Bess Oberly, Denver, Colo.; four grandchildren and five great-grandchildren. A Memorial Service will be held at the One in Christ Church in Cottonwood on Saturday, October 13, 2007 at 1:00 p.m. In lieu of flowers, please send contributions to: One in Christ Church, 2080 Hwy 260, Cottonwood, Arizona, 86326. An online guestbook is available at www.westcottfuneralhome.com. Westcott Funeral Home, Cottonwood and Camp Verde, Arizona.
They have three children and five grandchildren, scattered from Arizona to North Carolina.
He is still living in Cottonwood, AZ and is sending information on the Gandy clan.
Bess Masson (b. 1930; m. William E. Oberley (b. 3/27/1929; d. 9/11/1980; Sgt., USAF; bur. 9/15/1980 at Ft. Logan National Cemetery, Denver, CO))
She is still living in Englewood, CA and is sending photos and information on the Gandy clan.
4. James Singleton Gandy (b. 1901; d. 6/29/1902 of enterocolitis at Gleeson, Cochise Co., AZ. Death Cert: http://genealogy.az.gov/azdeath/002/10020253.pdf)
5. Ida Lillian "Lillian" Gandy (b. 1903)
6. Maud "Minnie Maud" Gandy
7. Edward Bennett "Bennett" Gandy (b. 7/29/1909 at Tombstone, Cochise Co., AZ. Birth Cert: http://genealogy.az.gov/azbirth/406/406-0064.pdf; m. Minerva L. (last name?) (b. 9/9/1911; d. 3/1/2000); d. 9/4/2002 at CA, USA)
Arizona Pioneer & Cemetery Research Project
Internet Publication
Version 080410
WebMaster: Neal Du Shane
Copyright © 2009 Neal Du Shane
All rights reserved. Information contained within this website may be used
for personal family history purposes, but not for financial profit or gain.
All contents of this website are willed to the Arizona Pioneer & Cemetery Research Project (APCRP).
HOME | BOOSTER | CEMETERIES | EDUCATION | GHOST TOWNS | HEADSTONE
MINOTTO | PICTURES | ROADS | JACK SWILLING | TEN DAY TRAMPS