HOME | BOOSTER | CEMETERIES | EDUCATION | GHOST TOWNS | HEADSTONE
MINOTTO | PICTURES | ROADS | JACK SWILLING | TEN DAY TRAMPS
Arizona Pioneer & Cemetery Research Project
Internet Presentation
Version 053109
HOAGLAND GRAVESITE
PRESCOTT, ARIZONA
WGS84, GPS: N34 33.135, W112 22.374, Elevation: 5,277 feet.
By Kathy Block, APCRP Historian
<![if !vml]>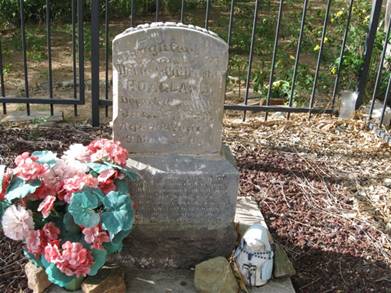 <![endif]>
This is the lonely grave of a child named Angeline Hoagland.
On the tombstone, made from a luminous marble-type rock, is inscribed:
"Daughter of David & Catharine Hoagland.
Departed Life, Jan.15, 1889, Aged 2 yrs, 9 mo, 15 days.
On top of the marble marker is engraved,: "Angeline".
<![if !vml]>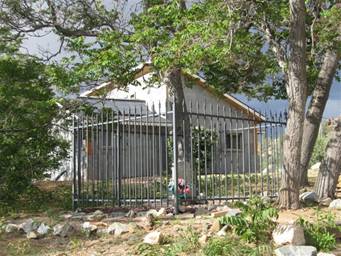 <![endif]>The grave, surrounded by a black iron fence, is on the left side of Old Black Canyon Highway, which leaves Highway 69 in Prescott. (Highway 69 continues east towards Prescott Valley.) Turn right (south) at the Old Black Canyon Highway sign if going east on Hwy.69, and go about 7/10 mile. You will see the grave site on a little knoll to your left immediately after crossing the Lynx Creek Bridge. The fenced site is accessed by walking a path with railroad ties for steps. It appears to be on the grounds of a private home.  It is well-maintained, but no sign tells information about the grave site. The Old Black Canyon Highway leads to a neighborhood of palatial, gated estates.
This gravesite is listed on the majority of cemeteries/gravesites documented in Prescott and Yavapai County.                                                            
Old Lynx Creek Bridge, which is directly to the left (west) of the grave site, if you are facing it from the little parking pullout, was placed on the National Register of Historic Places in 1988. It was built in 1922 and was the first highway bridge over Lynx Creek. Architecturally, it is noted for its "filled spandrel arch". A new bridge parallels the old.  The old bridge is now pedestrians only and marked by a historic plaque.
Photo Below: Ed Block at <![if !vml]>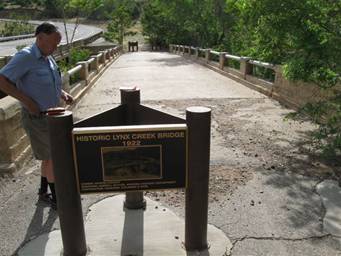 <![endif]>Old Lynx Creek Bridge.
I have been unable to find any census, genealogical, or historical information about Angeline Hoagland. There is a Catharine Hoagland buried in the Citizen's Cemetery in Prescott, which discontinued burials in 1933 after a mortuary complained it was digging up bones and wood fragments whenever it dug a grave. She may be Angeline's mother.
For $54.00, you can purchase a book about the Hoagland family in Arizona, 1638 to 1891 from Sistler Genealogy Company, but there's no guarantee that this is the correct family. There are prominent Hoagland's today in Arizona listed in various web sites, but no direct link to Angeline or her family.
There are claims from a web site that the tombstone glows after dark and the ground shakes if anyone steps over the wrought iron fencing around Angeline's grave! Another web site mentions that the tombstone glows brightly when car headlights hit the rock it is forged from. (The latter is the most likely explanation for this phenomenon?!)
One can envision a family of settlers or miners camped or living on the banks of Lynx Creek before Prescott (which came into existence after the discovery of gold in Lynx Creek in 1863 and in the Bradshaw Mountains to the south) expanded east, west, north, and south from its original location along Granite Creek to the west of this location.
Certainly this may have been a wilderness area at the time or barely tamed by intrepid frontier people. Did Angeline fall into Lynx Creek and drown as there was no real bridge until 1922? The creek is directly below and to the left of her grave on the knoll. Did she die of some often fatal childhood illness? Was she killed in an accident or by some insect or animal? Early accounts of other infant deaths mention deaths from scorpion bites, rattlesnakes and other poisonous hazards!
UPDATE ANGELINA HOAGLAND GRAVESITE
June 8, 2009
By Kathy Block, APCRP Historian
New information received by me answers some of the questions posed in the above write-up on Angelina Hoagland's Grave. According to Sharlot Hall Museum in Prescott, the site IS on the private property of Mr. and Mrs. Everette Barber. The stone had been stored for many years at Sharlot Hall Museum, due to vandalism at the grave site and to the headstone. In 1993 the stone was returned to the site by local business leaders and community volunteers and the wrought iron fence was erected around the grave. A poem around the base, which was illegible, when we photographed the headstone, was written by Miss Sharlot Hall, a friend of the Hoagland family, and read:
Here lies our baby Angeline
For which we weep and do repine,
She was all our joy and all our pride
Until the day our baby died,
We hope in heaven again to meet
And then our joy will be complete.
But until our Maker calls us there
We trust her to his righteous care.
Apparently, Angeline's father, David, mined on Lynx Creek and died in 1887, six years after the family arrived from the east. It is unknown if the mother Catharine stayed there, leaving when her beloved daughter died on a snowy day in 1889? The Catharine Hoagland buried in Citizen's Cemetery in Prescott is probably, but not absolutely certainly, the mother. She died in 1922, at the age of 75, of paralysis, in Prescott, and is buried beside a daughter named Mrs. Hicks. This Catharine was survived by four granddaughters and one grandson, with the last name of Hicks. Were they her adult daughter's children? The sketchy records of the time yield no further clues!
If you have additional information regarding Angeline Hoagland and her solitary gravesite please forward it to n.j.dushane@comcast.net .
  Arizona Pioneer & Cemetery Research Project
Internet Presentation
Version 053109
WebMaster: Neal Du Shane
Copyright © 2003 - 2009 Neal Du Shane
All rights reserved. Information contained within this website may be used
for personal family history purposes, but not for financial profit of any kind.
All contents of this website are willed to the Arizona Pioneer & Cemetery Research Project (APCRP).
<![if !supportLineBreakNewLine]>
<![endif]>
HOME | BOOSTER | CEMETERIES | EDUCATION | GHOST TOWNS | HEADSTONE
MINOTTO | PICTURES | ROADS | JACK SWILLING | TEN DAY TRAMPS