HOME | BOOSTER | CEMETERIES | EDUCATION | GHOST TOWNS | HEADSTONE
MINOTTO | PICTURES | ROADS | JACK SWILLING | TEN DAY TRAMPS
Arizona Pioneer & Cemetery Research Project
Internet Presentation
Version 060109
Howells Cemetery
Ghost Town of Howells, Arizona
By: Kevin Hart - APCRP Certified Coordinator
<![if !supportLineBreakNewLine]>
<![endif]>
On May 30th, 2009, with research information in hand, acquired from various sources, I made the trip to Walker, AZ and specifically Howells Cemetery near the ghost town of Howells. Howells was located South of Prescott in the Bradshaw Mountains along Historic Lynx Creek. Neal Du Shane had read, heard, been told (where he keeps coming up with further sites is beyond me) that there may be 15 graves at the Historic Pioneer Howells Cemetery, with all evidence of any remains, long since gone. In fact in 1966 a person visited the Howells Cemetery and nothing remained at that time.
<![if !vml]>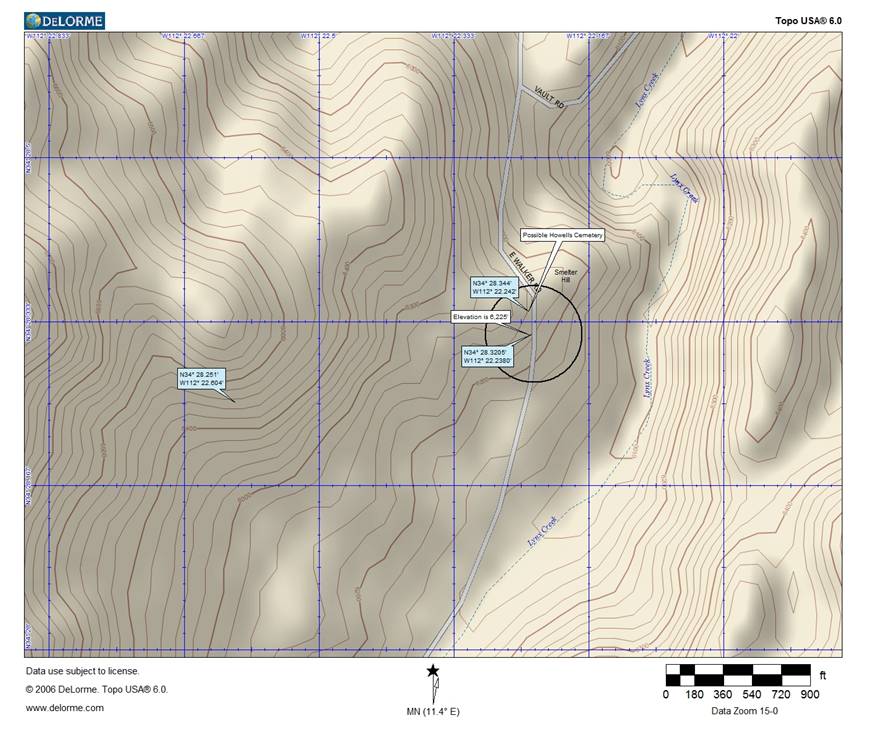 <![endif]>
Map by: Neal Du Shane
The Smelter was located approximately one and a half miles north of Walker area and sets slightly east of the current Walker Road to Prescott. There is only a few foundations left of the Howells Smelter with some flat areas where buildings once stood on Smelter Hill.
I picked up Kurt Wenner a former Arizona State Site Steward for Howells Smelter in Prescott. We then met Loren Bykerk at his house just down the street from the smelter near the ghost town of Howells.
We then met the two current Arizona State Site Stewards for Howells Smelter, Jim and Barbara Marcel, who also live in the area. All four of them are extremely knowledgeable of the Howells Smelter site and Walker area in general. It was an absolute pleasure listening to the exchange of history for the Walker area.
I was unable to find any indication of any graves at the Howells Smelter site. Checking the flat areas did not identify any graves. With further research of the general area no evidence of graves were found. Old graves will sometimes implode over time and a depression will be visible which can indicate a grave or several graves, especially if there are some stacked rocks also visible.
Allegedly the Howells Pioneer Cemetery and fifteen graves are located within 300 or 500 feet of the Howells Smelter, it is my opinion that we will need several APCRP Certified Coordinators to locate the historic cemetery. There is no record's that our research has found that the Howells Cemetery was exhumed and the interred placed elsewhere. Logically it is there . . . we need to find it.
Loren led us to an area about 1,800 feet from Walker road with an elevation gain of about 200 feet above the road. He had come across this barbed wire enclosed area a while back while hiking. He thought it might be a small cemetery and he was correct. He had the good sense to mark it on his GPS and we used the coordinates to find it.
We are temporarily calling this site, Bald Mountain Road Cemetery. Loren suggested the name, although he would like to find the name of the claim that the mine is on and name it after that. I should be able to find that out through the Arizona Department of Mines and Mineral Resources (ADMMR)
<![if !vml]>
<![endif]>
These four adult male graves were dubbed the "Bald Mountain Cemetery"
Photo: Kevin Hart
I was able to confirm that there were four males buried there. We believe the graves might be associated with a mine not far from site. As you can see it is very overgrown and was difficult to conduct infield research.
Our next stop was the Claude Miller grave mentioned in Ed and Kathy's article at www.aprcrp.org on Walker.
<![if !vml]>
<![endif]>
Claude Miller Grave – Walker, AZ Cemetery
(left off the "E" on the marker)
Photo by: Kevin Hart
After that Loren took us to his grandfather's grave behind the new fire station about 50 feet from Lynx's Creek. The story regarding this grave is that the casket was washed up out of the grave when the creek flooded one particular year, and had to be put back in place after it was retrieved from down Lynx Creek 
<![if !vml]>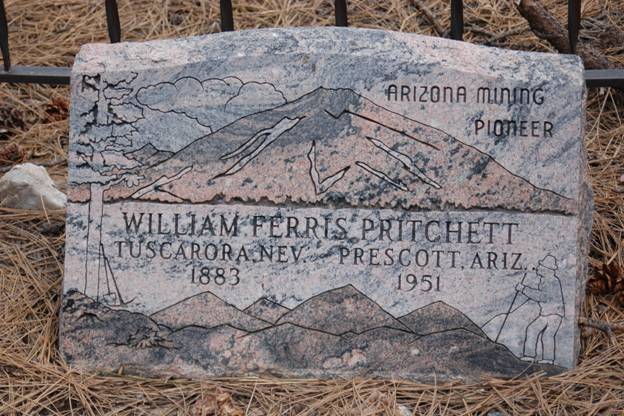 <![endif]>
Photo by Kevin Hart
Although we could not locate the cemetery at Howells Smelter or in the general vicinity of the ghost town of Howells, AZ I consider the trip a success.
It is my belief that with a few APCRP Certified Coordinators joining me, we will find the Historic Pioneer Howells Cemetery.
Arizona Pioneer & Cemetery Research Project
Internet Presentation
Version 060109
Copyright © 2009 Neal Du Shane
All rights reserved. Information contained within this website may be used
for personal family history purposes, but not for financial profit or gain of any kind.
All contents of this website are willed to the Arizona Pioneer & Cemetery Research Project (APCRP).
HOME | BOOSTER | CEMETERIES | EDUCATION | GHOST TOWNS | HEADSTONE
MINOTTO | PICTURES | ROADS | JACK SWILLING | TEN DAY TRAMPS