HOME | BOOSTER | CEMETERIES | EDUCATION | GHOST TOWNS | HEADSTONE
MINOTTO | PICTURES | ROADS | JACK SWILLING | TEN DAY TRAMPS
Arizona Pioneer & Cemetery Research Project
Internet Presentation
Version 062709

Harqua Hala, AZ and Historic Pioneer Cemetery
<![if !vml]>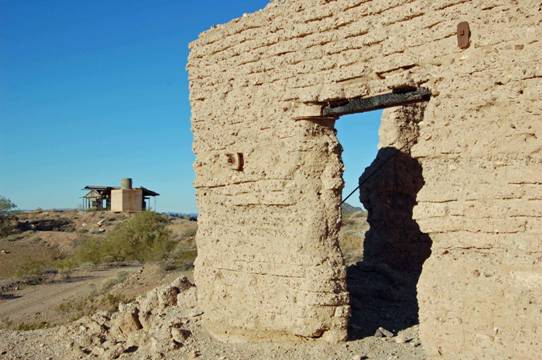 <![endif]>
Adobe structure and mine building at Harqua Hala. Photo by: Neal Du Shane
Harqua Hala (often spelled this way in early days) was the town that served the miners and their families for the Harquahala Mine located just south of the community.
In the Mojave tongue, Harquahala means "running water high up".
Spanish explorers in the Harquahala Mountains discovered gold in the 1760's. Attempts to recover the gold deemed unsuccessful at that time, then once again failure in 1814. Pima Indians were hostile and drive off the prospectors during that era.
Herman Ehrenburg in 1863 discussed with Henry Wickenburg that he had found a promising location in the Little Harquahala Mountains. After Wickenburg explored the area he agreed it had potential for riches. Wickenburg upon his return trip from Little Harquahalas, discovered an even richer vain "The Vulture Mine" and Henry Wickenburg forgot all about Little Harquahala potential.
In the early days the Harquahala area mines produced very rich gold ore and continued for a number of years to produce ore in vast quantities. This abundance of gold was certain to make the poorly paid miners greedy. Highgrading, the practice of miners stealing highgrade ore from the mine owners, could be easily done in a working arrastra that was used for crushing highgrade ore, by scraping out the gold that had been liberated from the ore or by pocketing the ore that contained visible gold.
Typically most of these mines only produced highgrade ore for a few years and as the values fell they were forced to cyanide the ore to keep the mine in operation.
All good things must come to an end and mining ceased operations at the Harquahala Mine in 1907.
<![if !vml]>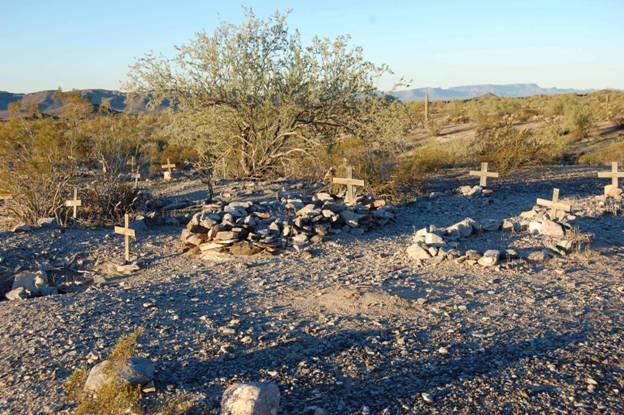 <![endif]>
 A partial view of the graves at the Historic Harqua Hala Pioneer Cemetery
Photo by: Neal Du Shane
Research was completed at the cemetery by the Arizona Pioneer & Cemetery Research Project and it is believed there are over 50 graves in this cemetery. This could represent a population in Harqua Hala from 450 to 500 residents during the peak years of production.
There are 40 adult male (believed to be miners), 5 male children ranging in age from 2 to 5 years of age. Two female children age 4 and 10 years old.
Someone or a group has placed wooden markers at most of the graves but there are a few they missed or the cross had decayed.
One grave of significance is a large cement horizontal enclosure indicating someone of importance to the mine or community. There is no identification on the grave to indicate who this person is.
<![if !vml]>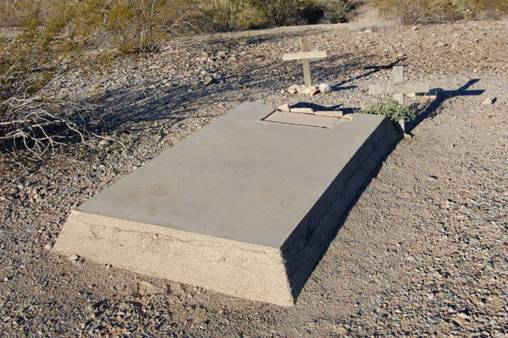 <![endif]>
Photo by: Neal Du Shane
The hardest part of this beautiful trip is finding Harquahala Road in Salome. Once the road is found it is approximately 8 ˝ miles of good desert road to the Harqua Hala Cemetery. When I did it Grandmas, Sunday-go-to-church-mobile, could make the trip with no problem. Be aware each rain or storm can decay the condition of these roads substantially. Inquire locally before heading out.
Historical Facts About Harquahala And The Mines
By Kathy Block
<![if !supportLists]>(1) <![endif]>The Bonanza and Golden Eagle gold veins brought miners AND merchants.  The town of Harqua Hala began with a stage line that ran to Sentinel.(At least 20 miles SE, site off I-8, exit 87.)  The first store started in a tent with a 5 gallon jug of whiskey. A newspaper called the Harqua Hala Miner chronicled early events in the town's development.
<![if !supportLists]>(2) <![endif]>After Hubbard and Bowers got the mine, they built a 20 stamp amalgamation mill.  An engineer came up with idea of casting the gold in 400 pound bars too large to be readily carried off by thieves. This worked for a while until an incident in 1890 when the flimsy wooden bottom fell out of a stage carrying a load to Sentinel. The ingot fell out and the loss wasn't discovered for several miles. It was recovered from a deep gully with considerable difficulty.
<![if !supportLists]>(3) <![endif]>Several sources mention the story that when the miners were high-grading, children would be signaled to sing loudly, drowning out the sound of their fathers scraping the arrastra beds for gold. Some of the culprits were not charged, even though they confessed to the crime. (Some mines hanged high-graders, like at Vulture Mine!)
<![if !supportLists]>(4) <![endif]>One of the graves at Harqua Hala may be that of a Mexican miner named Jesus Eredias. Apparently his skull had been crushed with a rock and his body was thrown into a deserted shaft where it was soon found.  His brother (who had been hunting lions and other big game in Mexico) came to Phoenix in 1905 to seek vengeance for his brother's killing, but the murderer had already been arrested, convicted, and sentenced to 15 years in the territorial prison. The killing was over a woman.
<![if !supportLists]>(5) <![endif]>A web site about mines in the Harquahalas suggests that the Rio Del Monte mine, north of the cemetery is currently for sale. (2008)
<![if !vml]>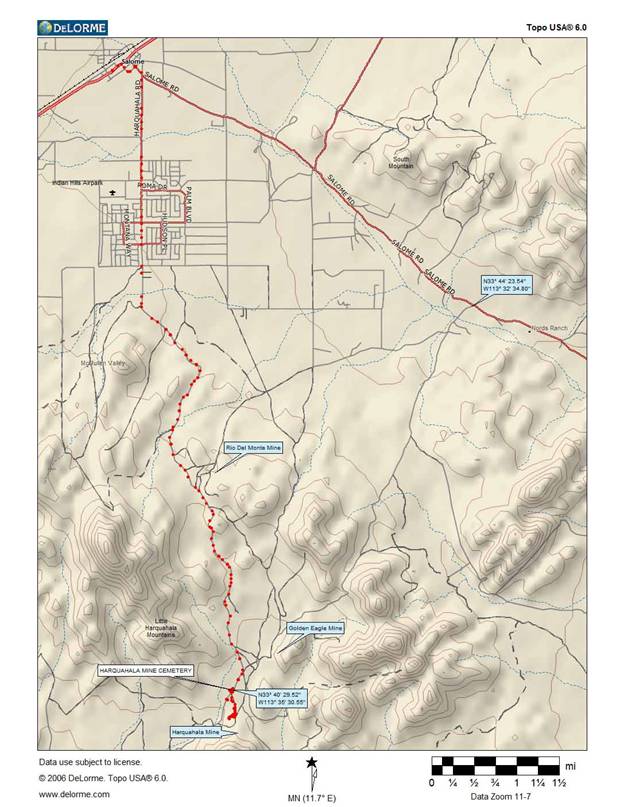 <![endif]>
Map by: Neal Du Shane
Along the road from Salome, you will pass the Rio Del Monte Mine. Which brings up an interesting quandary? Are there graves at the Rio Del Monte Mine? The mine is posted so please do not trespass. We will try to research this question and see if we can come up with an answer. Very likely there is a cemetery or at least graves, at the Rio Del Monte Mine waiting to be discovered also.
Please help preserve these Museums of our heritage.
PROTECT – RESTORE - MAINTAIN
Adopt This Pioneer Cemetery
Arizona Pioneer & Cemetery Research Project
Internet Presentation
Version 062709
Editorial input by: L. Dee, Geologist
WebMaster: Neal Du Shane
Copyright © 2008-2009 Neal Du Shane
All rights reserved. Information contained within this website may be used
for personal family history purposes, but not for financial profit.
All contents of this website are willed to the Arizona Pioneer & Cemetery Research Project (APCRP).
HOME | BOOSTER | CEMETERIES | EDUCATION | GHOST TOWNS | HEADSTONE
MINOTTO | PICTURES | ROADS | JACK SWILLING | TEN DAY TRAMPS