HOME | BOOSTER | CEMETERIES | EDUCATION | GHOST TOWNS | HEADSTONE
MINOTTO | PICTURES | ROADS | JACK SWILLING | TEN DAY TRAMPS
Arizona Pioneer & Cemetery Research Project
Internet Presentation
Version 101211PR
<![if !vml]>

<![endif]>
By Pam (Milliken) Redmond
I got into genealogy when my wonderful husband said I could quit work and stay home. I gave two week notice and started my treasure hunt of my ancestors with the help of relatives, it filled my day. I also joined a free website called findagrave.com and became a volunteer photographer for people requesting pictures of their loved ones headstoneís for the information on the headstone. It made me sad when I had to reply that that individual had no stone. I wished I could help and do something about it. I had also discovered how hard it was to find the women in our past since the name changed and wanted to make sure I could be found by my ancestors by putting my married name on my fatherís headstone except the engraver wanted $160.00 per line and I needed two lines for my sister and my name to get added, remember, we are now living on one pay check so I try to watch our money.
After talking to the cemetery and finding out their rules and regulations, I decided to make my own stone and place it at my fatherís grave as a footstone but didnít know how to go about making my own stone and wanted to save money, so I searched the internet and found only one site that was making headstones and even gave instructions and that was Nealís www.apcrp.org website. I sent Neal off an email and he replied and we exchanged phone numbers and thatís how I got started making headstones.
Thank goodness for Neal, without him my project would have never come about. Heís a great guy, willing to share information and he gave me lots of advice, praise and encouragement. I will never be able to sing his praises enough. Thanks to him I am now getting involved and currently working with a local country cemetery here in Skiatook, OK., called† Hillside Cemetery, making grave stones for the graves with no markers† and replacing some that have been broken. I met with the cemetery board and showed them my work and asked if I could help. They turned over a copy of cemetery records and a list of approximately 108 names needing stones. They are furnishing the mortar mix and I am making the stones at no charge. I feel they are doing me the favor since I enjoy doing this, showing respect and helping preserve information.
Hereís how to get started:† First rule is always check with the cemetery for any rules and regulations and this will give you the size dimension you will need to make your wooden frame from 2x4 or 2x6 lumber and a plywood backing, held together with wood† or deck screws. That way you can take the frame apart, clean and reuse the frame over again.
I use #8 3inch deck wood screw purchased at Wal-Mart or Loweís/Home Depot etc
<![if !vml]>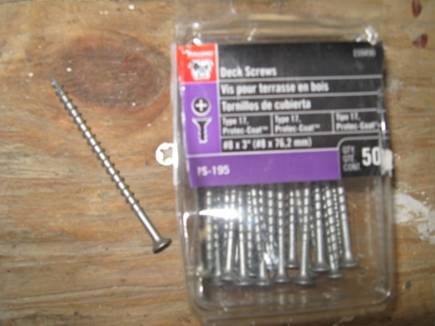 <![endif]>
# 10 wood screw size 1 -1/2 inches
<![if !vml]>
<![endif]>
<![if !vml]>
<![endif]>
Iíve made several different size frames over the past few months as my projects expand.
<![if !vml]>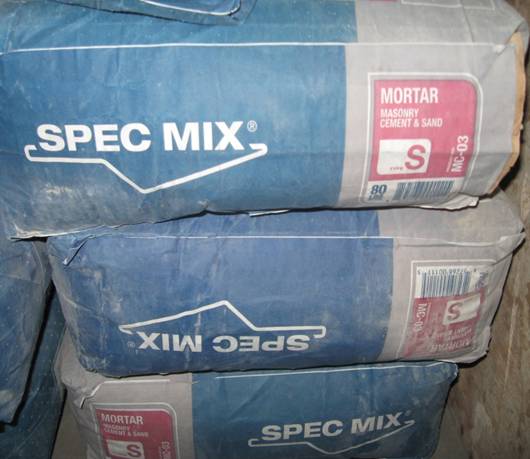 <![endif]>
<![if !vml]>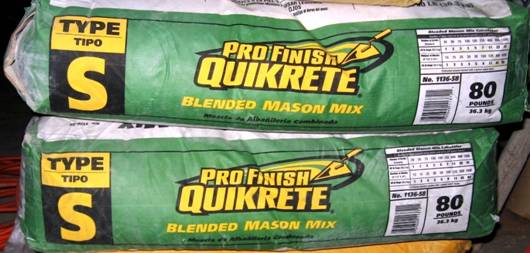 <![endif]>
I use 80 lb. bags of MORTAR mason mix TYPE S which is super strength and professional grade. You can get it at any Lumber company such as Loweís or Home Depot and any brand will work as long as itís MORTAR, it has no gravel to mess up the lettering. It runs about $ 5.00 - $ 6.00 per 80 lb. bag.
DONíT use cement mix which has gravel for making headstones.
Depending on your area and humidity you may have 30 minutes -1hour of work time before it sets up and hardens so you want to have everything laid out with-in reach and no distractions. I set up my IPod and listen to my favorite music.
<![if !vml]>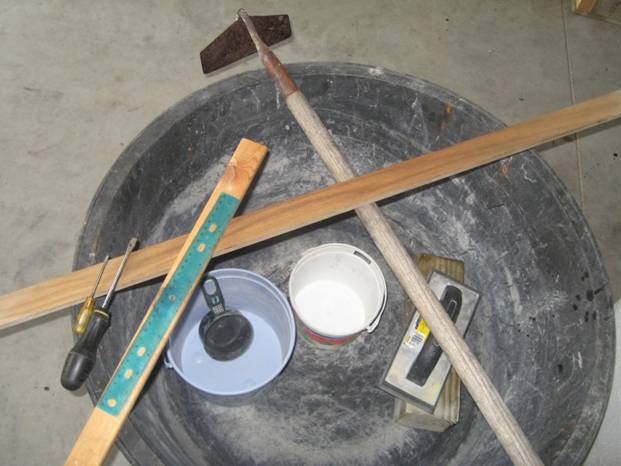 <![endif]>
Here are some of the supplies you will need to get started; I already had these items in the garage.
Big rubber tub I purchased at the local feed store (it used to be my water garden tub)
Hoe for mixing
5 gallon Buckets of water one for mix and one for cleaning supplies or pull the water hose over to you
Smaller buckets (had purchased from Dollar General full of Christmas cookies) for scooping out the mortar mix and rinsing the letters off as they are used over and over
Wood 4x4 for stamping the mortar into the frame and removing air pockets
Rubber float/trowel for smoothing the surface of the wet mortar (rubber doesnít rust)
Straight edge and ruler for placement of lettering
Flat head screwdriver for picking out any imperfections and work on letters
<![if !vml]>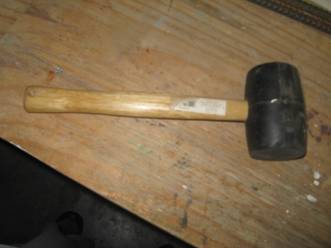 <![endif]>
I use a rubber mallet or you can use a piece of 2x4 for tapping around the edge of the wood frame to help settle mortar into the frame and work out any air bubbles
<![if !vml]>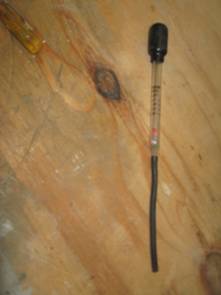 <![endif]>
Use some type of syringe to suction out excess water is you get the mix too wet; excess water may cause your letters to collapse
<![if !vml]>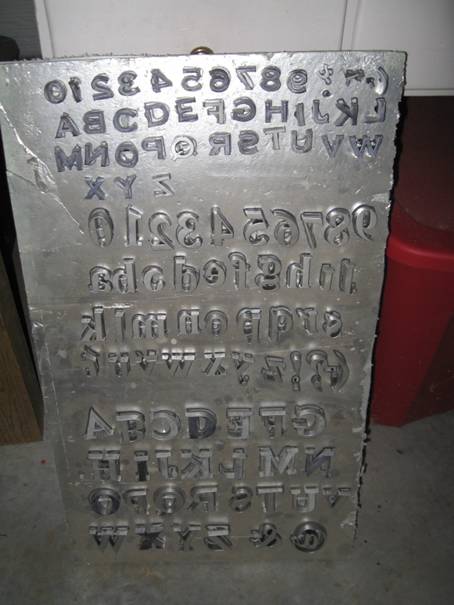 <![endif]>
Use quarter in to half inch spacing on placement of letters in your mortar for the headstone
Three different size lettering depends what size your frame is as to which lettering size you need. I purchase them at Magnetic Poetry.com website† They are called press-in letters and cost $12.95 per set and I use mainly the Classic Typeface # 6090 or the Traditional uppercase # 11760† or Traditional lowercase #11761 Pressed into foam to keep them organized and easily accessible. Spray them with silver or gray paint while in the foam to leave impression of the letter on the foam so you know where to return it to after its use. I used gray just in case any paint came off in the mortar mix it wouldnít stand out.
Also from Hobby Lobby I use press in letters from the cake decorating section (Donít forget to use the 40% off coupon out of the Sunday paper, they run it every other week) I try to save money.
<![if !vml]>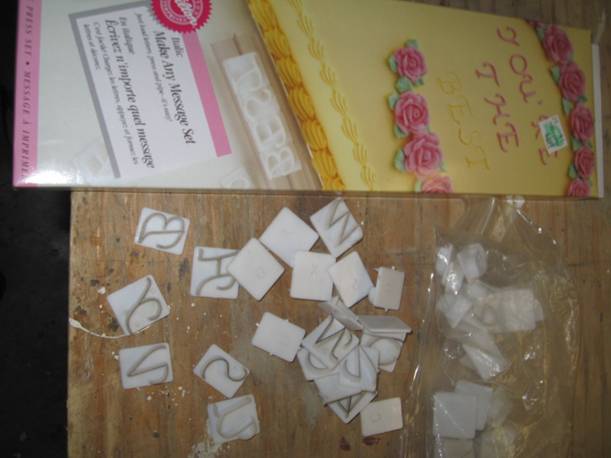 <![endif]>
Press in letters in Italic for month† of birth or death on headstone set Costs about $8.99 these are handy for smaller spacing, they can be placed much closer than even the quarter in spacing and still look good
<![if !vml]>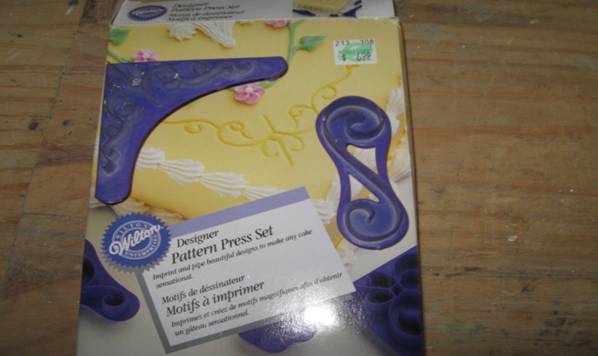 <![endif]>
Press in pattern for the corners of the headstone to dress it up and the scroll to separate dates, set costís $6.99 and even use some cookie cutters like the plastic cross
Using the backside of an old roll of Christmas paper I make a template for the placement of letters the exact size of my frame, this piece of paper fits the inside measurement of the frame. I mark the center and where I want the line spaces to be, also mark the top edges of the wood frame so I know where to set my straight edge and ruler. I set the letters on top of this paper and use a quarter inch space between the letters then make note of where the first letter of the name, date etc. starts and ends.† I reuse this one piece of paper over and over.
<![if !vml]>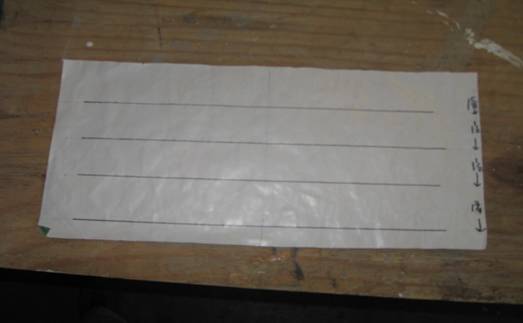 <![endif]>
<![if !vml]>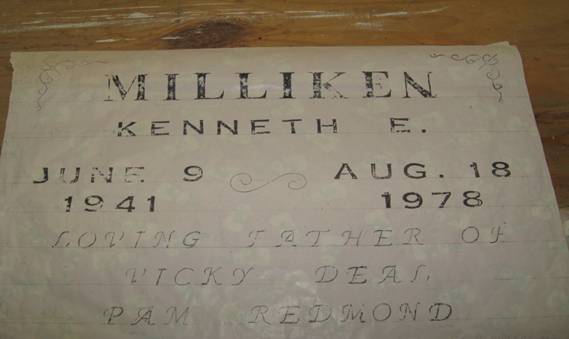 <![endif]>
You can even use an ink stamp pad if that helps you get an idea of what your headstone will look like in the end. This is my fatherís footstone template.
<![if !vml]>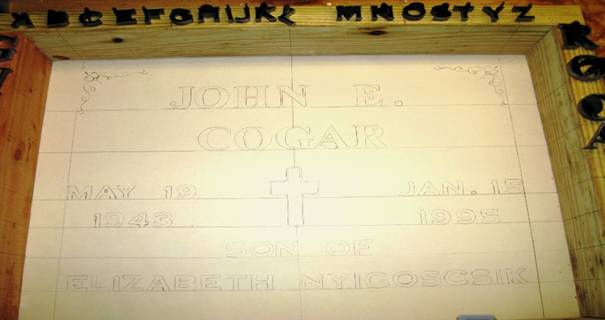 <![endif]>
<![if !vml]>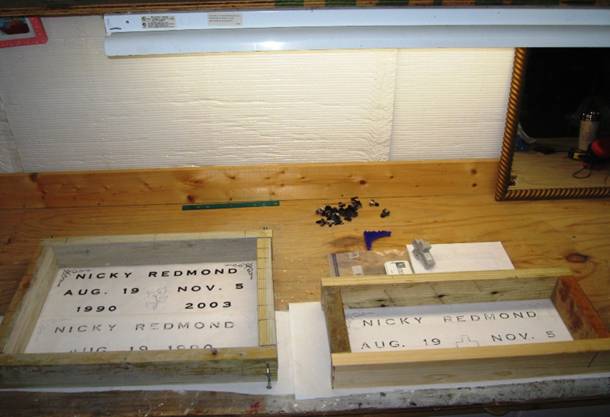 <![endif]>
<![if !vml]>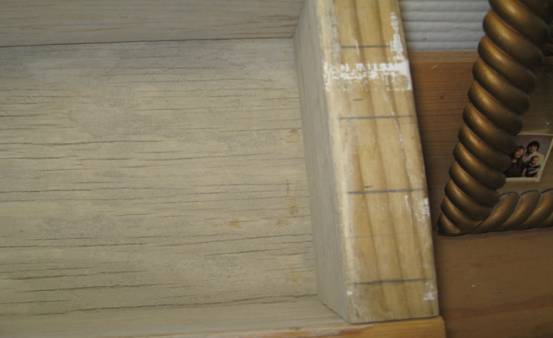 <![endif]>
Use a pencil to mark your lines on the wood frame, thatís where you will set your straight edge and ruler
<![if !vml]>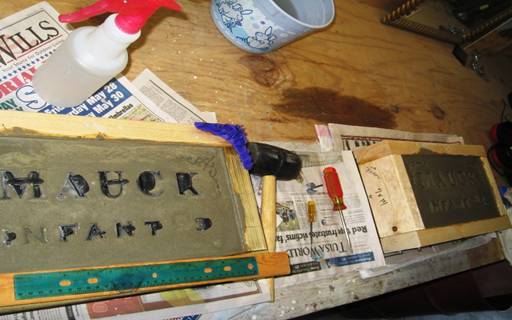 <![endif]>
My work bench
Hereís a few of the stoneís Iíve made, your only limited to your imagination
<![if !vml]>
<![endif]>
<![if !vml]>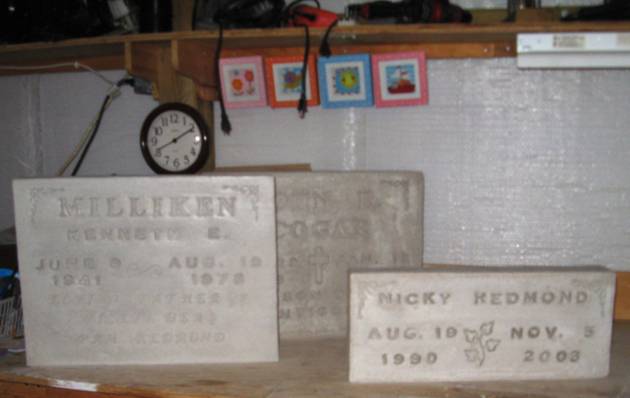 <![endif]>
These are pet headstoneís Iíve also branched off into making for myself and relativeís pets, the stones are still wet.
<![if !vml]>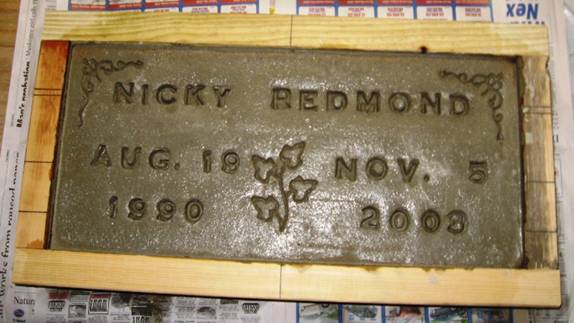 <![endif]>
<![if !vml]>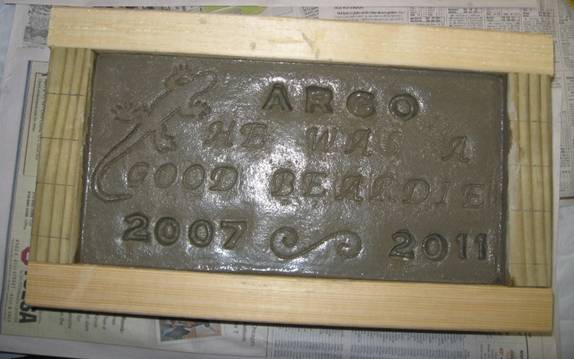 <![endif]>
<![if !vml]>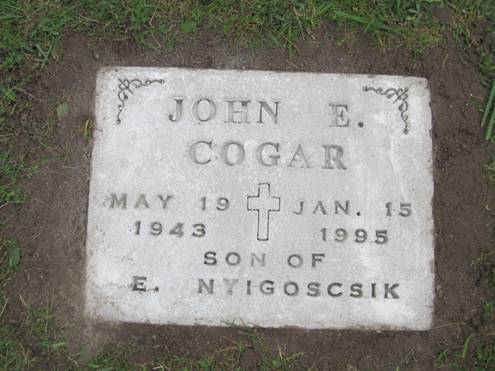 <![endif]>
This one is set in Walnut Kansas, see below photo
<![if !vml]>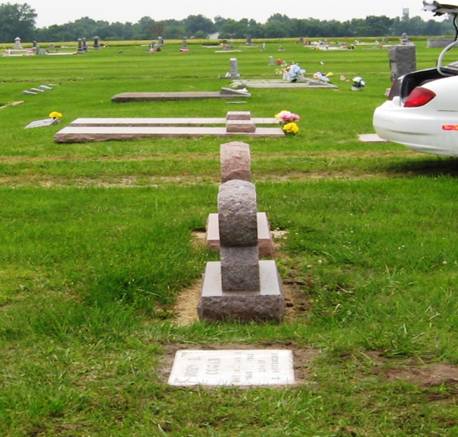 <![endif]>
<![if !vml]>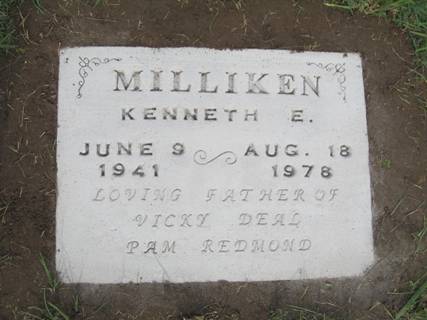 <![endif]>
This is my fatherís footstone and is set in Niotaze Kansas, the cemetery flagged it out for me, see below photos.
<![if !vml]>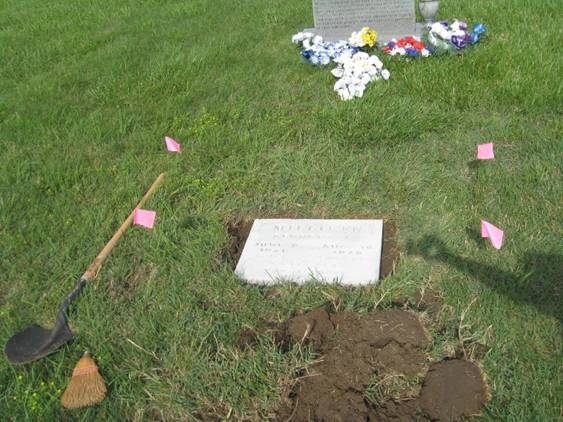 <![endif]>
<![if !vml]>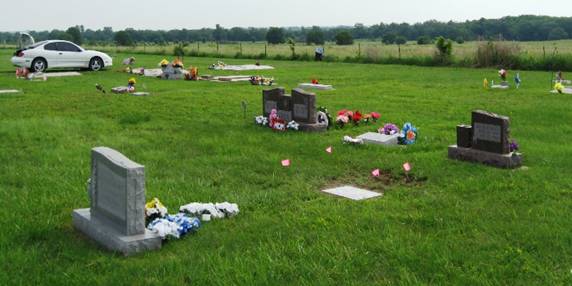 <![endif]>
Niotaze Kansas Fairview Cemetery
I was recently asked to make a CEMENT BASE for a V A Marker the veterans are given after death for a relative. The mortuary wanted approximately $140.00 for the cement base that the marker is mounted to and then set in the ground. The cemetery charges approximately $250.00 for the cement base and setting the stone in the ground. As always I called the cemetery and asked the requirements and measurements of the cement base, they want it to be at least four inches thick and two inches wider on all edges than the marker itself so that means 4x 16x28 is the size of the cement base. When itís ready they will flag out the spot it should be set and you can do this yourself also. Remember all cemeteryís have different rules so always check with them first to save any headacheís later.
Hereís how it came, shipped in a box to the mortuary and I went and picked it up from them. It measureís 12x24 itís metal and a little heavy, comes with 4-5inch bolts, nuts and washers
<![if !vml]>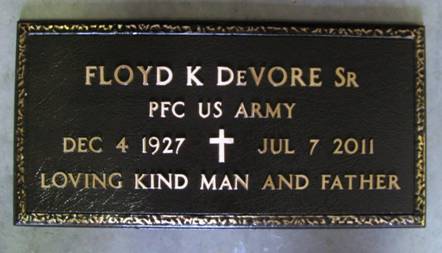 <![endif]>
<![if !vml]>
<![endif]>
<![if !vml]>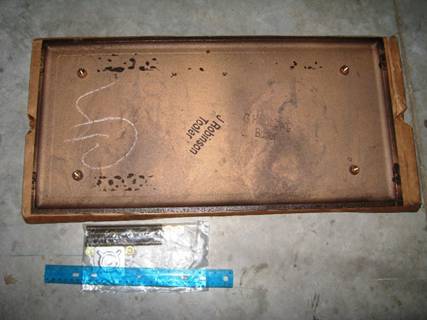 <![endif]>
This is the backside view that the bolts screw into
Make a frame for it and drill holes for the bolts to slide thru and bolt underneath
<![if !vml]>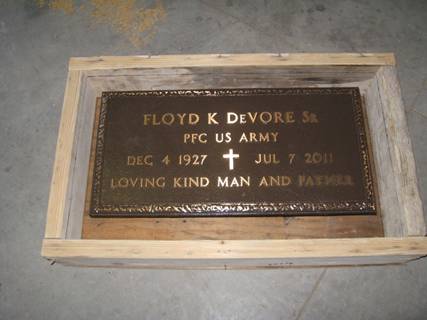 <![endif]>
<![if !vml]>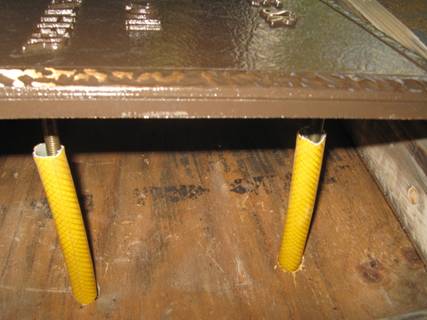 <![endif]>
I used and old garden hose cut into four pieces and stuck thru the drilled holes on the frame bottom
<![if !vml]>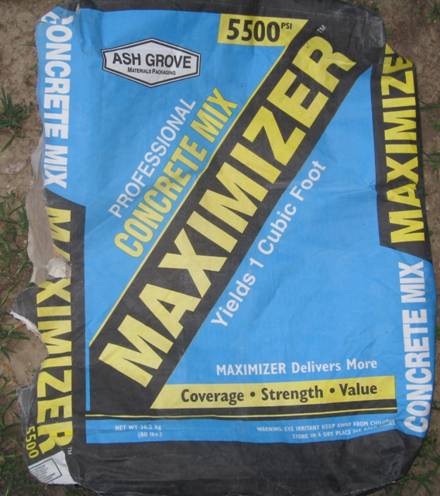 <![endif]>
I used Concrete MIX for the base on the V A Marker
<![if !vml]>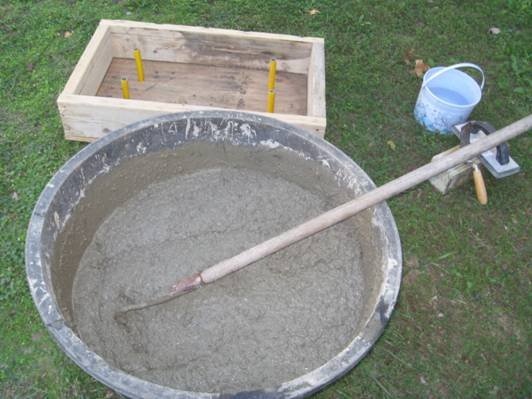 <![endif]>
<![if !vml]>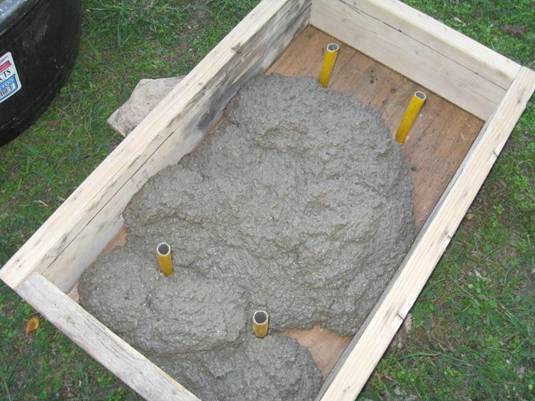 <![endif]>
<![if !vml]>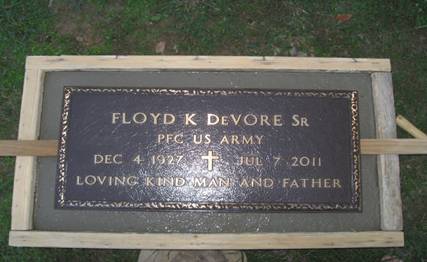 <![endif]>
<![if !vml]>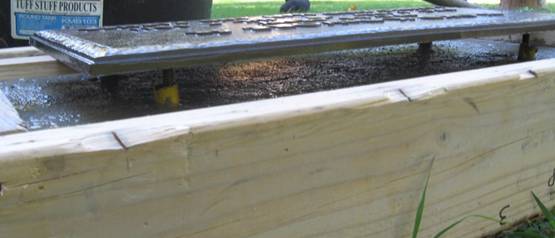 <![endif]>
Use a stick under the metal V A marker to keep it from sinking into the cement and keep your holes lined up straight.
<![if !vml]>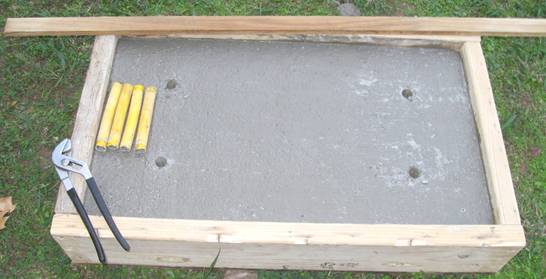 <![endif]>
The next morning I pulled the hoses out with pliers
<![if !vml]>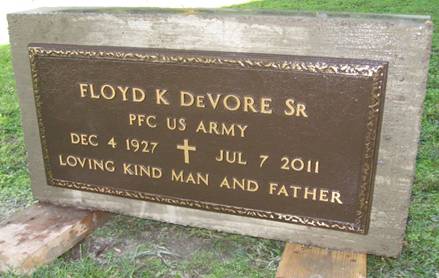 <![endif]>
Hereís the V A Marker mounted to the cement base I made of cement
<![if !vml]>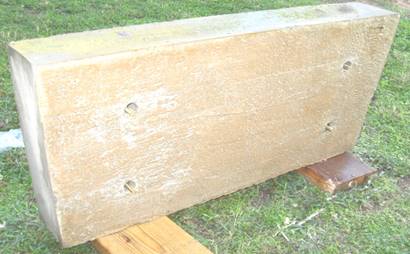 <![endif]>
The bolts slide thru the holes and are screwed on with a nut
<![if !vml]>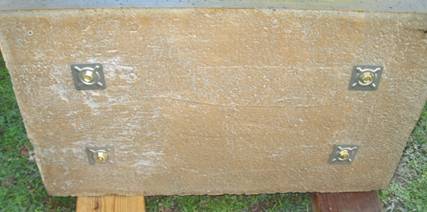 <![endif]>
<![if !vml]>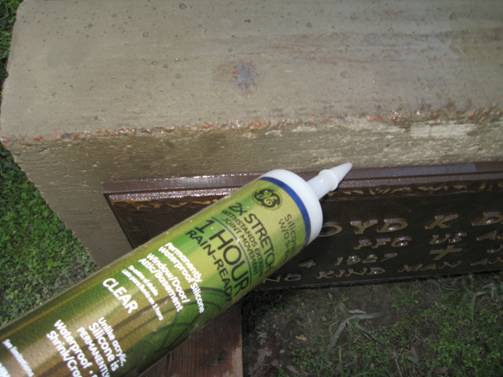 <![endif]>
You may use some clear 100% silicone caulking if youíd like between the marker and cement to help with the expansion of temperature change of the two different materials.
Hereís my latest project. I was asked to make an upright to replace one that had been broken.
<![if !vml]>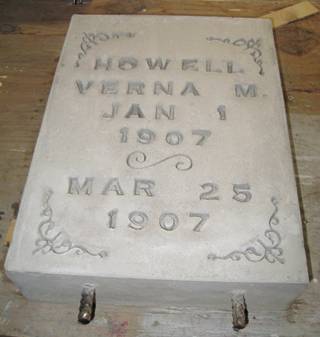 <![endif]>
I hope you have enjoyed this as much as I have making them and it will be of some help to otherís interested in preserving vital information.
Pam (Milliken) Redmond
Arizona Pioneer & Cemetery Research Project
Internet Presentation
Version 101211PR
Copyright ©2003-2011 Neal Du Shane
All rights reserved. Information contained within this website may be used
for personal family history purposes, but not for financial profit or gain.
All contents of this website are willed to the Arizona Pioneer & Cemetery Research Project (APCRP).
HOME | BOOSTER | CEMETERIES | EDUCATION | GHOST TOWNS | HEADSTONE
MINOTTO | PICTURES | ROADS | JACK SWILLING | TEN DAY TRAMPS