HOME | BOOSTER | CEMETERIES | EDUCATION | GHOST TOWNS | HEADSTONE
MINOTTO | PICTURES | ROADS | JACK SWILLING | TEN DAY TRAMPS
Arizona Pioneer & Cemetery Research Project
Internet Presentation
Version 030812-BC
HUMBUG, Arizona - 2012
Story and photos by Bruce Colbert
<![if !vml]>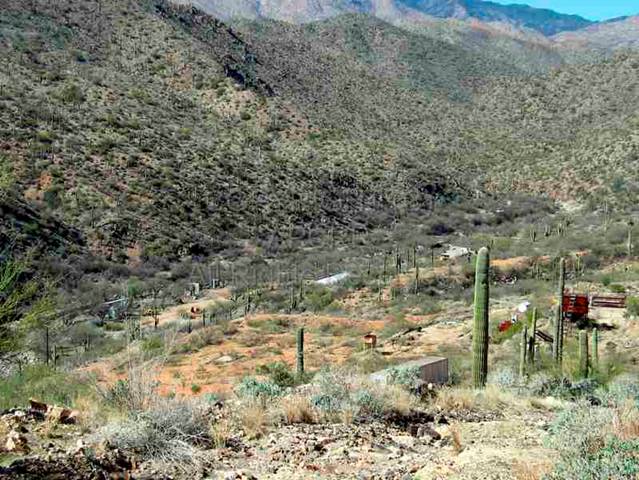 <![endif]>
Humbug, AZ Photo Neal Du Shane
Editor's note: This was the 7th Annual Humbug Potluck and Open House hosted by Dave Burns and Theresa Thayer, Humbug's caretakers and preservationists. Humbug is located along Humbug Creek in the foothills of the southern portion of the Bradshaw Mountains north of Lake Pleasant. Dave opens the gate to Humbug for visitors each year on the first full (two-day) weekend in March.
On the road to Humbug, the dust kicked up by a caravan of Jeeps, 4x4s and nimble ATVs could blind a camel. But you don't care when you pass by ancient saguaros close enough to reach out and touch; turn a corner and gasp at the breathtaking view of miles of unspoiled mountains and magnificent desert; and white-knuckle your way over old mule trails with sheer rock walls on one side, and seemingly bottomless drop-offs on the other. This is the West dreams are made of, movies filmed about, and legends born from. 
<![if !vml]>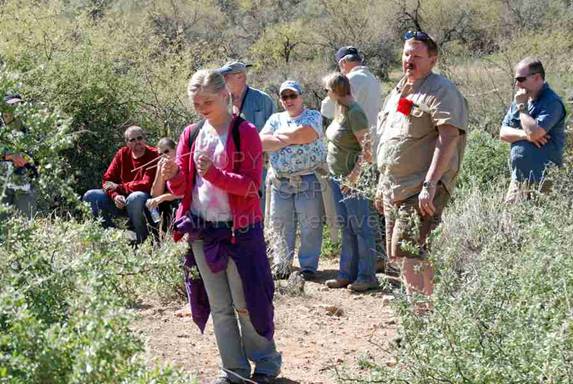 <![endif]>
Sarah Munsell tries identifying unmarked graves for the first time
When little Sarah Munsell showed up at Humbug ghost town's potluck and open house Saturday morning, March 3, she wracked up some unique "firsts" in her young life.
"I've never been to a ghost town like this," said the petite 8-year-old. She also did not believe a person could identify graves the same way you search for water.
"I didn't believe him," she said referring to Neal Du Shane, founder of the Arizona Pioneer Cemetery and Research Project and grave researcher extraordinaire. "I thought he was moving (the rods) with his hands. It was cool. The whole place is cool."
Kathy Kent agreed with Sarah. She heard about the open house "from my boyfriend" and joined him on the back of a quad for a cross-country ride to check it out.
"I love the remoteness of the place," Kent said. She also tried her hand at identifying unmarked graves and joined Sarah as a believer. "And the caretaker seems to meld right in like he's part of the scenery. I couldn't imagine anyone but him taking care of this place."
That caretaker is Dave Burns. Burns' history is interwoven with Humbug's history. "I was backpacking down the creek in 1981 when I first met Newt White," Burns said. "I didn't know anything about Humbug; didn't even know it was here."
<![if !vml]>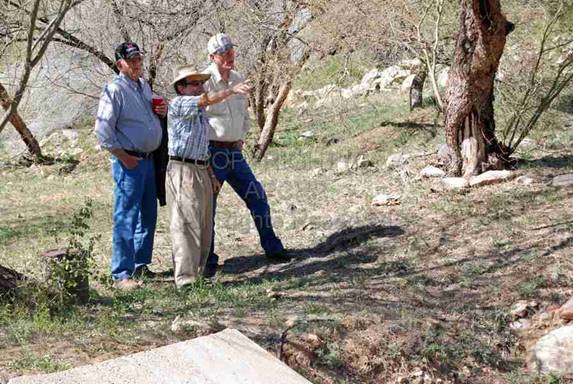 <![endif]>
Dave Burns points out historic landmarks at Humbug
When he met Newt along Humbug Creek, Burns was a 15-year-old adventurous teen. He and the grizzled old miner struck up a friendship. Newt was already a living legend among miners, ranchers and cowboys in Yavapai and Maricopa counties.
"Newt knew every rock and bush out in the desert," Burns said with a chuckle remembering his departed friend and desert mentor. "He'd tell me where to find something with directions like, 'Go this far, turn at that rock, and look behind a certain bush.' And it would be right there. It was amazing."
In 1922, at the ripe old age of about 14, Edward Newton "Newt" White and his father arrived at the northern end of the Sonora Desert. They stayed at Rock Springs (adjacent to Black Canyon City) for a spell, and then found their way out to the Champie Guest Ranch. Newt took a job as a go-fer at the popular dude ranch, but his father got restless and moved on.
At Champie Ranch, Newt learned to cowboy. While out herding cattle by himself one day, Newt's horse spooked and took off at a run throwing Newt in the process. His left leg caught in a stirrup and the horse dragged him full gallop through thick patches of cholla and prickly pear cacti. By the time other ranch-hands found him and got him to a Phoenix hospital, it was too late and doctors had to amputate his left leg. Someone carved him a few wooden prosthetics. Over time, Newt apparently left wood legs scattered at various places in and around the Bradshaw Mountains: Cathy Cordes, manager of Cordes General Store near Mayer, has one; and Burns said he has another one.
"When I met Newt, he was the caretaker here," Burns said. The energetic teen started helping Newt at Humbug, and after Newt died in 1997, Burns became the town's full-time caretaker. "Newt had worked for Frank Hyde at Humbug." Hyde died in 1973.
Frank de Lacey Hyde, a New York stockbroker, came out West on a trip and fell heads-over-heels in love with Humbug. He bought every mining claim in the district he could get his hands on, and in 1932 he built his wife, Elizabeth, and their infant daughter, Carolyn, a large adobe "mansion" that commanded a view of Humbug and its namesake creek. Hyde's "Big House" stands today, although it is showing its age, and the desert has reclaimed the lush and intricate terraced gardens planted and tended by Elizabeth.
"I love the old adobe, and I loved seeing the old Kelvinator refrigerator sitting there," Kathy Kent said of the former Hyde home. "It's such a juxtaposition to the rest of the house."
<![if !vml]><![endif]>

Humbug's Miner's Quarters and Residence. Photo Neal Du Shane

<![if !vml]><![endif]>

Frank Hyde's (Main) House. Photo Neal Du Shane
After Du Shane finished his finding-unmarked-graves lesson and cemetery history talk, visitors explored the ruins, walked where miners walked and snapped photographs galore. Two touring groups formed up: one rode out to visit the site of the former town of Columbia and its four-stamp mill; and the other group rode up the side of a low mountain to see the Pero Bonito Mine.
<![if !vml]>
<![endif]>
Bruce Colbert (Author) & Kathy Kent at El Perro Bonito Mine above Humbug
One of the interesting things about visiting historical places is that their names can sometimes be as intriguing as the place itself.
Take Pero Bonito, for example. Some historical journals refer to the mine as the El Pero Bonito, others the Pero Bonita, and some uncouth historian spelled it as one word: Perobonito. In Spanish, pero bonito translates as "but nice," which doesn't make a lot of sense for a name of a mine. However, if it was actually called El Perro Bonito (two "r's",) that would make it "the pretty dog." It's still an unusual name, but it makes more sense for the name of a mine or if you owned a pretty dog that hung around the mine. The State of Arizona Department of Mines lists it as Pero Bonito. So, the mine's original name may have been different from what we know it as today.
<![if !vml]>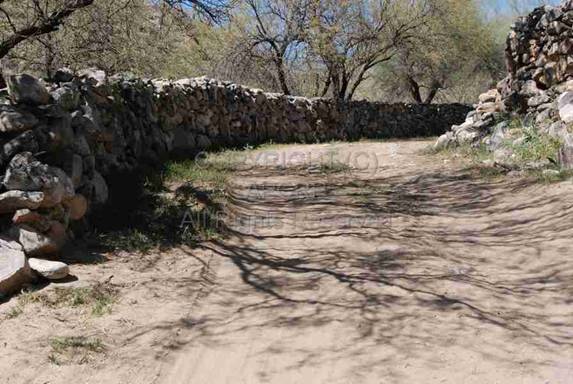 <![endif]>
Driveway out of Humbug Creek entering Humbug
Then there is "Humbug." In the mid-1800s, rumors flew amongst miners about an unnamed creek teeming with gold ready for the taking. After slogging up and down the creek without much luck, the miners scoffed at the humbug rumors of gold in the creek. In old English vernacular, "humbug" meant false talk or a deception - a sham. Miners being miners, they called the seemingly barren creek the Damn Humbug Creek. The early cartographers opted for something more politically correct, and simply shortened it to Humbug Creek.
Although the creek may not have been the rumored bonanza, gold flowed from the mines. Enough that Humbug had its own stamp mill and red light district.
Neal Du Shane met Dave Burns while researching the history and locations of the Humbug and Columbia towns and their cemeteries.
"We got to talking and I asked Dave about any cemeteries at Humbug," Du Shane said. "He was reluctant to say at first, but eventually he showed me where Newt is buried." Still skeptical about grave dowsing, Burns decided to test Du Shane.
"He said to show him where Newt is," Du Shane said. "I dowsed the grave but didn't get any reaction from the rods. But when I did the headstone the rods crossed." Crossed rods indicate a male grave and opened rods indicate a female, Du Shane explained.
<![if !vml]>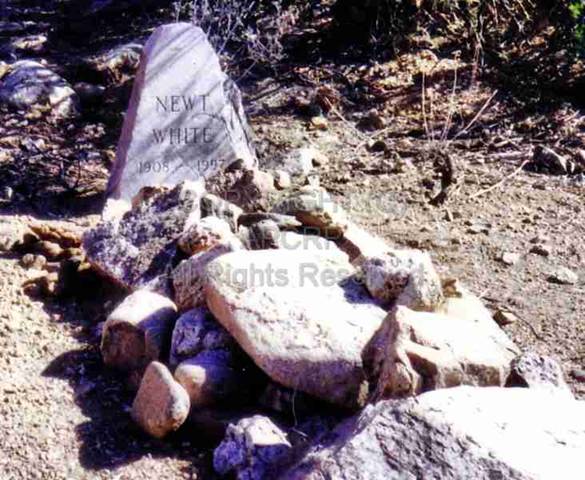 <![endif]>
Newt White's grave at the Humbug Cemetery.
Photo Neal Du Shane
"Dave said, 'You're right. Newt was cremated and the urn is buried under the headstone.'" Another believer was born. Eventually, Burns told Du Shane about a potluck he held at Humbug the previous year, and from that talk came the current annual Humbug open house and potluck.
There's something magical here that sets people's imaginations loose.
"I like holding the open house because it gives people a chance to see Humbug's history," Du Shane said. "It is authentic history. Dave likes to say he keeps Humbug maintained, not preserved. It is totally undisturbed."
Kathy Kent could not agree more. She summed up the weekend about the way most people probably felt after leaving.
"I loved riding out there through the saguaro forests. They're so majestic, so old and spectacular," she enthused. "It's like going through a time warp. The further back we went, the further back in time we went. I just found it fascinating.
"It was so stimulating to see their culture, to see how the miners lived in the middle of nowhere. Where did they get their water, their food? How long did it take to get from Phoenix to Humbug on foot or horseback? I just feel very privileged to be a part of it. That to me is a wonder in itself."
As a town, Humbug is dead for sure. But it still is full of life for visitors. The saguaros, sagebrush and cottonwoods are still here. The miners, soiled doves and moonshiners are gone, but the streets and trails still carry people to the mines, dead-end test holes and abandoned home sites.
Adobe walls still stand weathering year after year the same thunderstorms, wind and heat that wracked the little town back in its hey-day. The sound of picks and shovels and the rolling thunder of dynamite blasts are gone, but the birds still chirp, and when it flows, that damn Humbug creek still gurgles, and gentle breezes still follow its course through the little valley.
For more information about Humbug, Arizona and other ghost towns and cemeteries, visit www.apcrp.org   
<![if !vml]><![endif]>

Once glowed brightly at Humbug

<![if !vml]><![endif]>

Adobe await a new meaning to life

<![if !vml]><![endif]>

Resting after years of hard production

<![if !vml]><![endif]>

Ready for a new day

<![if !vml]><![endif]>

Truck, tack building in center and stables on right

<![if !vml]><![endif]>

Dust to Dust – Adobe melt in progress
 Arizona Pioneer & Cemetery Research Project
Internet Presentation
Version 030812-BC
Webmaster: Neal Du Shane
Copyright © 2012 Neal Du Shane
All rights reserved. Information contained within this website may be used
for personal family history purposes, but not for financial profit or gain.
All contents of this website are willed to the Arizona Pioneer & Cemetery Research Project (APCRP).
HOME | BOOSTER | CEMETERIES | EDUCATION | GHOST TOWNS | HEADSTONE
MINOTTO | PICTURES | ROADS | JACK SWILLING | TEN DAY TRAMPS